Enjoy a fun game of bingo at home or in the classroom with this free printable bingo game for kids. And it is food themed! Yummy!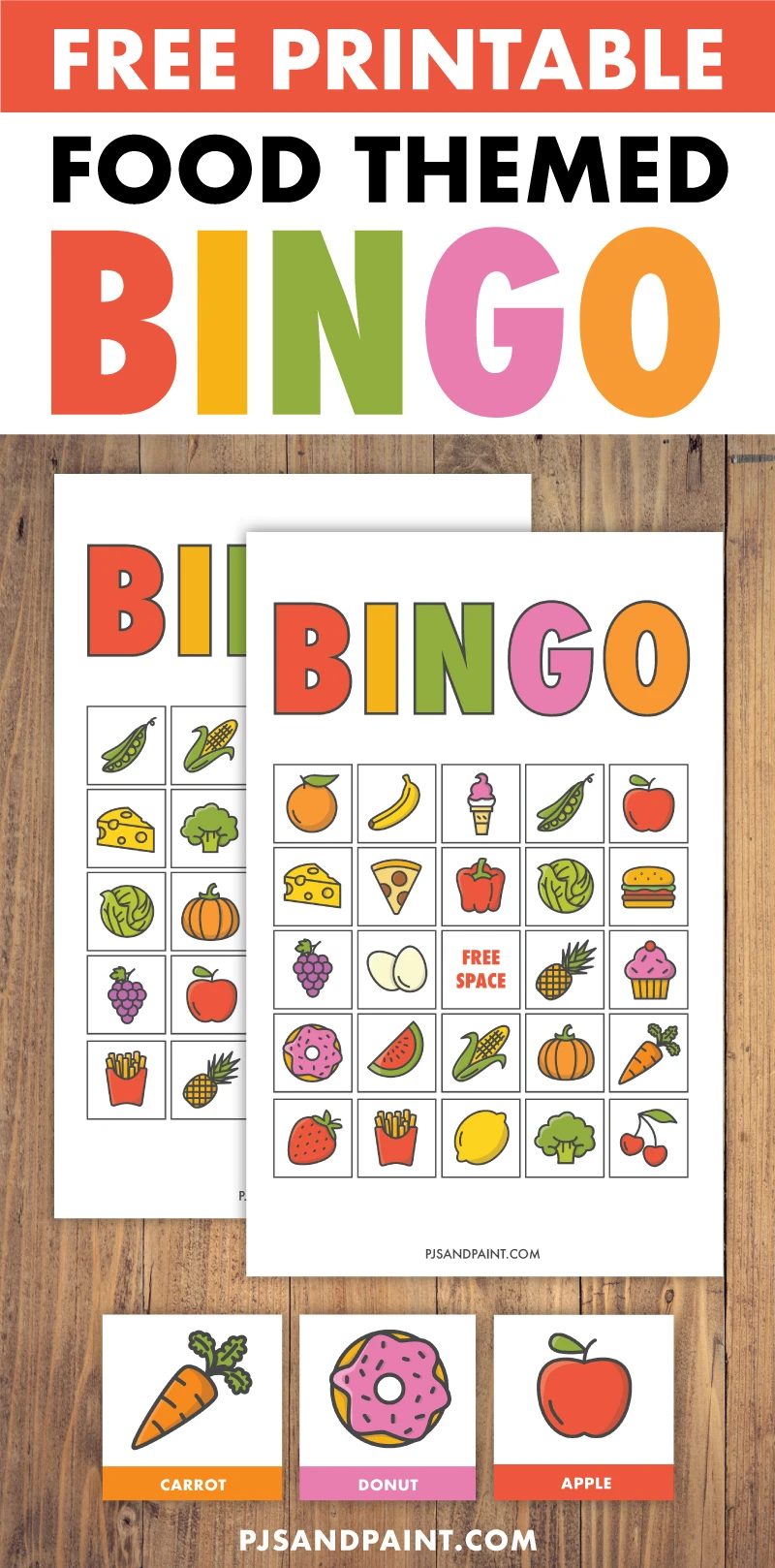 Disclaimer: This post contains Amazon affiliate links. this means that at no extra cost to you, I may earn a small commission if you decide to make a purchase. For more information, please read our affiliate disclosure.
Something that I have recently been very excited about is the fact that I can now play games with my older son. He is finally at the age where he can understand simple game rules and knows how to take turns.
A few months ago, we stumbled across a few YouTube videos of kids playing board games. I didn't know this was such a big thing but apparently kids love watching other kids play!
After watching a few too many videos, I decided that I would surprise my son and buy some of the games the other kids were playing. They were a huge hit! And it was really nice to be able to interact with him in a new way. We have been trying to start a family game night that we hope becomes a fun weekly tradition.
This past Christmas, our family asked us what gifts to get for our older son. We had told them he is getting very into games and so Christmas morning he opened up a bunch of brand new games to play!
One of my husband's cousins sent him a kiddie Bingo game. This quickly became a fan favorite! Instead of the classic bingo game with numbers this kid friendly version included a variety of pictures. He had a great time finding all of the pictures on not only his Bingo card, but everyone else's as well!
This got me thinking that I could probably create a few Bingo cards at home with different themes to keep him interested. And that is where today's free printable comes in!
I am excited to share with you this free printable Bingo game for kids, and it is food themed! Yum!
I have included a link to download the free version of this game with 10 unique Bingo cards at the bottom of this post. If you would like more cards or if you will be playing with a larger group of people, you can also check out the full version of the Bingo game with 30 unique cards.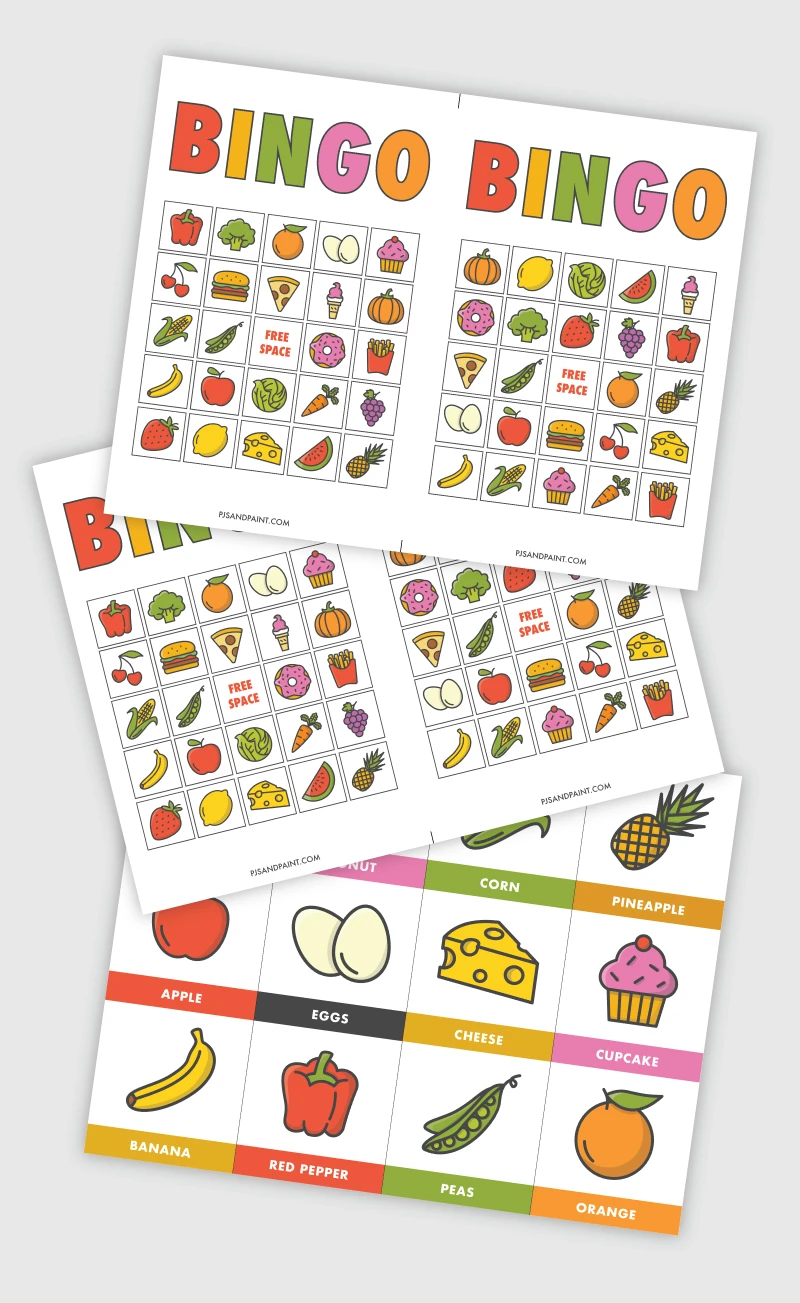 Game download link is located at the bottom of this post.
Free Printable Bingo Game for Kids – Food Themed Bingo
Included in this free set are:
1 instruction sheet
2 pages of calling cards
5 pages of bingo cards with 2 games per page for a total of 10 different cards. (For a set of 30 cards, check out the full version).
3 pages of markers (Bingo chips) You can print multiples of these pages depending on how many people you will be playing with.
All of the pages included in this pdf are sized to fit onto standard 8.5×11 inch pieces of paper. For the best quality, I would highly recommend printing everything out onto white cardstock.
This free version includes 10 different card variations. This means that you can play this food themed bingo with a group of up to 10 people. Alternatively, if you don't have 10 players, you can also play multiple rounds of bingo with just one set of cards.
I have also created a full version that includes 30 card variations that would be perfect for the classroom or playing with larger groups of children.
Please feel free to download and print as many copies of the bingo game as you would like. However, please do not edit or redistribute the files in any way. This game was created for personal or classroom use only.
For the highest quality, I would definitely recommend laminating the cards so that the they will be more durable and also be able to be reused over and over again.
Personally, I know that my kids are not very gentle with their toys and so the more durable I can make their games, the better!
This is the home lamination machine that I currently have in my home office and I love it! It definitely gets a ton of use.
How to play bingo:
One person should be designated as the caller. This person will not need to have a bingo card this round. The bingo caller should shuffle the stack of calling cards before starting the round.
Next, you can hand out a bingo card to each player. Everyone should also have a stack of some type of marker to place onto the board as the food items are called out.
In this pdf, I have included some printable markers to cut out. I could recommend using a 1 inch hole punch to make cutting out the markers much easier.
You can also use a variety of other "markers" you have around the house. M&Ms, coins, cereal etc. Alternatively, if you only plan on using the bingo cards only one time, you could also use a marker, crayon, pen or pencil to make an X right onto the bingo card.
The bingo caller will now choose one card of of the pile at random and then announce it to the players.
Each player should now place a marker on that space on their boards. The first player to get five in a row, is the winner!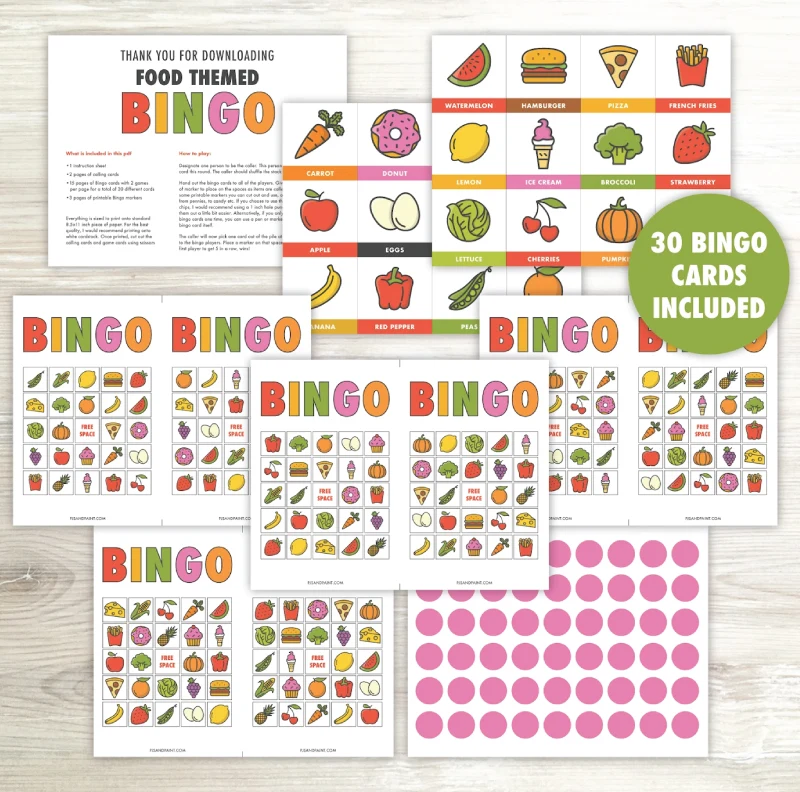 Game download link is located at the bottom of this post (Full version pictured above)
If you enjoyed this game, you might also like to check out our other free printable Bingo games below:
Halloween Bingo
This free printable Halloween bingo is a great game to play to get everyone into the spooky spirit! Kids and adults alike will have a blast playing this classic bingo game with a fun Halloween twist.
Thanksgiving Bingo
Thanksgiving Bingo is a fun game to play while waiting for dinner to be ready. It would even be a great classroom activity to play with students or during a holiday party.
And if you want to continue on with the food themed games, we have got some more fun free printables to check out!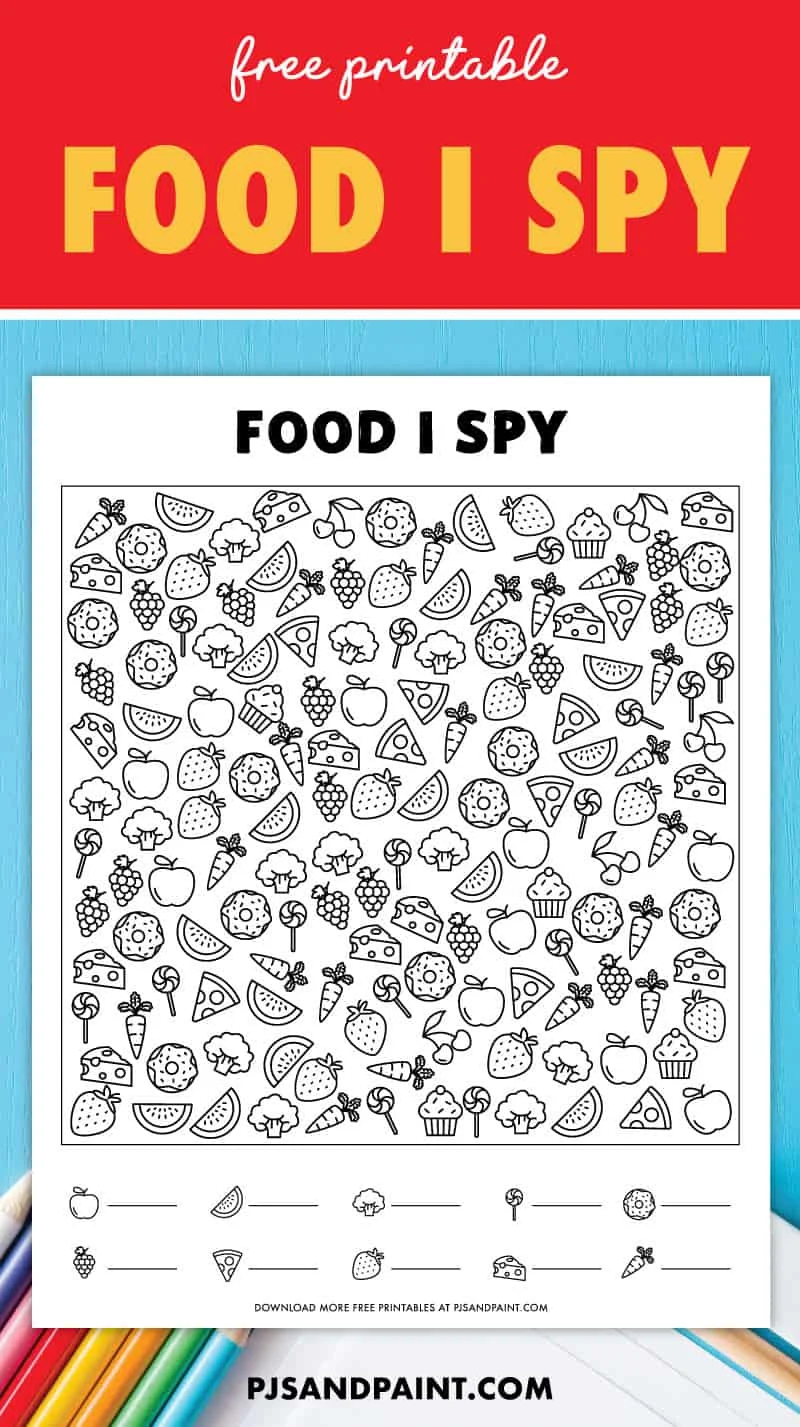 Free printable I Spy – Food themed I spy
Featuring items such as apples, pizza, broccoli, cheese and donuts, this I spy game will keep your kids entertained and out of trouble! All while not spending a dime.
Free printable fruit themed scavenger hunt
Kids will have a blast playing this fruit themed scavenger hunt. This free printable game can be downloaded, printed and set up in a matter of minutes.

Download Links:
Download the food themed bingo for kids – free version