Make finding their Easter baskets even more fun by having the kids complete this fun Easter scavenger hunt first.
This fun free printable scavenger hunt features eight clues that will lead you to find your special Easter treat!

Disclaimer: This post contains Amazon affiliate links. This means that at no extra cost to you, I may earn a small commission if you decide to make a purchase. For more information, please read our affiliate disclosure.
When someone says the word Easter, most people probably imaging chocolate bunnies, coloring eggs or Easter egg hunts.
For me, the first word that comes to mind is scavenger hunt. Growing up, our family always had a big Easter get together with all of our neighbors. It was always such a fun day and ones that I still look back on with such fond memories.
After everyone had gone home and all the delicious bagels and sweet treats were eaten, my mom would give us our first clue to the yearly scavenger hunt she would put together.
My brothers and I would run around the house and backyard trying to figure out where all of the clues were leading us.
Eventually we would end up at the spot where she left our Easter baskets full of yummy treats.
Now that we're older, our kids are involved too and that makes it even more special and enjoyable!
Once we get home from my parents Easter get together, I like to set up a simplified scavenger hunt for my kids. And today I wanted to share it with you!
It features eight easy clues to solve that leads them around the house to find their Easter surprise.
I made sure to keep all of the clues indoors so that regardless of the weather, everyone can still have fun hunting for all the clues.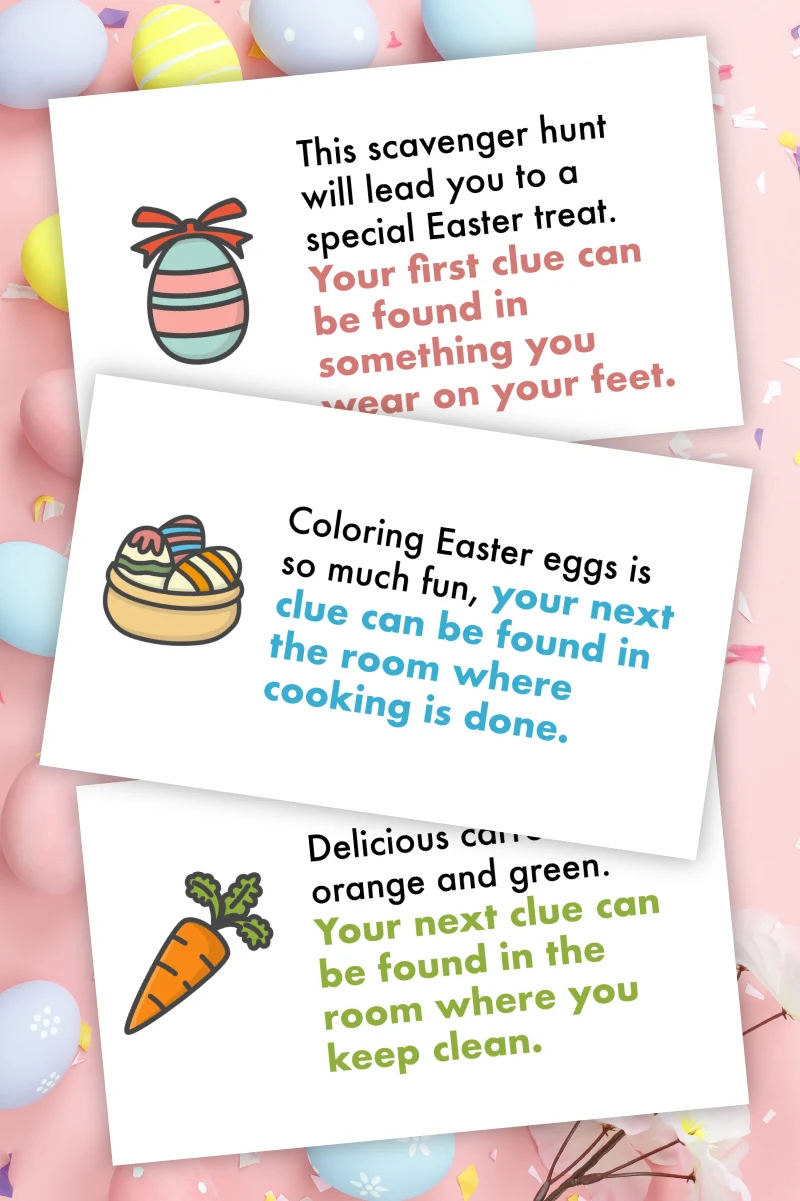 Scavenger hunt download link is located at the bottom of this post.
Free printable Easter Scavenger Hunt
This scavenger hunt is designed to print onto a 8.5×11 inch piece of paper. Eight clue cards will print per page.
Feel free to download and print as many copies of the scavenger hunt as you would like. However, please do not edit or redistribute the files in any way.
This scavenger hunt was created for personal or classroom use only.
The Easter scavenger hunt clues and answers are as follows:
Clue: This scavenger hunt will lead you to a special Easter treat. Your first clue can be found in something you wear on your feet.
Answer: Inside a shoe
Clue: Coloring Easter eggs is so much fun, your next clue can be found in the room where cooking is done.
Answer: The kitchen
Clue: Delicious carrots are orange and green. Your next clue can be found in the room where you keep clean.
Answer: The bathroom
Clue: Here is another clue, you're doing great. Check the place where you sleep when it's getting late.
Answer: On top of a bed
Clue: What your next clue? Here's where to look? Open up a page in your favorite book.
Answer: Inside of a book
Clue: Bunnies love to hop hop hop. For your next clue, find a garbage can and look on top.
Answer: On top of a garbage can.
Clue: Carrots are a healthy snack, now go to the front door and check on the back
Answer: On the back of the front door
Clue: Chocolate bunnies are so yummy to eat, check in a closet for your special Easter treat.
Answer: Inside of a closet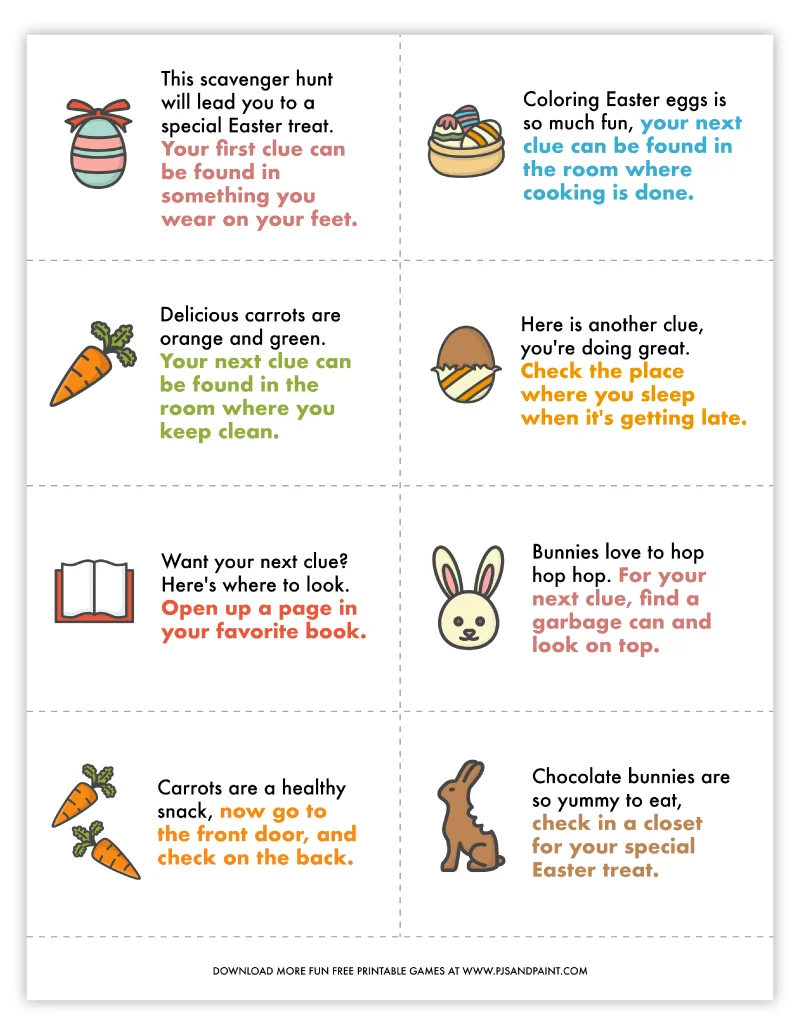 Scavenger hunt download link is located at the bottom of this post.
If you enjoyed this scavenger hunt, you might like to check out some of our other fun free printable Easter games and activities.
Free printable Easter Word Jumble
In this activity, you will need to first unscramble the eight Easter themed words below. Then, using the circled letters from each word, unscramble those to form a new word and find out what is inside of the Easter egg.
How many words can you make out of Easter Bunny – Free Printable Game
In this game, you will need to try and make as many words as you can using only the letters found in the words Easter Bunny.
Free Printable Easter Word Search
Have fun searching for these fifteen Easter themed words in this word search activity. Word searches are not only fun, but great to help kids build their vocabulary skills, improve their spelling and potentially even learn a couple of new words!
Free Printable Easter I Spy Game
In this I spy game, you'll be searching for six Easter themed images in the box above. You can also have your kids color in each picture as they count to add a little extra creative spin!
Free Printable Easter Scattergories
A holiday twist on the classic scattergories game you know and love. This free printable features two rounds of 8 categories, answer sheets and letters to cut out. This is the perfect game to play to get everyone having fun this upcoming Easter.

Download Link:
Download the Easter Scavenger Hunt.