Kids will have a blast playing this fruit themed scavenger hunt. This free printable game can be downloaded, printed and set up in a matter of minutes. Hope you enjoy!
If you have read any of my recent holiday blog posts, you'll probably know that my mom has always been big on having my siblings and I play games during the holidays.
She always goes all out, creating fun activities for us to do. One of her signature actives she likes to set up is an elaborate scavenger hunt. Every Easter and Christmas, she sets up a really fun and challenging scavenger hunt for us all to participate in.
My brothers and I break into teams with our significant others and see who can complete the game as quickly as possible. We all look forward to it every year and it's always a ton of fun.
And now that we're older, my mom will still come up with great scavenger hunts, but now we are allowed to go out and drive around to find the items instead of just being in or around the house!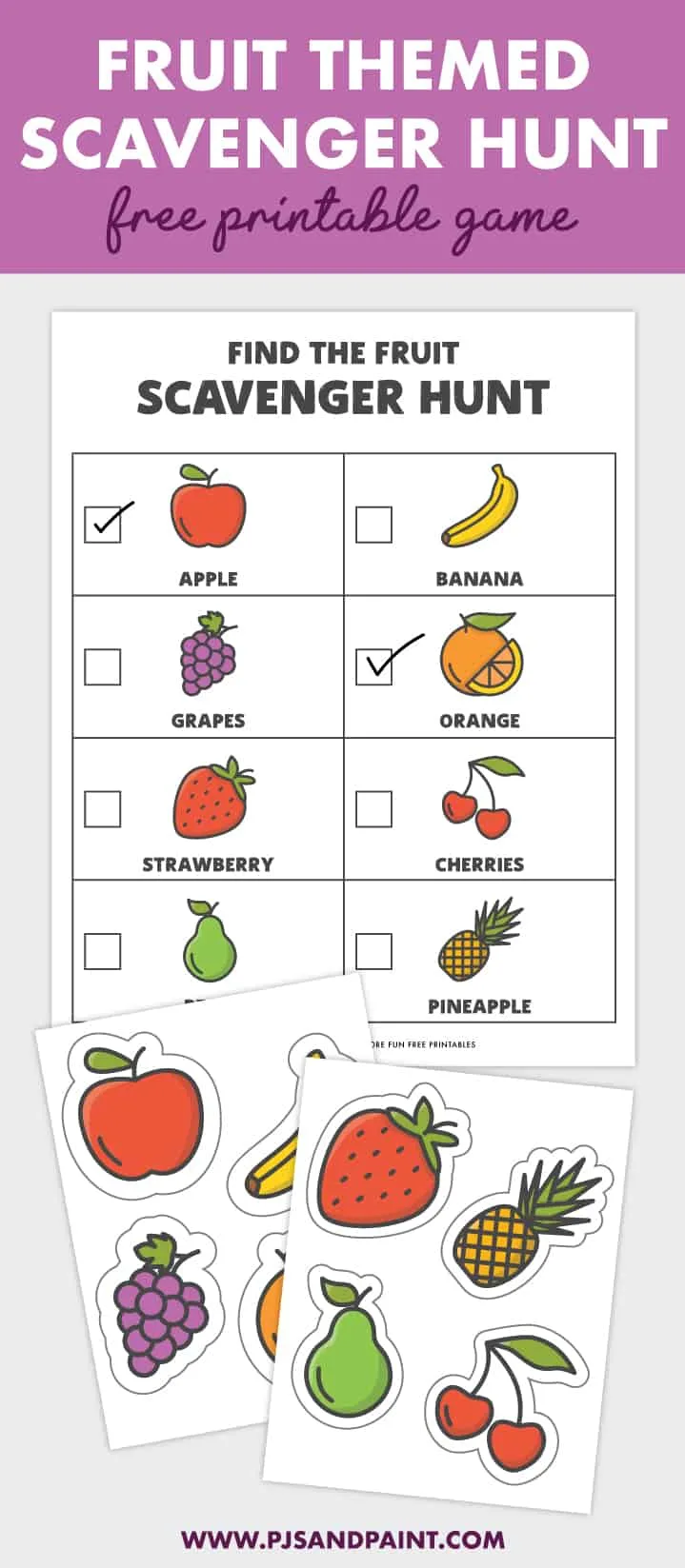 Disclaimer: This post contains Amazon affiliate links. This means that at no extra cost to you, I may earn a small commission if you decide to make a purchase.
So a few days ago I took my son to the library to play. It was a rainy day, we were both getting a little stir crazy we already went to Target, so what else is there to do!?
The library is always such a great place to bring kids. Not only do they have tons of books to check out, but they always have an awesome kids section with toys, games and fun activities.
This week, our library was running a Winter themed scavenger hunt. While my son is still a bit too young to participate in something like this, I watched the slightly older children run around the library searching for all of the winter themed pictures that the librarian had placed around.
I thought it was such a cute idea. There was a snowman hid behind a bookshelf, a snowflake hiding underneath a chair. The kids were having a ton of fun trying to locate all of the winter items on their checklist.
There was this one little boy who was just the cutest. He probably completed the scavenger hunt 5 or 6 times. Every time, he would excitedly bring his newly filled out scavenger hunt sheet over to the librarian.
And every time, she would give him the choice of a sticker to place on his paper. I think this little boy loved Paw Patrol so much that he would do whatever it took to collect as many puppy stickers as he could!
As I was sitting there watching my son play with blocks and this other little boy run around the library, I thought it would be a great idea to create a scavenger hunt of my own.
And so today I wanted to share with you the first of many scavenger hunts I'll be creating over the next few weeks. This one is a super cute fruit themed scavenger hunt.
It features 8 different fruits that will have to be found. Apples, bananas, strawberries, grapes and more!
How Do You Play The Scavenger Hunt?
First, cut out each of the 8 fruit pictures. Use tape or mounting putty to stick them them around the house, classroom, or wherever else you will be playing!
Depending on the age group you'll be working with, you can hide the fruit in easier or more challenging spaces. This game can easily be played over and over again by simply changing up the spots where you hide each fruit.
After everything has been hidden, give each child a blank scavenger hunt checklist. They can then begin going around the house, classroom etc. and check off each fruit as they find them.
Once everything has been checked off, they can bring the completed scavenger hunt page back to you and maybe get a small prize or sticker.
Supplies needed:
Scavenger hunt pdf (scroll down to the bottom of this post for the download link)
Scissors
Pens, pencils, markers or crayons
Tape or Mounting putty
Lamination machine and laminating sheets (optional)
Dry erase markers (optional)
How to make sure your scavenger hunt holds up over time:
A great way to make sure that your scavenger hunt game is able to be reused over and over again is to laminate everything from the checklist page to the individual fruits. This is the home lamination machine that I have and would definitely recommend it!
All you would need to do is laminate the pages, cut out the individual fruits and then use a dry erase marker to check each fruit off the checklist page.
Once the kids are done playing the scavenger hunt game, you can store the checklist and fruit away for the next time!
Interested in more fruit themed games and activities? Well you're in luck!
I Spy: Fruit Game
Kids and adults alike will have a blast searching for and counting 8 different fruits in the box above. The children can color in the fruit as they count to make the game even more fun! Click here to view the full blog post and download links.
And here are some additional free printable scavenger hunt games just like this one:
Vegetables
Halloween
Easter
Christmas
Thanksgiving
Free Printable Fruit Themed Scavenger Hunt
This scavenger hunt game is designed to print on 3 standard 8.5×11 inch pieces of paper. For the best quality I would highly recommend printing everything out onto white cardstock. Especially the last two pages so you can reuse the fruit pictures over and over again without worrying about them holding up over time.
Once printed, cut out each fruit picture. I created cut lines that will leave a nice white border around each fruit.
Print out as many of the first page as needed, depending on how many children will be playing the game. If you are printing out a lot of checklist pages, you can turn your printer to black and white to save some ink.
Feel free to download and print as many copies of the scavenger hunt game as you would like. However, please do not edit or redistribute the files in any way. This game was created for personal or classroom use only.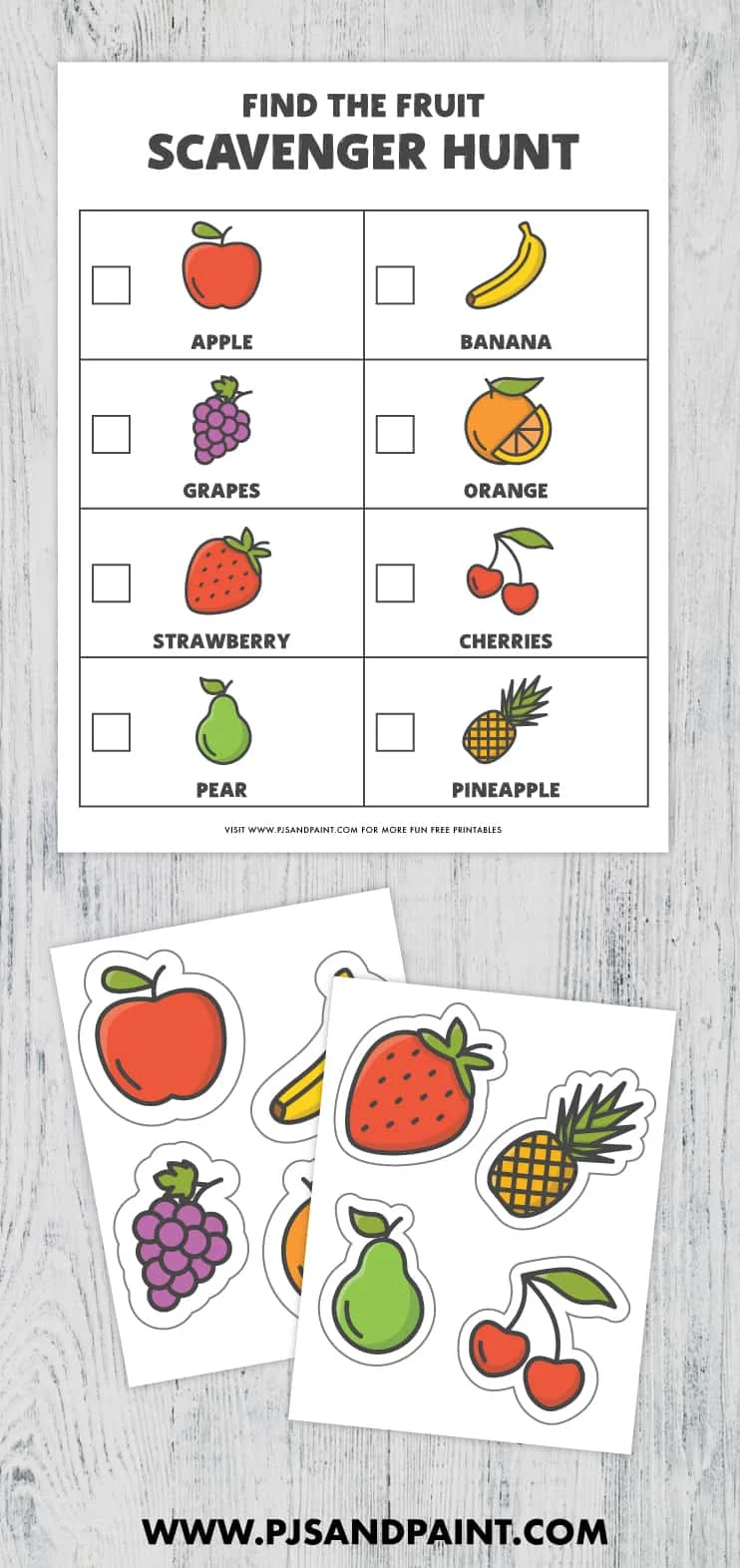 Click here to download the fruit themed scavenger hunt files.