Today I wanted to share this free printable Thanksgiving Scattergories game. It would make for a great activity to play with friends and family members while you are all waiting for dinner to be served!
I was very lucky to have really amazing neighbors growing up. My two best friends lived in the houses directly next door and behind me. We were all so close growing up that when it came time us all to get new fences, our parents made a point to put an extra gate in the fence so us kids could easily go from one backyard to the next.
My one friend had an awesome in ground pool with a diving board, and the most comfortable hammock around. My other friend had a giant trampoline and a hot tub. Our backyard had the most grass so everyone came to us for any activity that required a lot of space to run around… like super soaker fights!
Almost every day during the summer we had a routine, we'd go swimming in the pool, have some lunch, jump on the trampoline, have a super soaker fight or play hide and seek, and then finally a big barbecue with all our families for dinner. I have such great memories of that time of my life.
You might be wondering why I'm telling you all of this in a post about Thanksgiving scattergories! Well, after dinner we would all go inside and play games until we had to go home for bed. One of our favorite games to play was scattergories. We would all have a blast trying to think of the most unique words and would often get so into the games that we would be up much later than our parents had wanted. But scattergories is sort of educational right, learning some new words? At least that was our excuse!
And so to pay a tribute to the good old days of BBQs and word games, I wanted to create this free printable Thanksgiving scattergories game that you can play with your friends and family this upcoming holiday. I hope you enjoy!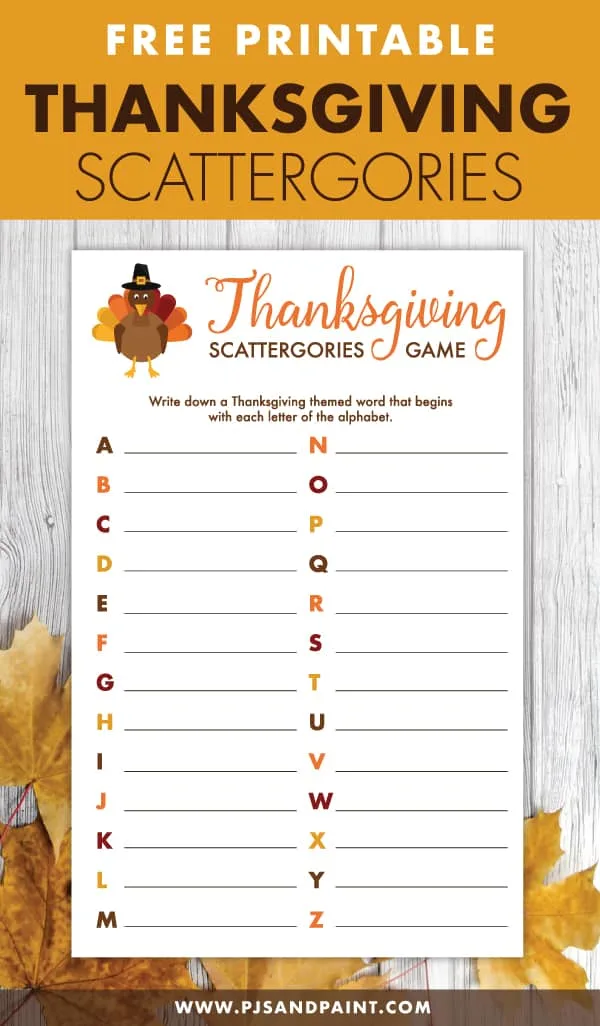 Disclaimer: This post contains Amazon affiliate links. This means that at no extra cost to you, I may earn a small commission if you decide to make a purchase.
How to play Thanksgiving Scattergories:
Each player is given a blank game board. Next, someone sets a timer for three minutes. (You may want to set the timer for a longer duration if there are a lot of younger children playing).
Once the timer is started, each player must try to think of a Thanksgiving themed word that begins with each letter of the alphabet. For example, for the letter "C" you could write down cornucopia.
You only have three minutes so you may need to skip a few of the more challenging letters and return to them if you have time left at the end.
The key here is to try and think of the most unique Thanksgiving themed words you can. This is because after the time runs out, each player will begin reading out their answer for each letter. If someone has an answer that duplicates another players, then neither player will receive any points. If no one else has written down your word, then you will receive one point.
Continue around the room, reading out your answers for each letter of the alphabet. Whoever has the most points at the end of the game, wins!
Note: It is possible to receive zero points for an answer even if no one else duplicated it. For example if for the letter "L," someone writes down "laundry detergent," that is not necessarily a Thanksgiving themed word. However, if the player can successfully convince the person who challenged their answer, they still may receive a point.
It may be helpful to assign one person to the job of deciding if a certain word fits the Thanksgiving theme. I think one of the funnest part of this game is hearing how people justify some silly answers and how they are related to Thanksgiving!
Free Printable Thanksgiving Scattergories Game:
This game is designed to print on a standard 8.5×11 inch piece of paper. For the best quality, I would highly recommend printing on white cardstock. Two games will print per game. Simply use scissors or a paper cutter to trim the two games apart. I am currently using this paper cutter from Amazon for all of my projects and definitely recommend it.
Feel free to print as many games as you would like. However, please do not edit or redistribute the files in any way. This game was intended to be used for personal use only.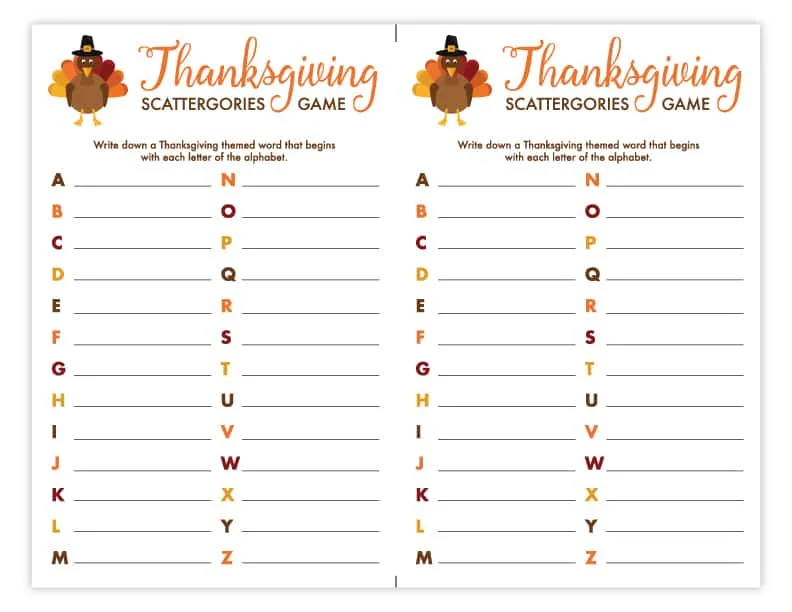 Download link is located at the bottom of this post.
Check out these other free printable Thanksgiving themed word games:
Thanksgiving Word Search:
A classic game, this free printable Thanksgiving word search featuring 21 holiday themed words for you to find. Complete the puzzle at your leisure, or set a timer if playing with a large group to make it more competitive!
Thankful ABC Game:
This game similar to Thanksgiving Scattergories but with the twist of coming up with one thing you are thankful for, for each letter of the alphabet.
Thanksgiving Word Scramble:
This free printable word scramble game features 15 Thanksgiving themed words to unscramble. Don't worry, we've included an answer key in case you get stumped!
One way to make word games a little more fun is to give out a prize to the winner! Here are a few Thanksgiving themed prize suggestions that I think would be a big hit!
Thanksgiving Turkey Sunglasses:
Perfect for silly family photos or a funny Thanksgiving themed accessory, this is a fun prize that kids and adults can both get some use out of.
Novelty Turkey Hat:
I know plenty of people who would get super competitive if they knew that this hat was up for grabs. Who wouldn't want to wear a turkey on their head!?
Novelty Pumpkin Pie Hat:
I would even consider losing a game on purpose if it meant I could see my dad wearing this pumpkin pie hat all throughout dinner!
Thanksgiving Joke Book:
Great for both kids and adults, this funny Thanksgiving jokes and riddles book will keep everyone laughing.
Funny Thanksgiving Stickers:
Most kids absolutely love stickers! This would be a great size if you're playing games with a younger crowd.

Download Link:
Download the printable Thanksgiving Scattergories game pdf here.