This free printable Thanksgiving word search would make the perfect activity for a classroom holiday party, or to keep the kids entertained on Thanksgiving day.
Every holiday, my mom likes to print out tons of fun games for my siblings and I to play before or after dinner. Whether it be I spy games, word scrambles or full on scavenger hunts.
Even as we've grown up and had kids of our own, every holiday get together always includes some kind of fun game to get us all laughing and playing together. It has actually become one of my favorite parts of being home for the holidays.
Recently, I was trying to think of what types of games my mom would normally like to print out. And this year, I set out to design my own. I've actually created a whole bunch of Thanksgiving themed printable games and activities that would be perfect to use at your own family gathering.
Scroll down to the bottom of this post to visit the download links for additional free printable Thanksgiving games and activities such as:
Today I wanted to share with you this free printable Thanksgiving word search. Not only would this be great for keeping everyone entertained and out of trouble before dinner is ready, but plenty of other occasions as well.
Maybe you're a teacher and are in need of some fun yet educational Thanksgiving activities. Maybe you're planning a holiday party or just need something new to offer your kids to do on a playdate.
Whatever the reason, this word search will be a ton of fun. The best part is that it is also educational. Kids will be working on building their vocabulary, improving their spelling skills and possibly even learning a few new words. How often do you really hear the word cornucopia anyway?
Featuring words such as gather, pilgrims, feast and thankful, everyone will surely be in the Thanksgiving holiday spirit after working on this fun puzzle.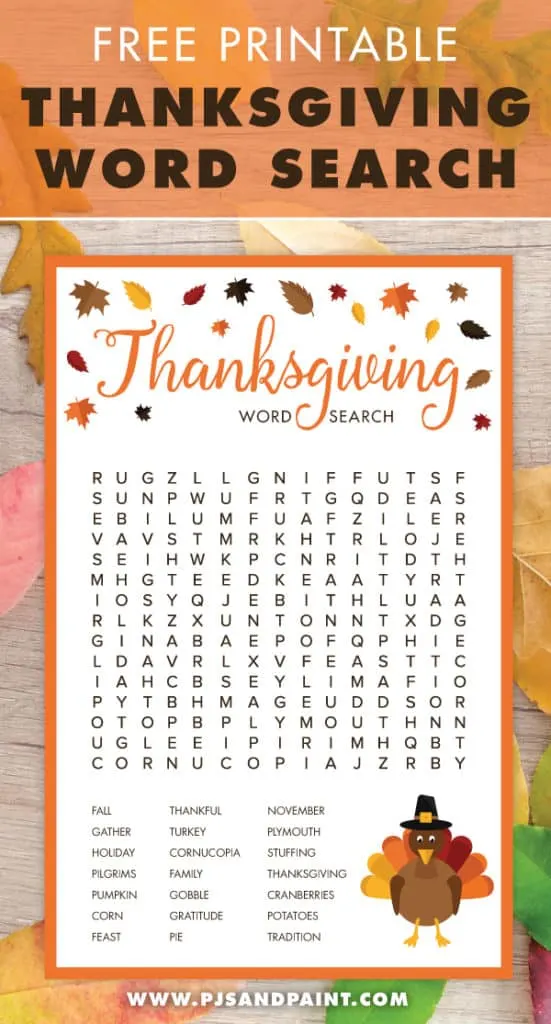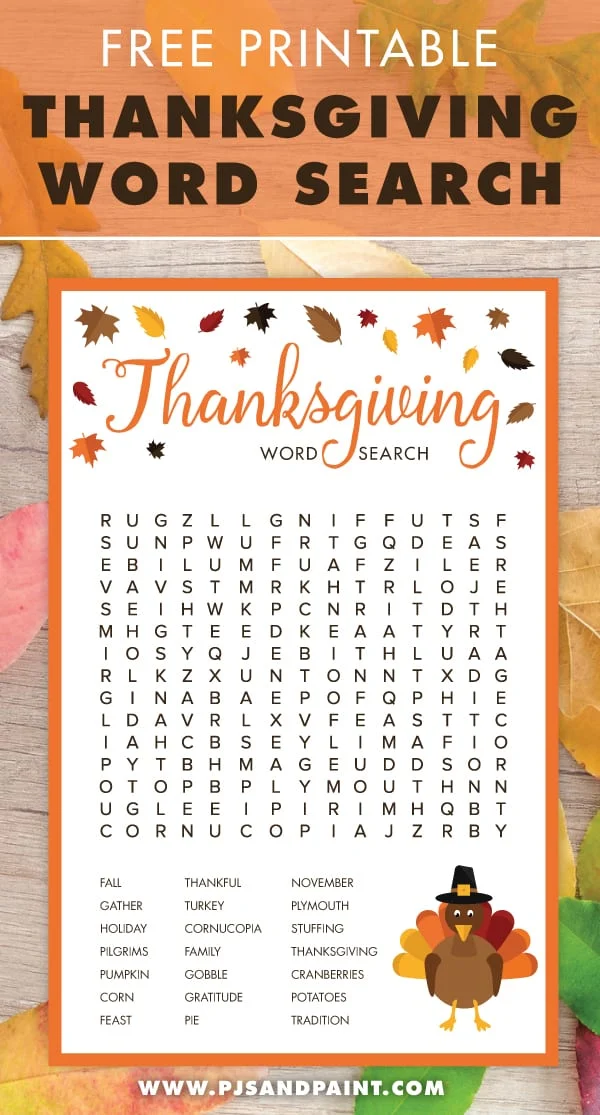 Disclaimer: This post contains Amazon affiliate links. This means that at no extra cost to you, I may earn a small commission if you decide to make a purchase. For more information, please feel free to read the affiliate disclosure on our privacy policy page.
How to make word search games more fun (and competitive):
I've always thought word searches were great on their own. There is definitely something innately relaxing about sitting down and finding words in a big puzzle. However, when you're in a large group of friends and family members this Thanksgiving, you may want to make things a bit more interesting.
To make the word search game more fun for groups, you could first pass out the puzzles to each person face down. Then, set a timer for two to five minutes. When someone yells "GO" everyone has to find all of the words as fast as they can. The person who has found the most words when the timer goes off is the winner!
Alternatively, you could still pass out all of the word searches face down, but this time don't set a timer. Everyone will have to work on finding all of the words as fast as they can. Whoever finds all of the words first, wins!
Another way to play:
Have all of the players begin with their eyes closed. The game host will then call out a random word from the word bank at the bottom of the page. Everyone will then open up their eyes and search for the word as fast as possible.
Whoever finds that word first has to shout out "I found it!" or some other silly phrase you decide on. That person will now get 1 point. The first player to reach 5 points, wins!
Now, as far as the winner goes, you could either have small prizes ready to hand out, maybe they are free from having to help with the dishes after dinner; or maybe they just get bragging rights until the next Thanksgiving word search competition.
I can definitely think of plenty of people in my family who would love to be named the ultimate word search king or queen!
Free Printable Thanksgiving Word Search
There are 20 Thanksgiving themed words to find in this word search puzzle. Not only is it a fun activity, but it is also helpful for kids building their vocabulary and working on their spelling skills.
The word search pdf is sized to fit an 8.5×11 inch piece of paper. 2 games will print per page. For best quality, I would recommend printing on white cardstock. You can trim the games using either scissors or a paper cutter.
This is the paper cutter that I'm currently using for all of my projects and can definitely recommend it.
Please feel free to download and print as many copies of the game as you would like. However, please do not edit or redistribute the files in any way. This activity was created for personal use or classroom use only.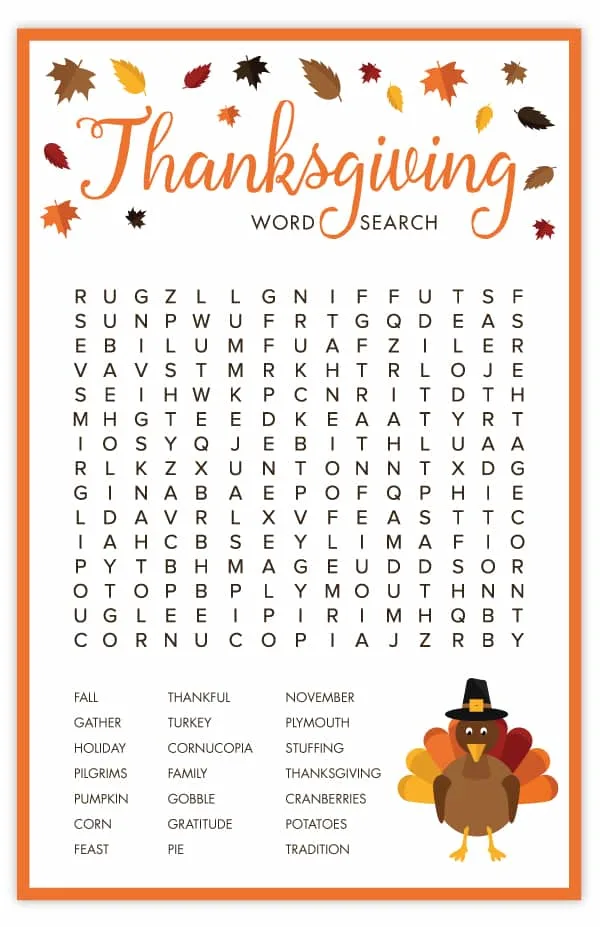 More Thanksgiving Freebies:
Having a bunch of games printed out and on hand is a great way to ensure that no one gets bored while waiting for Thanksgiving dinner to be served. They are also perfect for after dinner, while everyone is sitting around waiting to digest the turkey and mashed potatoes and make room for dessert!

By entering your email address you will be receiving the free digital file as well as subscribing to our weekly email newsletter. You may unsubscribe at any time.