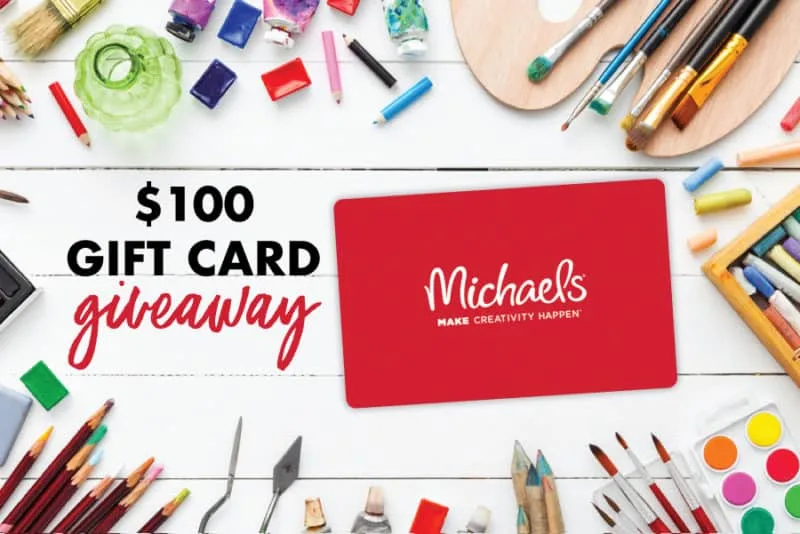 ****Giveaway has ended. Congrats to the winner Cindi! A big thank you to everyone who entered! I cannot believe we had over 5100 entries!****
I walked into Michaels Craft store today and was blown away to see all of the Christmas decor on full display. Halloween hasn't even passed yet!
As I was walking up and down the aisles looking at all the festive decorations and craft supplies I couldn't help but think of how much I would LOVE a guilt free shopping spree right now.
My son was "oohing" and "ahhing" at all the garland, the lights, and fun holiday decor. He was reaching out to touch everything and by the end of the shopping trip was covered in red and green sparkles.
Me? Well I was racing down the aisles trying to grab everything that I needed and get out of the store before he had a mega meltdown. And I knew it was coming! You know, a two year old can only take so much sitting in the shopping cart before they want to (excuse me, demand!) that they get out and explore.
That's when I decided that I'm sure some of my blog readers would also love the chance to have a guilt free (and maybe less stressful) craft store shopping trip; whether for themselves, or with their kids or grandkids.
On top of that, we are also coming up on Pjs and Paint one year blogaversary! Is that an actual word? It is now.
So, just about a year ago I was sitting around thinking about how I would love to start a blog and create fun crafts and printables to share with the world.
Art and design has always been a huge passion of mine and I'm always looking for more ways to be creative. I had been a fine arts major in college but had since got distracted by work, family and general life. I had gotten in the habit of designing only for clients, and not anything for myself. I had missed this so much and was searching for a way to get the enjoyment back in creating.
I thought that a blog would be the perfect outlet for that. I had started a bunch of blogs in the past but none of them seemed to stick. Either I got bored with the topic, or life got in the way. I'm so shocked that being a work at home/stay at home mom with a rambunctious toddler, I was somehow able to not only keep up with this blog, but truly enjoy every second of it.
I genuinely look forward to my free time where I'm able to work on crafts, design printables and then share it on this blog. It's become such an amazing outlet for me that I am so very grateful for.
And so to celebrate coming up on one year of consistent blogging and also get everyone in the holiday crafting spirit, Pjs and Paint is sponsoring a $100 Michaels Gift Card Giveaway!
The giveaway will run from now until midnight on November 14th. On November 15th, the winner will be announced on the blog, and all across our other social media channels. The only requirements to be eligible to enter is that you must live in the United States or Canada and be 18 years or older.
One more thing, you must love arts and crafts as much as I do! Or at least know someone who does!
There are multiple ways to enter and there are chances for you to earn more entries every single day! Good luck everyone!
**This giveaway is not sponsored by Michaels. I just LOVE the store and figured my readers probably do too!**
Enter to win a $100 Michaels Gift Card!
***The giveaway has officially ended***
I just wanted to say a huge thank you to all of my wonderful blog readers who have entered this giveaway. Being a newer blog I never expected to receive so many entries. I'm thrilled to say we had over 5,100 entries, I'm totally blown away!
Throughout this giveaway I have interacted with you all, read every single comment and took every craft/printable request into consideration. (That being said, if anyone who comes across this post has any requests for something they would like to see on the blog. Feel free to contact me via the contact form, social media or email and I will get back to you as soon as possible. As much as I like creating things for myself and my family, I also absolutely love helping others and being able to create or design something just for them).
I truly appreciate everyone who has visited this blog and hope you all come back for more weekly (and sometimes daily) content.
I now want to congratulate the winner of this $100 Michaels Gift Card Giveaway, Cindi! I have emailed you your gift card and you should be seeing that in your inbox very soon! I hope you enjoy your shopping spree and pick up some wonderful holiday decorations and craft supplies.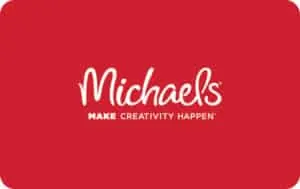 I am thinking that I may do an annual giveaway each year around this time to celebrate my blogaversary! I just did a quick Google search and found that lots of people celebrate their blogaversary so that must mean it's a real word! Right? I'll have to get in touch with Merriam-Webster 🙂
Thank you again to all who entered and stay tuned for more fun blog posts and giveaways just like this one!