I realized this year that my house is seriously lacking in the Christmas decoration department. Aside from the actual tree itself, there is no other holiday spirit to be found! So since I've been loving everything mason jar lately, I picked up a bunch at my local art supply store and started crafting!
The first project I had worked on was this adorable little mason jar snowman. I currently have it set on on a side table as decoration, however, you could also fill it with candy or small treats and give it as a gift! If you like this craft, you can check out my post on How to Make a Mason Jar Santa next.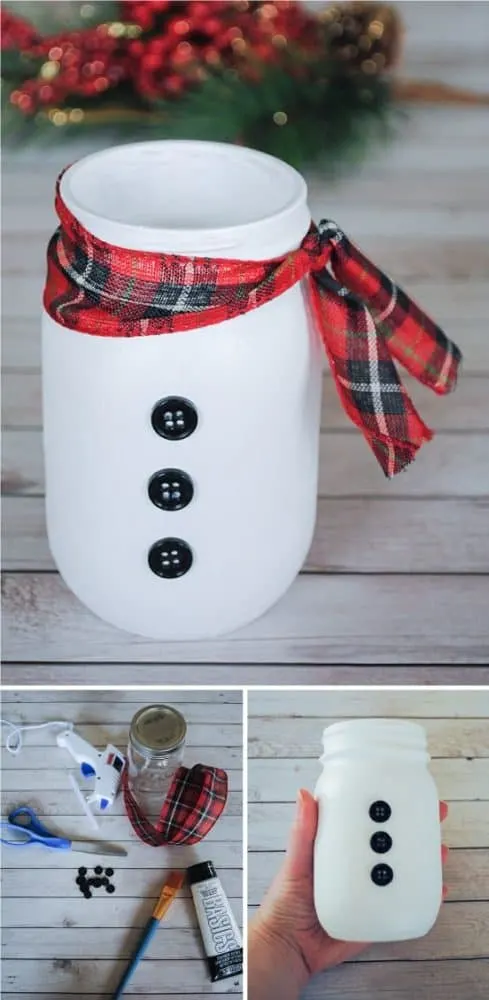 I have definitely been obsessed with mason jars lately. I just feel like there are so many fun craft projects you can do with them. If you've read some of my other blog posts you've probably learned that I have a tendency to buy craft supplies just for the sake of buying them. I always think that I'll come up with a use for them somewhere down the road. And in most cases, I do!
Sometimes I'll just be in the mood to work on an art project, take a look through the supplies I already have and create something with that. It's almost like a challenge. The craft supplies are puzzle pieces and I have to figure out a way to put them all together and make something special.
And so since I had a ton of mason jars on hand, I wanted to figure out some type of Christmas decoration that I could make and display around my house this year. Well let me tell you, this mason jar snowman couldn't be any easier! And you probably have the majority of the supplies already lying around your house.
So if you're in need of a fun winter themed craft to work on in your free time, keep reading! Maybe grab some snacks, a big glass of wine, throw on a lifetime movie and let's get crafting.
Disclaimer: This post contains Amazon affiliate links. This means that at no extra cost to you, I may earn a small commission if you decide to make a purchase.
Supplies needed to make one mason jar snowman:
1 pint sized mason jar (however, any size would work!)
Ribbon
White paint
Black buttons
Glue gun or Elmer's glue
Scissors
Paintbrush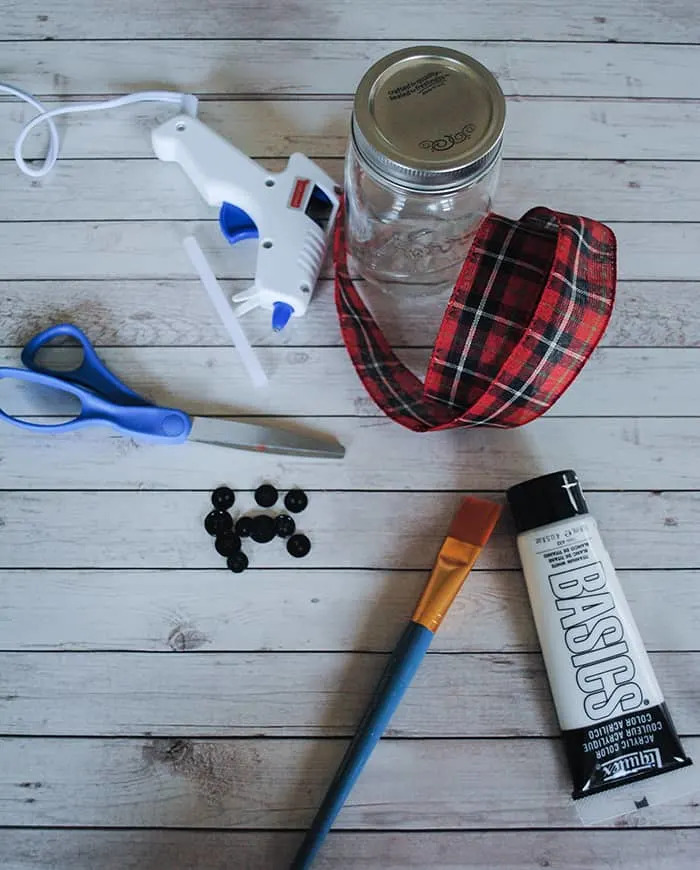 For this project I used a pint sized mason jar. However, you can absolutely use any sized glass jar you have available.
The first step is to paint your mason jar white. I used white acrylic paint and it worked out really well. Keep in mind, depending on how thin your paint is, you may need to do a few layers in order to get a solid coat of white paint.
Two layers was enough for me, but I painted on a third just for good measure! Make sure to let each layer completely dry before moving onto the next.
I also wanted to point out that I painted the inside of the jar as well. While this isn't completely necessary, it definitely makes the completed mason jar snowman look much more finished. This is especially true if you are just using it as decoration as is and are not planning on putting anything inside of it.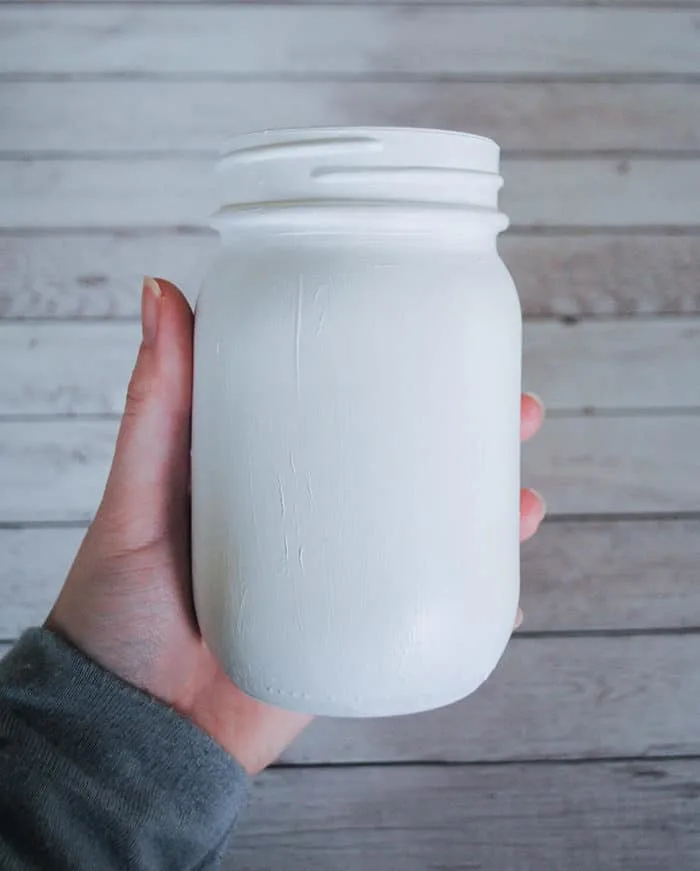 Once the white paint is completely dry, use hot glue to attach three black buttons to the front of the mason jar.
Alternatively, if you don't have black buttons on hand, you could also paint them on with black acrylic paint. Either way, this step is when the snowman really starts coming together!
The final step is to cut a piece of ribbon and tie it around the top of the mason jar. I made sure to leave some ribbon hanging down on the side to make it look as if the snowman's scarf was blowing in the wind.
You could also place a small dab of hot glue underneath the knot of the ribbon to make sure that the scarf stays in place. I used this pretty red plaid ribbon I had on hand, but feel free to use any color or pattern you'd like.
If you're making multiple mason jar snowmen, it might be fun to do a few different colors and patterns for a nice variety.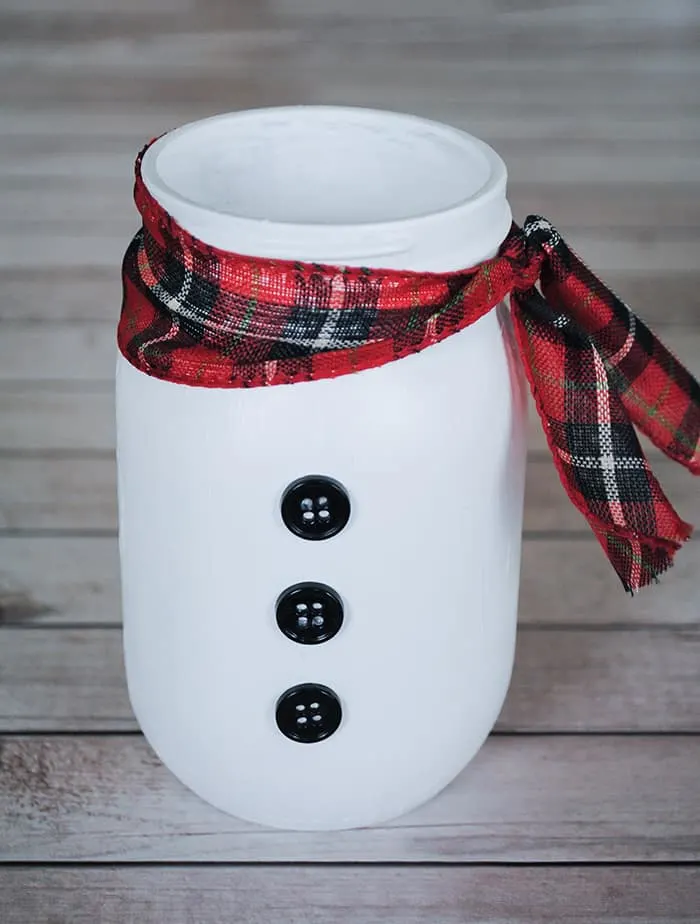 Now that your mason jar snowman is complete, you could either leave it as is and place on a table or mantel for decoration, or you could add some winter or holiday themed items inside.
I think red and white candy canes would look really wonderful sitting inside the mason jars. Either for decoration, or as a sort of candy jar that your family can come to when they are in need of a peppermint snack!
How to use this mason jar snowman as a gift basket:
If you would like to use this mason jar snowman as a gift this holiday season, I would recommend keeping the jar's lid. You could place small gifts or a bag of homemade cookies inside.
I've designed a variety of free printable Christmas/Winter themed gift tags that would be great tied around the top of the mason jar using some festive ribbon, string or twine. Check them out below:
Free Printable Merry Christmas Gift Tags: These Merry Christmas gift tags feature a beautiful green watercolor wreath and a spot to write in who the gift is too and from. Great for last minute presents that you don't want to look like they were a last minute thought!
Free Printable Generic Winter/Holiday Gift Tags: Featuring tags that say "Merry Christmas," "Happy Holidays," "Tis the Season" and a fun snowman, you will definitely be able to use these printable gift tags for just about any occasion this winter/holiday season.
Alternatively, you could fill the jar with small treats and goodies but instead leave the lid off. Wrap the mason jar in clear cellophane or a clear plastic favor bag and tie a ribbon on top. This would make a great gift for your kids to give to their favorite teacher right before winter break.
Like this craft idea? Check out these other Christmas themed mason jar projects:
Mason Jar Santa: Follow the simple tutorial on how to make a mason jar Santa. Great for decoration or gift baskets, this craft will be getting you in the holiday spirit in no time!
M&M Christmas Cookie Mason Jar Kit: These M&M Christmas Cookie Mason Jar kits are so easy to put together and make fantastic holiday gifts. The best part is that you probably have most if not all of the supplies needed already in your kitchen cabinets.
Did you make this mason jar snowman? If so, I would love to see how it came out! If you decide to post any pictures on Instagram, feel free to tag me at @pjsandpaint.
Happy holidays everyone!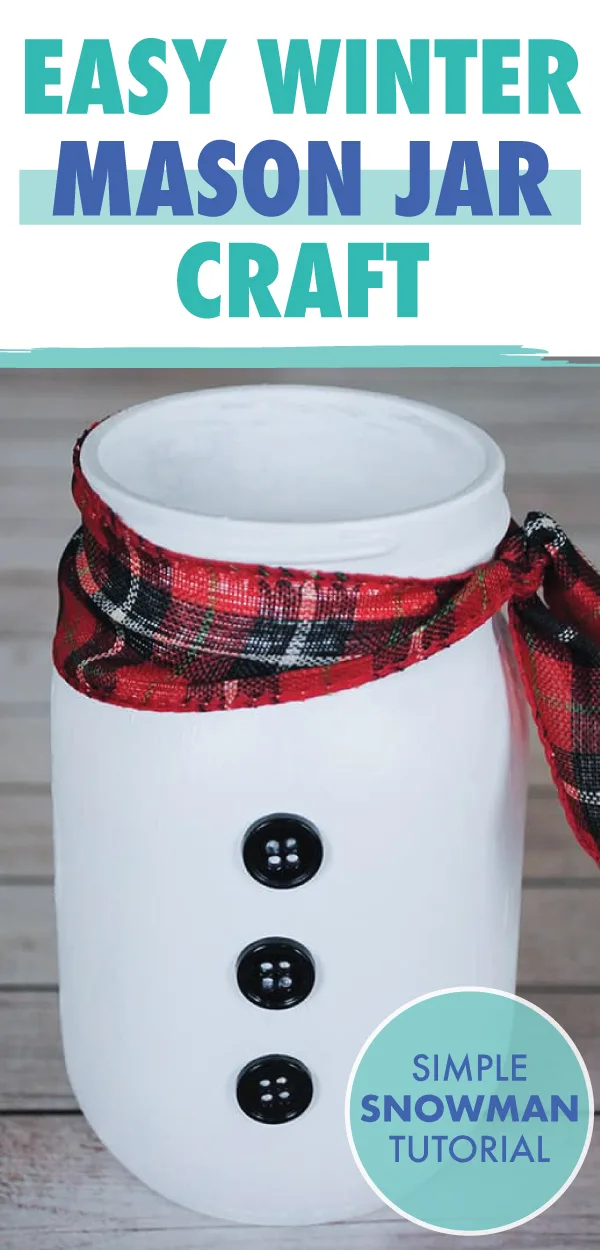 SaveSave
SaveSave
SaveSave
SaveSave
SaveSave
SaveSave
SaveSave
SaveSave
SaveSave
SaveSave
SaveSave
SaveSave