These terra cotta pot Christmas painting ideas would make a perfect gift for a teacher, neighbor or to bring to a holiday party this year.
So, a little backstory, I am definitely a hoarder when it comes to craft supplies. I so enjoy just walking around the craft store and buying items that I know I'll find a use for later.
Recently, I came across these small terra cotta pots that I just knew I could use in some fun way. With the holidays coming up I thought maybe I could paint them as use them as decoration around the house.
Once I got started painting them I realized that they would make the perfect container to hold small gifts! And so today I wanted to share with you these terra cot pot christmas craft that I think turned out really well! They would be perfect to work on yourself or even make a fun activity to do with kids.
I had a hard time trying to decide what to paint on my terra cotta pots. I finally settled on a gingerbread house, a snowman, and Santa. Keep reading to see how I created each and turned them into gift baskets that anyone would be thrilled to receive this Christmas.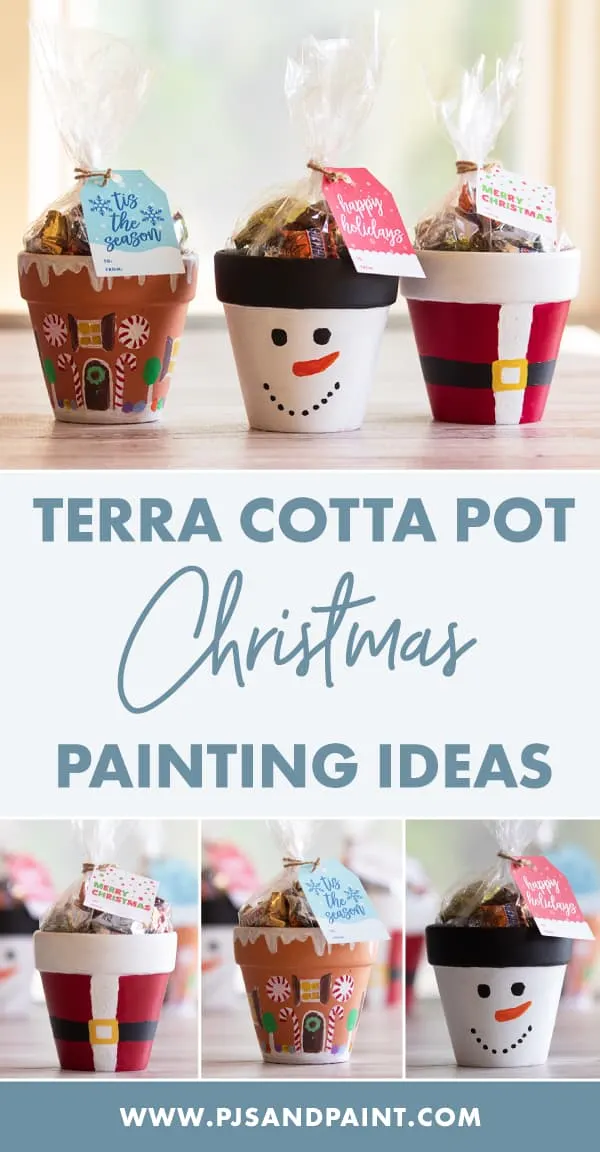 Disclaimer: This post contains Amazon affiliate links. This means that at no extra cost to you, I may earn a small commission if you decide to make a purchase.
What you need to create terra cotta pot Christmas gift baskets:
Terra cotta pots (Mine were 4 inches wide)
Acrylic paint in a variety of colors
Paintbrushes
Free printable gift tags (Download links available at the bottom of this post)
Ribbon, string or twine
Masking tape
Painting tips: Depending on how thin your paint is, you may need 2 or 3 coats to ensure you cover the pot completely. Be sure to let each layer dry before moving onto the next.

Terra cotta pot Christmas Painting
These terra cotta pots would be the perfect gift basket for teachers, neighbors or family and friends. If you're going to be attending a holiday party this season (and of course you are!) you can't go empty handed!
Bringing a homemade gift such as this will make the host/hostess feel so special as they will know you took the time and effort to create something unique just for them.
First, I'll go over how I painted the terra cotta pots, then, I'll show you how I turned them into fun gift baskets!
TIP: If you're planning on doing this craft with kids, you may want to paint a few layers of white onto the terra cotta pot beforehand. This way, they can get started right away on the fun part, instead of waiting for base layers too dry.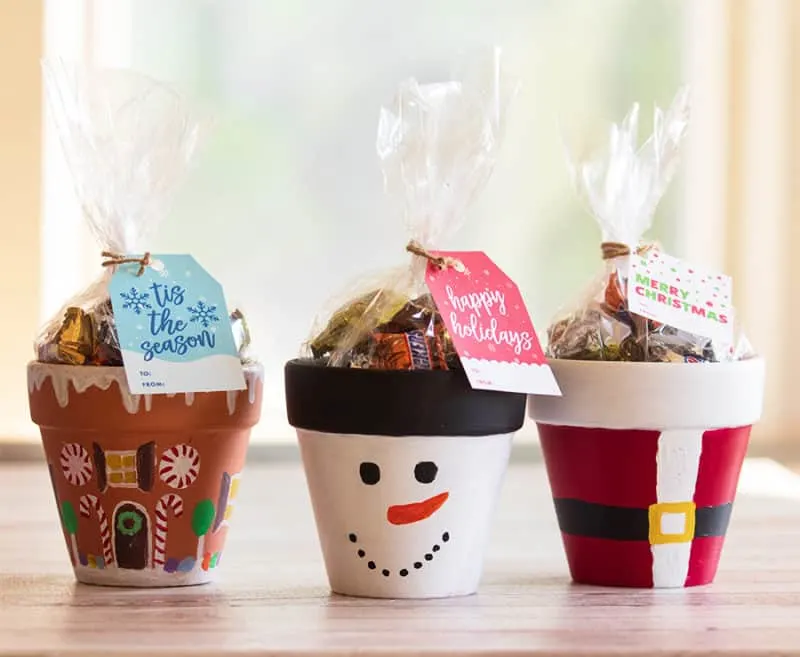 Snowman
To create this adorable snowman, I first painted the body of the terra cotta pot a solid white. I then went on to paint the top rim of the pot black in order to represent the snowman's hat.
I would also recommend painting the inside of the pot as well. This isn't totally necessary but will definitely make it look a lot cleaner when the pot is not filled with gifts.
After the white paint was completely dry, I went back with black and orange paint to create the snowman's eyes and mouth.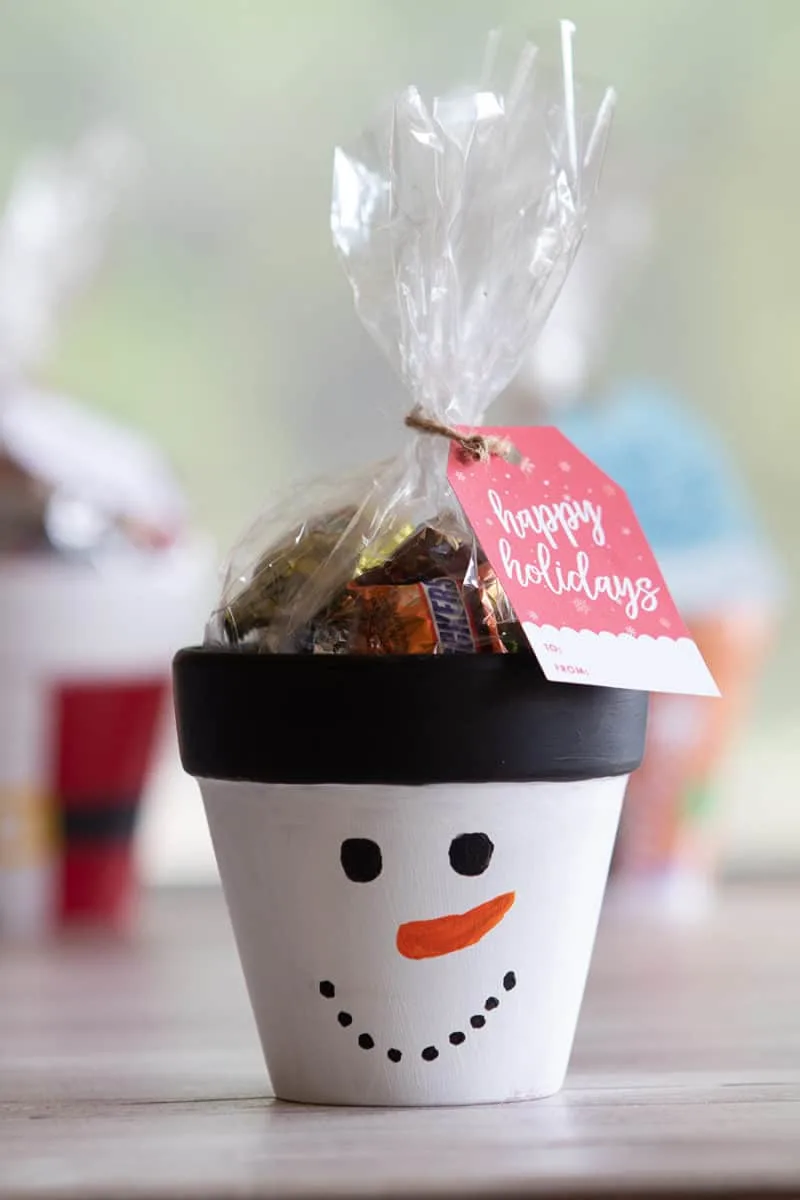 Santa
To create Santa, I first used red acrylic paint to cover the entire bottom section of the terra cotta pot. I then went back in and painted the top rim white.
Next, I took masking tape to create the area that I wanted for Santa's belt. I filled this in with black paint and then once it was dry, removed the tape. The masking tape creates a smooth line that is sometimes hard to achieve by hand, especially when working on a curved surface such as a pot.
Once the black paint was completely dry, I use white paint to create the fur down the center of Santa's suit. Don't feel as if your lines need to be straight here! Adding some wiggly edges will better give the sense of the soft fur that lines his jacket.
Finally, I added a golden belt buckle to complete the look!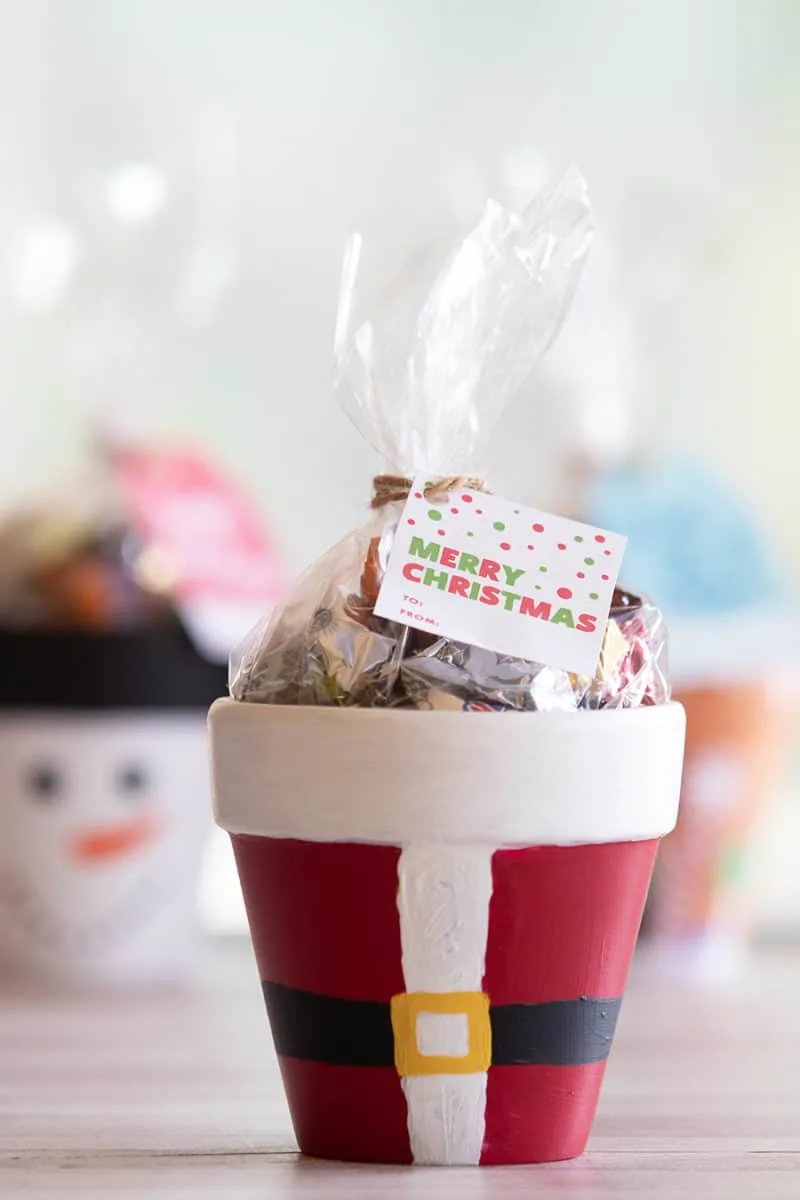 Gingerbread House
I had a ton of fun with this gingerbread house. I actually recruited my husband to work on his own gingerbread house as well. We had some pizza, opened up a bottle of wine and made a fun crafty night out of it!
Feel free to use my gingerbread house as reference if you need a starting point, but don't be afraid to get creative with this one!
I first sketched out what I wanted my gingerbread house to look like. I then went in and filled in all the lines with with acrylic paint. With candy canes, gum drops and lollipops, you'll have a hard time not wanting to have a snack while working on this one!
If you're having trouble coming up with ideas for your own gingerbread house, just browse through Pinterest of real gingerbread houses. There are so many fun directions you could take this project.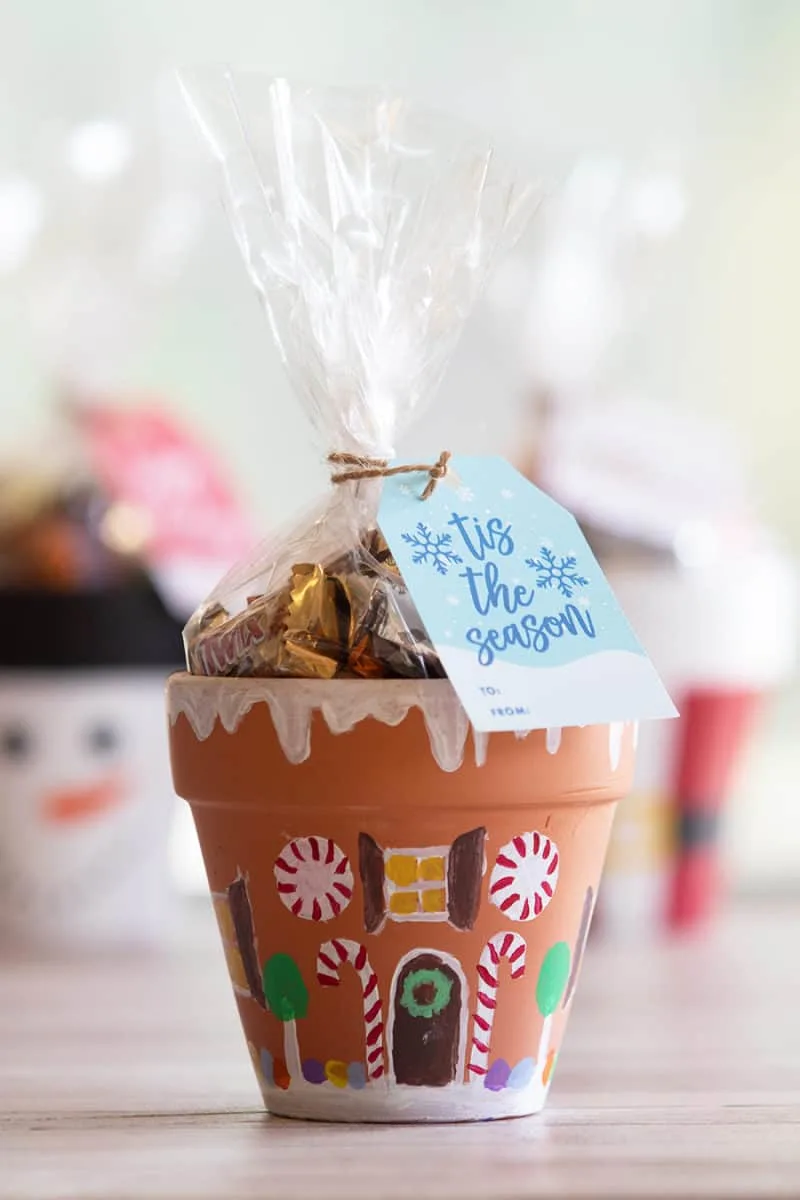 How to keep your painted pots in tip top shape:
Once your terra cot pot's have been painted and are completely dry, you can add a layer of varnish to help protect your work. Not only will this help keep the paint from chipping over time, but it also gives a subtle glossy shine that will make your project look more finished. I use the Mod Podge 1470 Clear Acrylic Sealer.
Create a fun gift basket:
After you're done painting and sealing your terra cotta posts, you can then fill a clear treat bag. Candy, homemade cookies or small toys would all be perfect to fill the gift bag with.
Next, place the bag inside the pot and add a gift tag with some ribbon string or twine.
To go along with these gift baskets, I've also created free printable Christmas gift tags that you can download and use today! Perfect for last minute presents.
Free Printable Christmas Gift Tags
I've designed 4 gift tags that are available in two sizes. Featuring snowflakes, polka dots and snowmen, the recipient of your gift will definitely love the personal touch you've added with these gift tags.
The tags are sized to fit on an 8.5×11 inch piece of paper. For the best quality, I would definitely recommend printing on white cardstock.
The bottom row of tags will trim to 2×3 inches, and the top row will trim to 2×2 inches. Each tag includes a spot to write who the gift is to and from and well.
Once the tags are cut out you can use a hole punch to tie them to the top of your favor bag.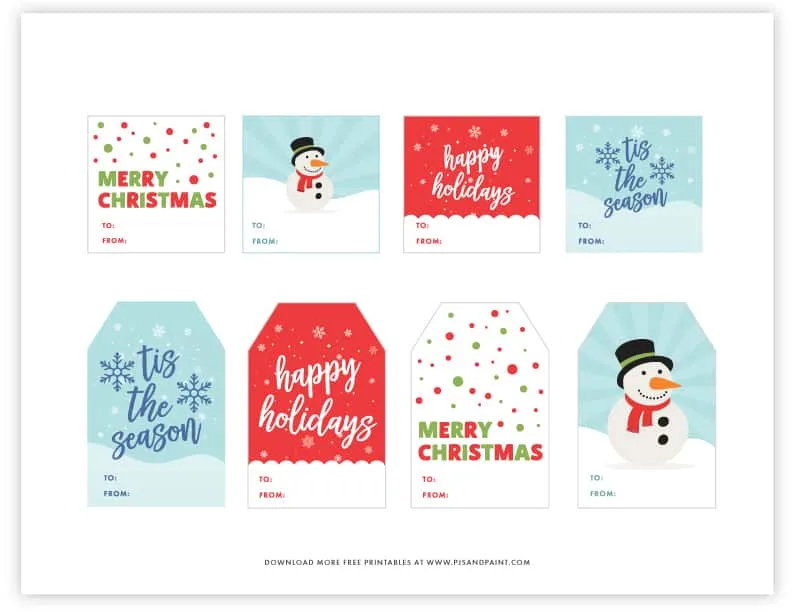 View the Christmas tags blog post and download links.
And with that, you now have created personalized gift baskets that I hope you had a ton of fun making! I would love to see what designs you came up with. Feel free to tag me at @pjsandpaint on instagram if you upload any photos.
Which one of these terra cotta pot painting ideas was your favorite?