When planning a party or get together, it's the personal touches really make all the difference. I'm a big fan of handmade elements when it comes to decorating and entertaining. So today, I wanted to share a free printable that I recently designed that would be perfect for the upcoming Thanksgiving holiday.
My husband is a first responder, and due to the nature of his job, we unfortunately don't always get to celebrate holidays on the actual holiday date itself. Because of this, I've always thought it was really important to make whatever day we end up celebrating a particular holiday, extra special.
This year, my husband found out that he will be working all day on Thanksgiving. And so that was my cue to start planning for our unique "Thanksgiving Day" dinner (aka a random Tuesday in November!). Since we'll be celebrating a few days earlier instead, I wanted to make sure to go all out on the holiday decor to make it feel extra special.
Since we're not having a large family get together and don't need placecards for our dinner table this year, I thought it would still be a really nice touch to create these easy to put together "So Very Thankful for You" utensil holders. No matter how many people will be at your dinner table this holiday, I can almost guarantee that they will be using forks, knives and spoons! A great way to set the table is to add these utensil pouches to everyone's dinner plate. Not only do they look great, but also serve a purpose.
Thanksgiving is truly all about friends, family and gratitude. Sometimes it is the little personal touches that can really make your friends and family feel extra special, even if you aren't able to celebrate together on the actual day itself.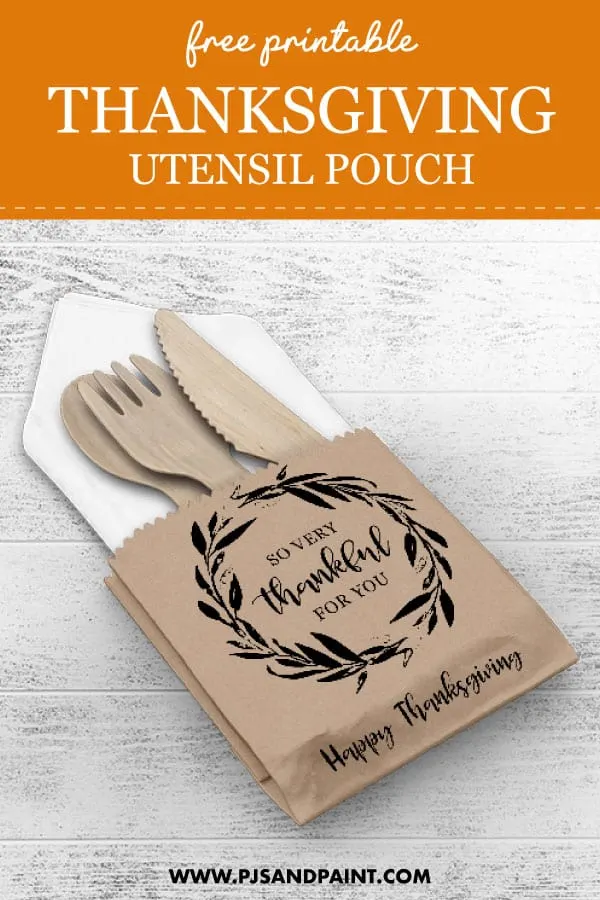 Disclaimer: This post contains Amazon affiliate links. This means that at no extra cost to you, I may earn a small commission if you decide to make a purchase.
This free printable Thanksgiving utensil pouch would be a great addition to your dinner table this year. Featuring a rustic wreath design and the words "So Very Thankful for You," all your guests will definitely appreciate the time and effort you took to beautifully craft your tablescape.
Free Printable Thanksgiving Utensil Pouch
Two utensil pouches will print per 8.5×11 inch page. For the best quality print, I would highly recommend using either white or kraft paper cardstock.
Once printed, cut the pouches out along the dotted lines. You can use either scissors or a paper cutter if you happen to have one on hand. I always have so much trouble getting a perfectly straight line with scissors alone so this paper cutter I currently have on my desk is a huge help!
Simply fold the pouch in half and glue the two outer edges together. The pouch will now measure approximately 4.25×4.25 inches. Let dry completely and then place your utensils inside. These pouches would look great sitting on top of the dinner plate, or anywhere nearby.
Feel free to download and print as many utensil pouches as you would like. However, please do not edit or redistribute the files in any way. They were created for personal use only.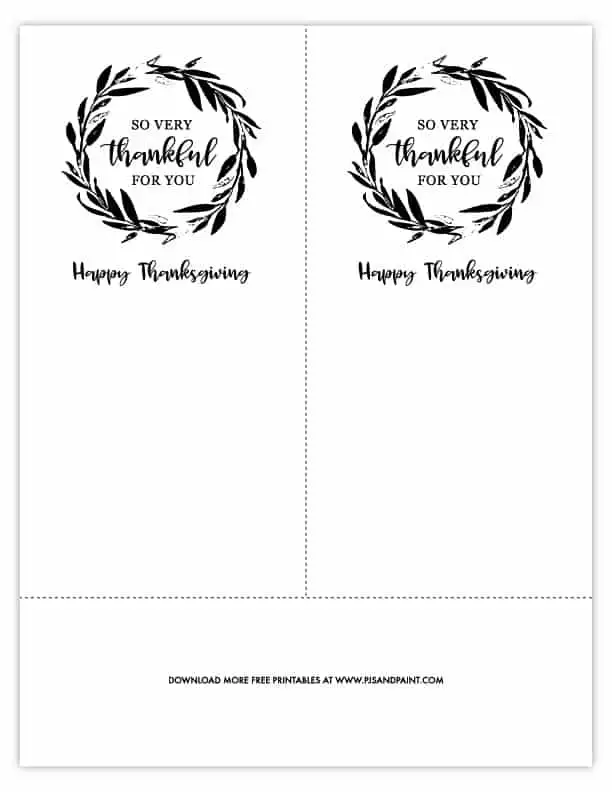 Click here to download the Thanksgiving Utensil Pouch pdf.
A fun element you can add to these pouches would be a zig zag or scalloped edge. I think the small details truly have the biggest impact. Not only do they look beautiful, but they show that you have really put a lot of thought into making the holiday a little extra special.
In order to achieve this look all you would need to do is cut out the pouches as instructed above. Afterwards, once the pouches are put together, you can use a specialty craft scissor like one of the below, to add a fun detailed edge.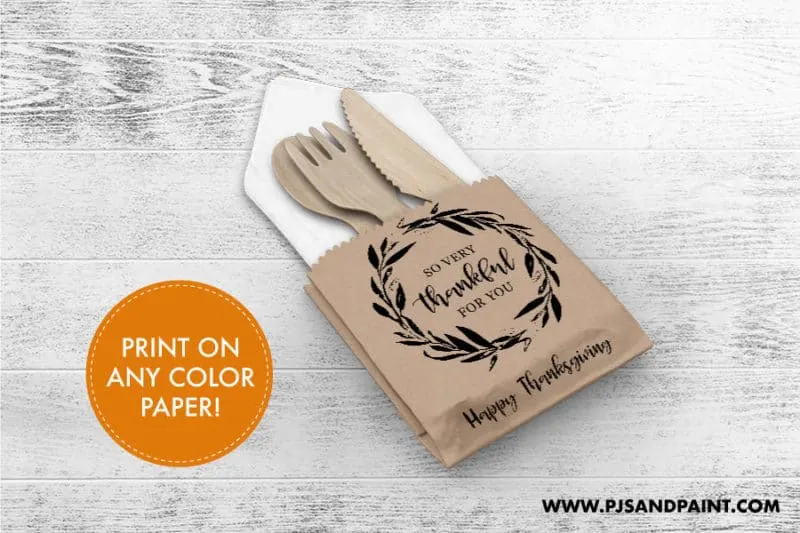 I would recommend one of these two scissors below:
Click on one of the scissor images to be taken directly to their Amazon page.
[column-half-1]


[/column-half-1]
[column-half-2]

[/column-half-2]
Did you use these Thanksgiving pouches this year? I would love to see them! Feel free to tag me on instagram at @pjsandpaint if you decide to upload any photos.
Happy Thanksgiving!
If you're planning on using these utensil pouches at your Thanksgiving dinner table this year, be sure to check out the matching "Thankful for Leftovers" printable labels as well.
Most families cook WAY too much food for Thanksgiving dinner. And that's definitely not a bad thing because you'll have leftovers for days! But most likely, you can't eat all of the leftovers by yourself. And do you really want to eat turkey sandwiches every day for weeks? Probably not. Send your guests home with to-go boxes and they'll love you even more!
I've created free printable "Thankful for Leftovers" stickers that you can place on your to-go bags or boxes to add a little extra personal touch. Click here to view the full post and download links.
Have you thought about sending your guests home with small favors, as well as leftovers?
Whether you are gifting homemade cookies, freshly baked bread, or a local jar of honey, adding one of these beautiful tags to your gifts or party favors will most definitely make them look even more professional and thoughtful.
I've designed three "So Very Thankful For You" tags that are completely free to download and print as many times as you'd like. They are also editable so you can include your name or a short message at the bottom.
Alternatively, you can choose not to add any text as just print them as is. You can visit the Thanksgiving gift tag download page by clicking here.
And finally, let's talk about some wine.
Are you struggling to figure out a good host/hostess gift to bring to Thanksgiving dinner this year? Just head to the store and pickup a bottle of wine!
I've created these free printable Thanksgiving wine bottle labels that are the perfect way to personalize a wine bottle label and turn something ordinary into a thoughtful and fun gift. Click here to full the full post.