I truly think that it's the small, thoughtful touches that make the holiday season so great. Something as simple as a handwritten note or gift tag can make the recipient feel extra special.
And that is why I have created these free printable "Thankful for Leftovers" stickers that you can place on your to-go bags or boxes to add a little extra personal touch.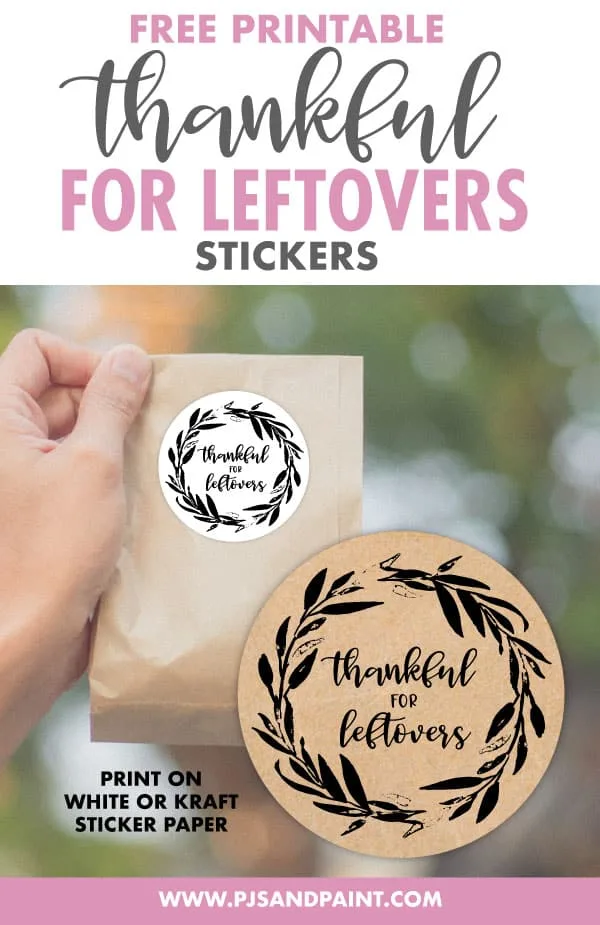 Disclaimer: This post contains Amazon affiliate links. This means that at no extra cost to you, I may earn a small commission if you decide to make a purchase.
Most families cook WAY too much food for Thanksgiving dinner. And that's definitely not a bad thing because you'll have leftovers for days! But most likely, you can't eat all of the leftovers by yourself. And do you really want to eat turkey sandwiches every day for weeks? Probably not. Send your guests home with to-go boxes and they'll love you even more!
But wait! Did you happen to stumble across this post before or after Thanksgiving has already passed? These free printable Thankful for Leftover stickers would still be perfect for just about any occasion where food is involved. I mean, really, who isn't thankful for leftovers at all times of the year?
Whether you are planning on hosting an Easter brunch, a family reunion, or even just a casual dinner with friends, I'm sure that all of your guests would appreciate going home with leftovers. Place these stickers on any bag or container that you are sending your friends and family home with and I'm sure they will appreciate the added personal touch.
Free Printable Thankful for Leftovers stickers
These free printable "Thankful for Leftovers" stickers are designed to fit on Avery Template 22830 or Avery Template 22818. They are both the same except one will have a white background and one will have a kraft colored background. Personally, I'm a huge fan of everything kraft paper. For each of those Avery templates mentions, 9 stickers will print per page.
Note: Sometimes, depending on your printer, it can be a little tricky to align sticker templates. If you're having trouble or just want to use a different brand of sticker paper OR create a different sized sticker, I'm also going to be included a free download of the sticker by itself. Scroll down to the bottom of this post for that file!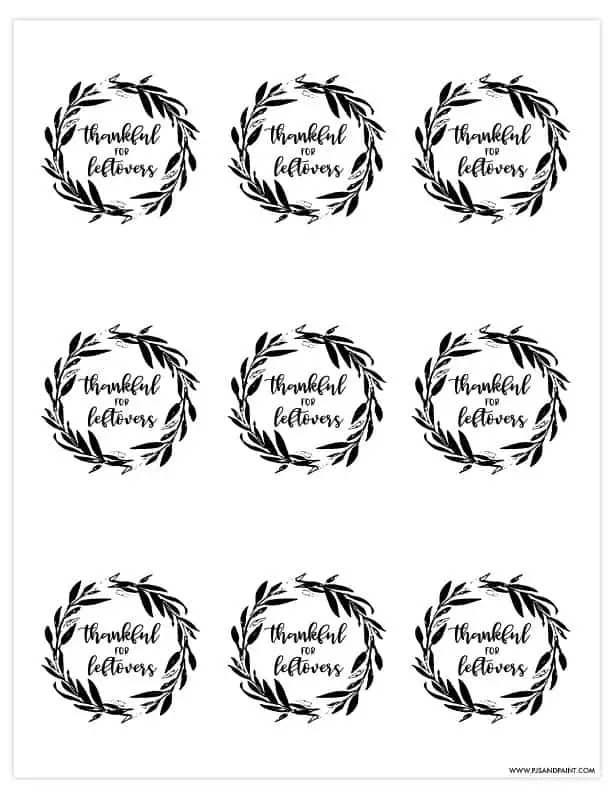 In the event that you don't have Avery templates on hand, or if you can't find them in store and you need them now, here are a few other options if you would like to use a different brand of sticker paper. Keep in mind with these products below, you would have to create your own template using the singular sticker file I have included below.
Alternatively, if you have some extra time, you can even upload this singular sticker file below to an online printer to have them professionally printed.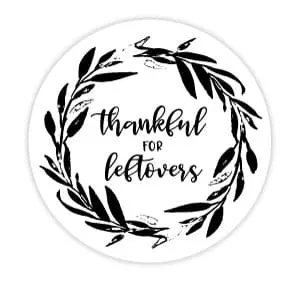 You can also use this file if you are planning on using a different sticker paper template, sending them to a local or online printer, or would just like to print them at a larger/smaller size. The file in the download link below is a high res pdf, vector format. This means that you can take this design and blow it up or shrink it down to any size without the worry of any image quality loss. Which is a great thing! No matter how you choose to use this "Thankful for Leftovers" sticker, you can be sure that the design will look great at all sizes.
Please note that this file was created for personal use only. You are not permitted to edit, redistribute or sell the file or any products created with the design.
Download single sticker file here.
Are you planning on using this sticker design for yourself this Thanksgiving?
If so, you will definitely want to check out the matching DIY Thanksgiving utensil pouches!
I've created these free printable Thanksgiving utensils pouches that would be a great addition to your holiday dinner table this year. The utensil holders feature the same rustic wreath as the "Thankful for Leftovers" stickers, and the words "So Very Thankful for You." All of your guests will most definitely appreciate the extra time and effort you took to beautifully craft your dinner table.
The utensil pouches would look great printed on white cardstock or on a brown kraft colored paper (which is my personally favorite)!
And the very best part is that they are free to instantly download and print right now. Which means that if you're a little behind on the Thanksgiving dinner planning, no one will ever know that you put these pouches together just moments before all of the guests arrived! Click here to visit the full post.
Are you thankful for wine? I know I am!
If you are struggling to figure out a good host or hostess gift to bring to Thanksgiving dinner or a holiday party this year, look no further! Just take a quick trip to the store and pick up a bottle of wine.
I've created a free printable Thanksgiving wine bottle labels that are the perfect way to personalize a wine bottle and turn something ordinary into a truly thoughtful and fun gift. Click here to view the download page.
What kind of to-go bags/boxes are you planning on sending your friends and family home with?
For some reason I never seem to get back the tupperware I send people home with. But to be fair, I also have a cabinet full of containers that I should have returned also! In any case, disposable contains are probably the best bet. I've included below a few disposable box ideas that you can send everyone home with and not expect them back.
[column-third-1]

[/column-third-1]
[column-third-2]
[/column-third-2]
[column-third-3]
[/column-third-3]
If you're going to be sending your guests home with leftovers this Thanksgiving, be sure to add these fun "Thankful for Leftovers" stickers!
Did you use these printable stickers this year? I'd love to see! Tag me on instagram at @pjsandpaint if you upload any photos!
Happy Thanksgiving!