DONUT what I'd do without a great friend like you! These fun free printable donut valentines would be the perfect cards for any dessert loving kids out there to give to their family, friends or classmates this Valentine's Day!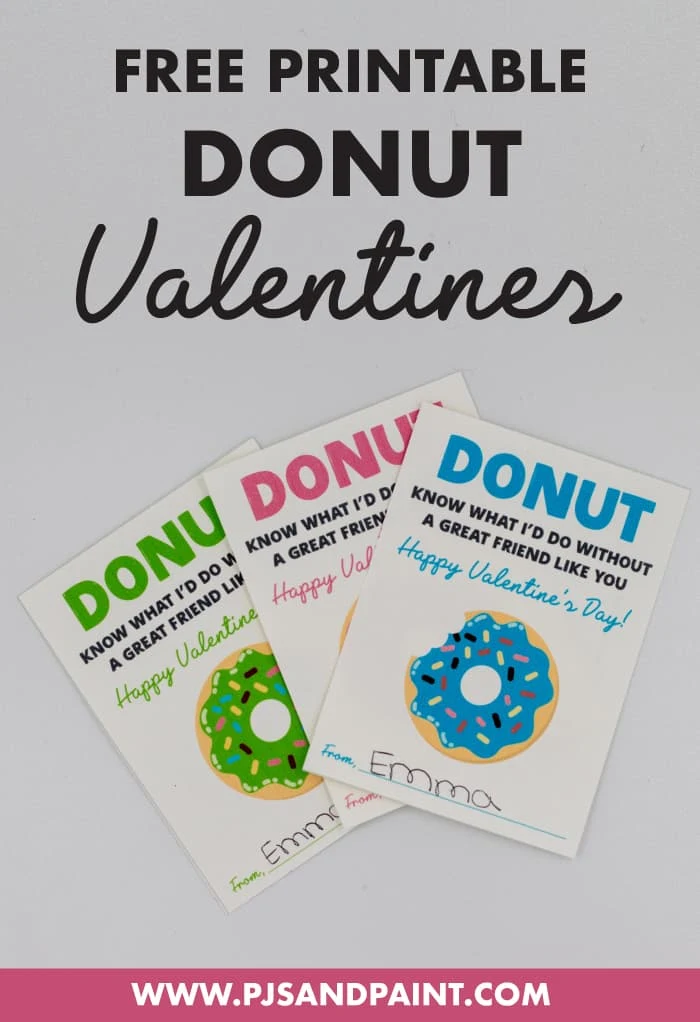 Disclaimer: This post includes Amazon affiliate links. This means that I may receive a small commission if you decide to make a purchase.
I have such fond memories of Valentine's Day back when I was in elementary school. The teachers would always have us make and decorate fun Valentines mail boxes for our desks.
It was always so excited going through the mailboxes and seeing all of the different valentines that my classmates would give out.
I had a great time creating a bunch of printable valentines for this series. And today I'm excited to share these fun free printable donut valentine cards.
Supplies needed: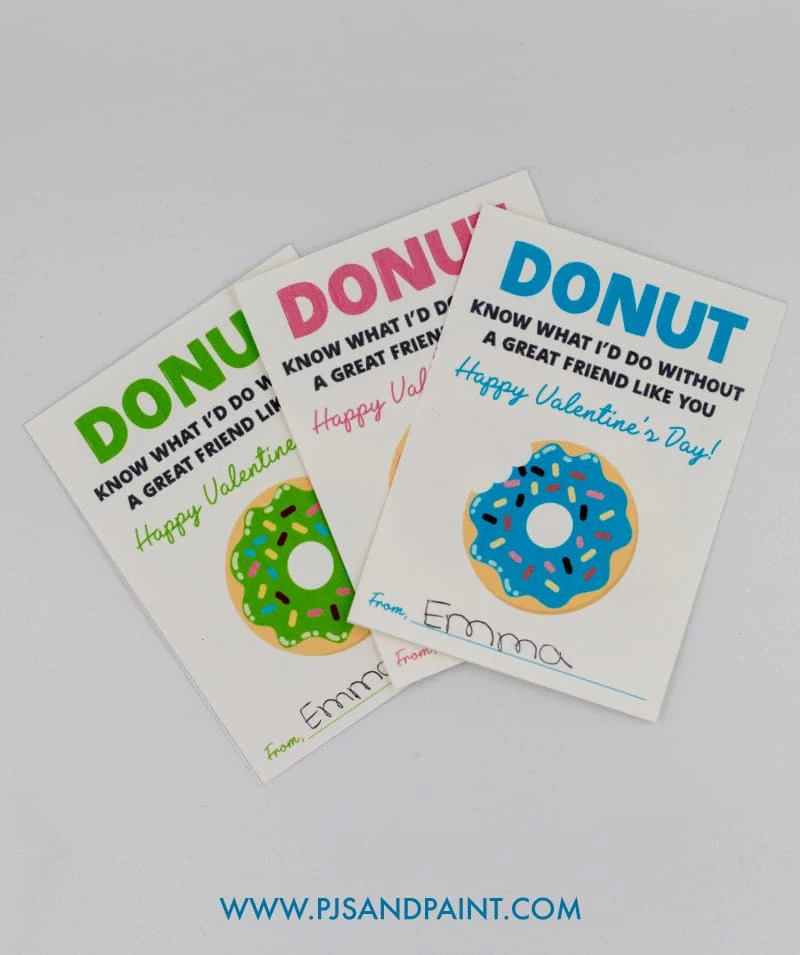 But wait there's more!
If you would like to add a little extra pizzaz to your valentines cards this year, here are a few fun ideas:
Attach the cards to actual donuts.
Buy or make full sized or mini donuts. Place them inside of a small plastic bag. Maybe something like these! Next, use some ribbon, string or twine to tie the cards onto the donuts. If you'd like you can even punch a hole into the top of the cards and tie them onto the donuts that way.
Attach the cards to donut toys.
Maybe you'd like to cut down on the actual sugar and give out fake donuts instead! Check out these fun plush donuts with sprinkles from Amazon. You can also use ribbon, string or twine to attach the cards to the plush donut toys.
Give the donut valentine along with a dunkin donuts gift card.
This would make a wonderful Valentine's Day gift for someone like a teacher, bus driver or mailman. Simply purchase a dunkin donuts gift card (or any other shop or coffee house that sells donuts) and attach it to the free printable donut card.
Free Printable Donut Valentines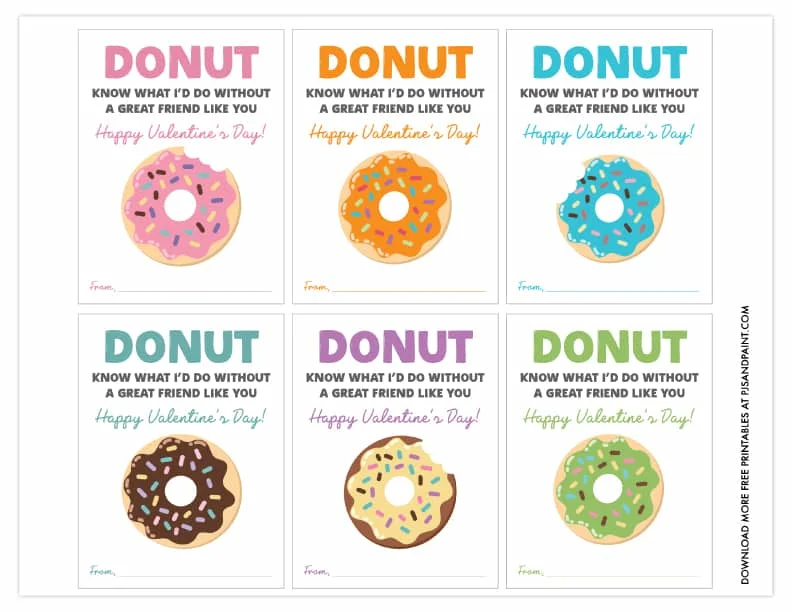 Download link is available at the bottom of this post.
Featuring 6 different colored donuts, these valentines are designed to print onto a standard 8.5×11 inch piece of white cardstock.
Once trimmed, each card will measure 3×4 inches. I would definitely recommend using a paper cutter to cut the cards out. This will ensure that the cards' edges are as straight as possible, and look more professionally printed. This is the paper cutter that I actually have on my desk right now and I can highly recommend it!
Feel free to download and print as many copies of the donut valentines cards as you would like. However, please do not edit or redistribute the files in any way. These valentines were created for personal or classroom use only.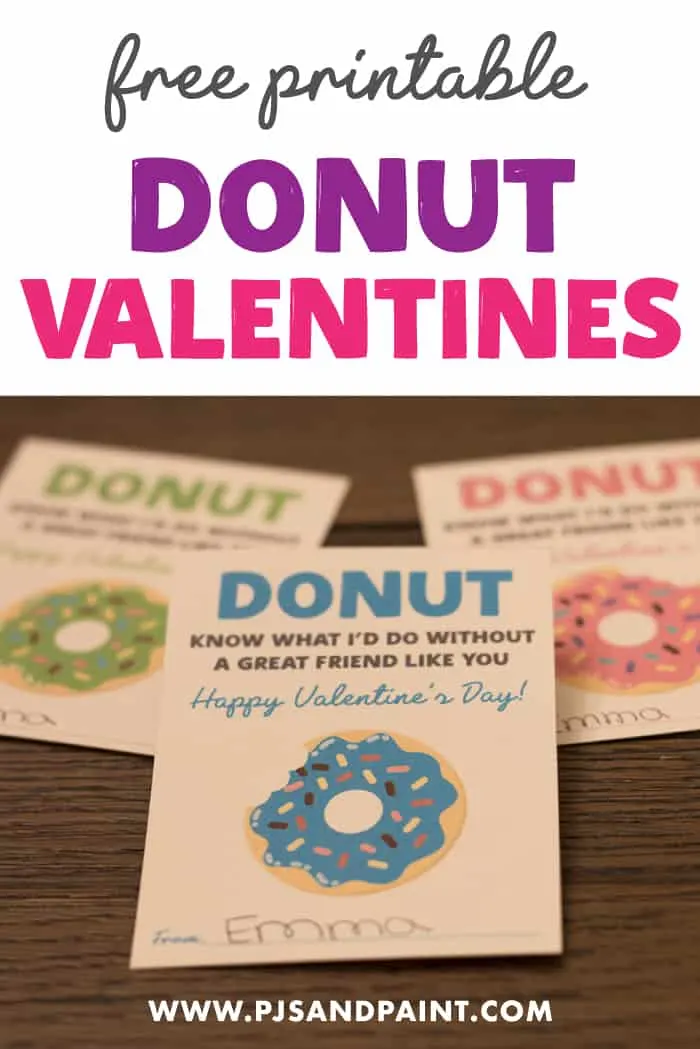 Be sure to check out some of our other free printable Valentines for kids:
All of these valentine's below are totally free to download and print today! From dinosaurs to race cars, unicorns to pencil toppers, I'm sure that you'll be able to find something that you and your kids will love putting together for your friends and family this Valentine's Day.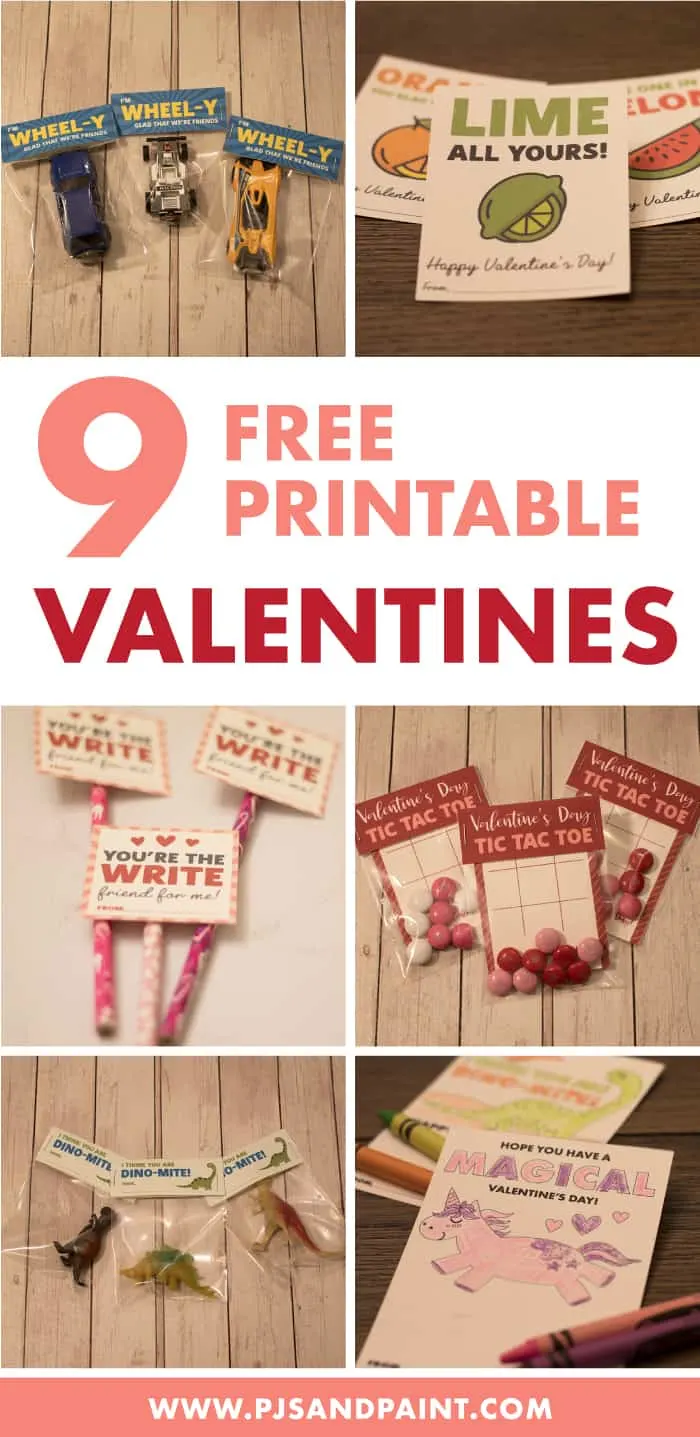 Dinosaur Valentines for Kids – Free Printable
These free printable dinosaur valentines feature the saying "I think you are DINO-MITE!" They would be just perfect for any kids that love dinosaurs and want to share that love with their classmates and friends!
Free Printable Valentine's Day Tic Tac Toe Game
These free printable Valentine's Day tic tac toe games would make the perfect little treat to hand out to your child's friends and classmates. Not only is it a fun game, but you can eat the delicious candy after you are done playing!
Coloring Page Valentines for Kids – Free Printable
I just love Valentines that offer a fun activity as well as a thoughtful card. This Valentines set includes 4 different coloring pages with cute puns to go along with them!

Free Printable Race Car Valentines
I'm wheel-y glad that we're friends! This Valentine is great for any kids who love cars or trucks.

Free Printable Pencil Topper Valentines – You're The Write Friend For Me
These super cute pencil toppers would make great Valentine's for your kid's classmates this year. The best part is they also get a really cool pencil to keep!

Fruit Puns Valentines – Free Printable Valentines
Orange you glad we're friends? I know I sure am! These super cute fruit puns will keep all of your Valentines laughing!

Free Printable Candy Bar Wrappers for Valentines Day
These candy bar wrappers are a great way to give a bar of chocolate with a little extra personalization. I don't know anyone who wouldn't want to receive a nice big bar of chocolate this Valentine's Day!

Free Printable Unicorn Valentines for Kids
These adorable unicorn valentines will make sure your Valentine's Day is extra magical this year!


Download Links:
Click here to download the free printable donut valentines files.
Did you use any of these free printable Valentines this year? I would love to see them! Feel free to tag me on Instagram at @pjsandpaint