These free printable race car valentines will be perfect for any car loving kid to hand out to their friends, family and classmates this Valentine's Day.
Featuring the words "I'm Wheel-y glad the we're friends," these race car valentines are just too cute to pass up! And the best part about them is that your valentine also gets to keep a fun little car toy!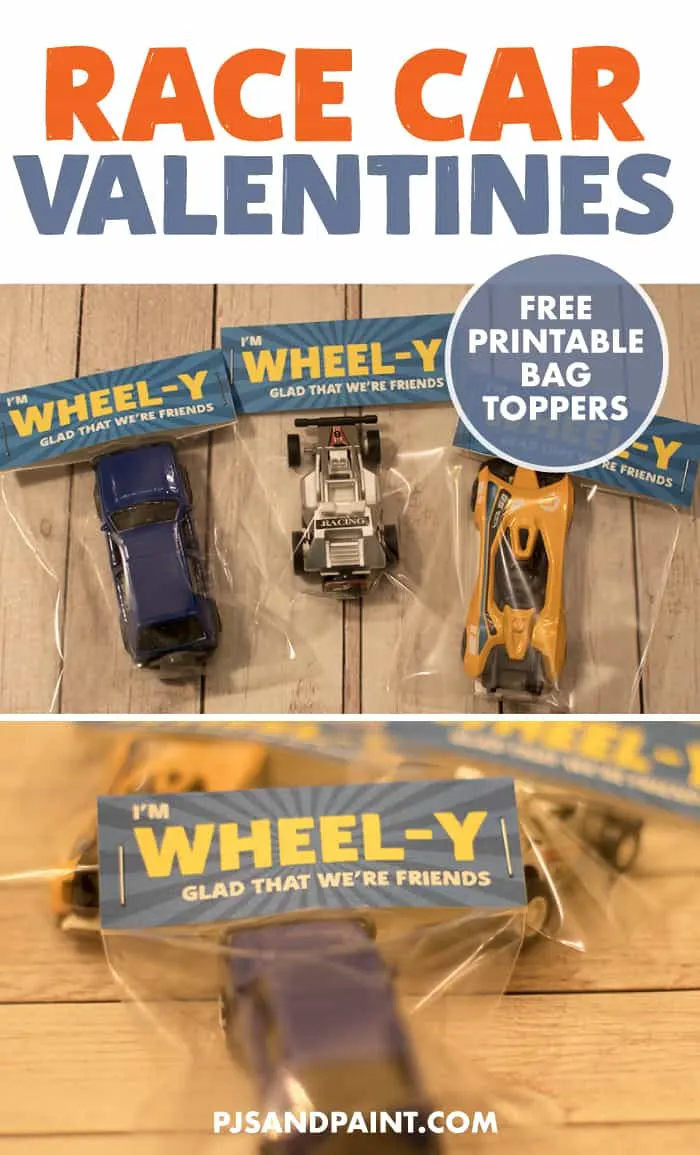 Disclaimer: This post contains Amazon affiliate links. This means that at no extra cost to you, I may earn a small commission if you decide to make a purcahse.
What you need:
Printable Bag Toppers
White cardstock
Scissors of a paper cutter
Stapler and staples
How to assemble:
irst, print out the bag toppers on to white cardstock. The bag toppers are designed to print on a standard 8.5×11 inch pice of paper. 8 bag toppers will print per page.
Using scissors or a paper cutter, trim the bag toppers apart. This is the paper cutter that I currently have on my desk and I can definitely recommend it!
Next, fold the bag toppers in half. Fill out the "from" section using crayons, pens, pencils or markers.
Place a small toy car or truck into the plastic bag. Alternatively, you could also use any other car related item. Here are a few other options that I think would work great:
Finally, place the bag topper on top of the plastic bag and staple each side of to hold the topper in place.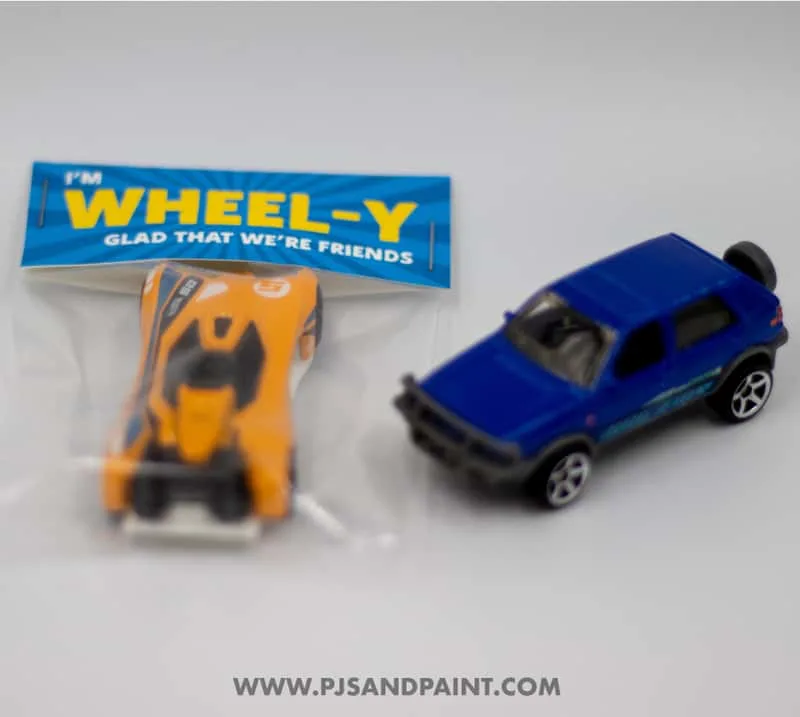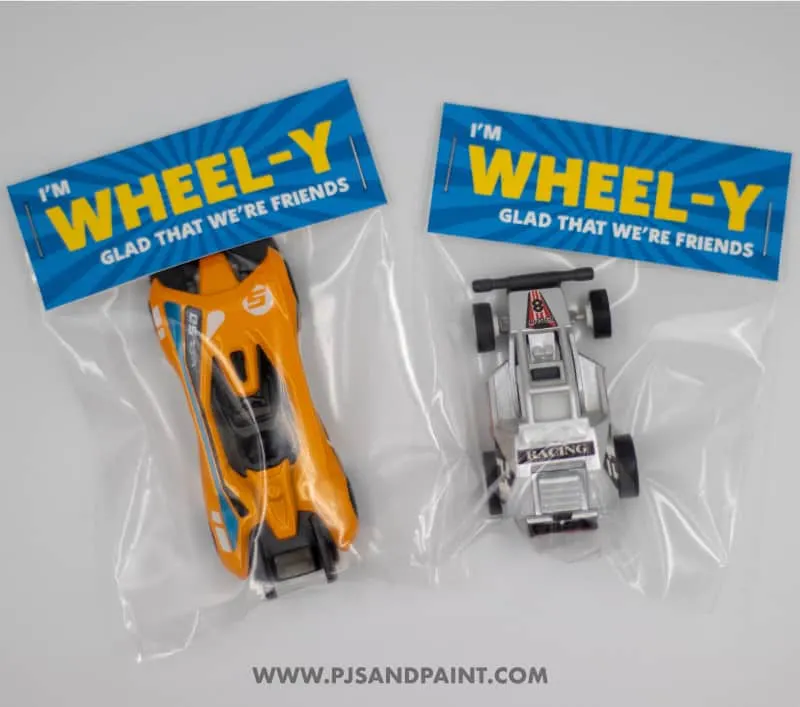 Check out some of our other free printable Valentines for kids:
Free Printable Valentine's Day Tic Tac Toe Game
These little tic tac toe bags are just too cute! Featuring a tic tac toe board and bag topper, anyone who receives this Valentine will get not only a fun game to play, but some yummy candy as well!
Dinosaur Valentines for Kids – Free Printable
Featuring the saying "I think you are DINO-MITE!" these Valentines would be perfect for any dinosaur lover out there.
Donut Valentines – Free Printable Valentines for Kids
DONUT know what I'd do without a great friend like you! These donut themed Valentines would be perfect for any dessert lovers!
Coloring Page Valentines for Kids – Free Printable
I just love Valentines that offer a fun activity as well as a thoughtful card. This Valentines set includes 4 different coloring pages with cute puns to go along with them!
Free Printable Pencil Topper Valentines – You're The Write Friend For Me
These super cute pencil toppers would make great Valentine's for your kid's classmates this year. The best part is they also get a really cool pencil to keep!
Fruit Puns Valentines – Free Printable Valentines
Orange you glad we're friends? I know I sure am! These super cute fruit puns will keep all of your Valentines laughing!
Free Printable Candy Bar Wrappers for Valentines Day
These candy bar wrappers are a great way to give a bar of chocolate with a little extra personalization. I don't know anyone who wouldn't want to receive a nice big bar of chocolate this Valentine's Day!
Free Printable Unicorn Valentines for Kids
These adorable unicorn valentines will make sure your Valentine's Day is extra magical this year!
Free Printable Race Car Valentines
Feel free to download and print as many copies of the race car valentines as you would like. However, please do not edit or redistribute the files in any way. The valentines are for personal or classroom use only.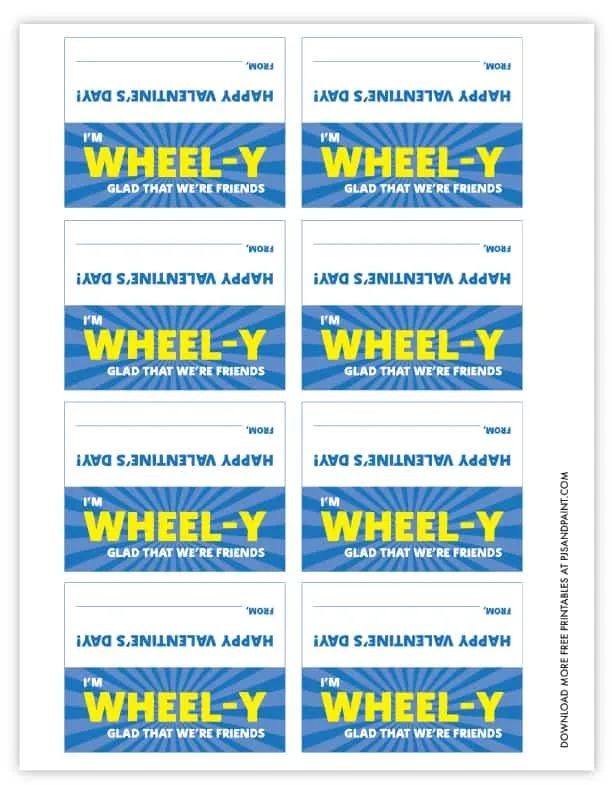 Download Links:
Click here to download the free printable race car valentine files.