Last Updated on
This free printable Easter word scramble would be the perfect activity to play at a holiday party, classroom party or even during a play date.
Word scramble games are fun, challenging and can definitely offer a nice sense of accomplishment after you finally solve a word you have been stumped on.
A great thing about holiday themed word scrambles is that they can often be a little easier to solve. With holiday themed word searches, you know what the general category each word should fall under.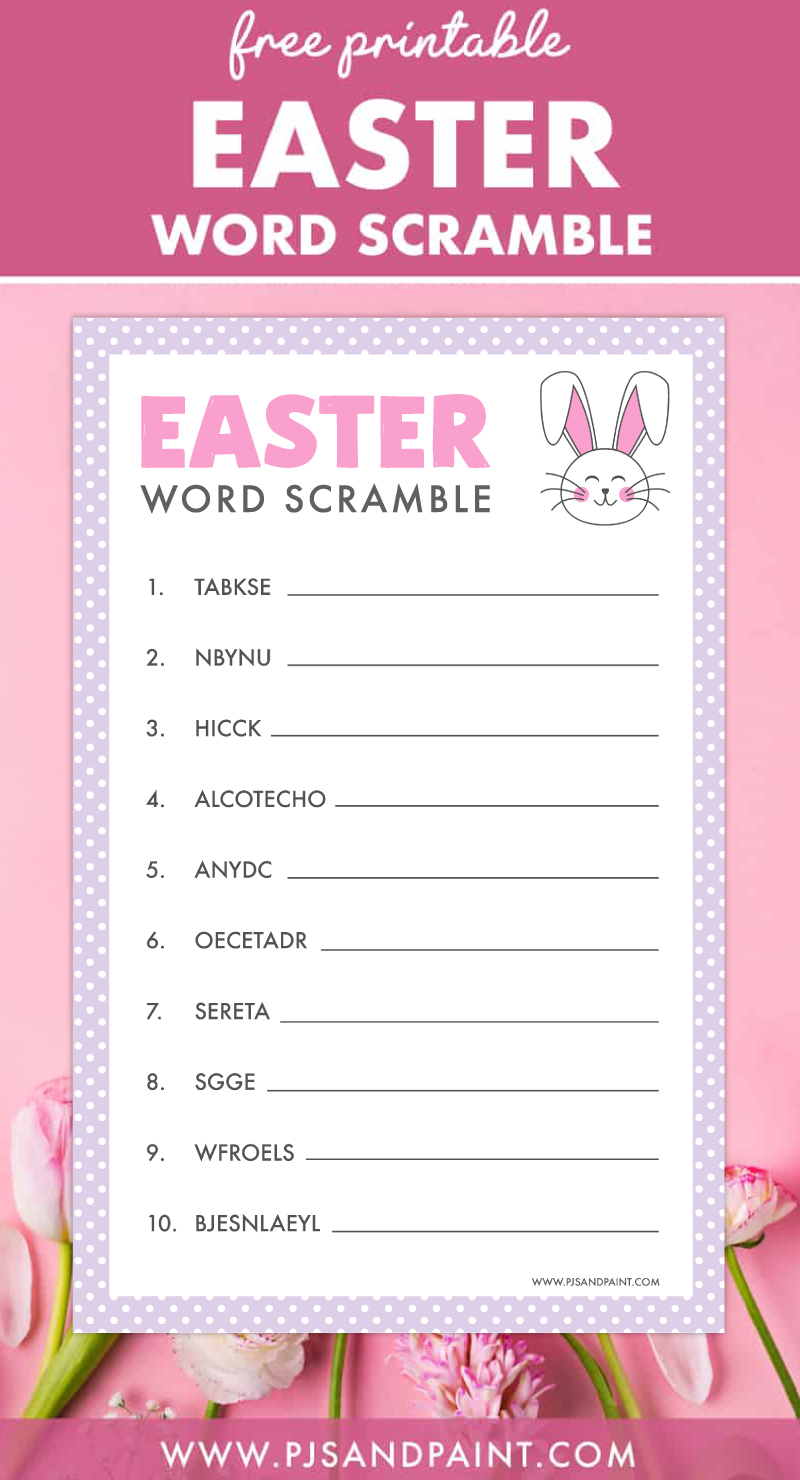 Disclaimer: This post contains Amazon affiliate links. This means that at no extra cost to you, I may earn a small commission if you decide to make a purchase.
This Easter word scramble game features 10 different Easter themed words to work to solve. Because there are both short and long words, this makes it a great activity for many different age groups. I sometimes even find the shorter words more challenging to figure out!
How to make word search games more challenging and competitive:
Set a timer for 5 minutes.
First, set your phone or a timer for 5 minutes. If you are playing with younger kids, you might want to set the timer for a longer duration. Next, tell everyone to try and unscramble all of the words as fast as possible. Whichever player has the most words solved by the time the timer goes off, wins!
Turn it into a head to head competition.
For this game, you don't need a timer. Hand out the word scramble games to everyone with the page face down. When the host says "GO," everyone will try to unscramble all of the words as quick as they can. Whoever correctly solves all of the words first, wins!
Make it into a raffle.
If you are playing word games with a larger group of people, turning them into a raffle can be a great way to make everything even more fun!
Have everyone work on the word scramble game at their leisure. Once they have their game completed, each participant can write their name at the top of the page, fold it up and then place it into a hat or a box. After everyone has completed the game, the host can choose one piece of paper out of the box. Whichever person's game is chosen, can win a prize.
Tip: Make sure that you check that the word scramble answers are correct! If there are any wrong answers, the prize will go to the second drawn winner.
How to make the Easter word scramble games reusable:
If you are planning on using the Easter word scramble as a yearly holiday activity, reusing the games can save you some time and money!
Use a home lamination machine.
You can easily laminate your word scramble games with a home lamination machine. Use dry erase markers to write down your answers and after the activity has been completed, you can wipe off the answers and put away the word scramble games to be used for next year. This is the home lamination machine that I have and I'm pretty obsessed with it!
Use dry erase pockets.
If you don't have a lamination machine, you can also use these dry erase pockets. All you would need to do is print out the word scramble games and place them inside of the dry erase pockets. Use dry erase markers to write down your answers and then simply wipe off the answers and reuse next year!
Tip: For both of these reusable options, I would highly recommend printing out the word scramble activities onto white cardstock. This will help to make sure that the games are durable enough to be used every year.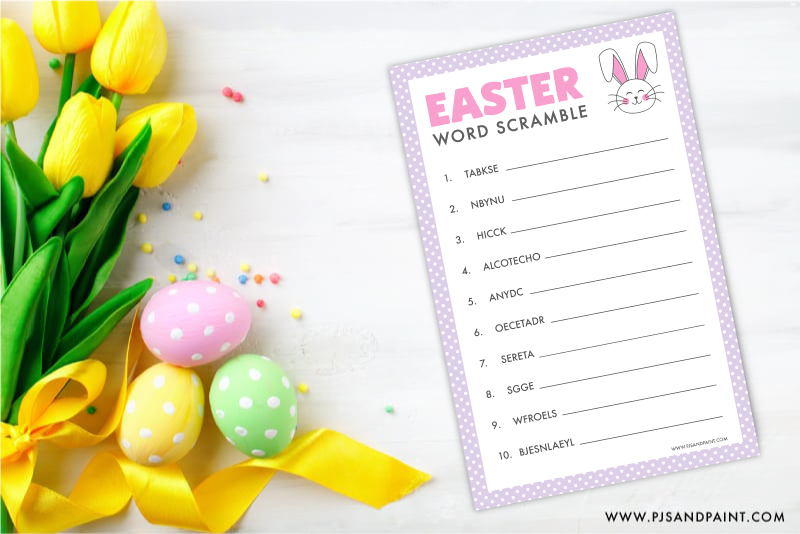 Free Printable Easter Word Scramble
The Easter word scramble game is designed to print onto a standard 8.5×11 inch piece of paper or cardstock. Two games will print per page.
Simply use scissors or a paper cutter to divide the two word scramble games. This is the paper cutter that I currently have on my desk and I can highly recommend it! It definitely gets a ton of use!
Feel free to download and print as many copies of the Easter word scramble game as you would like. However, please do not edit or redistribute the files in any way. This word scramble game was designed for personal use only.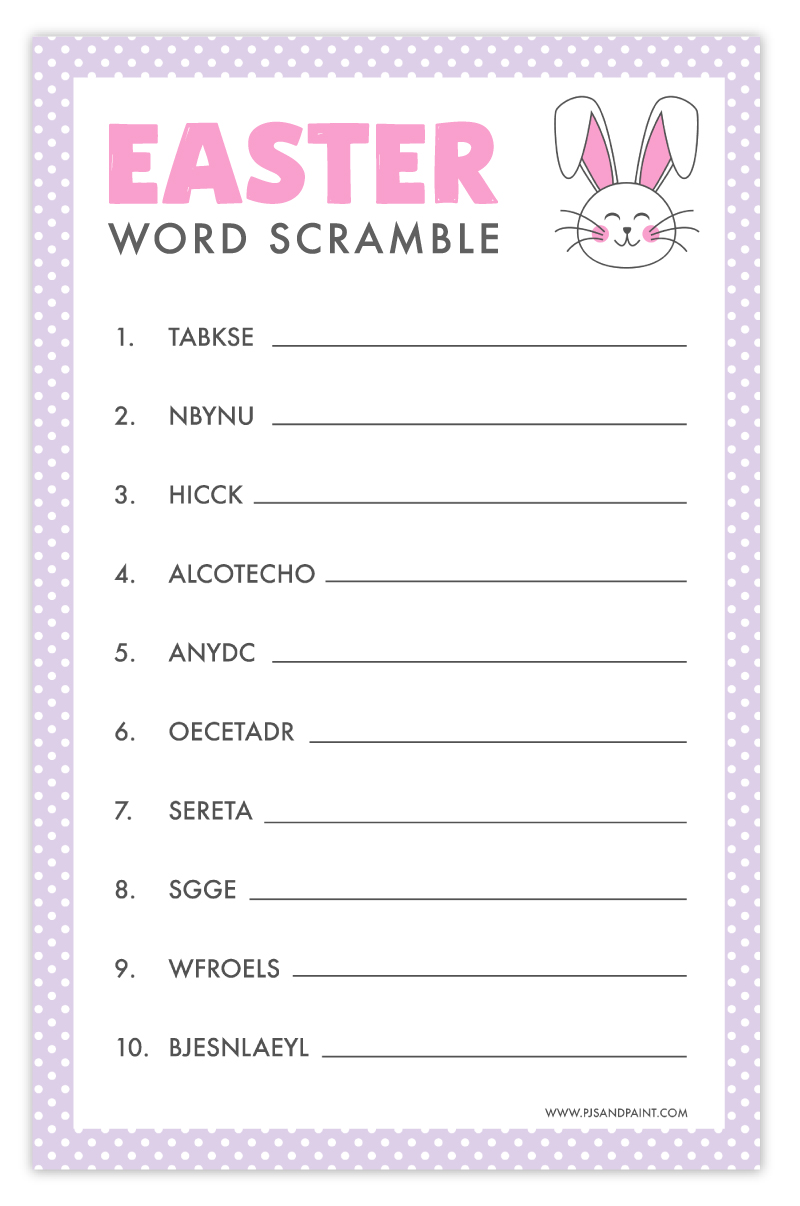 Download Links:
Click here to download the Easter Word Scramble.
Check out some of our other fun and free printable Easter games and activities:
Easter Word Search
Both children and adults alike will have a great time searching for these Easter themed words. Word search games are not only a really fun game for everyone to play, but they may even help kids improve their spelling skills, build their vocabulary and maybe even learn a few new words. View the full blog post and download links here.
Easter I Spy Game
This free printable I Spy game features 6 Easter themed pictures in the box above. Count and write down how many of each picture you see, on the lines next to each image. Click here to view the full blog post and download the game files.

Easter Maze
Make your way through this fun maze to reach the chocolate bunny in the center of this free printable Easter maze. Mazes are a simple yet challenging activity that everyone will have a great time working on! View full blog post and download links here.
Free Printable Easter Scattergories Game
This fun free printable Easter Scattergories game is great for playing during your Easter or Spring themed party this year. I'm sure that everyone will have a blast playing this super fun and fast paced activity. Click here to read the full blog post and download the game files.
Easter Word Scramble Answer Key:
1. Basket
2. Bunny
3. Chick
4. Chocolate
5. Candy
6. Decorate
7. Easter
8. Eggs
9. Flowers
10. Jellybeans