Get in the Easter spirit with this fun free printable Easter word search game. This activity would be perfect for holiday parties, classroom games or simply something fun to do with your kids on a rainy day.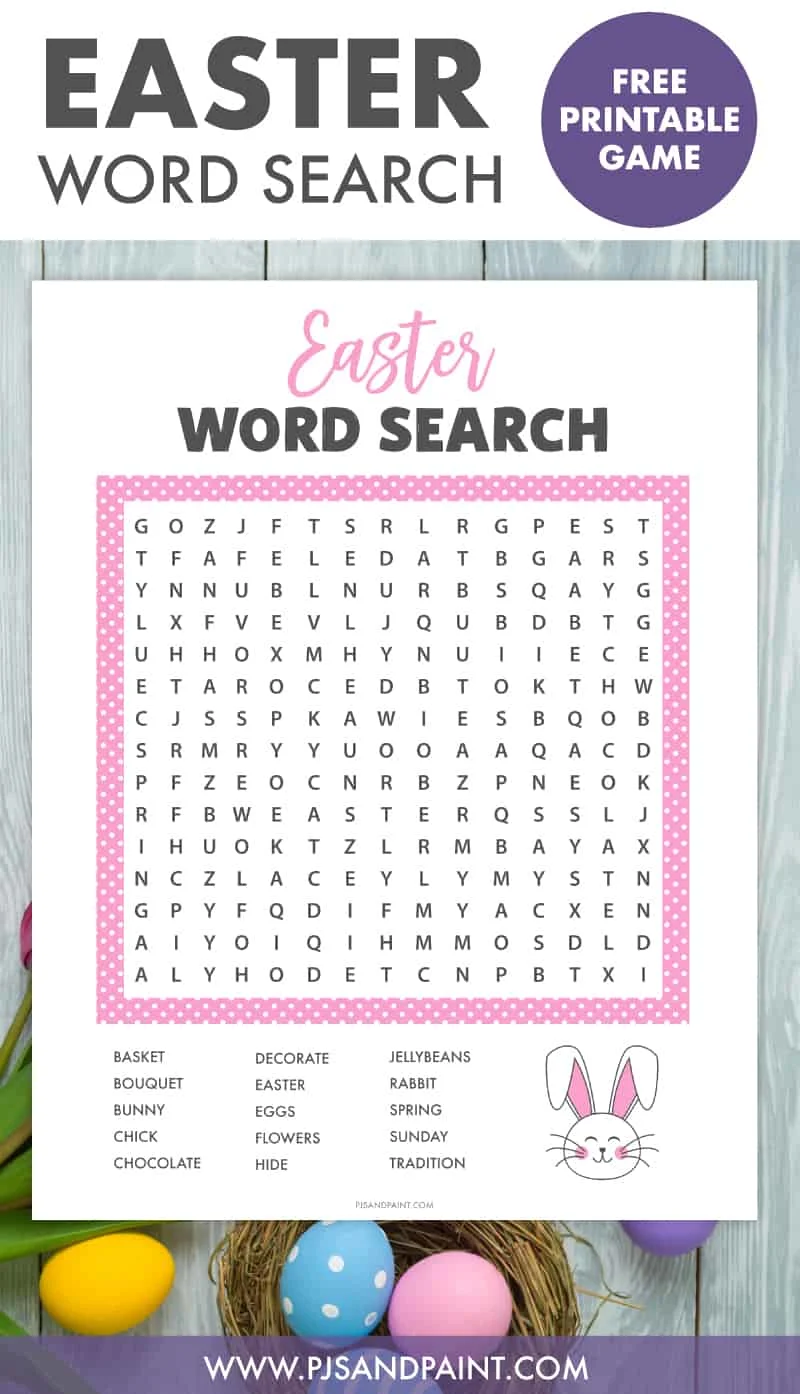 Disclaimer: This post contains Amazon affiliate links. This means that at no extra cost to you, I may earn a small commission if you decide to make a purchase.
There are 15 Easter themed words to find in this fun word search game. Word searches may even help your kids build their vocabulary kills, improve their spelling and maybe even learn a few new words!
Are there any benefits to working on word searches?
They are a great way to pass the time.
The next time that you are in the car for a long drive, or need something to do during a long flight, instead of playing on your phone or tablet, take out a word search game. The time will quickly pass by and I'm sure that your eyes will appreciate a little break from screens!
Word search games may help with spelling and word recognition.
Word searches can be a really great way to help children learn some new words and improve their spelling skills, all while having fun!
You may feel a sense of accomplishment.
It feels so great when you finally find a word that you have been having a hard time finding. Even if it is only for a moment or two, feeling a small sense of accomplishment can really give your mood a boost.
They can be a great way to relax.
Working on a word search game can also help you relieve some stress. It can distract you from a stressful situation you may be going through, or help you unwind after a hard day.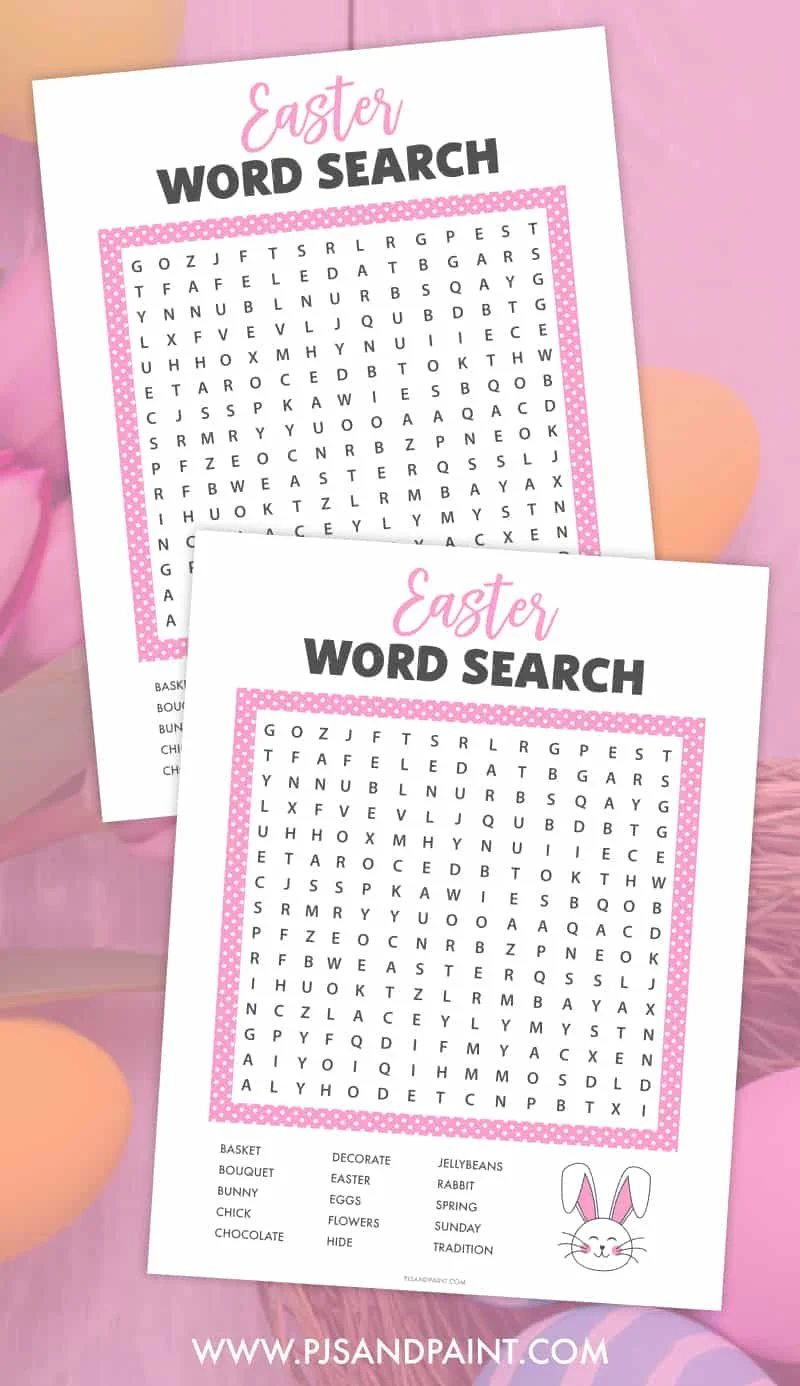 Here are a couple of fun ways that you can incorporate word search activities into a group gathering.
Try and find all of the words as quickly as possible.
First, give out all of the word search games with the paper facing down. Once you say "Start" everyone has to quickly try and find all fo the words as fast as they can. Whoever finds all the the words the fastest, wins!
Set a timer.
Set a timer for 5 minutes. If you are playing with a group of younger kids, you might want to set the timer for a little bit longer. Once the timer starts, all of the players must try and find as many words in the puzzle as they can. Whoever has found the most words by the time the timer goes off, can win a prize!
Turn the word search game into a raffle.
Have everyone work on their word search game at their leisure. If you are throwing an Easter party, you might even want to include a printout of the word search game in the invitation envelopes and tell everyone to bring them to the party.
Once the word search is completed, they can write their name at the top and place it into a designated box. At the end of the even, the host can choose a game out of the box and whoever's game is chosen, can win a prize!
Here are a few fun Easter themed prizes and favors that would be great to give out at your Easter party this year:
Easter Coloring Books
These Easter coloring books are just too cute! And the best part is they come with a small pack of crayons as well. They would make perfect favors for an Easter or Spring themed party. Click here to view on Amazon.
Dinosaur Easter Eggs
These Easter eggs are filled with super cool dinosaur building blocks. I can image that these would be great for setting up an Easter egg hunt around the house. I know my son would just love searching for all of the eggs and then putting together the fun dinosaur blocks. Click here to view the Dinosaur building blocks on Amazon.
Easter Wind Up Chicks and Bunnies
Wind them up and watch them go! These bunny and chick wind up toys would make a perfect filler for a goody bag or a prize to win during a fun Easter game! Click here to view the wind up toys on Amazon.
Free Printable Easter Word Search:
This free printable Easter word search game would be a perfect activity for holiday parties, family parties, play dates and much more!
This word search game is designed to print onto a standard 8.5×11 inch piece of paper or cardstock.
Feel free to download and print as many copies of the Easter word search game as you would like. However, please do not edit or redistribute the files in any way. This word search game is intended for personal or classroom use only.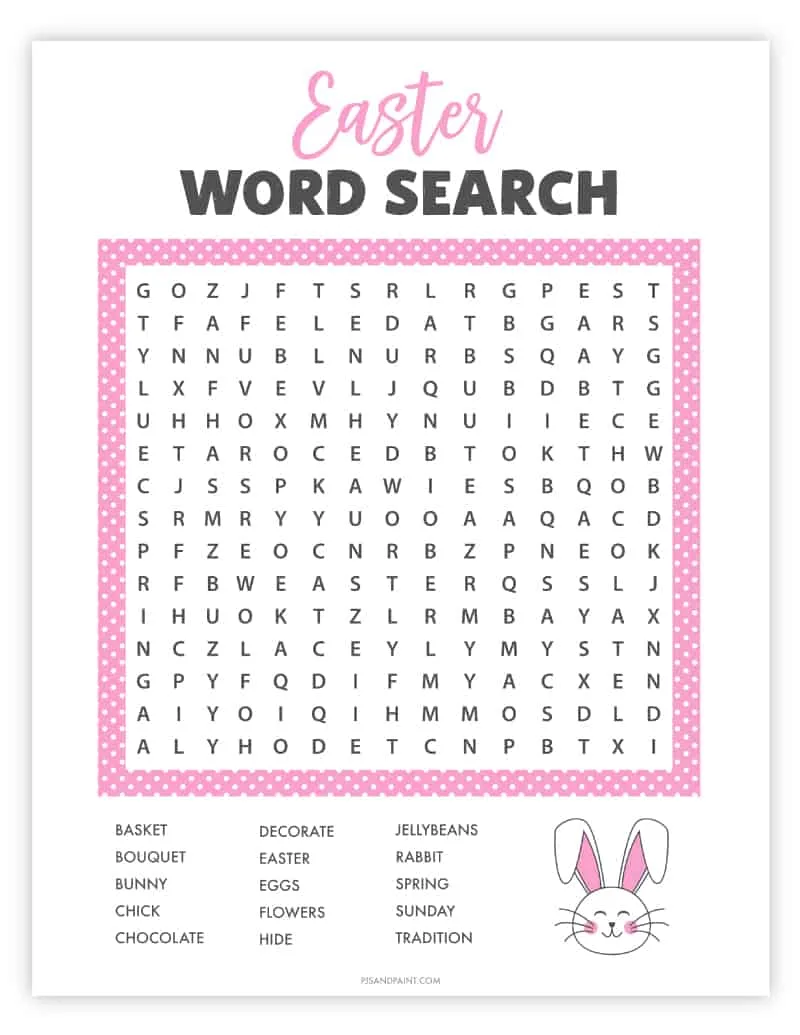 The download link for the Easter word search game is located at the bottom of this post.
Check out some of our other fun free Easter printable games and activities below:
Free Printable Easter Word Scramble
Unscramble the 8 Easter themed words below. Next, using the circled letters from each word, unscramble to form a new word and find out what is inside the Easter egg. Click here to read the full blog post and download the game files.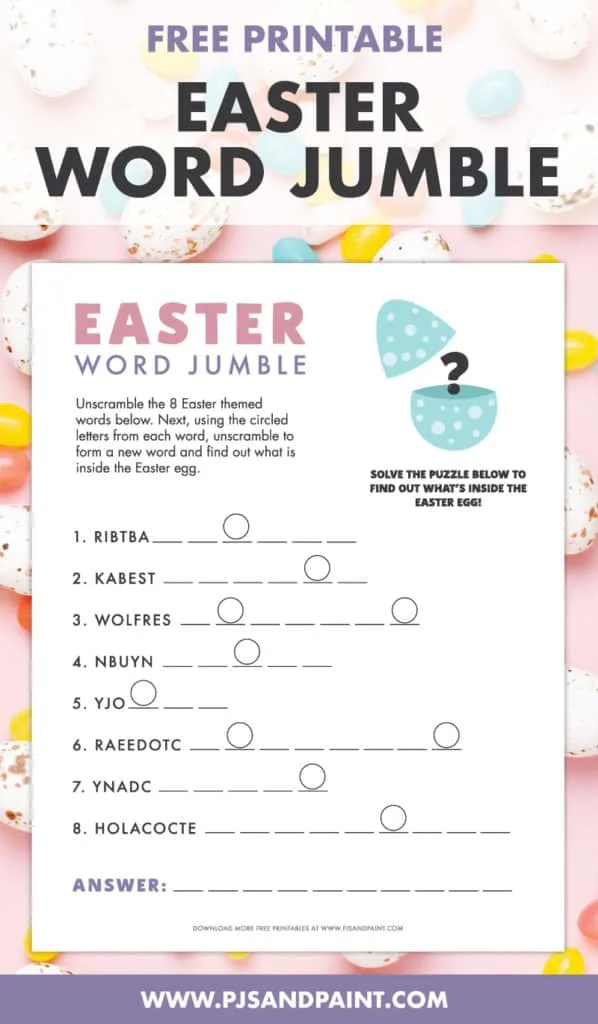 Easter Word Scramble
This free printable word scramble game features 10 different Easter themed words to work to solve. Click here to view the full blog post and download links.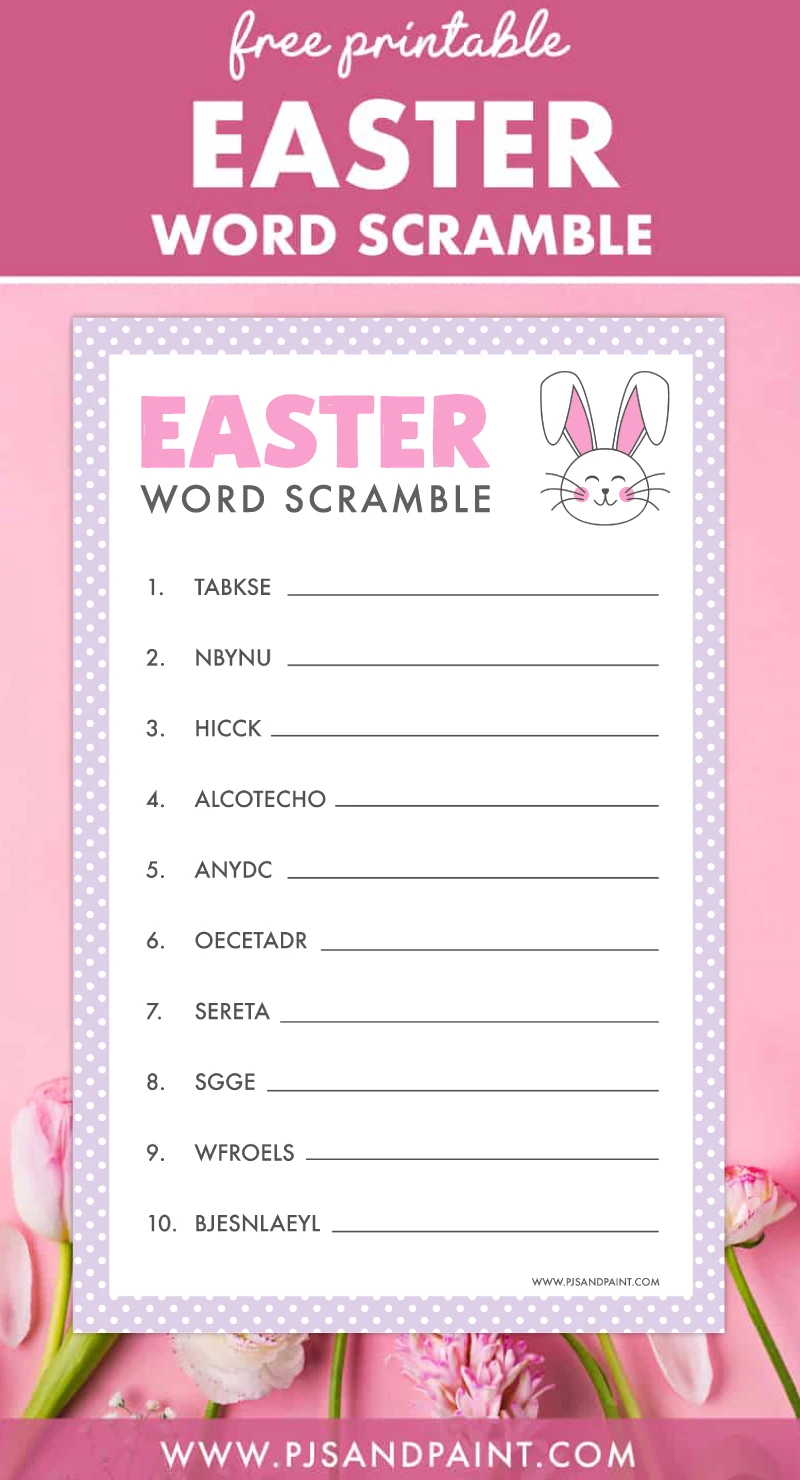 Easter I Spy Game
In this free printable I Spy game, you will need to search for 6 Easter themed words in the box above. Count and write down how many of each picture to see on the lines next to each image. View the full blog post and download links here.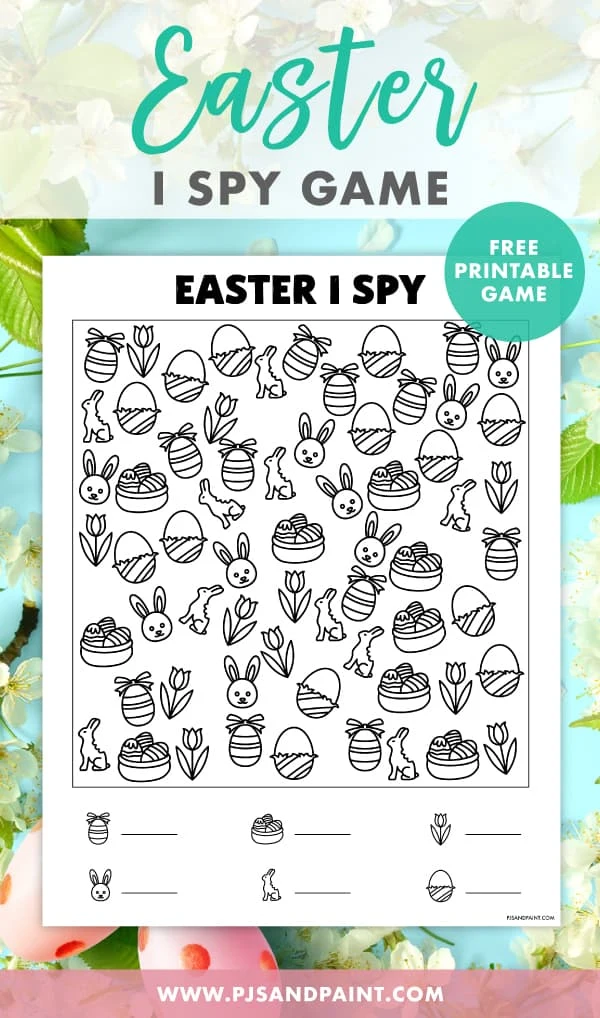 Free Printable How Many Words Can You Make From Easter Bunny Game
This free printable How many words can you make out of Easter Bunny game is a great activity where you try to make as many words as you can, using only the letters found in the words Easter Bunny. Hint: There are 684 words you can make! Click here to read the full blog pos and download the game files.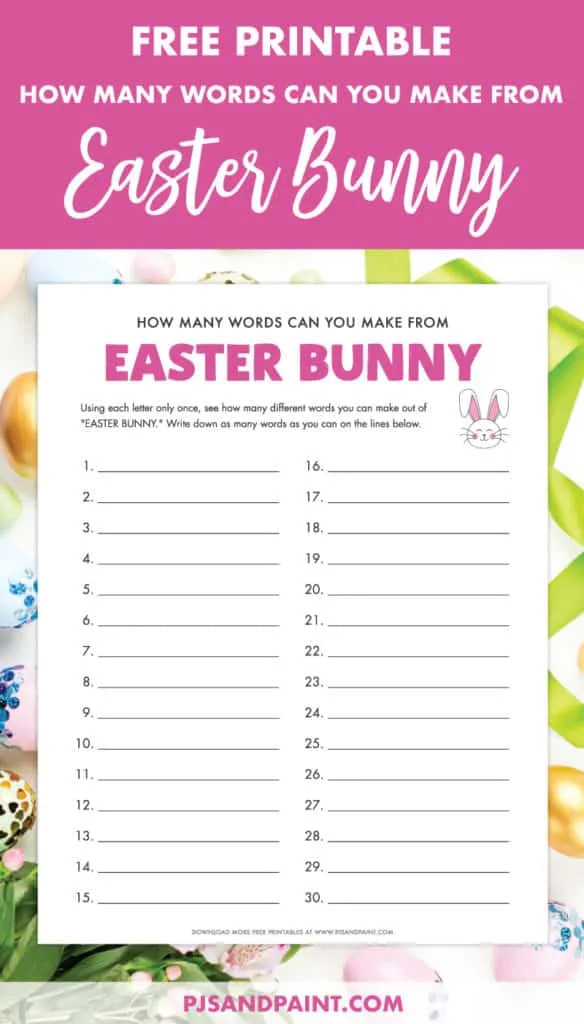 Free Printable Easter Scattergories Game
This fun free printable Easter Scattergories game is great for playing during your Easter or Spring themed party this year. I'm sure that everyone will have a blast playing this super fun and fast paced activity. Click here to read the full blog post and download the game files.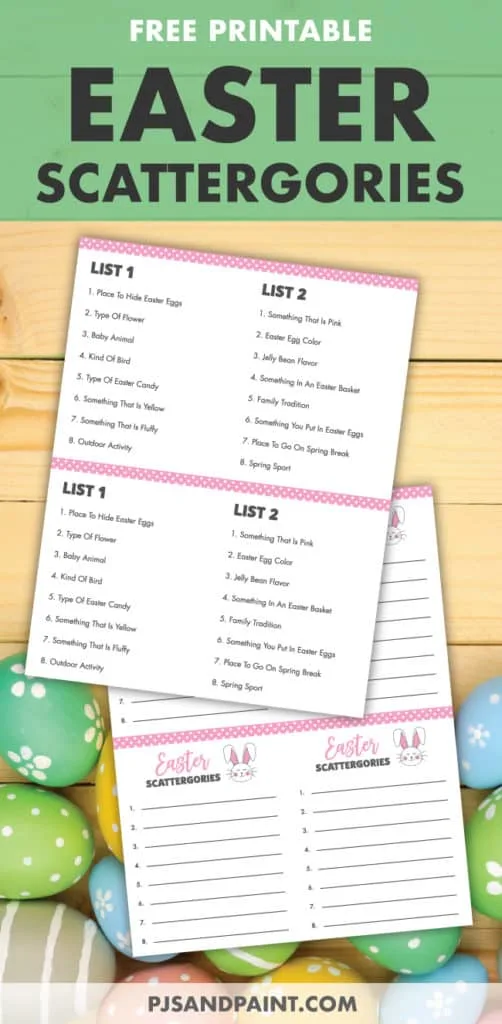 Easter Maze
Make your way through this fun maze to reach the chocolate bunny in the center of this free printable Easter maze. Mazes are a simple yet challenging activity that everyone will have a great time working on! View full blog post and download links here.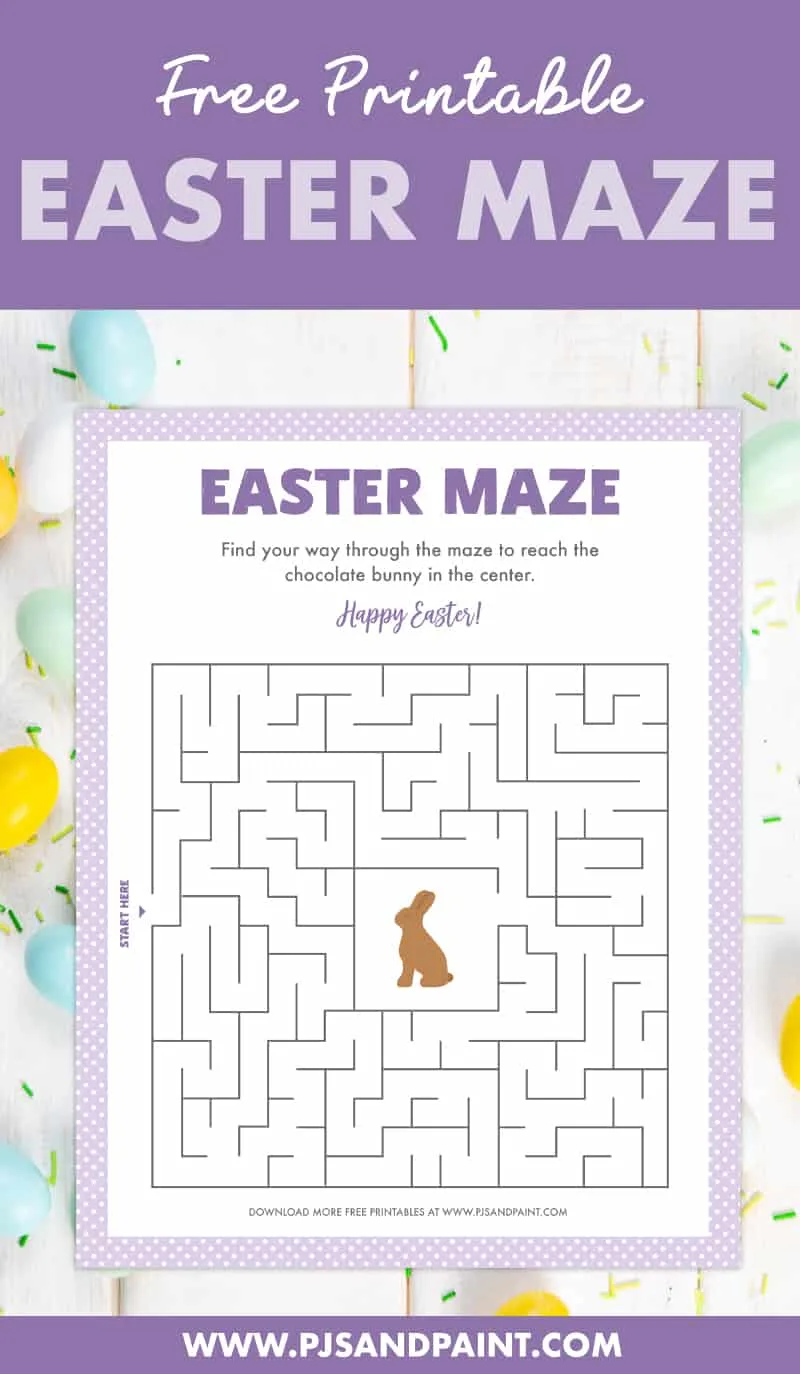 Easter Word Search Download Link: