This free printable build a bunny coloring page is the perfect activity for kids to work on during an Easter or Spring themed party, or simply something fun to do on an ordinary day at home!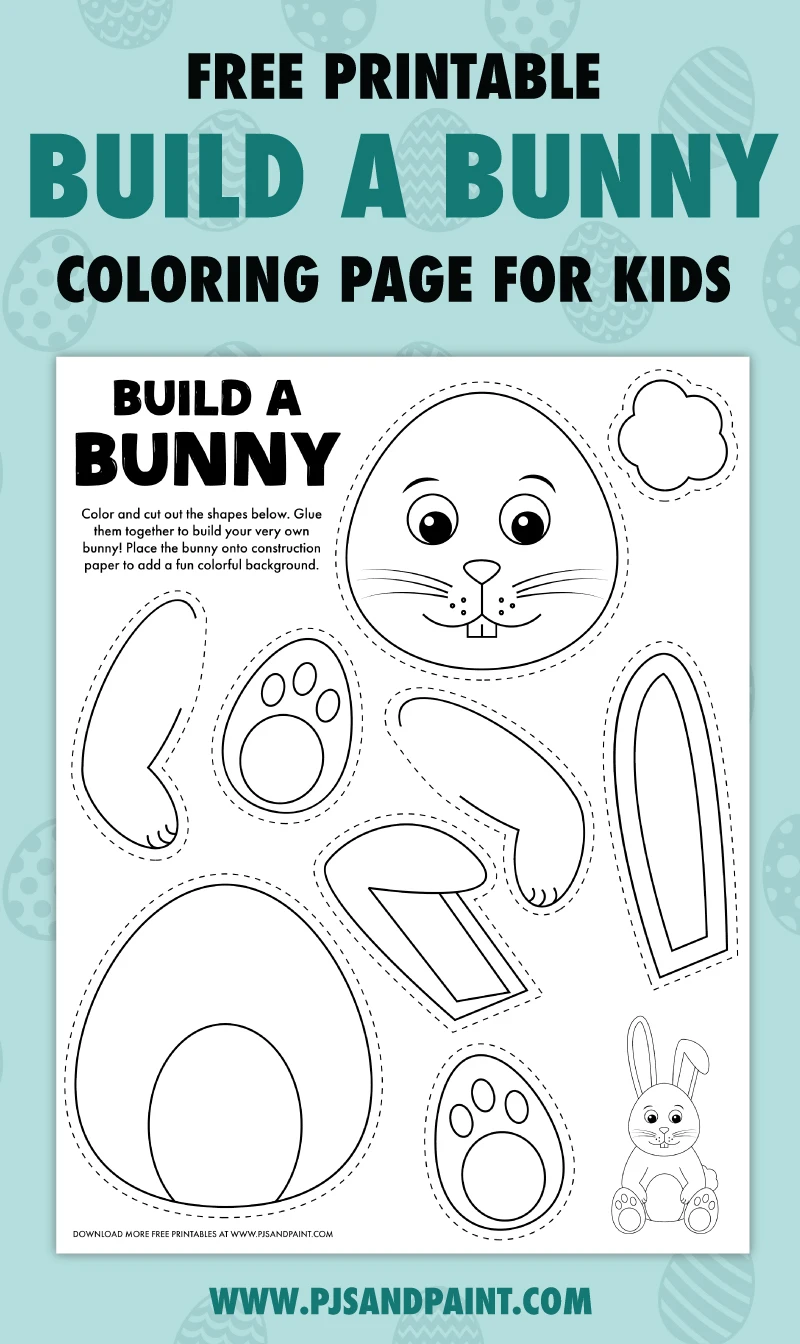 Disclaimer: As an Amazon Influencer, I earn from qualifying purchases. This means that at no additional cost to you, I may earn a small commission if you decide to make a purchase. For more information, please feel free to read the affiliate disclosure on our privacy policy page.
Whether you are celebrating Easter or just think bunnies are super cute, this free activity page is perfect for keeping your little ones entertained and having fun.
There are so many benefits to activities such as this as well.
Coloring
Whether your child colors inside or outside of the lines, they are building hand eye coordination and expressing themselves creatively. It is also fun for them to be able to choose whichever colors they want, and that may not necessarily be realistic bunny colors!
Scissor Skills
Practicing how to use a scissor is I think an often overlooked skill to teach little kids. Honestly, until my mom got my son these Melissa and Doug child friendly scissors, scissor skills were not on my mind either. However, practicing how to hold scissors and cut safely is a great skill that even the littlest kids can begin to master.
Putting together a puzzle
This activity page is sort of like an unconventional puzzle if you really think about it! You have all the pieces of the bunny in front of you and you have to figure out where to place everything to bring him to life!
Gluing
Learning how to glue paper is also an important skill. When your children are in school, they will be doing so many different projects that require them to use liquid glue or glue sticks. It can be helpful for them to understand how to use these tools in the correct way so glue doesn't go wasted.
Showing off artwork
As I mentioned a little earlier, my son LOVES showing everyone the projects he makes. Having kid made artwork displayed around the house or classroom is a great way for your kids to show off something they are proud of. Not to mention it is just super cute to have toddler art hanging on the walls at all times!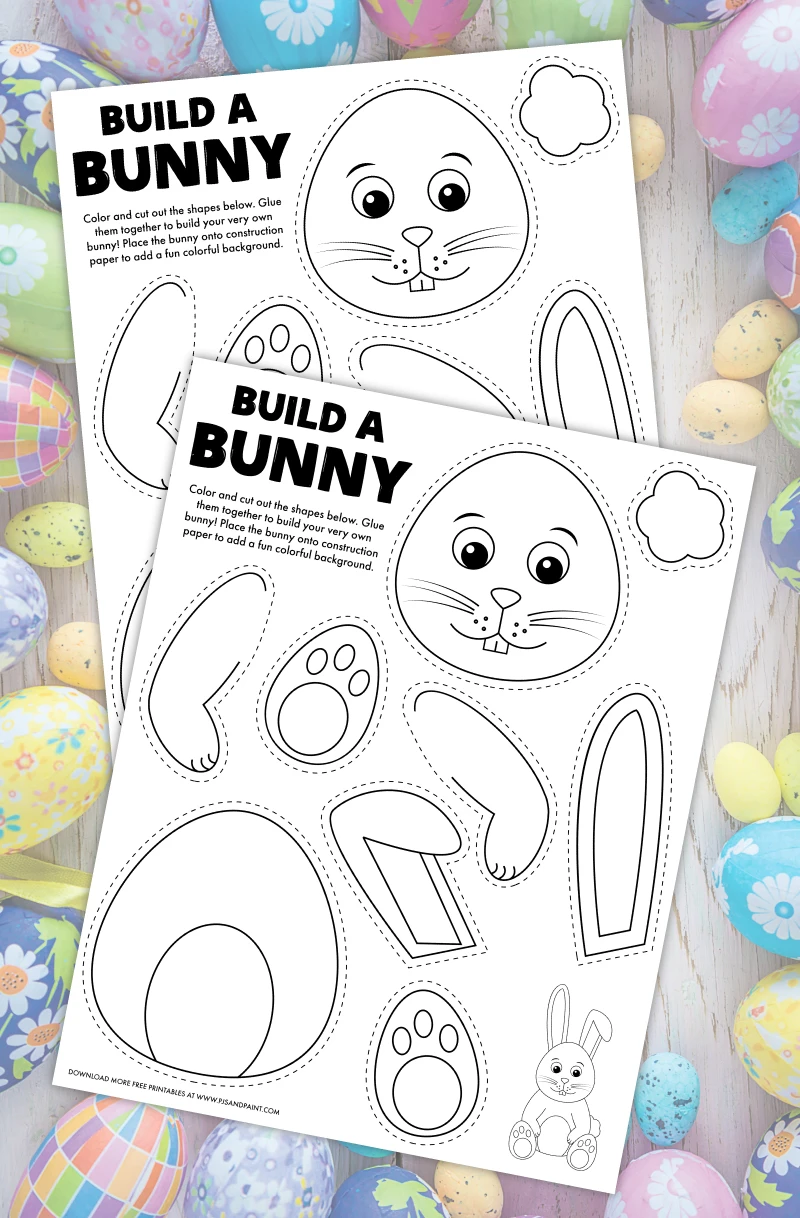 Download link is located at the bottom of this post.
Free Printable Build a Bunny Coloring Page
This activity page is designed to be printed onto an 8.5×11 inch piece of paper or cardstock.
Feel free to download and print as many copies of the build a bunny coloring page as you would like. However, please do not edit or redistribute the files in any way. This activity page is intended for personal or classroom use only.
Supplies needed to build your very own bunny:
Free printable coloring page (the download link is located at the bottom of this post)
Crayons, markers or colored pencils
Glue
Scissors (if your kids will be cutting out the bunny shapes I highly recommend these child safe scissors)
White printer paper or cardstock
Construction paper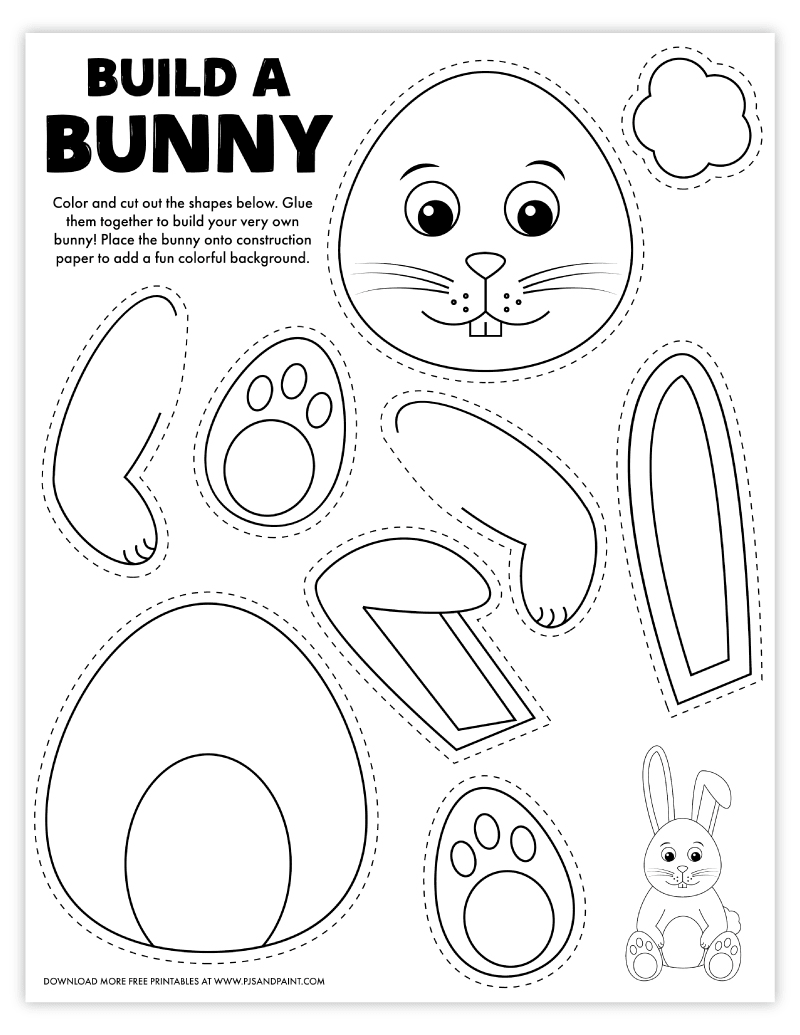 Favorite Printable Supplies:
These are a few of my favorite supplies that I use for printable games and activities:
If you enjoyed this post, you may also like to check out some of our other fun free printable "Build A…" coloring pages below:
Free printable Build a Turkey coloring page
This build a turkey activity page is perfect to keep the kids entertained and out of trouble this upcoming Thanksgiving season. It would also make a fun festive decoration to hang on your wall or refrigerator.
Free printable Build a Monster coloring page
This build your own monster coloring page is a wonderfully fun and creative activity to keep the kids entertained on a rainy day at home!
Free printable Build a Snowman coloring page
Build a snowman without being out in the freezing cold! All you need to do is color and cut out the shapes on the activity page and then glue them together to build your very own snowman.

By entering your email address you will be receiving the free digital file as well as subscribing to our weekly email newsletter. You may unsubscribe at any time.