This free printable Build a Turkey coloring page will be a big hit at any holiday party this year. It's also a great activity to keep the kids entertained while you're busy cooking Thanksgiving dinner.
Around Halloween time of this year, I took my kids to a holiday party at the gym they attends classes at. There, they had tables with games to play, a cupcake decorating station (which I made sure to make camp by) and a table with printable activities.
One of the printable activities was this fun "Make a Monster" page. The kids would first color in the monster, cut out all the pieces and then glue them together to form their very own monster.
I thought this was such a great idea! I had actually taken a picture of it with my phone to remind myself to print something like this out for a fun rainy day activity or play date.
Later that night, I of course went on Pinterest to see what I could find. There were so many versions of this activity, I was blown away! Create your own snowman, build your own ice cream cone, make your own monster and the list goes on and on.
I loved this idea so much that I decided I wanted to design my very own. I'm definitely going to be working on seasonally themed versions of this activity but for now, we are going to start with Thanksgiving! And so today I wanted to share with you this free printable build a turkey page that I designed and will definitely be using myself within the weeks leading up to Thanksgiving. I hope you enjoy!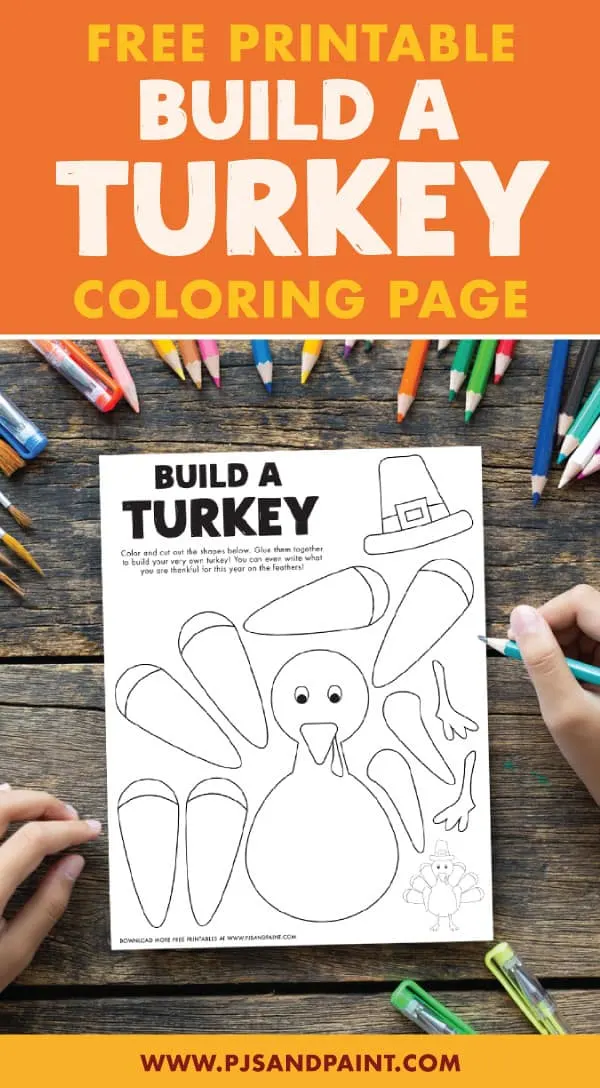 Disclaimer: This post contains Amazon affiliate links. This means that at no extra cost to you, I may earn a small commission if you decide to make a purchase.
Printable Build a Turkey Coloring Page
This activity is sized to print on an 8.5×11 inch page. You can either print on regular printer paper, or for even better quality, you can use white cardstock.
Feel free to print as many copies of the Build A Turkey activity as you would like. However, please do not edit or redistribute the files in any way. They are created for personal use only.
All you need to create your own turkey is the printable, scissors, glue, and some crayons, markers or colored pencils. Have the kids color in the shapes and then cut them all out.
As an extra little activity, you can have them write 6 things they are thankful for this year on each of the feathers.
Next, glue the shapes together to build your very own turkey!
If you're not sure where some of the pieces go, you can always reference the completed turkey picture at the bottom right side of the printout.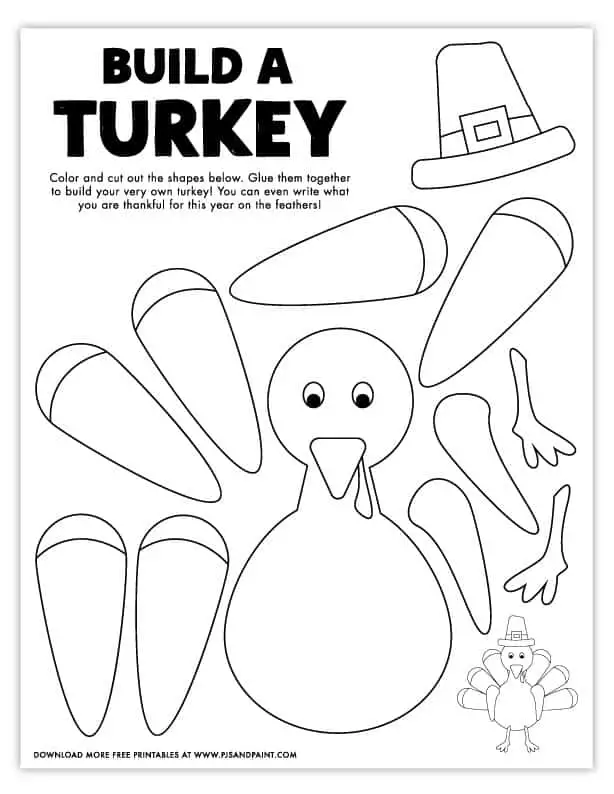 Not only is this build a turkey printable a fun Thanksgiving themed activity, but it's also a great way to have your kids to take the time and think about what they are are grateful for. It will definitely keep them busy for a while!
How nice would this turkey look hanging on your refrigerator or on the wall when all your guests come over for Thanksgiving dinner?! I'm a big fan of hanging all of my son's craft projects up any chance I get!
Here are a few other free printable Thanksgiving games and activities that would be perfect for the kids this holiday.
Thanksgiving Bingo:
This free printable Thanksgiving Bingo Game set includes 30 different bingo cards, 2 pages of calling cards and 3 pages of markers. Everything you need is all right here! Simply download, print and have a blast with your family and friends this Thanksgiving.
Roll a Turkey Game:
All you need for this fun game is the printable game board, a few dice and a bowl full of M&Ms. Have the each player roll a dice and depending on the number that it lands on, place a certain colored M&M onto the turkey's feathers. When all of the feathers have been filled in, you can eat all of the candy! This is one of my favorite games because you can easily play it by yourself, or make it more competitive and play in a group.
Thanksgiving I Spy Game:
Featuring items such as pumpkins, leaves, apple pies and of course turkeys, this game will be a hit amongst both kids and adults. To play, count how many of each image you see in the box above and then write down the correct number of items on the lines next to each picture. A classic I Spy game with a Thanksgiving twist.
Printable Thanksgiving Placemats:
There is a reason that restaurants have placemats for kids. They keep them in their seats, entertained and most importantly, out of trouble! Featuring a word search, large coloring section and a place to draw what you are thankful for this year, this placemat will be a lifesaver during your Thanksgiving dinner.
Thankful ABC Game:
To play the thankful abc game, you'll need to come up with one thing that you are grateful for, that begins with each letter of the alphabet. A challenging game that really makes you think about everything you are thankful for this year.
Thanksgiving Word Scramble:
Have a blast trying to unscramble 15 Thanksgiving themed words. A classic game that will have everyone thinking and having fun. Don't worry, you can reference the answer key in case you get stumped!
Thanksgiving Word Search:
If you're in need of some fun, yet educational activities that are holiday themed, this is the game for you! Work to find 21 Thanksgiving themed words like gather, cornucopia, tradition and November. Not only will this game keep the kids entertained, but they will be working on their spelling and vocabulary skills at the same time.
Are there any "Build your own" printable activities that you would like to see? Feel free to leave your requests in the comments down below and I just may create it for a future post!

Download Links:
Download the Build A Turkey Printable Coloring Page.