This year, celebrate the 25 days of Christmas with this free printable Christmas advent calendar! With fun colorful holiday themed stickers, kids and adults alike will love counting down until Christmas day.
I remember growing up, my grandparents had this fabric advent calendar hanging on their wall. One of my favorite things about going over to their house in December was being given the chance to move the little toy mouse from one pocket to the next. While I did have to share the responsibility with my brothers, when my turn came around, it was always a good day! Thinking about the small things that I used to be so excited about as a kid, makes being a parent now that much more special.
I would love to create a fabric advent calendar just like my grandparents had one day. I think my son would really enjoy marking off each day of December, just as much as I did when I was a kid.
I'll let you in on a little secret. I have had "make a Christmas advent calendar" on my craft project to do list for well over a year now. I really thought I would be able to get it done by now! But this year has been crazy busy and I just haven't had the time. Since my son is still very young, taking trips to the store with him are more like a marathon. It's get in and out as fast as possible without him running around the whole store, taking everything off the shelves and having a tantrum in the middle of aisle 3.
One thing I love about crafting is being able to walk up and down the aisles of the store, carefully deciding what materials I need for my upcoming project. Since I haven't had much time to do that recently, I didn't want to rush the creation of my Christmas advent calendar.
So in the meantime, I figured a printable calendar would do the trick! While it's probably not something that would be passed down from generation to generation, it will still create great memories of counting down until Christmas Day.
Today, I wanted to share with you the free printable Christmas advent calendar that I will be using this year. I absolutely love all the colorful icons and bold colors. I think I'm going to hang it up on the refrigerator so that everyone who walks in the kitchen can't help but get a little extra holiday spirit.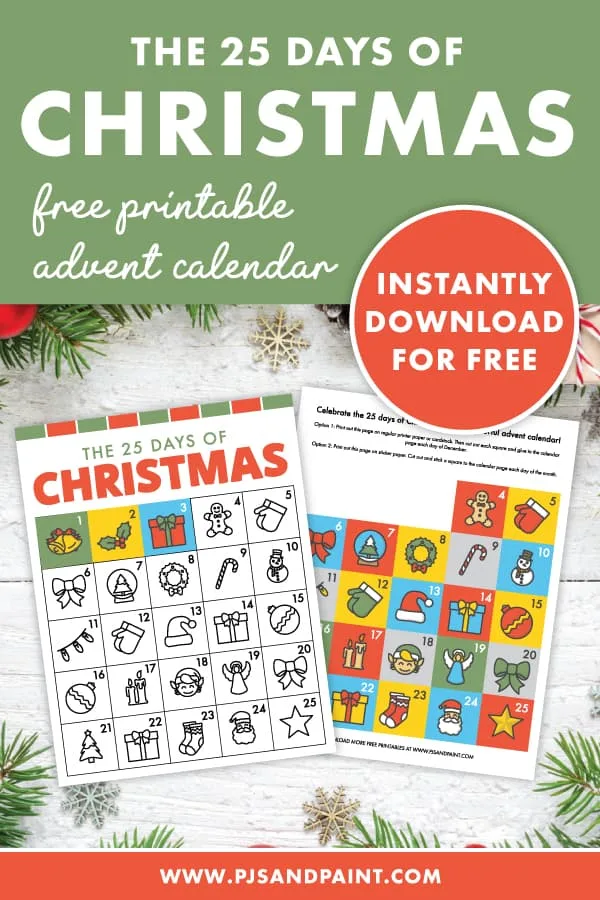 Disclaimer: This post contains Amazon affiliate links. This means that at no extra cost to you, I may earn a small commission if you decide to make a purchase.
The 25 Days of Christmas | Free Printable Christmas Advent Calendar
This free printable Christmas advent calendar is designed to fit onto two 8.5×11 inch pieces of paper. For the best quality, I would highly recommend printing on white cardstock. Click here to few cardstock on Amazon. This will help ensure that your advent calendar will look great and hold up all month long!
As far as the second page goes, there are two options:
Option 1: Simply print the second page of colored icons out on standard printer paper or cardstock. Using scissors or a paper cutter, cut out all of the squares and glue to the calendar page each day of December.
Option 2: The second option would be to print out the square onto 8.5×11 inch sticker paper. I would recommend these blank sticker sheets from Amazon. Cut out the squares using scissors or a paper cutter and stick to the blank advent calendar each day. This is the paper cutter that I am currently using for all of my projects and I would definitely recommend it!
Feel free to download and print as many times as you would like. However, please do not edit or redistribute the files in anyway. This advent calendar was created for personal use only.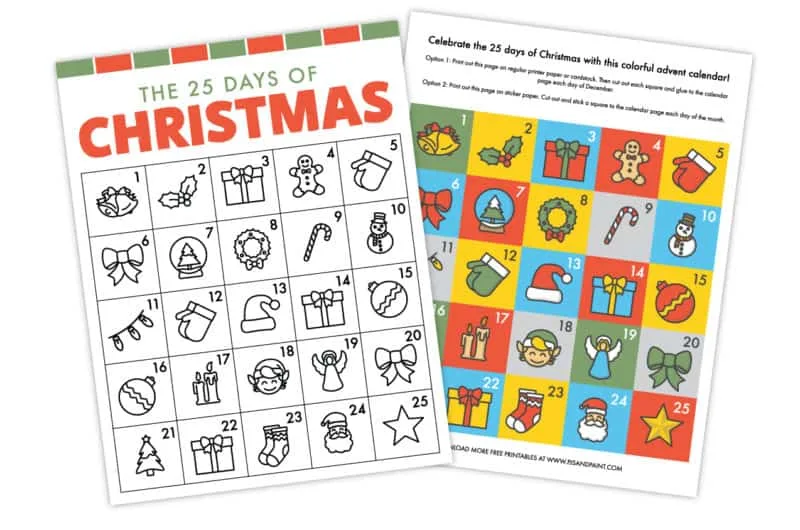 Click here to download the printable advent calendar.
Counting down to Christmas is a great holiday tradition to participate in with your family each year. I hope that this free printable Christmas advent calendar makes counting down the days even more fun for everyone!
Here are a few other Christmas themed crafts and activities you may enjoy doing with the kids this holiday season:
Roll a Christmas Tree Free Printable Game:
Get everyone in your family in the holiday spirit with this fun free printable Roll a Christmas Tree game. All you need to play are the printable game board, some dice and a bowl of M&Ms. Roll one dice and use the key on the game board to decorate the Christmas tree with different colored M&Ms.
Christmas I Spy:
Have fun searching for the 8 Christmas themed items in this free printable I Spy Game. Great for keeping everyone busy and out of trouble! Kids and adults alike will have a blast playing this game.
Popsicle Stick Pom Pom Christmas Tree Ornament Craft:
This easy popsicle stick craft is fun and simple for kids to make. It would also be a great way to get your children involved in making a homemade gift to give to their friends and family members.
Easy Christmas Tree Coloring and Pom Pom Craft:
This Christmas tree craft would be the perfect activity to keep the younger children entertained and having fun. Simply print out the Christmas tree outline, color in the page and then glue mini pom poms on to decorate the tree.
Free Printable Christmas Activity Placemat:
If you're in need of a way to keep all of the kids sitting at their seats during Christmas dinner, then look no further! This fun printable Christmas placemat includes a word search puzzle, a word scramble game and a large coloring section.
Christmas Word Search:
This free printable Christmas word search would be a great activity to entertain your kids while also getting them excited about the holiday season! Have fun trying to find all of the 21 Christmas themed words in the word search puzzle.