Having fun and spending time with friends and family is really what the holiday season is all about. And that is why I have designed this free printable Christmas Scattergories game. I'm sure that everyone will have a blast playing this super fun and fast paced Christmas themed activity.
Getting to spend time with all of your loved ones during the Christmas season is a huge part of what makes this time of year so special.
One of my favorite parts about spending holidays with my family is that we usually end up playing some sort of game after dinner. For me, it always makes the time I have to wait for dessert go by so much faster! And I guess it's fun laughing and having fun with everyone too…
This year, instead of playing a quick board or card game, I wanted to come up with something a bit different.
I have such great memories of playing scattergories with my friends growing up. We used to sit on the floor with our pencils and answer sheets and play round after round.
That is when I had the idea to create this printable Christmas Scattergories game set. It is the same as the scattergories game you already know and love, but all the categories are based on people, places, things and activities that you do around Christmastime. I hope you enjoy playing it as much as I do!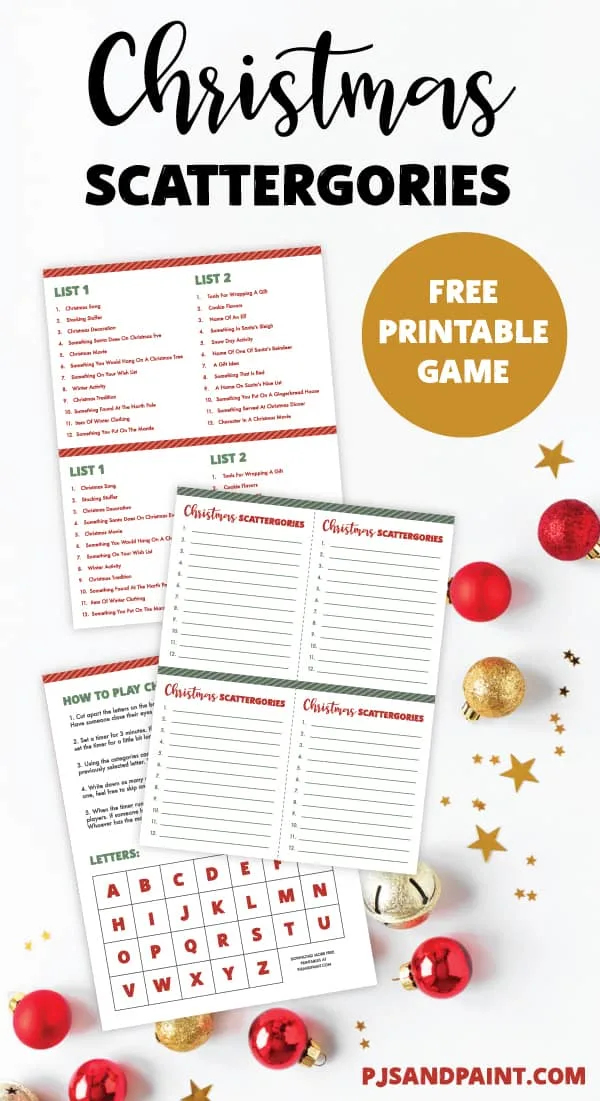 Disclaimer: This post contains Amazon affiliate links. This means that at no extra cost to you, I may earn a small commission if you decide to make a purchase.
What is included in the Christmas Scattergories pdf download:
1 instruction page that includes letters to cut out
1 page containing 2 sets of answer cards (Feel free to print this page as many times as you need depending on the number of people playing)
1 page containing 2 sets of categories cards (Each player will need their own set of cards, so again feel free to print multiples of this page depending on the size of your group!)
This game set is designed to print on 3 standard 8.5×11 inch pages. Since 2 sets of categories cards and 2 sets of answer cards will print on each page, you will need to cut them apart. I am currently using this paper cutter for all of my personal projects and I can definitely recommend it!
Feel free to print as many copies of the game set as you would like. However, please do not edit or redistribute the game in any way. This Christmas Scattergories printable set was intended for personal use only.
How to play Scattergories:
Cut apart the letters on the instruction sheet and place into a hat or small bowl. Have someone close their eyes and pick out a letter.
Set a timer for 3 minutes. If you are playing with younger children, you may want to set the timer for a little bit longer.
Using the categories card provided, each player will fill in answers that start with the previously selected letter. This set includes categories cards for 2 rounds of the game.
Write down as many answers as you can before the time runs out. If you get stuck on one, feel free to skip and return back to it later if time allows.
Tip: Try and come up with most unique answers that you can think of. For example if the letter chosen is "S," for "An item of winter clothing," you may want to write down "Ski Pants" instead of "Scarf," since it is a less common item of winter clothing that you generally hear about.
When the timer runs out, go around the room and compare answers with the other players. If someone has the same answer as you, you both must cross it off your list. Whoever has the most unique answers at the end of the game wins!
Is Christmas Scattergories any different than regular scattergories?
Nope, not really! The only real difference is that instead of general categories, all of the categories on the cards are geared towards something Christmas related. If you happen to be coming across this post before Thanksgiving, I also have a Thanksgiving Scattergories game. It has slightly different rules than this game but is still a super fun activity to play while waiting for the turkey to be done cooking!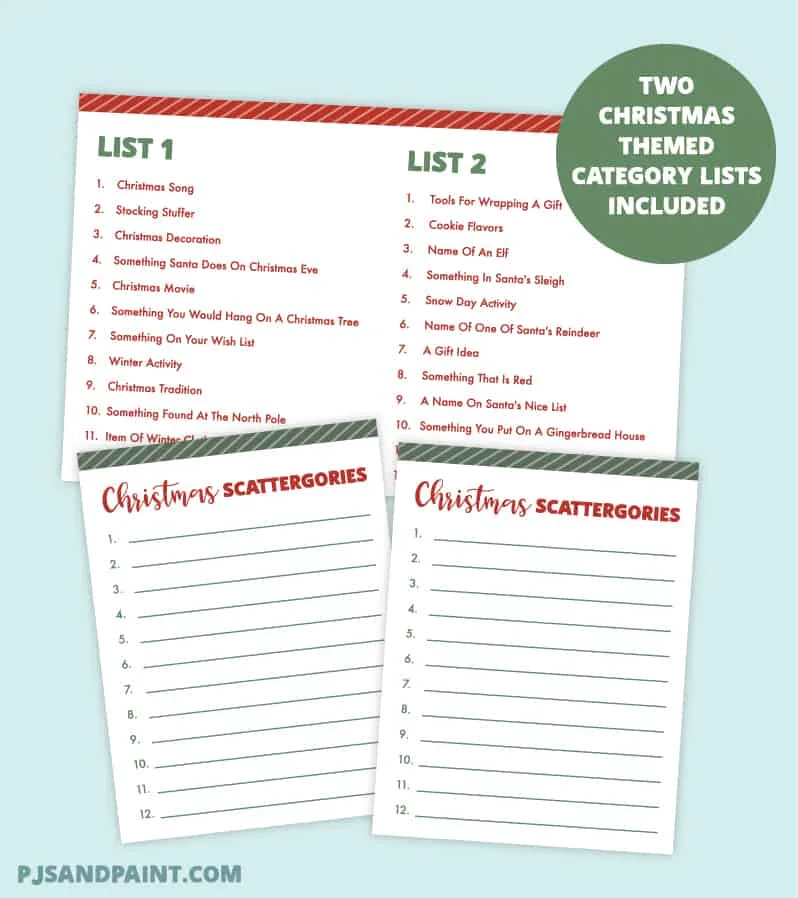 How to play Scattergories in teams:
If you are playing Christmas Scattergories at a classroom or holiday party with a large group of people, it might make more sense to work in teams. Not only would it be extra hard to come up with a unique answer that say 30 other people haven't already come up with, but teams can make things a little more competitive, and a little more fun!
With a large group of people, encourage everyone to break up into teams. I would suggest 4-5 people would be ideal. Too many more than that and it could get difficult for everyone to have their answer suggestions heard.
Set the timer for a little bit longer than if each player were working individually. For 4-5 people, I would say 5-6 minutes would be ideal. Again, if you're playing with smaller children, or would just like to have some more time to think, feel free to set the timer for however long you all agree on.
Once the timer is up, have one member from each team read out their answer for each category. If any other team has the same answer as them, they must both cross it off their list. The team with the most unique answers at the end of the game wins!
How to play Scattergories with 1 or 2 people:
Sometimes, you have the opposite issue. Instead of having a very large group to play with, you may want to play by yourself, or with 2 people. Do not worry, that is totally possible!
How to play scattergories with 1 person:
After some research, I came to the conclusion that all of the to scattergories rules I found, say you should play with at least 2 people.
However, I wanted to come up with a way you could still play on your own. Word games are great for long plane or train rides or when you just want an activity that will get you in the holiday spirit. And so these are my rules!
Print out a category card and answer card for yourself. You can either choose a random letter by cutting out the letter cards on the instruction sheet and placing them in a hat or bowl, or, if you'd like it to be more challenging, choose a letter like W or V that would be much harder to come up with answers for.
Since you wouldn't have any other players to compare answers with, the last half of the game doesn't necessarily apply here. But it would still be a lot of fun challenging yourself to come up with as many answers as possible before time runs out!
How to play scattergories with 2 people:
Playing scattergories with 2 players is actually exactly the same as playing with a large group. Each player will receive one cattergories card and one answer sheet.
They will then each have to fill in the blanks and come up with as many answers that begin with the chosen letter as possible.
When time runs out, the players will compare answers. Whoever has the most unique answers at the end of the game wins.
Free Printable Christmas Scattergories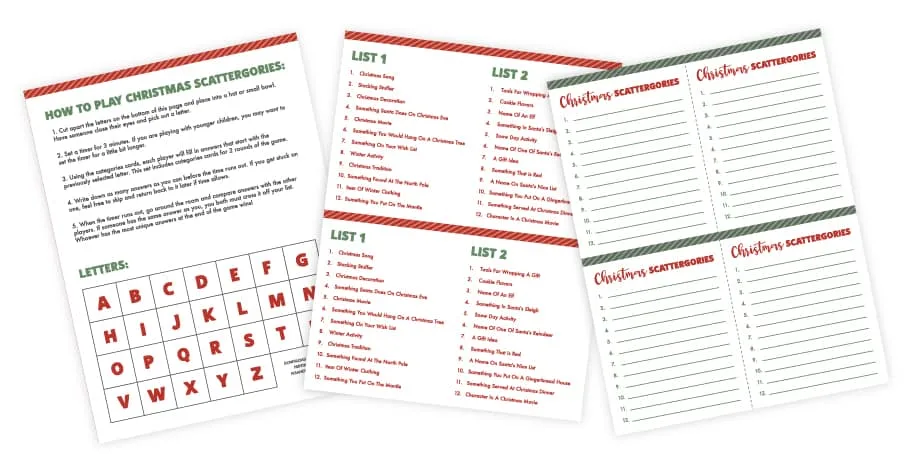 Download links are located at the bottom of this post.
Instead of printing and cutting out the letters from the instruction page, you could also purchase one of these cool alphabet dice.
If you enjoyed the Christmas Scattergories game, check out these other free printable Christmas themed games and actives:
Christmas Word Search
This free printable Christmas word search game would be the perfect activity to entertain your kids and start getting them excited about the holiday season! Click here to visit the full blog post.
Christmas Word Scramble
Have fun unscrambling these 10 Christmas themed words. Don't worry, we've included an answer key in case you get stumped! Click here to visit post and download links.
Free Printable Activity Placemat
This free printable Christmas activity and coloring page placemat would be great for keeping the kids entertained and out of trouble before or during dinnertime! View the full blog post here.
Christmas I Spy Game
Search for 8 Christmas themed images in the box above. With Santa, Christmas trees, reindeer and snowmen, everyone will have a ton of fun playing this game and getting in the holiday sprit. Click here to view post.
Roll a Christmas Tree Game
Roll a dice and use the key provided on the game board to decorate the Christmas Tree image with M&Ms. A fun game that ends with eating candy, what could be better?! View the full blog post and download links here.

Download Links: