This fun and challenging New Year's Eve word scramble game is the perfect way to end the year while waiting for midnight. Whether you are celebrating at home or out with family and friends, having some free printable games on hand are a great way to pass the time and enjoy one another's company.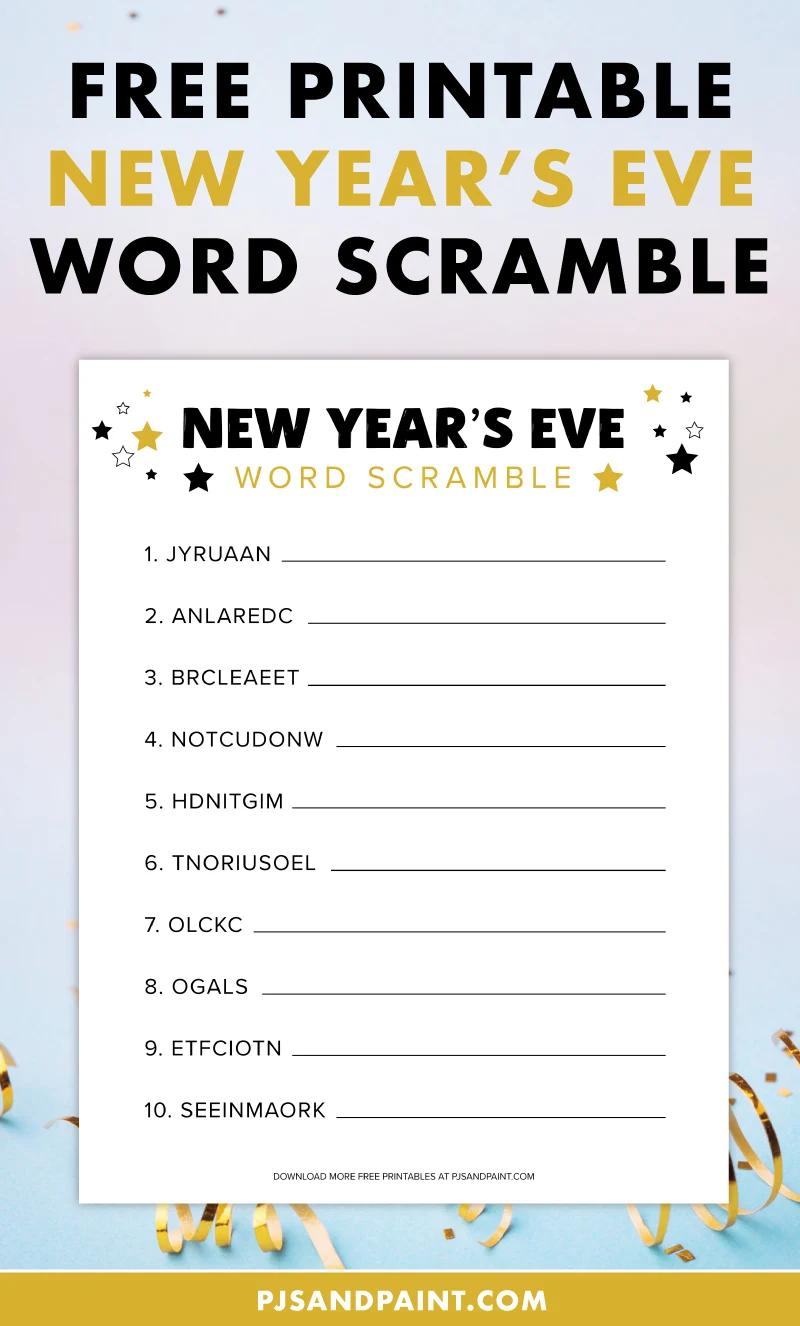 Disclaimer: This post contains affiliate links. This means that at no extra cost to you, I may earn a small commission if you decide to make a purchase. For more information, please read our affiliate disclosure.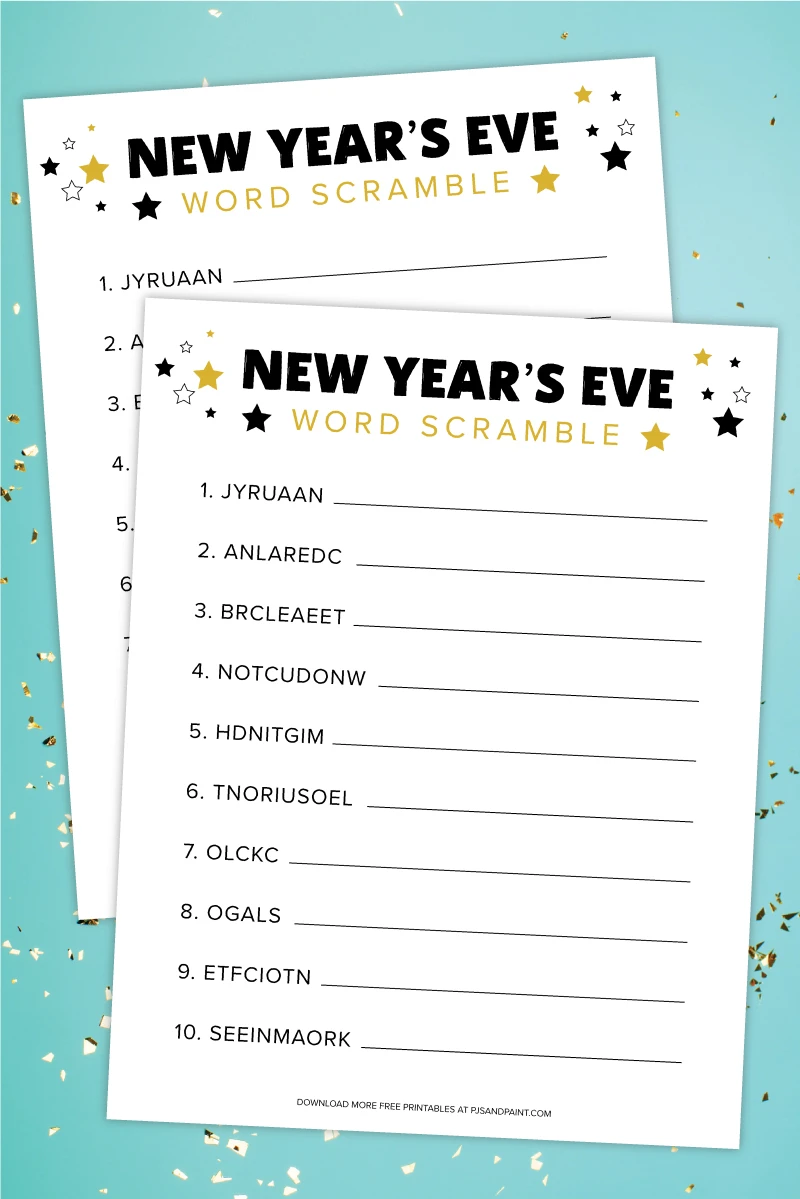 Game download link is located at the bottom of this post.
Word scramble games are not only fun and challenging for both kids and adults, but can also help improve vocabulary and spelling skills.
How to make word scramble games more fun in a group setting:
Set a timer:
Set a timer for a designated amount of time. Once someone says "Go," everyone must begin solving the words as quickly as they can. Whichever player was able to unscramble the most amount of words during that time, wins!
Solve as quickly as possible:
In this version of the game, each player will begin with their word scramble game face down on a table. Once the game begins, everyone will flip over their paper and start unscrambling the words as fast as they can. Whoever is able to correctly unscramble all of their words first, is the winner.
Free Printable New Year's Eve Word Scramble Game
Have fun trying to unscramble these ten New Years themed words in this fun word scramble game. But don't worry! We've included an answer key at the bottom of this post in case you get stumped!
This game is designed to print onto a standard 8.5×11 inch piece of paper or cardstock. One game will print per page.
Please feel free to download and print as many copies of the word scramble game as you would like. However, please do not edit or redistribute the files in any way. This game was created for personal or classroom use only.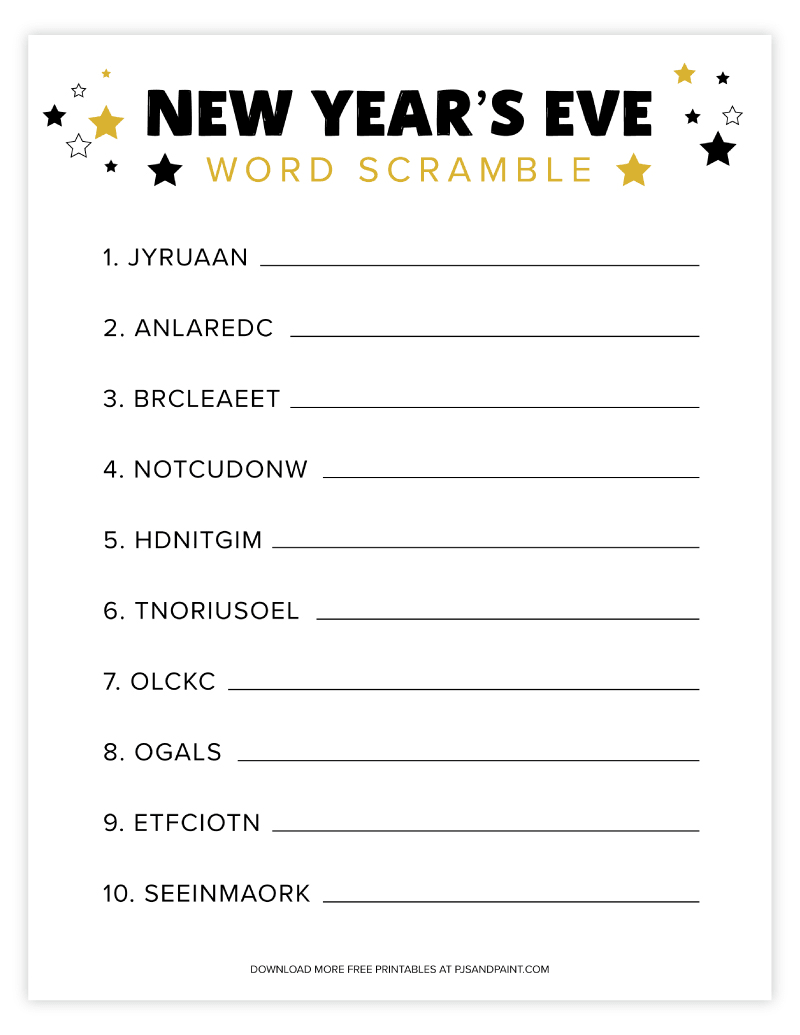 Game download link is located at the bottom of this post.
If you enjoyed this game, you might also like to check out some of our other free printables great for the New Year.
Free Printable New Year's Eve Word Search Game
Have fun searching for fifteen New Years themed words in this free printable word search game. Makes for a great activity to work on while waiting for midnight or to entertain your guests during a party!
Free Printable Savings Tracker
Start the year off right by making a plan for savings. Using this free printable savings tracker is a great way to make saving for a big item or event not seem so intimitating.
Free Printable Daily Habit Tracker
Seeing your goals written down in front of you makes sticking to your resolutions so much easier! Use this free printable daily habit tracker to check off boxes each day you successfully stick to your desired habit.
Download Link:
Download the New Year's Eve Word Scramble Game.
Word Scramble Answer Key:
1. January
2. Calendar
3. Celebrate
4. Countdown
5. Midnight
6. Resolution
7. Clock
8. Goals
9. Confetti
10. Noisemaker