Have fun searching for fifteen words in this fun free printable New Year's Eve word search game. Great for playing at a New Year's Eve party while waiting for midnight, or just as a fun way to keep the kids entertained and excited for the coming new year.

Disclaimer: This post contains affiliate links. This means that at no extra cost to you, I may earn a small commission if you decide to make a purchase. For more information please read our affiliate disclosure.
I think we can all agree that we are all ready for a fresh start with the coming new year. And if you are reading this in the future, I hope that everything is back to normal by now!
New years are all about fresh starts, making goals and looking towards the future. And of course, celebrating the accomplishments and happy moments of the year that is coming to an end.
Whether you are celebrating with family, friends, or staying in this year, there is no reason not to get a little festive with some fun games to play on New Year's Eve.
This fun free printable New Year's Eve word search game is great for both kids and adults. Whether you are trying to keep everyone busy before the countdown until midnight, or just need something to do during the day, this word search is just what you need!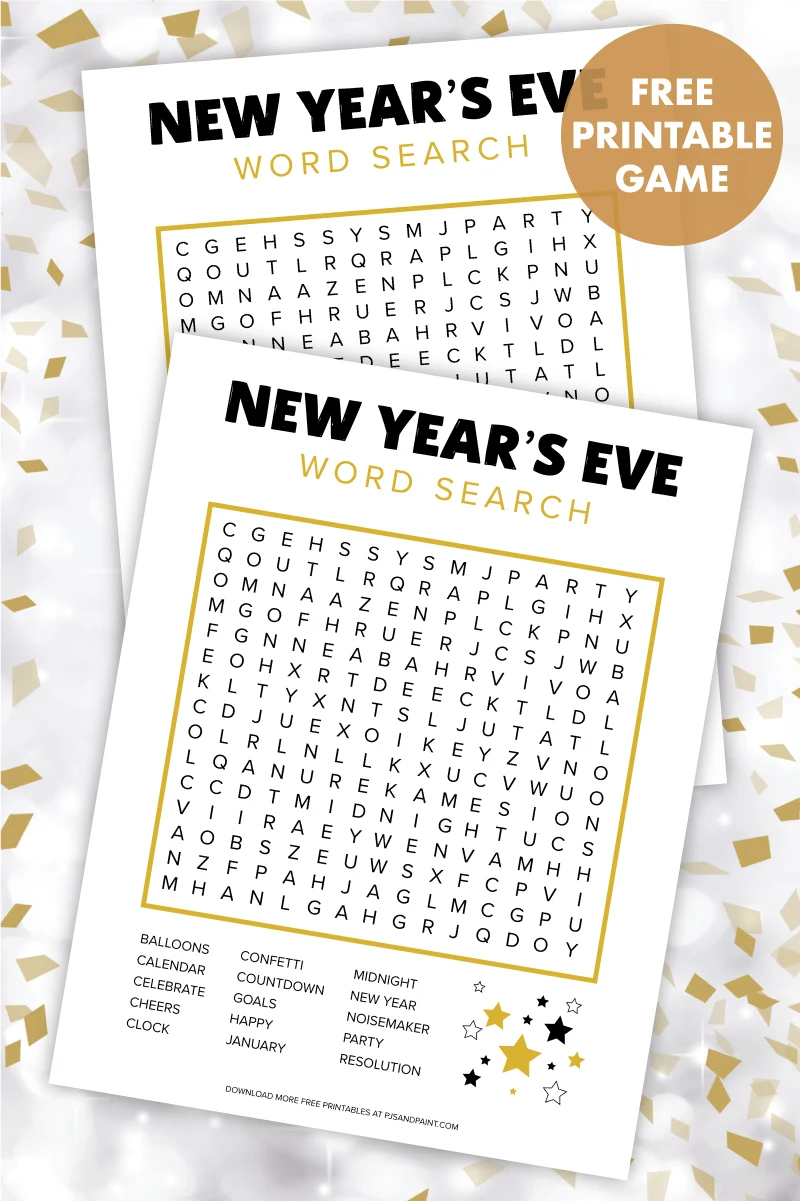 Game download link is located at the bottom of this post.
In this fun word search game you will be trying to find the following New Year's Eve themed words:
Balloons
Calendar
Celebrate
Cheers
Clock
Confetti
Countdown
Goals
Happy
January
Midnight
New Year
Noisemaker
Party
Resolution
Words can be found forwards, backwards and diagonal. Occasionally there may be a letter or two that are shared between two or more words. You can hunt for words down the list, or just cross them off as you see them.
Here are a few ways to make word searches more fun in a group setting:
Set a timer:
Set a timer for a designated amount of time. Once someone says "GO," all players have to try and find as many words they can before the timer goes off. Whichever player has found the most words, wins!
Find the words as fast as you can:
In this version, all players will receive a word search game page face down. Once the competition begins, everyone at the same time will flip their game over and begin finding words as quickly as they can. Whichever player finds all of the words first, wins.
Choose one word at a time:
Designate one player to choose one word from the list at random. Announce that word and all the other players will have to find that word as fast as they can. Whichever player finds the word first, receives one point. Continue until all words have been called out and found. Whoever has the most points at the end of the game wins!
Free Printable New Year's Eve Word Search Game
This game is designed to print onto a standard 8.5×11 inch piece of paper or cardstock. One game will print per page.
Feel free to download and print as many copies of the word search game as you would like. However, please do not edit or redistribute the files in any way. This game was created for personal or classroom use only.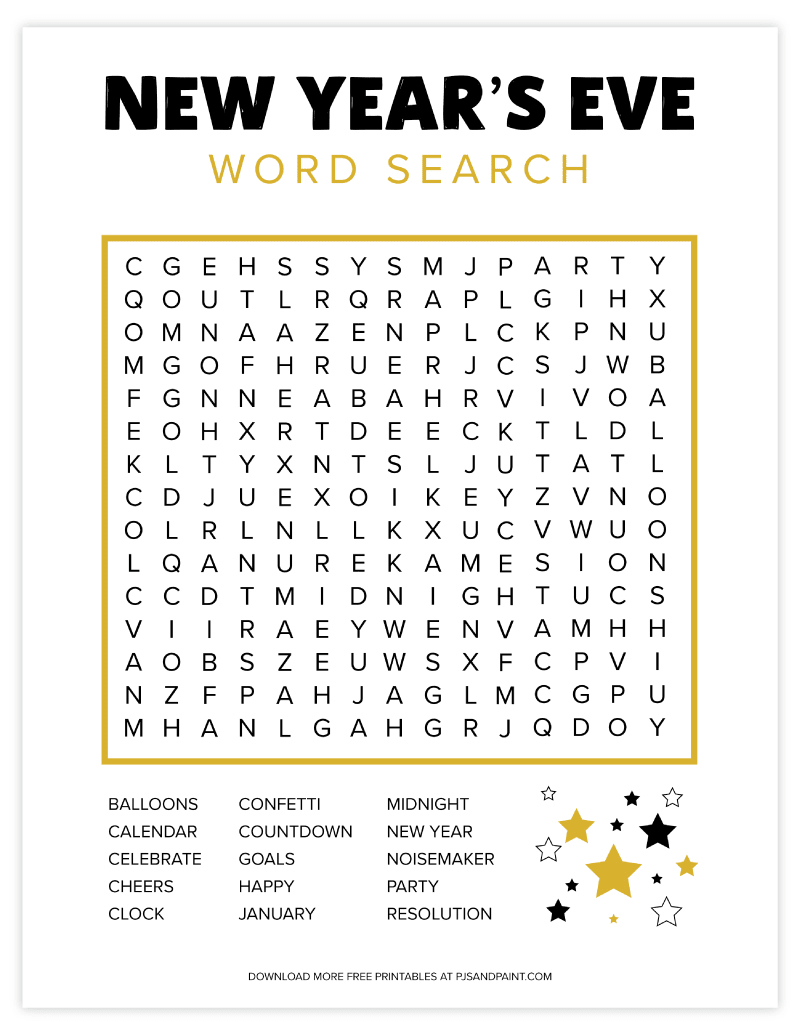 Game download link is located at the bottom of this post.
If you enjoyed this game, you may also like to check out some of our other free printables great for the new year:
Free Printable New Year's Eve Word Scramble
Have fun unscrambling 10 New Year's themed words in this challenging word scramble game. Perfect for playing at a New Year's Eve party while waiting for midnight!
Free Printable Daily Habit Tracker
Creating new habits take a lot of work and dedication. One tool that can help you develop your new desired habits is a daily habit tracker. Keep track of the progress you make toward your goals with this free printable habit tracker.
Free Printable Savings Tracker
If you are in the process of saving for a big item, a home renovation, a wedding or vacation, tracking how much you are saving can be an excellent way to visually see the progress you are making toward your goal. Download this free printable savings tracker today and get started!
Download link: