Are you looking for an easy gift to give your child's soccer coach? This free printable soccer coach gift card holder is just what you need! It is a great way to say thank you to your favorite coach for a great season.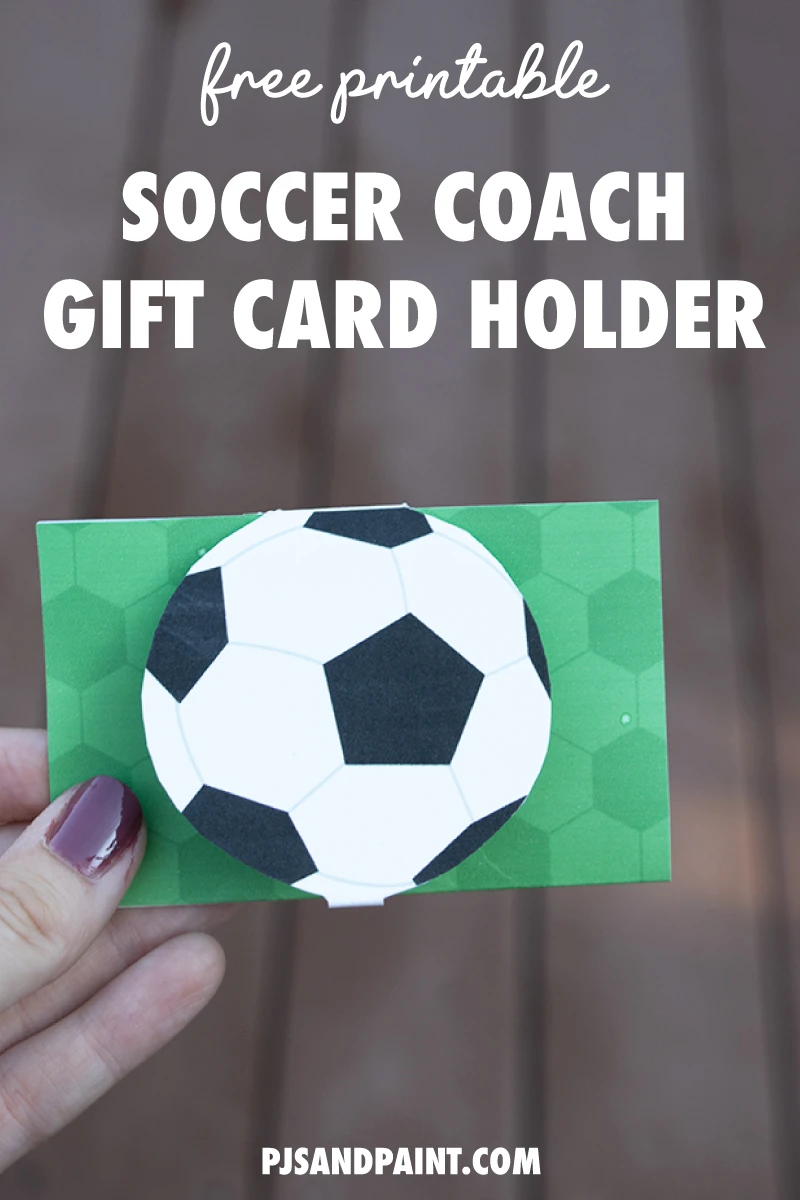 Disclaimer: This post contains Amazon affiliate links. This means that at no additional cost to you, I may earn a small commission if you decide to make a purchase. For more information, please feel free to read the affiliate disclosure on our privacy policy page.
I really wanted to give my son's soccer coach a little gift after the season ended. I decided on a gift card but wanted a nicer more personal way to wrap the card rather than sticking it inside a card I bought from the store.
And so I decided to make this soccer coach gift card holder. It is available as a free printable which means you don't have to spend any extra money on a card and still give your child's coach a meaningful gift.
The gift card holder is very easy to print and put together. And it really adds a special touch to a gift that I'm sure the coach will greatly appreciate.
Supplies needed to make a soccer coach gift card holder:
Scissors
Tape
Free printable template (download link is located at the bottom of this post)
The first step is to print out the design onto a piece of 8.5×11 inch white cardstock. The reason it is important to use cardstock as opposed to regular printer paper is because cardstock is thicker and will more securely hold the gift card. In place.
Next, cut out the gift card holder and fold the rectangle areas in half. Fold the soccer ball down and the little white tab towards the back.
Open back up and place the gift card inside. I attached mine to the card holder using a piece tape rolled up on the back.
You can write a short message in the blank space inside the gift card holder, or you can just fill out the "to: and from:" spaces on the back.
After you are done, you can fold the bottom flap over and use a small piece of tape to secure in place.
What types of gift cards would soccer coaches like to receive?
I am definitely not a soccer coach myself, or even very good at sports for that matter. However, here are a few types of gift cards that soccer coaches might enjoy receiving:
Target
Starbucks
Dunkin Donuts
Prepaid Via
Sporting goods store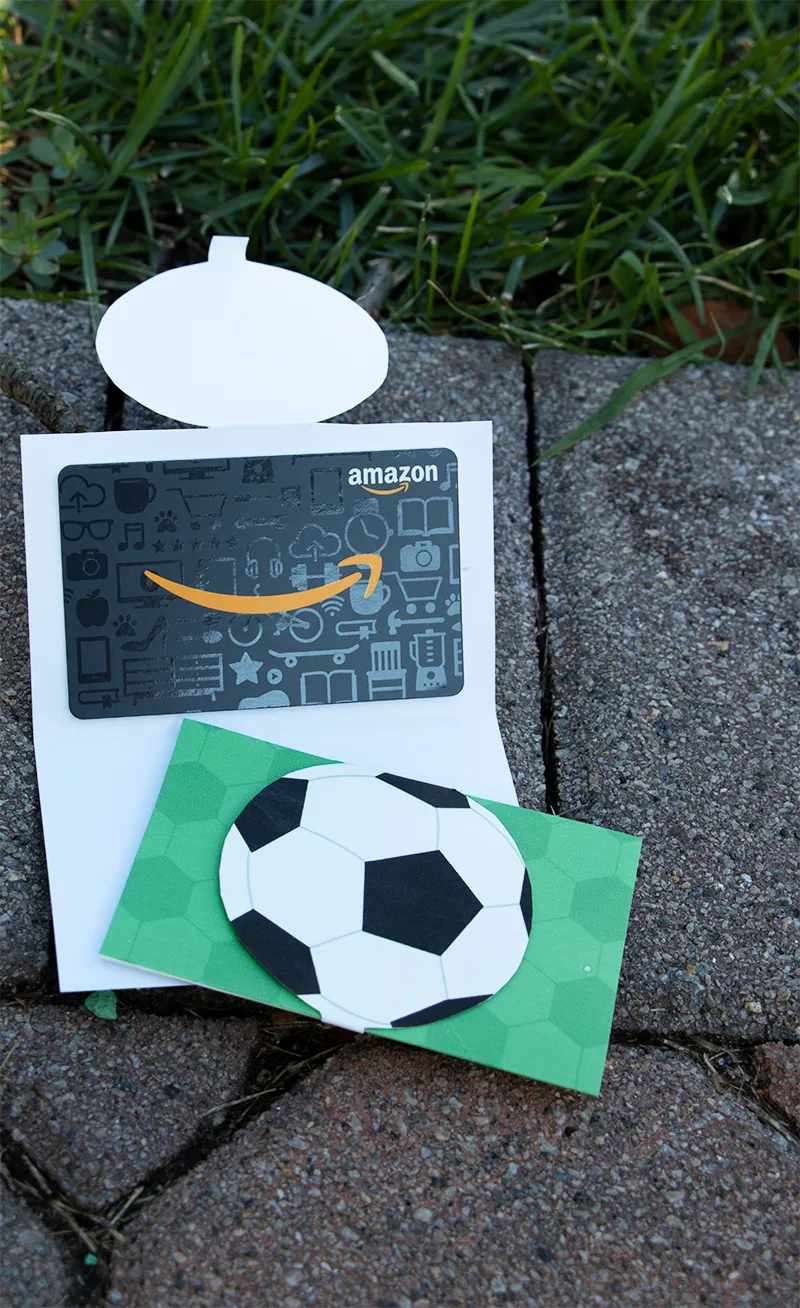 Free Printable Soccer Coach Gift Card Holder
This gift card holder is designed to be printed onto a standard 8.5×11 inch piece of white cardstock. One gift card holder will print per page.
Each holder is sized to fit a standard sized gift card which usually measures somewhere around 3.3×2.1 inches.
Feel free to download and print as many copies of the gift card holder as you would like. However, please do not edit or redistribute the files in any way. These files were created for personal use only.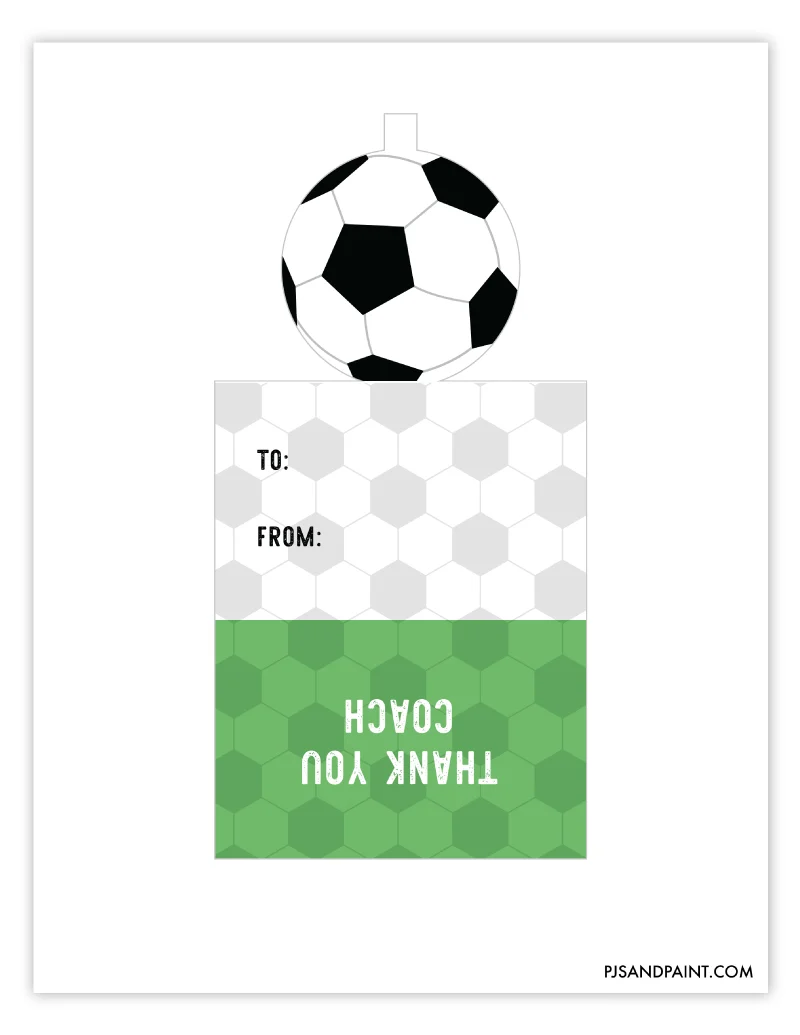 If you enjoyed this post, you might also like to check out some of our other DIY gift ideas below:
Download Link:
Download the soccer coach gift card holder.