This free printable pencil gift card holder is the perfect way to give teachers a well deserved gift card this holiday season.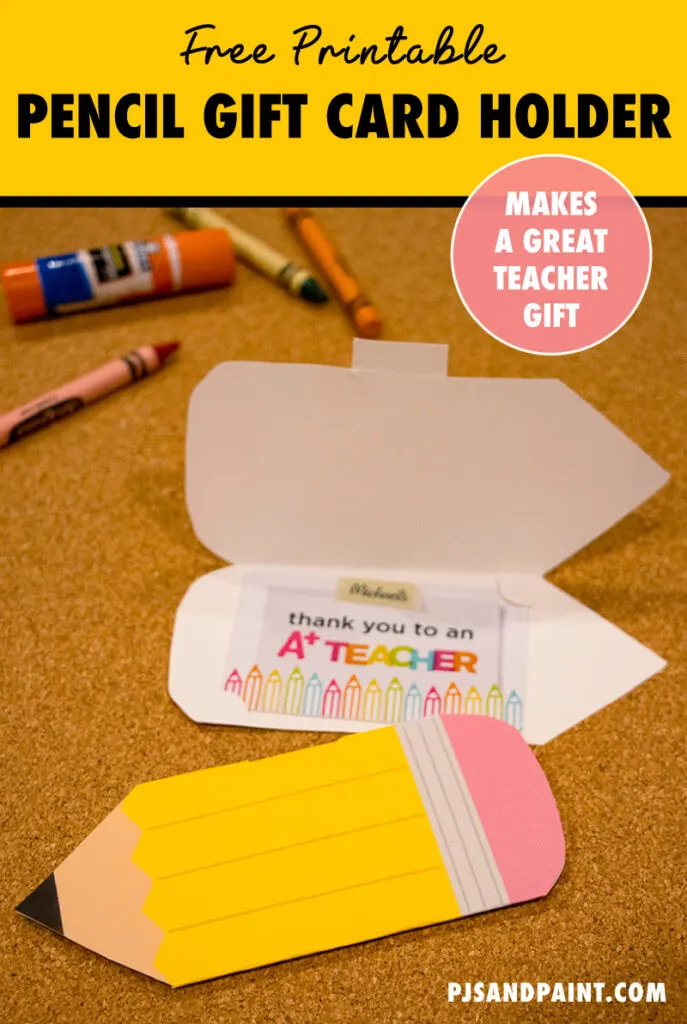 Disclaimer: This post contains Amazon affiliate links. This means that at no additional coat to you, I may earn a small commission if you decide to make a purchase. For more information, please feel free to read our affiliate disclosure.
Now that my oldest child is attending school, I have been putting a lot of though into small gifts that I can give his teachers for the upcoming holiday season.
I went back and forth between a bunch of ideas but then a short conversation with his teacher made me rethink things.
I picked my son up from school that day and was casually talking with his teacher a bit. She had mentioned how she had to go to the store after school to pick up some supplies for the classroom.
She was using her own money to buy supplies for the students. While this is obviously much appreciated, I didn't think it was right for the teachers to be spending their own hard earned money on items that probably should be covered in the schools tuition.
And so I quickly took a look around the classroom to see what types of supplies they might be needing. It seemed to be a lot of arts and crafts type items. Construction paper, markers, paint, that sort of thing.
And so I decided that for this years holiday gift I wanted to give my son's teacher a gift card to a craft store so that if she needed to restock any items out of her own pocket, at least a small portion of it could be taken care of already.
My next challenge was to come up with a creative way to present the gift card.
Most gift cards you can buy with a small envelope type covering but I wanted to do something a bit more creative.
And so I created this free printable pencil gift card holder that I am sharing with you all today.
It is super easy to print and put together and adds a really special touch to a gift that I'm sure teachers will greatly appreciate.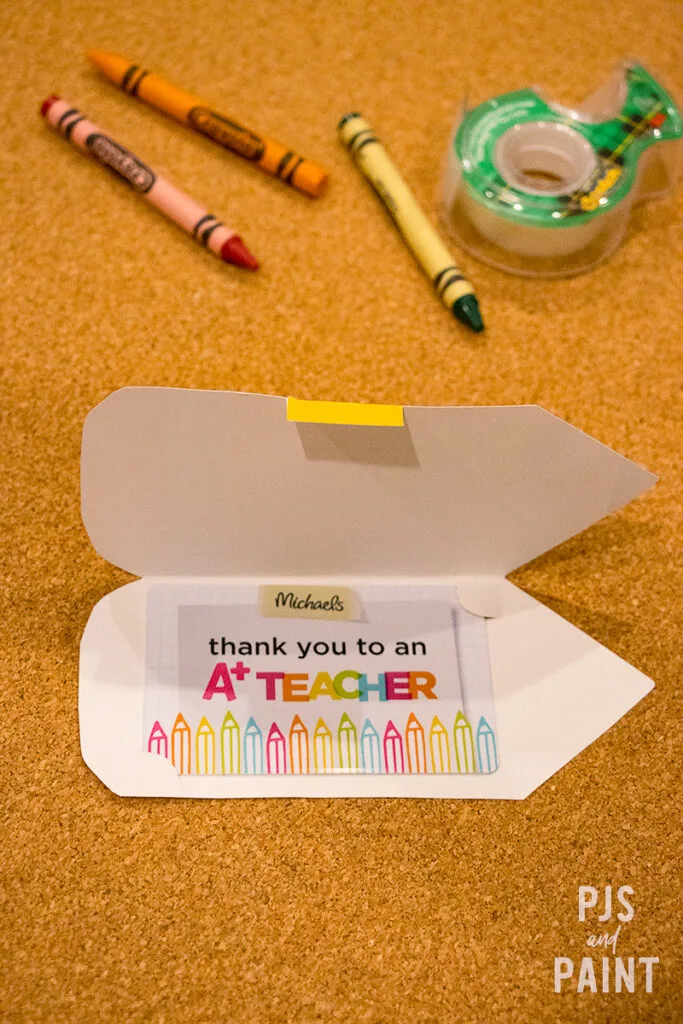 Download link is located at the bottom of this post.
Supplies needed to make a pencil gift card holder:
Scissors
Gift card
Tape
Free printable design (the download link is located at the bottom of this post)
The first thing you are going to do is print out the design onto white cardstock. It is important to use cardstock as opposed to standard printer paper because cardstock is much thicker and will be able to securely hold the gift card in place.
Cut out the pencil gift card holder along the dotted lines. Next, use an Xacto knife to cut the small slits that will hold the card in place.
Fold the pencil in half and then place the gift card into the slots.
Next, you can write a short message in the black space inside the gift card holder. Aftwewards, close the pencil, fold the bottom flap over and use a small piece of tape to secure in place.
What types of gift cards would teachers like to receive?
Now, I am not a teacher myself but from what I hear these are a few gift card options that teachers would enjoy receiving:
A craft store (Michaels, AC Moore etc.)
Amazon
Target
Starbucks
Dunkin Donuts
Prepaid Visa
Free Printable Pencil Gift Card Holder
This gift card holder is designed to be printed onto a standard 8.5×11 inch piece of white cardstock. Two gift card holders will print per page.
Each holder is designed to hold a standard sized gift card which typically measures approximate 3.375 x 2.125 inches.
Feel free to download and print as many copies of the pencil gift card holder as you need. However, please do not edit, redistribute, sell or claim the files as your own. These files are intended to be used for personal use only.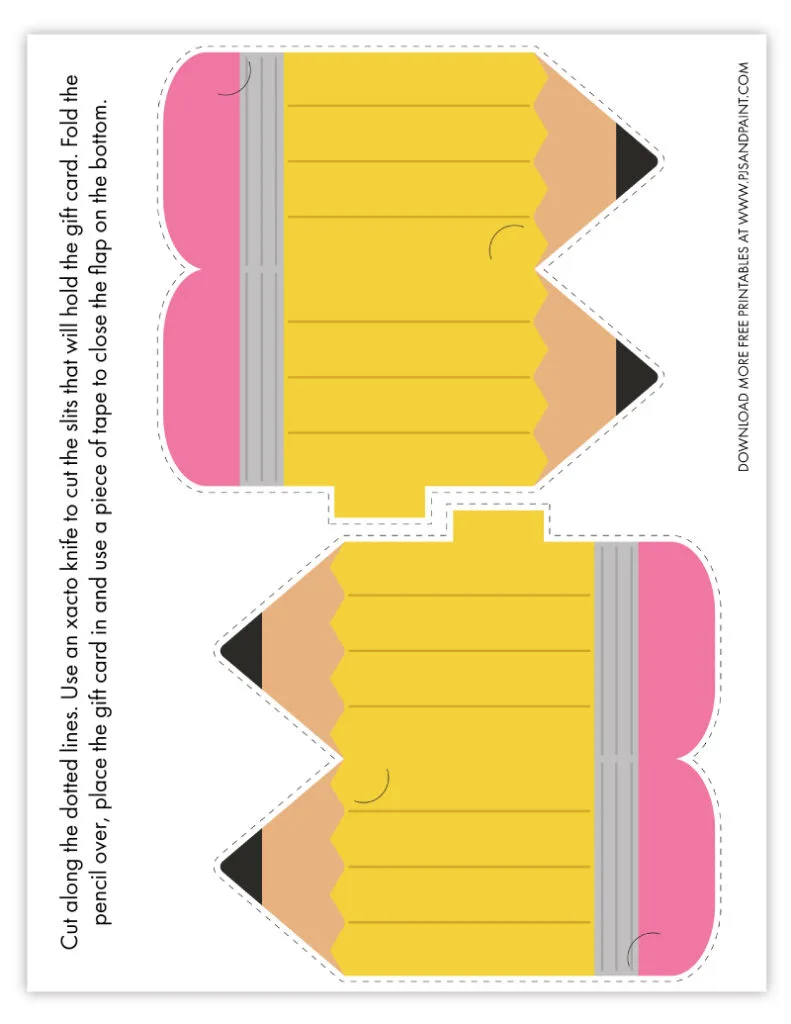 Download link is located at the bottom of this post.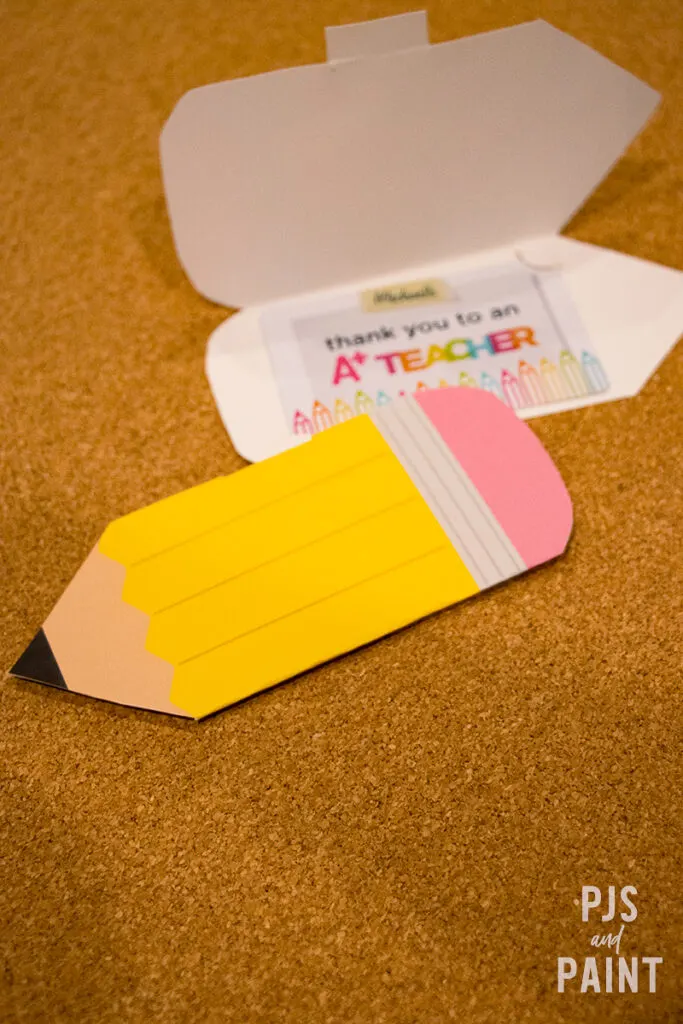 Download link is located at the bottom of this post.
If you enjoyed this post, you may also like to take a look at some of our other DIY gift ideas below:
Thanks for making me one smart cookie mason jar mix
This gift is perfect for any cookie lovers out there! Simply place all of the dry ingredients to make a delicious batch of cookies in a mason jar and then top it off with the free printable gift tag available for download in the post.
Christmas Pot Holder Gift
This Christmas themed pot holder gift would make a great present for friends and family thing holiday season. You can turn an everyday item into a gift that everyone will be sure to appreciate.
Free Printable Christmas Coupon Book
This coupon book would make a wonderful stocking stuffer this year. Coupon books are easy to put together, are simply perfect for last minute gifts, all while being very thoughtful and personalized to the recipient.
Download Links: