Keep the magic of the Tooth Fairy alive with this fun free Tooth Fairy printable set. Including a tooth fairy certificate, tooth receipt, baby tooth envelope and a door hanger, so she knows that a tooth is ready for pickup!
With the holiday season fast approaching I have been working on tons of free printables and craft ideas geared towards Thanksgiving and Christmas.
But if I can be honest, I need a break! As much as I love the holidays, it can sometimes get overwhelming. There are presents to buy, parties to attend and plenty of other festivities going on during this time of year. I always feel as if the end of the year flies by. Half the time I don't even know what day it is! But I can probably chalk that up to a combination of working from home and having a toddler who wakes up for the day 4:00am, ready to party.
One printable idea I've had on my to do list for quite some time is a Tooth Fairy set! And this morning thought, why not get started on that now. It'll be a nice little break from holiday projects and lets face it, kids are losing teeth all times of the year, and that includes Thanksgiving and Christmastime. That seems like enough justification for me!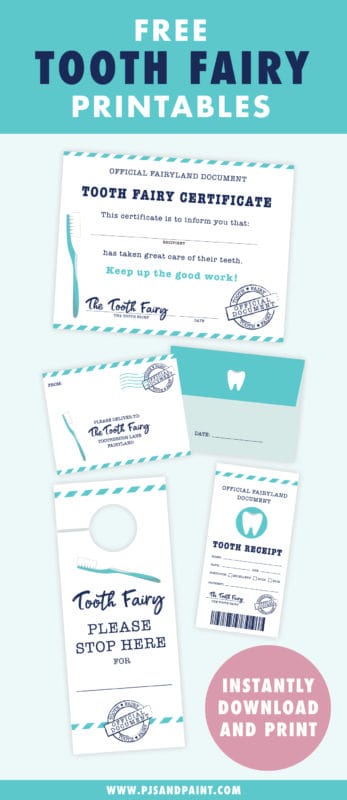 Disclaimer: This post contains Amazon affiliate links. This means that at no extra cost to you, I may earn a small commission if you decide to make a purchase.
I have such clear memories of losing teeth when I was a child. I distinctly remember this one tooth that was taking forever to come out on its own. I had tried wiggling it constantly and brushing my teeth really hard every night in hopes it would finally fall out. But unfortunately, those efforts combined with insisting that my mom making corn on the cob with dinner every night for a week straight, didn't help my case.
One night, my dad said enough is enough, we are getting this tooth out right now. He grabbed my tooth and yanked it right out! Finally! I could go back to eating normally and not thinking of crazy ways to help get this annoying tooth out of my mouth.
And now on to the fun part, the Tooth Fairy! I always had the hardest time falling asleep while waiting for the Tooth Fairy to arrive. I don't know how many times my mom would tell me, "she isn't going to come if you don't go to bed!"
Eventually I would fall asleep, with my newly fallen out tooth in a plastic ziplock bag, neatly tucked under my pillow, and patiently wait for morning. And this time, when I woke up there was not only a $5 bill but a small toy as well! I had hit the jackpot, the Tooth Fairy had really come through this time! Knowing that I would be getting a little treat from the Tooth Fairy always made baby teeth falling out so much less stressful.
Now, my son just recently acquired all of his baby teeth. And let me tell you, it was not easy an easy process on any of us! And while I am definitely not ready for them to fall out quite yet, when the time comes for his big boy teeth, I want to be prepared.
So today, I'm excited to share with you these fun free tooth fairy printables that I've designed to make the Tooth Fairy experience that much more fun for your kids too.
Included in this set is a certificate (signed by the Tooth Fairy herself and stamped with the official Tooth Fairy seal of course!), a receipt for payment, a printable envelope to put the baby tooth in, and a printable door hanger, to let the Tooth Fairy know that a tooth is ready for pickup.
All of the printables below are available to download and print as many times as you would like. However, please do not edit or redistribute the files in any way. The printable set was created for personal use only.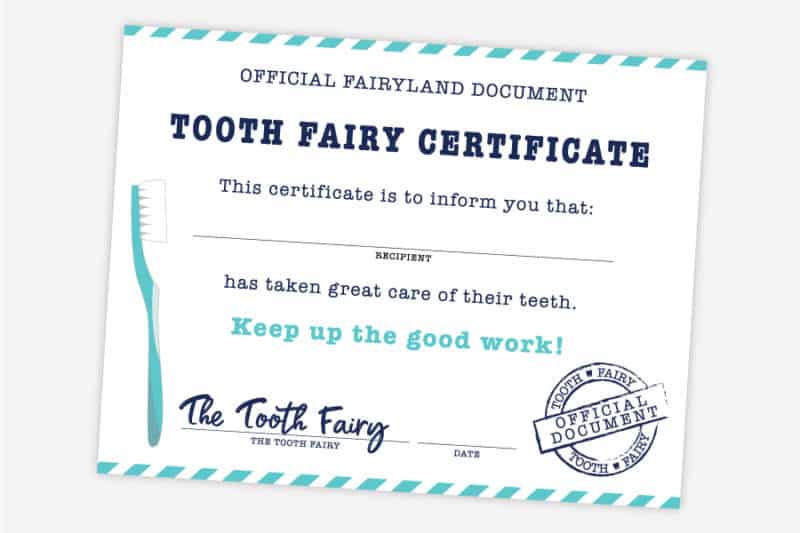 Free Printable Tooth Fairy Certificate
Losing a tooth is a big deal! This Tooth Fairy certificate is a great way to celebrate the occasion. With an official "Tooth Fairy Document" seal and a handwritten signature by the fairy herself, this certificate is the real deal!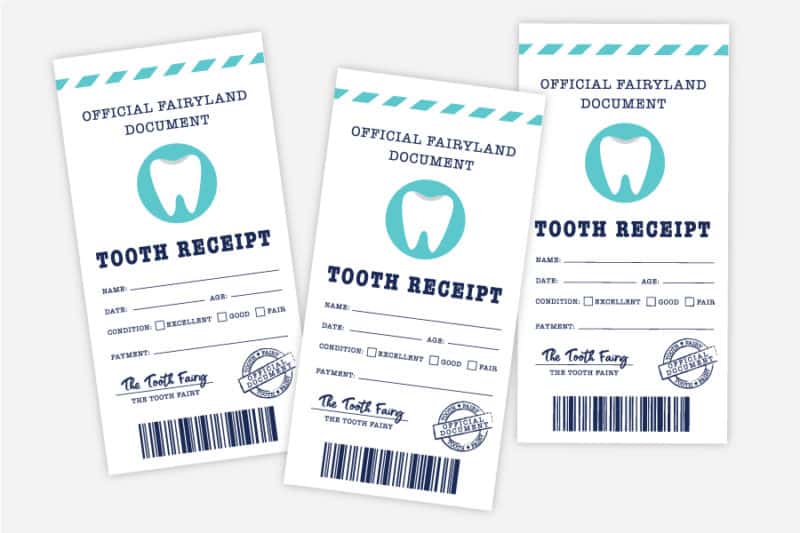 Free Printable Tooth Receipt
Once of the best parts about losing a tooth is the special treat that the Tooth Fairy leaves for you to wake up to. This free printable receipt will be a fun keepsake for your child to hold on to. For the receipt I would recommend printing on standard weight printer paper to give it more of a receipt feel. Or if you want to go ALL out, you can even print on this newsprint paper and get more of that thin receipt paper feel.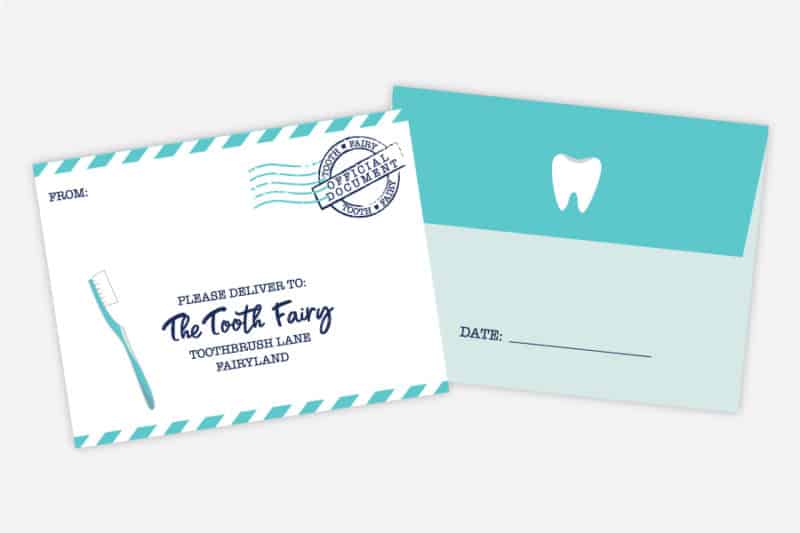 Free Printable Tooth Fairy Envelope
When I was a kid, if I remember correctly, I just put my baby teeth in a plastic ziplock bag and placed it under my pillow. But I wanted to create something a little more fun than that! Have your child put their baby tooth into this envelope and fill out the form on the front. Make sure that they put it under their pillow or on a night table nearby for easy Tooth Fairy pickup.
How to put together the Tooth Fairy envelope:
Print out the envelope onto a standard piece of 8.5×11 inch paper. For the best quality, I would recommend printing on white cardstock.
First, cut the envelope out along the guidelines. Next, fold the bottom (larger) flap up and make a crease. Fold the two side flaps inward and glue to the bottom flap.
Place the baby tooth inside the envelope and then fold down the top flap. You can use a piece of tape or a small sticker to seal it closed. Put under your child's pillow or on a table nearby and the Tooth Fairy will come pick it up!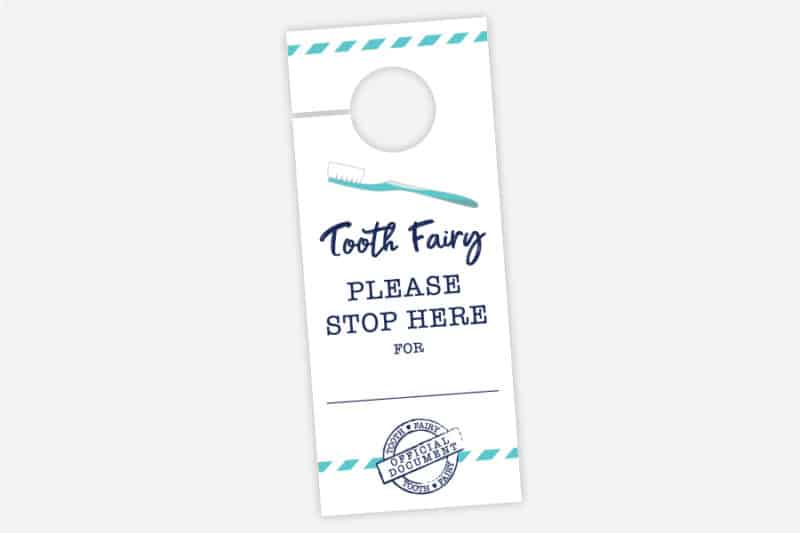 Free Printable Tooth Fairy Door Hanger
This door hanger is designed to print on an 8.5×11 inch page. For the best quality I would highly recommend printing on white cardstock. Write your child's name on the blank space and hang on their door before they go to bed. The Tooth Fairy will now know that there is a tooth ready to be picked up and she will make sure to pay a visit!
Save some trees and printer ink by making the door hanger reusable!
Chances are, even if you have multiple kids, they are not all going to be losing a tooth at the same exact time. While the Tooth Fairy certificate and the envelope are probably best only getting one use out of, (especially the envelope!) the Tooth Fairy door hanger can definitely be reused time and time again.
All you would need to do after printing out the door hanger would be to use a home laminating machine, like this one here. Simply use a dry erase marker to write your child's name in the blank space. Once the Tooth Fairy has come and gone, you can wipe off their name and put it back in storage until your next child loses a tooth.
Are you planning on keeping your kids' baby teeth? If so, you'll want to check this out!
If you are planning on keeping your children's baby teeth as they lose them, placing them inside of one of these wooden tooth boxes would definitely be ideal!
Not only do they look great but they keep the teeth organized and labeled. There is even a space to keep their first lock of hair! Click here to view the baby tooth box on Amazon.
Free Download Links for the Tooth Fairy Printable Set: