This fun free printable birthday I spy game is a great additional activity to play at a birthday party, or as a way to celebrate your kids' special day at home.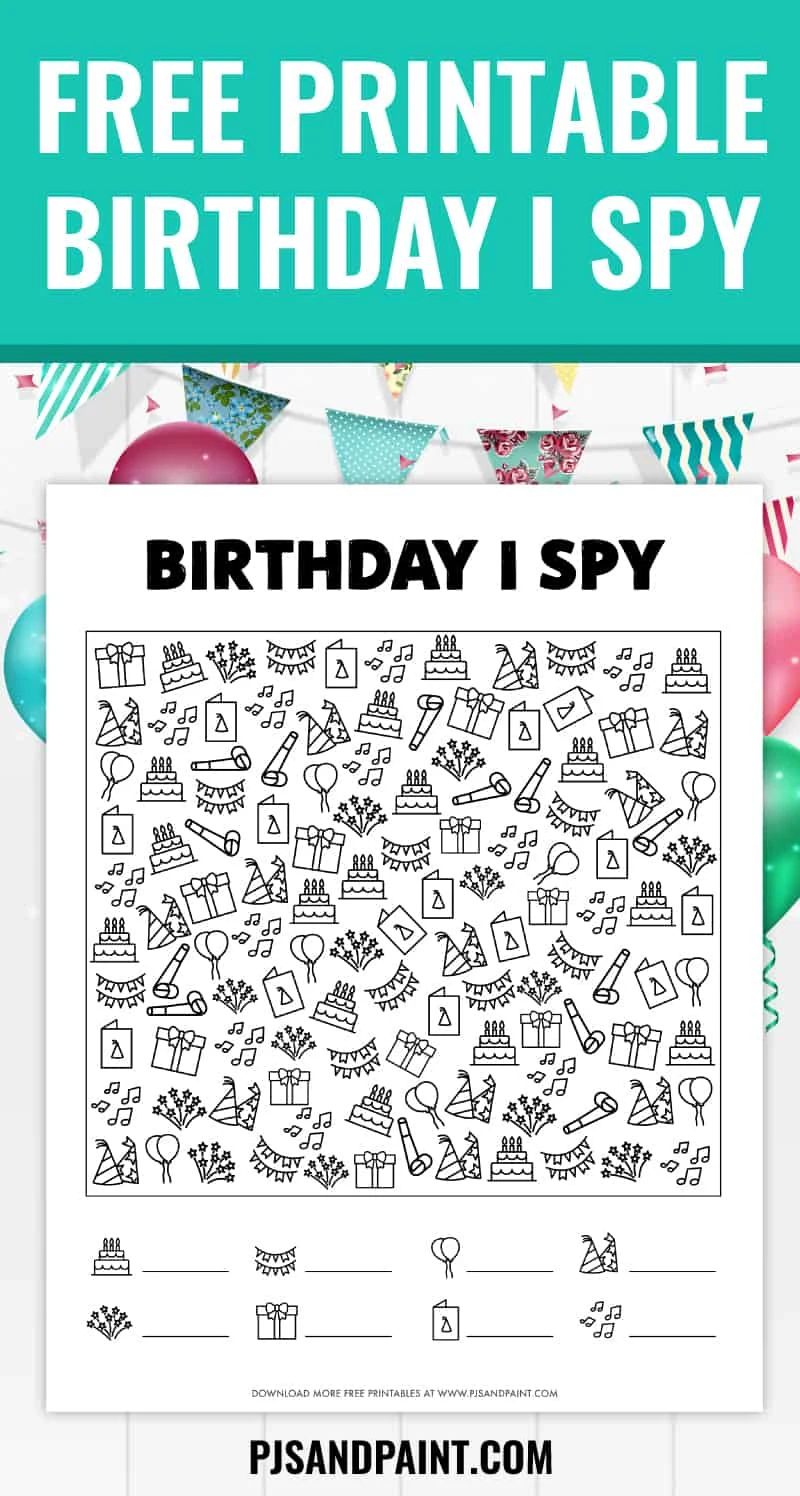 Disclaimer: This post may contain Amazon affiliate links. This means that at no extra cos to you, I may earn a small commission if you decide to make a purchase.
As I am writing this is it actually my dogs birthday! I can't believe that Daisy is six years old already! My husband and I adopted her when she was about four months old from a local shelter.
She is the sweetest (and definitely most skittish) dog and has been such a great addition to our family these past six years.
Daisy, like most dogs, LOVES walks. She can't get enough of them. She gets so excited that we don't even say the word walk anymore. My husband will say to me, "Do you want to take her for a THING after lunch?" Somehow she hasn't caught on yet that "thing" means walk!
We celebrated Daisy's birthday by taking her on not one but two nice long walks and giving her extra doggy treats. Then we took a family walk down the road to a local ice cream shop. While Daisy didn't get to eat any ice cream, she definitely enjoyed licking up any sprinkles that our son dropped.
All in all, it was a really nice day!
And while Daisy can't play this printable birthday I spy game, I thought it was a great day to share this activity!
How do you play this printable I spy?
At the top of the page you will see a large box filled with various birthday party related items. At the bottom of the page there are 8 images with lines next to them. The goal is to correctly count how many of each image you see and write down the number next to each picture on the lines below. Don't worry, there is an answer key in case you get stumped!
In this birthday I spy game you the items you will be searching for are:
birthday cakes
banners
balloons
party hats
fireworks
wrapped presents
birthday cards
musical notes
I have also added in a few extra pictures in there to add a little challenge!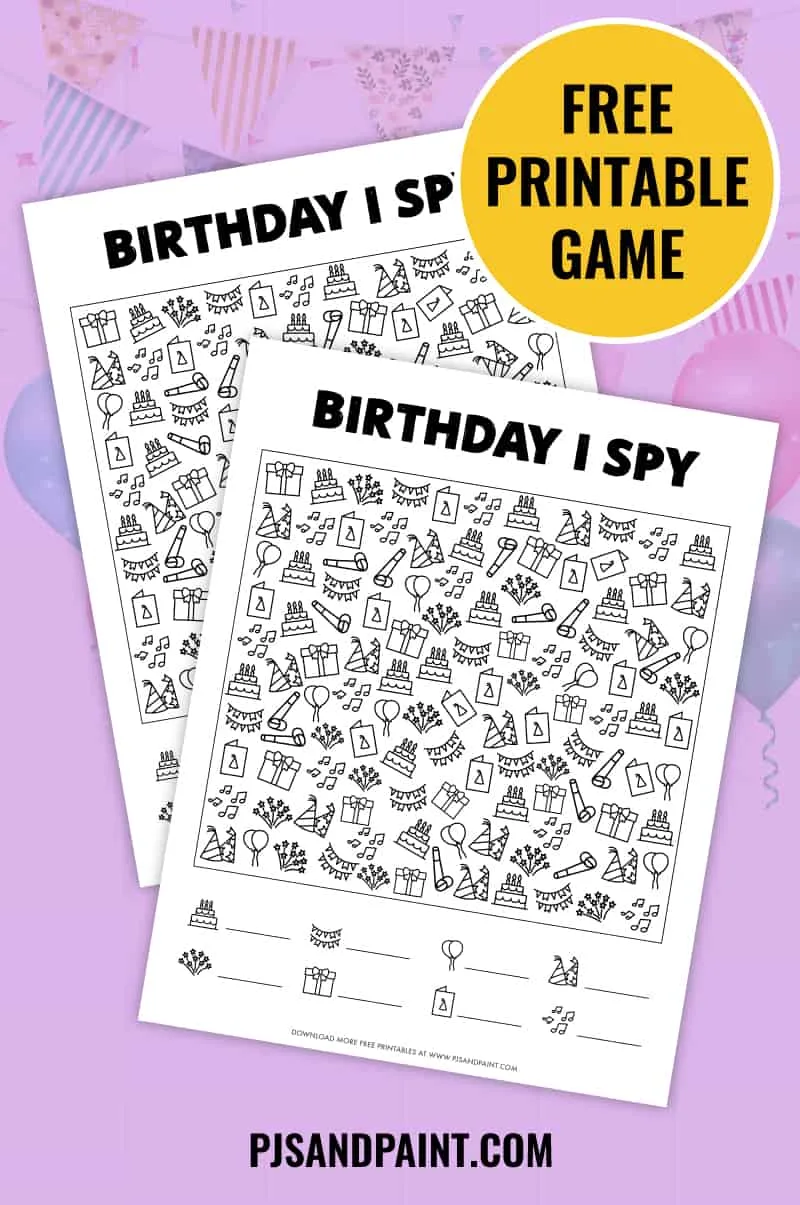 Download links are located at the bottom of this post.
Free Printable Birthday I Spy Game
This I spy game was designed to fit onto a standard 8.5×11 inch piece of paper or cardstock.
Feel free to download and print out as many copies of the birthday party I spy game as you would like. However, please do not edit or redistribute the files in any way. This I spy game was created for personal or classroom use only.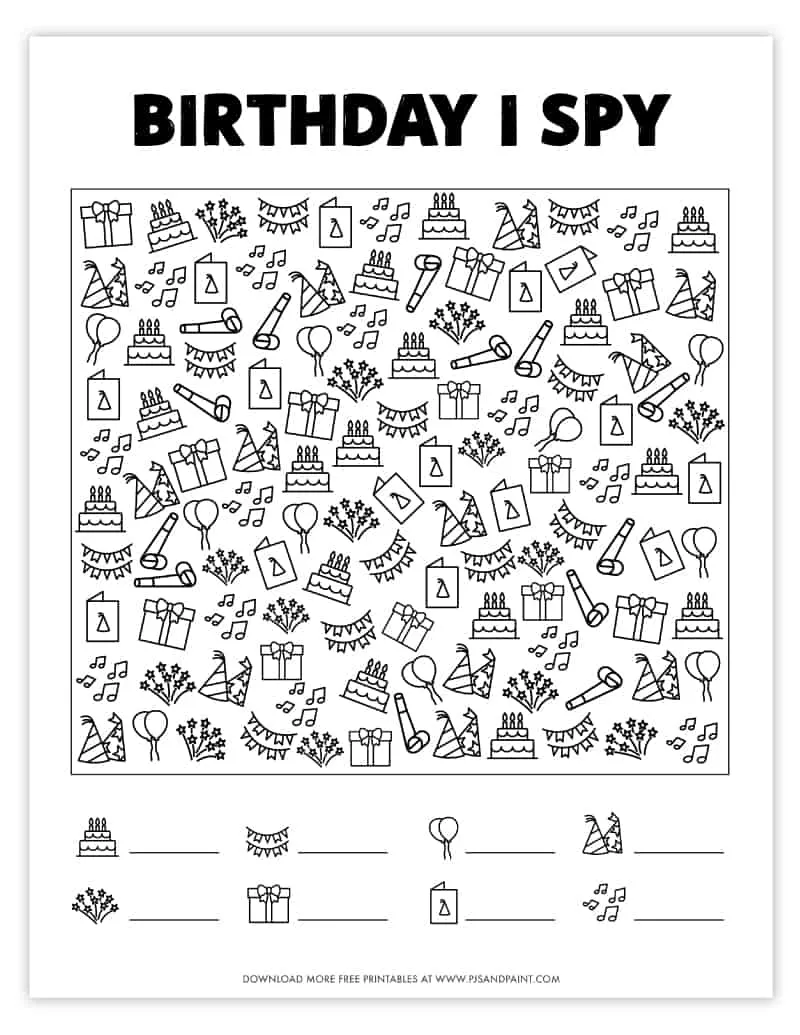 Download links are located at the bottom of this post.
If you enjoyed this post you may also enjoy some of our other fun free printable I spy games below:
Birthday I Spy Download Links:
Click here to download the birthday I spy game.
Click here to download the birthday I spy answer key.
**remember to link this and wedding to other food and fire i spy posts