Have fun searching for these 8 fire themed images in this free printable fire safety I spy game. With fire extinguishers, hoses, bunker gear, ladders and more, kids and adults alike will enjoy this simple yet challenging activity.
This free printable fire safety I spy game would be a great addition to learning about fire safety at school or at home. While it may not necessarily teach kids what to do in the event of an emergency, it is a fun little activity to do after learning about all the ways to stay safe and help kids recognize some of the tools that firefighters use.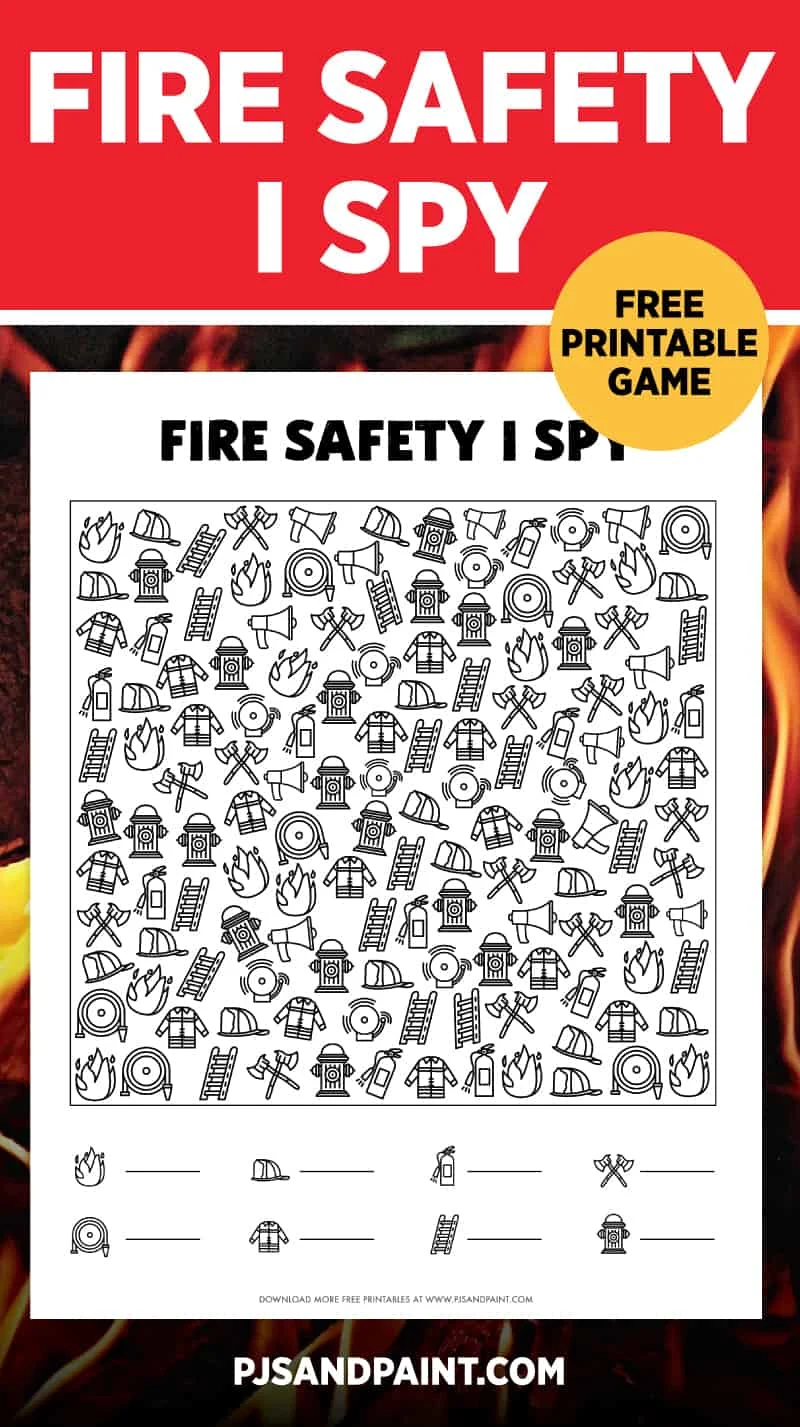 Disclaimer: This post may contain Amazon affiliate links. This means that at no extra cost to you, I may earn a small commission if you decide to make a purchase.
How do you play I spy?
At the top of the page there is a large box filled with different items. At the bottom of the page there are 8 pictures with lines next to them. Count how many of each picture you see and write down the correct number on the lines next to each image.
In this game, you will be searching for:
flames
hoses
fire helmets
jackets
fire extinguishers
ladders
axes
fire hydrants
To add a little extra bit of challenge to this printable game, I also included a few extra items in there!
Here are a few tricks that can help you count the pictures:
Color in each image.
Take out the markers, colored pencils, crayons etc. and color in each picture as you count i.t. This is a really create way to add in a little bit of creativity into the game.
Place an X through each picture as you count them.
Once you have counted and crossed off a few pictures in the I Spy box, it will seem less busy and the remaining items will be easier to pick out and count.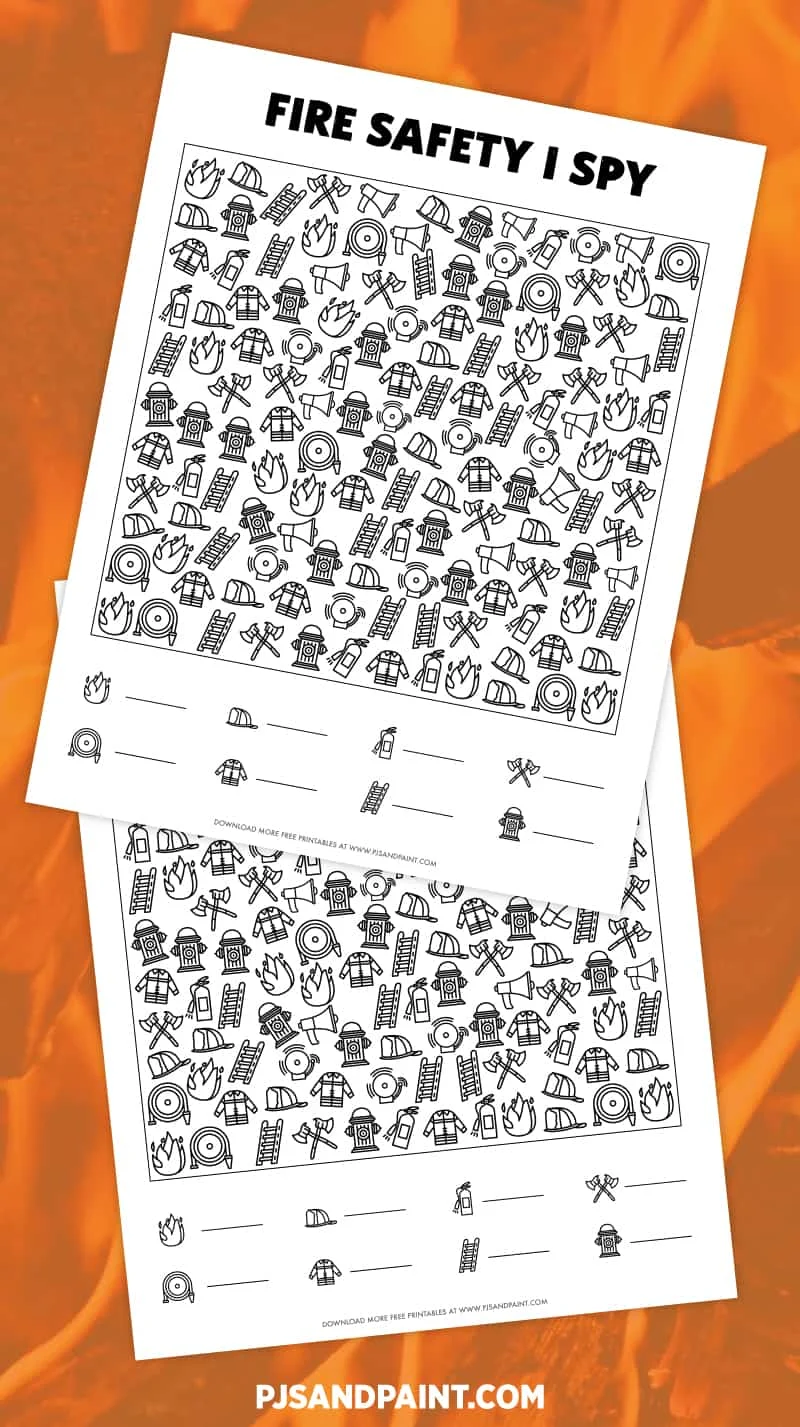 Download link is located at the bottom of this post.
Free Printable Fire Safety I Spy Game
This I Spy game was designed to fit onto a standard 8.5×11 inch piece of paper or cardstock.
Please feel free to download and print as many copies of the fire safety I spy game as you would like. However, please do not edit or redistribute the files in any way. This I spy game is intended for personal or classroom use only.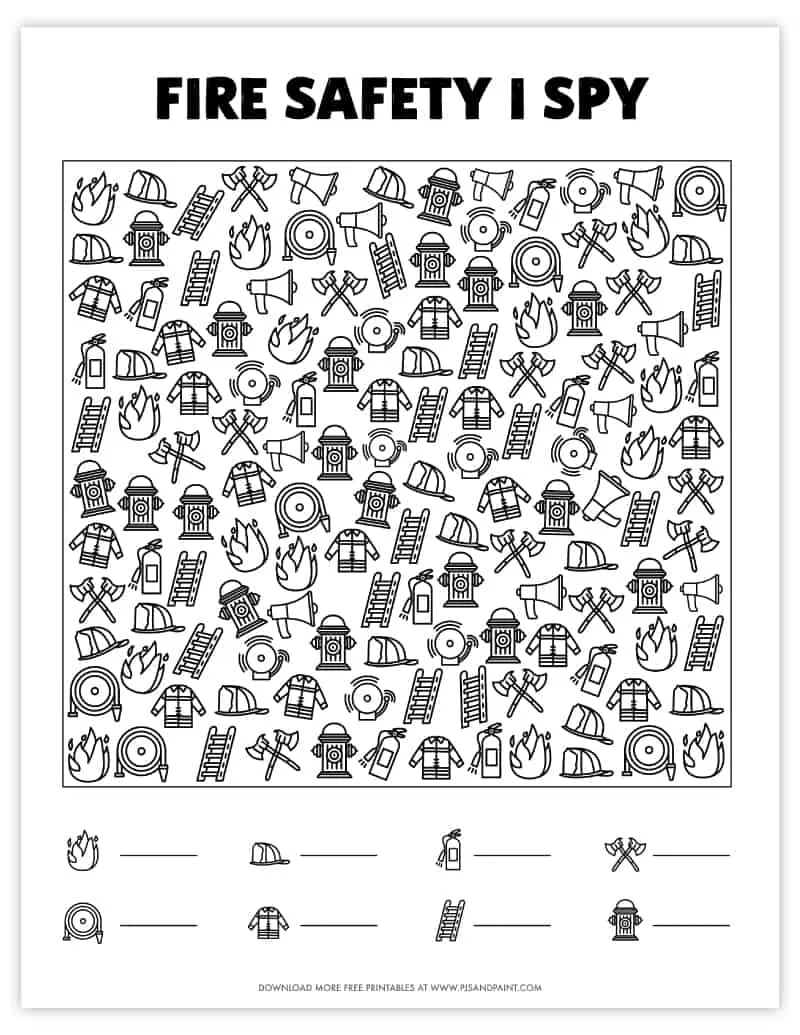 Download link is located at the bottom of this post.
How to make I Spy games reusable:
If you are planning on reusing this I Spy game in the classroom or for different fire safety events, you may wish to laminate the page. Laminating can make the game reusable and save a few trees in the meantime!
A home lamination machine can be a great tool to not only make your printable games more durable but also allow you to use them over and over again. Simply run the page through the lamination machine and then use dry erase markers to count all of the images in the I spy game. Once completed, you can easily wipe your answers off and reuse time and time again.
This is the lamination machine that I currently have and I absolutely love it! I definitely try and find any excuse to laminating everything in my house.
And if you don't have a home lamination machine, these dry erase pockets are an excellent alternative. All you have to do is place the printed out I spy games into the dry erase pocket and they are instantly reusable!
For both of these options I would definitely recommend printing out the I spy game onto white cardstock. This will ensure that the page is durable and can withstand being reused over and over again.
If you enjoyed this game, you may also enjoy some of our other fun free printable I spy games below:
Fire safety I Spy Download Links:
Click here to download the fire safety I spy game.
Click here to download the fire safety I spy game answer key.