Keeping the kids entertained on Thanksgiving Day while you are preparing dinner can definitely be a challenge. Today, I'm sharing with you this free printable Thanksgiving I Spy game that will be sure to keep everyone busy and out of trouble… at least for a little while!
Figuring out ways to keep your children entertained can definitely be a challenge, even on a normal day. During the late fall when it's getting cold out, when school may or may not be in session, it can be even harder!
That is why I always try to have a bunch of printable activities on hand during those days when I just can't figure out how to keep them busy.
Holiday themed activities are a great way to entertain kids while also getting them excited about the upcoming festivities. Incorporating games such as this into the classroom can also be super fun!
I remember when I was in elementary school, my teachers would always have a bunch of holiday themed activities for us to work on before the break started. Some were educational, some were just for fun, but myself and my classmates always really enjoyed the extra bit of festive fun!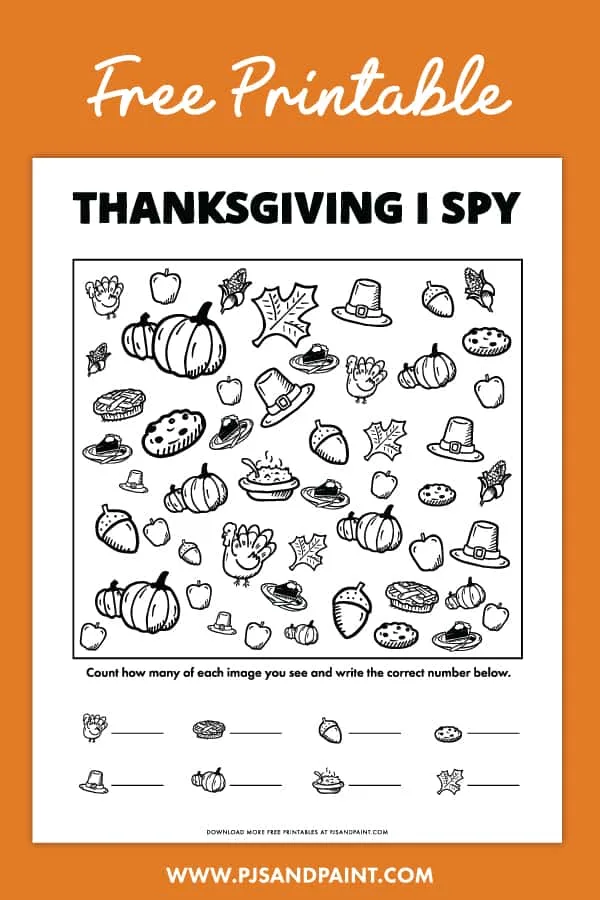 This post contains affiliate links. This means that at no extra cost to you, I may earn a small commission if you decide to make a purchase. To learn more, please read our affiliate disclosure.
How do you play Thanksgiving I Spy?
All you need to do is count how many of each image you see in the box above, and write down the correct number on the lines below. But be careful! I have also included some extra pictures in here and there to make things a bit more challenging.
In this game, you will be searching for:
Turkeys
Pilgrim hats
Pies
Pumpkins
Acorns
Mashed potatoes
Cookies
Leaves
Free Printable Thanksgiving I Spy Game
This game is designed to be printed onto a standard 8.5×11 inch piece of paper or cardstock. Please feel free to download and print as many copies as the game as you would like. However, please do not edit or redistribute the files in any way. This game was created for personal or classroom use only.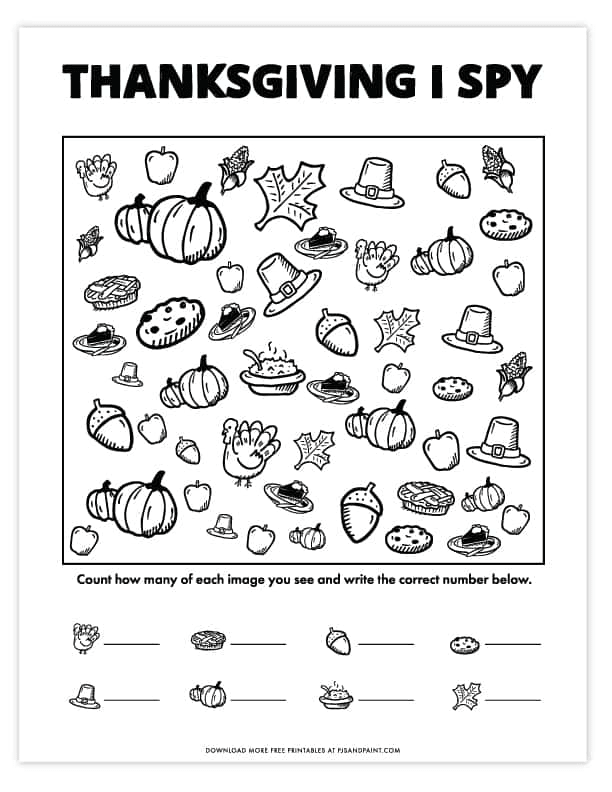 Kids will have a ton of fun trying to find all of the Thanksgiving themed items. Turkeys, pumpkins, leaves, acorns and more!
And if you're a teacher, this would also make a great activity for your students to work on in the classroom before Thanksgiving break.
How to make the I spy game reusable:
If you are using this I spy game as a classroom activity or would just like to reuse it at home year after year, you may be interested in saving some paper! Here are a few ways you can make this I spy game, and many other of our free printable activities, reusable:
Laminate the page:
If you have a home lamination machine, you can easily laminate the I spy game and then use dry erase markers to write down your answers. This is the lamination machine that I currently have and I must admit I am a little bit obsessed! I definitely look for any opportunity I can to laminate things! Needless to say, it's a great machine and is perfect for a wide variety of home and/or classroom projects.
Use dry erase pockets:
If you don't have access to a lamination machine, that doesn't meant that you still can't reuse the I spy game! I recently came across these super cool dry erase pockets. All you need to do is print out the game, slide it in the pocket and use dry erase markers to write down your answers. When you're done, you can simply wipe the answers away and reuse for your next class or at home next Thanksgiving.
For both of these options to reuse the game, I would definitely recommend printing them out onto white cardstock if you have some available. Cardstock is sturdier and will definitely be a bit better at holding up to being used time and time again.
How to make the I spy game easier for smaller children:
This is a great activity for both children and adults. However, younger children may have a more difficult time keeping track of all the pictures they are counting. I wanted to share a few simple ways that can make counting easier, and more fun!
Cross off each item they count them:
Encourage your child to place an "X" through each picture as they count them. As they count, it will get easier and easier to see the pictures that are left. They can also draw a circle around each item or even write a small number next to each to help them keep track.
Color each item as they count them:
To make the game easier and more fun, you can have your child color in each picture as they count them. This is not only a great way to help them keep track of their counting, but also add a little extra creativity to the game.
If you enjoyed this I Spy game, be sure to check out the other matching Thanksgiving free printable activities:
Thankful ABC Game
Try and think of something you are grateful for for each letter of the alphabet.
Thanksgiving Word Scramble
Work to unscramble all of the Thanksgiving themed words.
Thanksgiving Placemats
A free printable activity placemat that will entertain the kids while keeping your table clean!
Thanksgiving Word Search
A classic word search game with Thanksgiving themed words.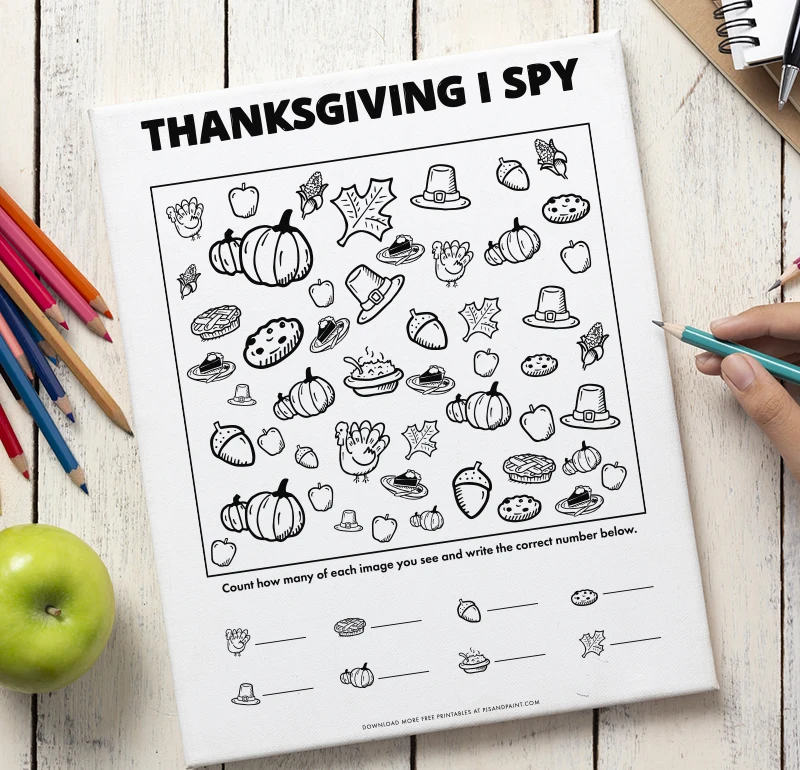 Download Links:
Download the Thanksgiving I Spy Game.
Download the Thanksgiving I Spy Game answer key.