In this tutorial, you'll lean how to create this easy DIY mason jar snow globe using pinecone to make a snow covered tree.
As soon as Thanksgiving dinner was over I was all set to start decorating for Christmas. Since Thanksgiving was a bit later in the month than usual this year, I felt like I had to get started right away!
By the end of the weekend, the tree was up, the wreath was on the door and my husband had put put all of the lights on the porch. We were ready!
I then started looking around the other areas of my home and realized it was a little bit lacking in holiday decor.
Instead of going out and buying new decorations, I decided to go through my craft supplies and see what I could come up with to make myself.
With some spare mason jars and tons (I mean tons!) of pinecones that I had saved up, I wanted to figure out how I could incorporate them into a fun holiday themed decoration.
I finally decided on this super cute and super easy DIY mason jar snow globe. I put it together pretty fast and it looks great sitting on my living room side table!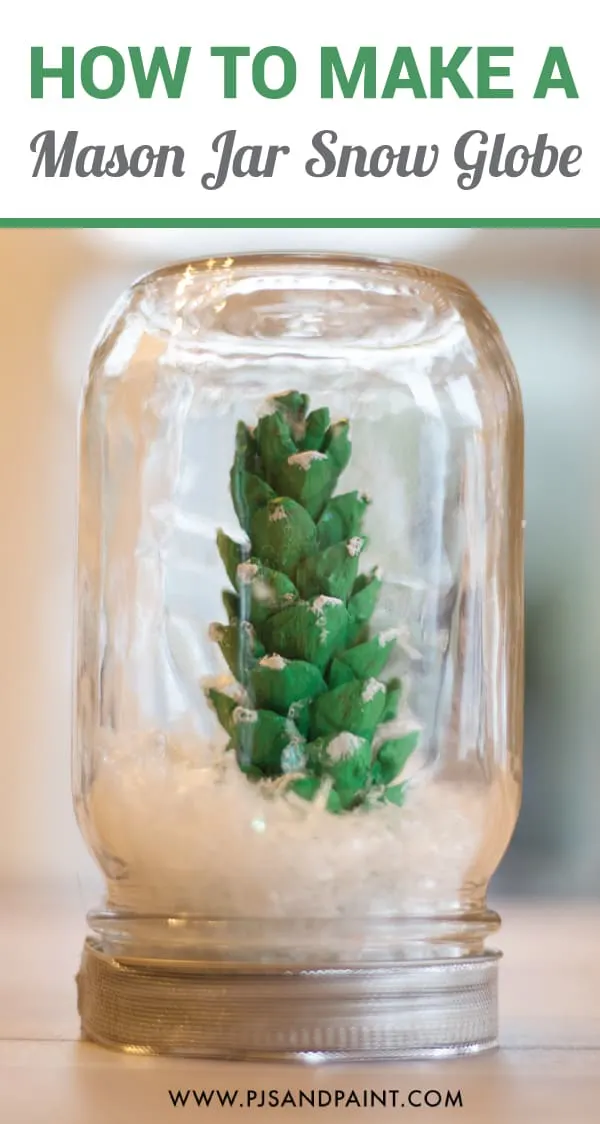 Disclaimer: This post contains Amazon affiliate links. This means that at no extra cost to you, I may earn a small commission if you decide to make a purchase.
Scroll down to the bottom of this post for the printable instruction page.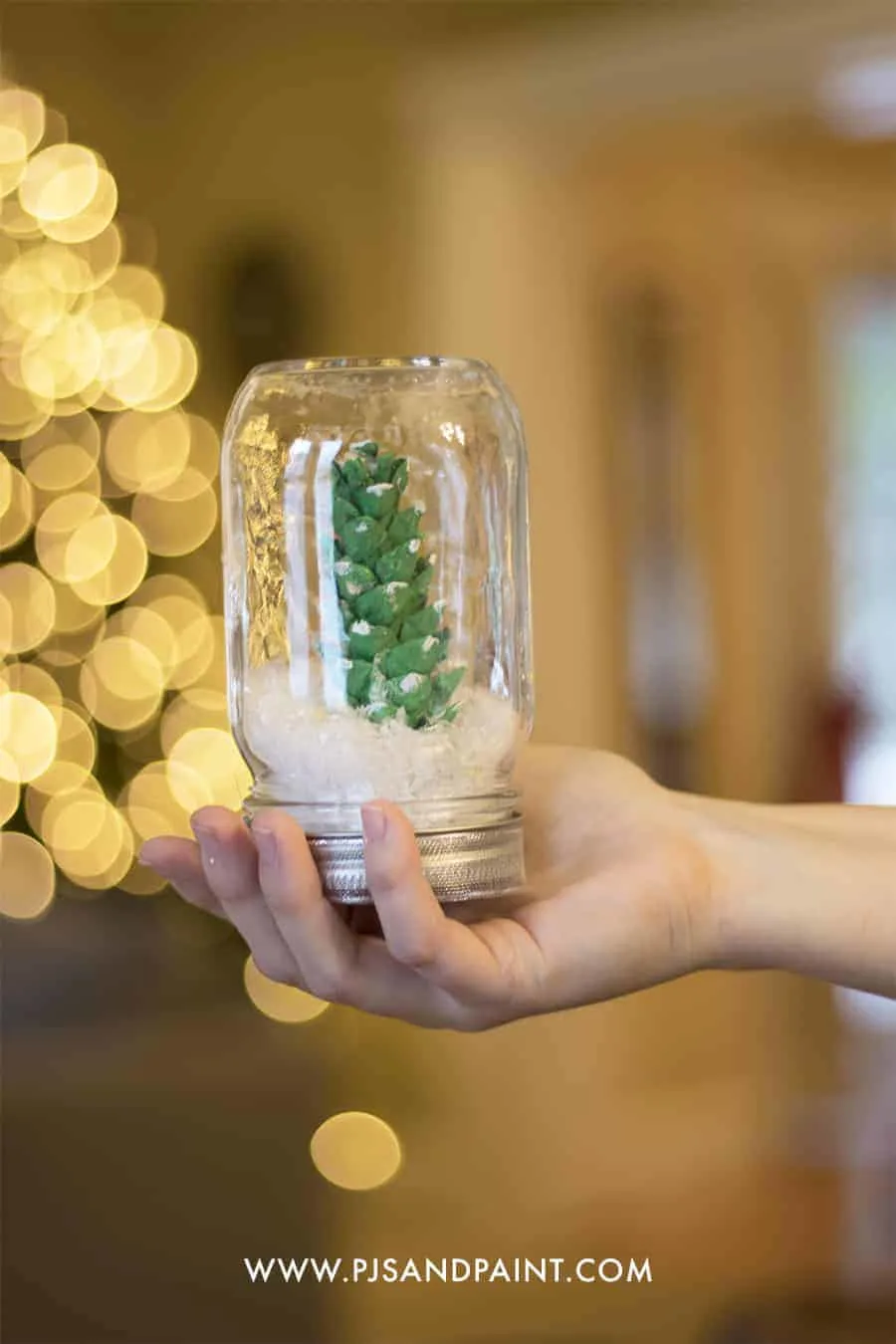 Supplies needed to make one mason jar snowman
1 mason jar (any size will work, however I used a pint size jar)
Green and white acrylic paint
Paintbrushes
Hot glue
Scissors
Ribbon
Step 1: Paint the pinecone
The first step is to paint a pinecone completely green with acrylic paint. I used a pinecone that I found in my front yard. However if you don't have any in your yard, or are doing this craft at a time when pinecones aren't readily available, you can also purchase them online. Click here to view pinecones on Amazon.
Once the pinecone is painted green and totally dry, you can go in with white acrylic paint to paint the tips of the pinecone needles with a bit of white. This will represent snow that has fallen on the tree.
Feel free to reference the video above for more details on how I painted the pinecone needles white.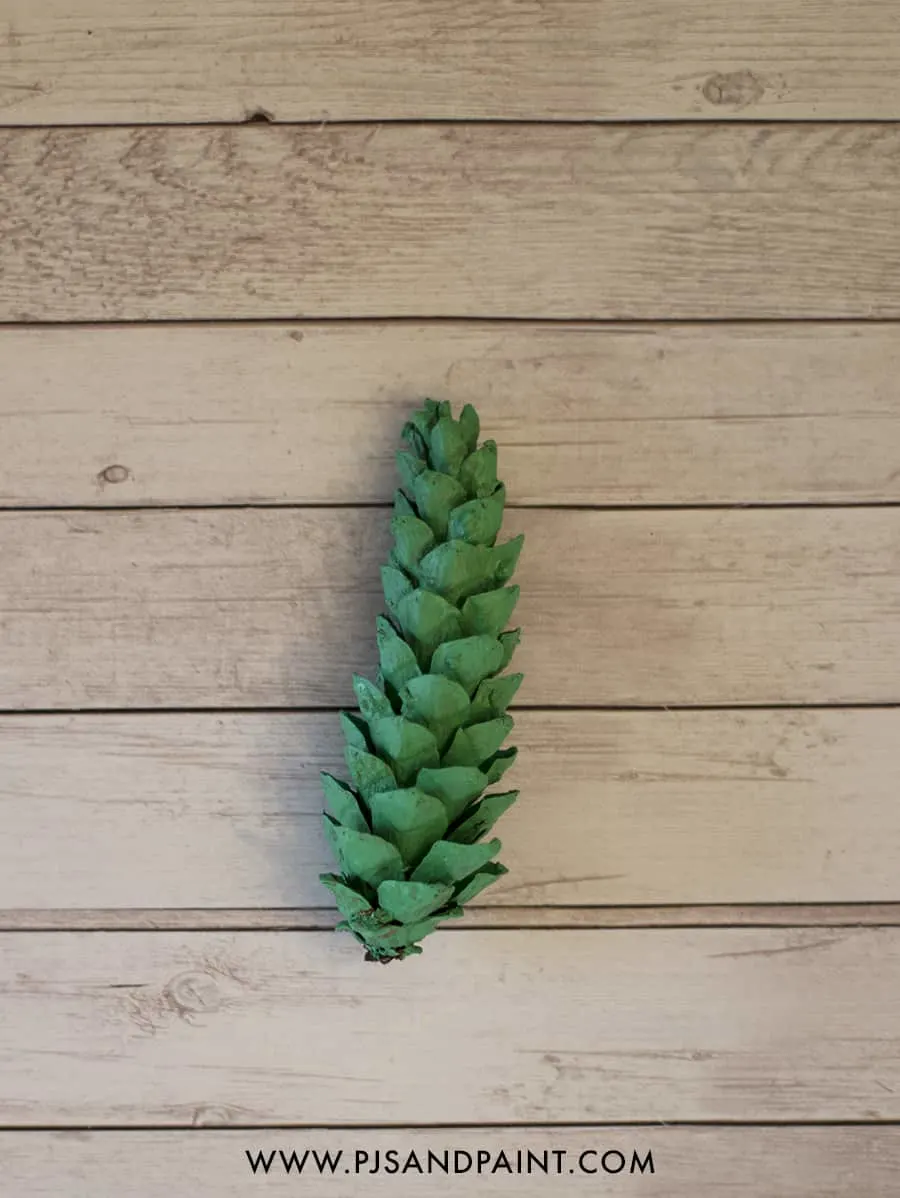 Step 2: Glue the pinecone to the lid of the mason jar
Next, use hot glue to glue the pinecone to the mason jar lid. Depending on the shape and size of your pinecone, you may have to cut the bottom portion a bit to give yourself a flatter surface to glue on.
You can use scissors or a knife to trim the bottom of the pinecone to make it flatter.
Let the hot glue completely dry before moving onto the next step.
Step 3: Fill the mason jar with artificial snow
The next step is to fill the mason jar with artificial snow. Click here to view artificial snow on Amazon.
The amount of snow you fill the jar with will depend on the size of your mason jar, and how large your pinecone is.
You can always dump some of the snow out if you end up adding too much.
Step 4: Screw on the jar lid and add a decorative ribbon
Finally, screw on the mason jar lid to complete your snow globe.
Please note, this next step is completely optional, but may make your mason jar snow globe look a bit more finished.
I took a thin silver ribbon and hot glued it to the bottom of the jar and lid to add a decorative touch.
Looking back at these photos now, I probably should have chosen a red or patterned ribbon to make it stand out more. But, in any case, I still love the way this turned out!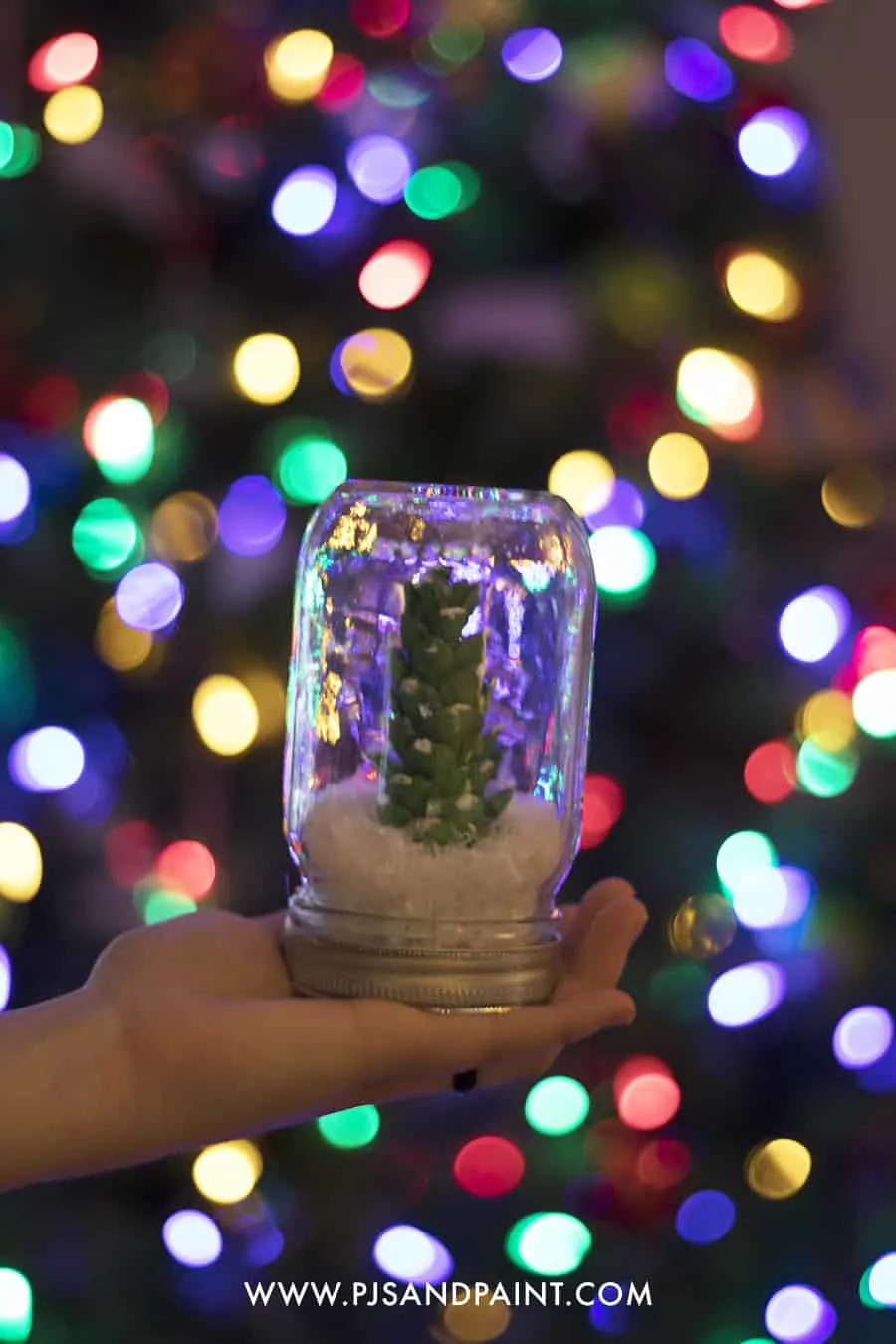 And that is all there is to this super easy DIY mason jar snow globe!
Have a bunch of extra mason jars laying around? Then you might want to check out these other winter/Christmas themed mason jar crafts:
Mason Jar Snowman
Turn an ordinary mason jar into a festive decoration for your home. All you will need is a mason jar, some white paint, black buttons and a piece of ribbon to make this fun mason jar snowman craft.
Use it as is for a fun holiday decoration to display on a side table or mantle. Or, fill it with small treats and give as a gift to your fiends and family. Click here to view the full tutorial.
Mason Jar Santa
This mason jar Santa craft would make a great holiday decoration, or as a base for a small gift basket.
Using some acrylic paint and colored felt, you can turn a boring mason jar into a fun Christmas decoration that everyone will love! View the full blog post and craft tutorial here.
M&M Christmas Cookie Mix Mason Jar Kit
What better gift is there than one that is edible! Your friends and family members will absolutely love this DIY M&M Christmas cookie mix in a mason jar.
The best part is that you probably already have most if not all of the ingredients and supplies already in your kitchen cabinets! Click here to view the full tutorial and download the free recipe tags.
Have some extra pinecones but no mason jars? Then this pinecone Christmas Tree craft is for you!
This adorable pinecone Christmas craft is super easy to make and looks really great sitting on a side table or on a mantle. I made a ton of these cute decorations to display around my house this holiday season. Click here to view the full tutorial.
Did you make a mason jar snow globe? I would love to see it! Feel free to tag me at @pjsandpaint on Instagram if you decide to upload any photos.