Today, I wanted to share these free printable official elf reports. There are three options available to download. One is a general elf report with space to write down notes.
The second is a "Keep up the good work" report, which is perfect for praising good behavior. And the third option is a "WARNING" report. This includes a bright red warning that if the child is not on their best behavior from now on, they may not end up on Santa's nice list this year!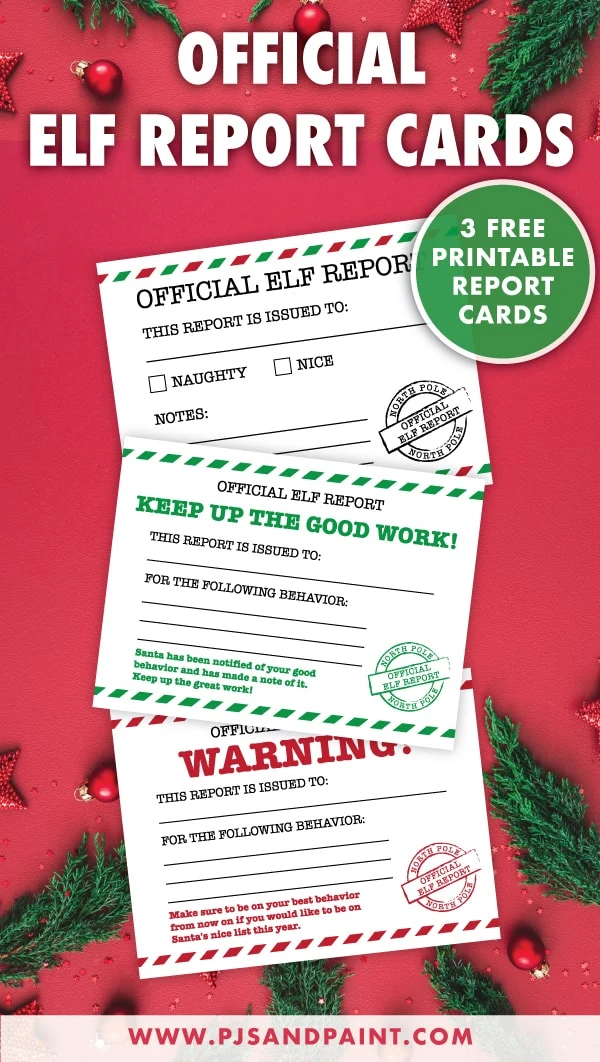 Disclaimer: This post contains Amazon affiliate links. This means that at no extra cost to you, I may earn a small commission if you decide to make a purchase.
This is the first Christmas that our family will be following the Elf on the Shelf tradition and we are very excited about it!
When I was a kid, I don't remember Elf on the Shelf being around. I'm pretty sure the tradition came about when I was already a teenager and my bothers were past the age where they would have enjoyed it.
In any case, I am very happy that I can now participate in the fun with my own kids!
The day after Thanksgiving, our little red Elf arrived. He has yet to be named but is currently perched up on a shelf up by the front door. This is the best spot for him as he can easily see what is going on in the living room, dining room and kitchen!
Currently, our elf is wearing a super cool bomber jacket that he got from Santa at the North Pole. He also has a "nerd" outfit and a Christmas pajama outfit that I'm sure will be making an appearance very soon!
Since this is our first year having the elf in the house, I wanted to share some fun official elf report printable that you can use with your little elves as well.
Free Printable Official Elf Reports
These elf reports are designed to be printed on a standard 8.5×11 inch piece of paper or cardstock. 6 report cards will print per page and when trimmed will measure 4×3 inches.
This is the paper cutter that I am currently using on all of my projects. I would definitely recommend one to ensure that your elf report cards are cut out at neatly as possible!
Feel free to download and print as many cards as you would like. However, please do not edit or redistribute the files in any way. These elf report cards were designed for personal use only.
Scroll down to the bottom of this post for the official elf report download links.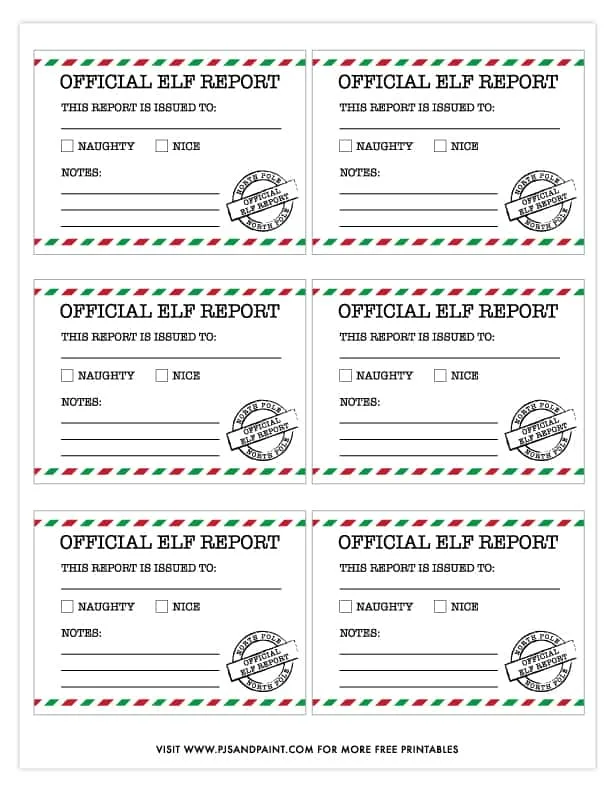 General Elf Report Card
This report card is great for the elf on the shelf to leave out for your kids for ordinary days. There is a space to write down who the report card is being issued to, a place to check if they are currently on Santa's naught or nice list and a spot to leave a few notes.
If you have more than one child, you can either write all of their names on the same report card, or print out multiples.
The official elf report cards even have an "Official North Pole" seal of approval, so the kids know that it's the real deal!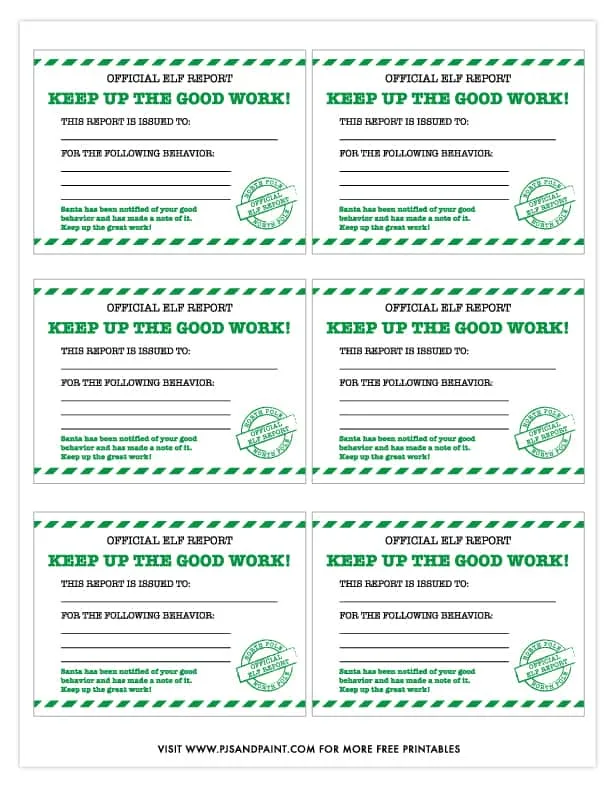 Good Behavior Elf Report Card
This report card is perfect for acknowledging exceptionally good behavior. At the bottom of each card it says that "Santa has been notified of your good behavior and has made a note of it. Keep up the good work!"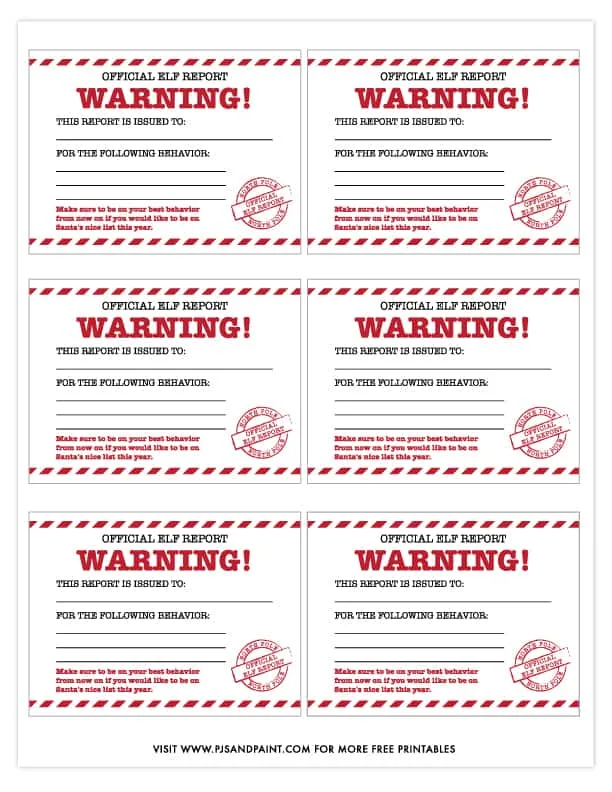 Bad Behavior Elf Report Card
Unfortunately, there is sometime some bad behavior going on around Christmastime. This report card is a way for your elf to let your kids know that Santa is not happy about how they have been acting.
This card features a bright red "WARNING" label and a note at the bottom that says, "Make sure to be on your best behavior from now on if you would like to be on Santa's nice list this year."
Be sure to check out some of our other free printables to make your children's Christmas even more magical!
Don't have your very own Elf on the Shelf yet? Check them out on Amazon here.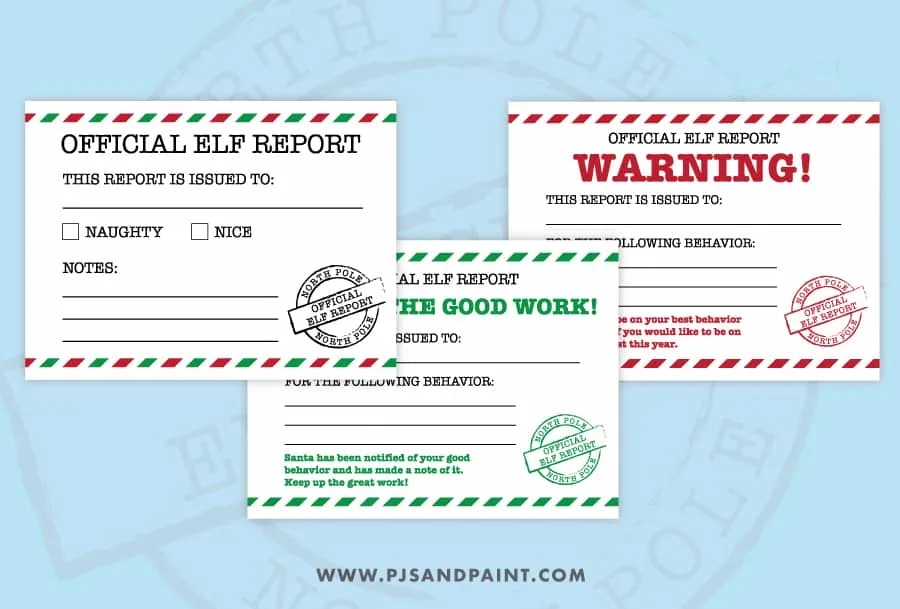 Official Elf Report Download Links:
What is your Elf on the Shelf named? I would love to have some name suggestions. Let me know down in the comments!