This adorable pom pom Christmas tree ornament would be a perfect holiday party activity or rainy day craft for younger kids. They would have a blast making them and would surely love seeing something they made hanging on the Christmas tree this year!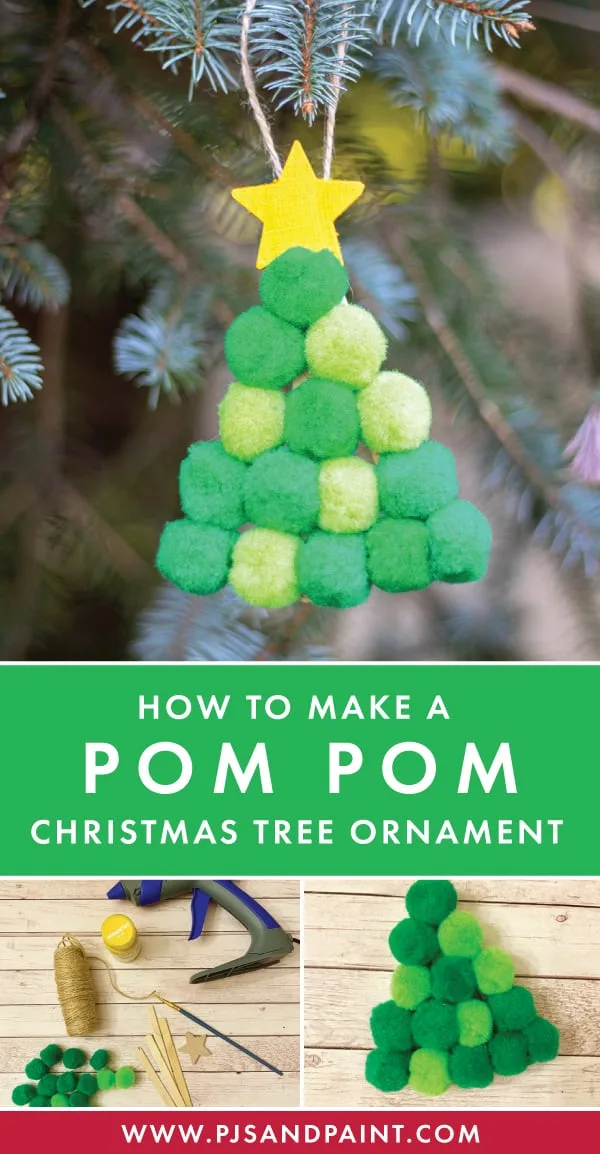 Disclaimer: This post contains Amazon affiliate links. This means that at no extra cost to you, I may earn a small commission if you decide to make a purchase.
Supplies needed to make a pom pom Christmas tree ornament:
Yellow paint
Paintbrush
Twine, ribbon or string
Glue
Note: I used hot glue so that my ornament would dry faster. However, if you're doing this craft with younger kids I'd definitely recommend elmer's glue or any other type of craft glue instead.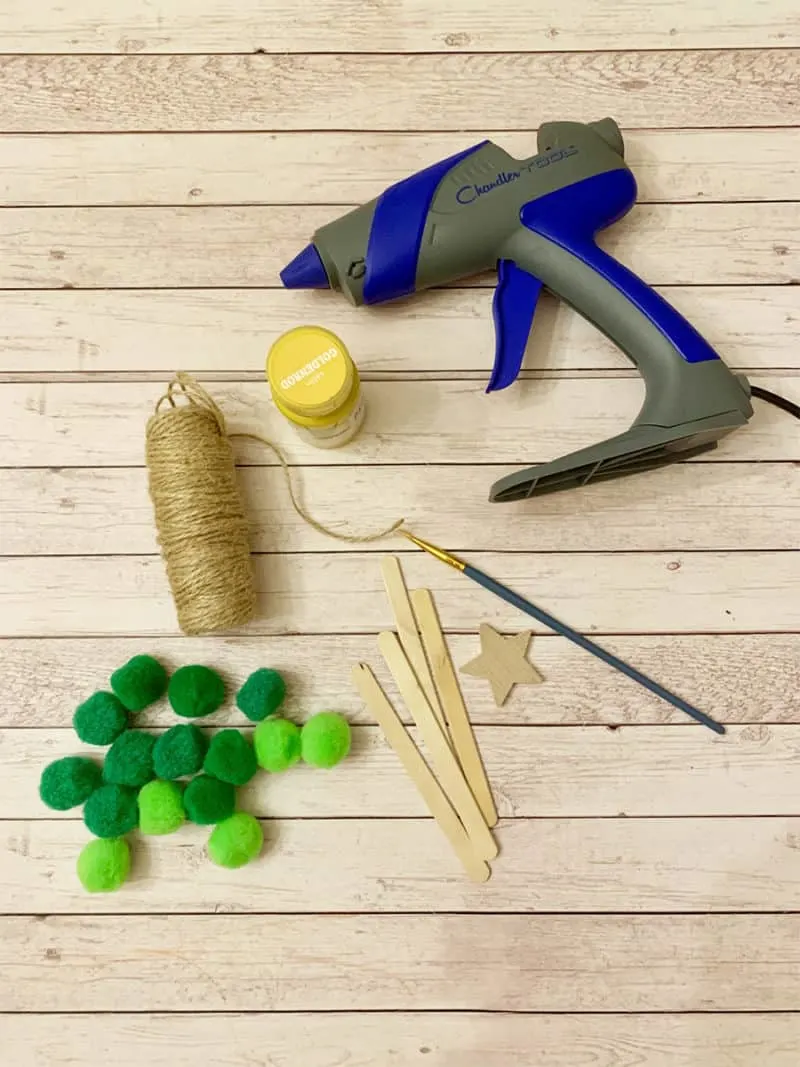 Take two popsicle sticks and glue them together to form the sides of the Christmas tree. Using a third popsicle stick, glue another down to form the center of the tree. Make sure the glue is dried completely before moving on to the next step.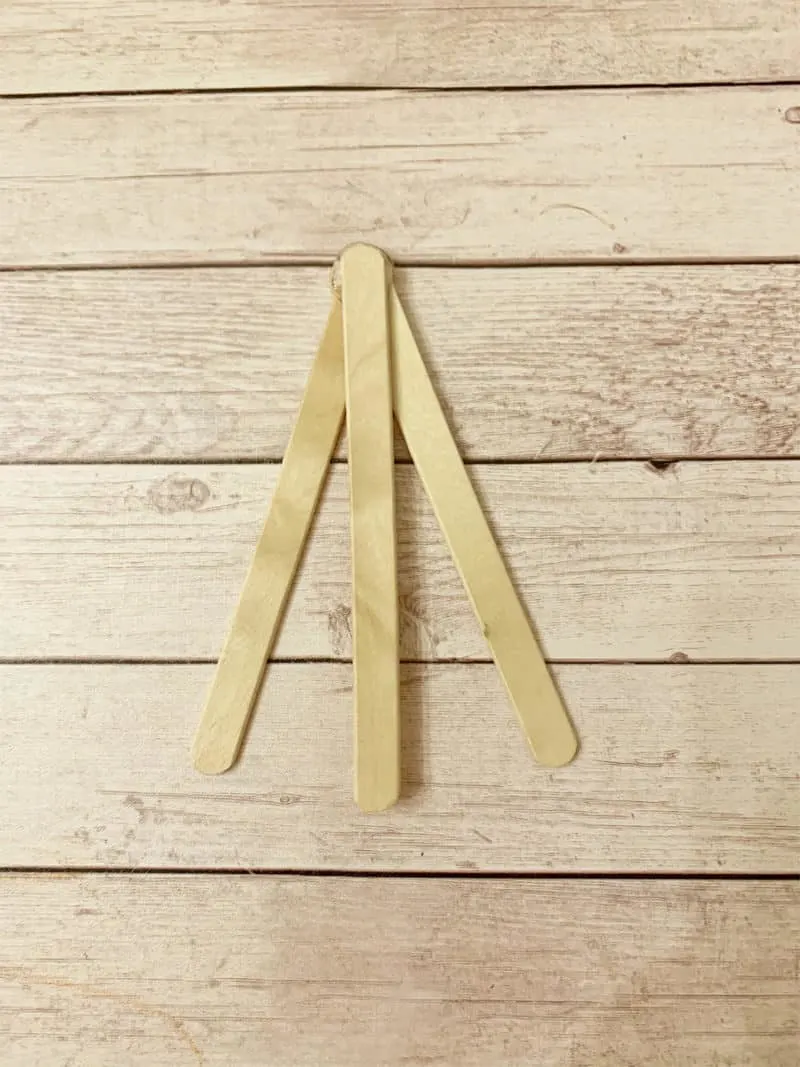 Begin gluing medium sized green pom poms to the popsicle stick base. I wanted to use a few shades of green for my ornament. However, feel free to use all the same shade if you like the look of that better!
For the bottom row, I used 5 pom poms. I stuck two pom poms on each of the outer popsicle sticks and one on the center. Since the pom poms are very light, you shouldn't have a problem fitting two on one stick.
You can also place a dab of glue on the sides of the pom poms to make them stick to each other.
Continue gluing 4 pom poms on the next layer, 3 on the next, then two and then finally one pom pom up at the top.
Make sure to leave a little bit of the popsicle stick showing up at the top.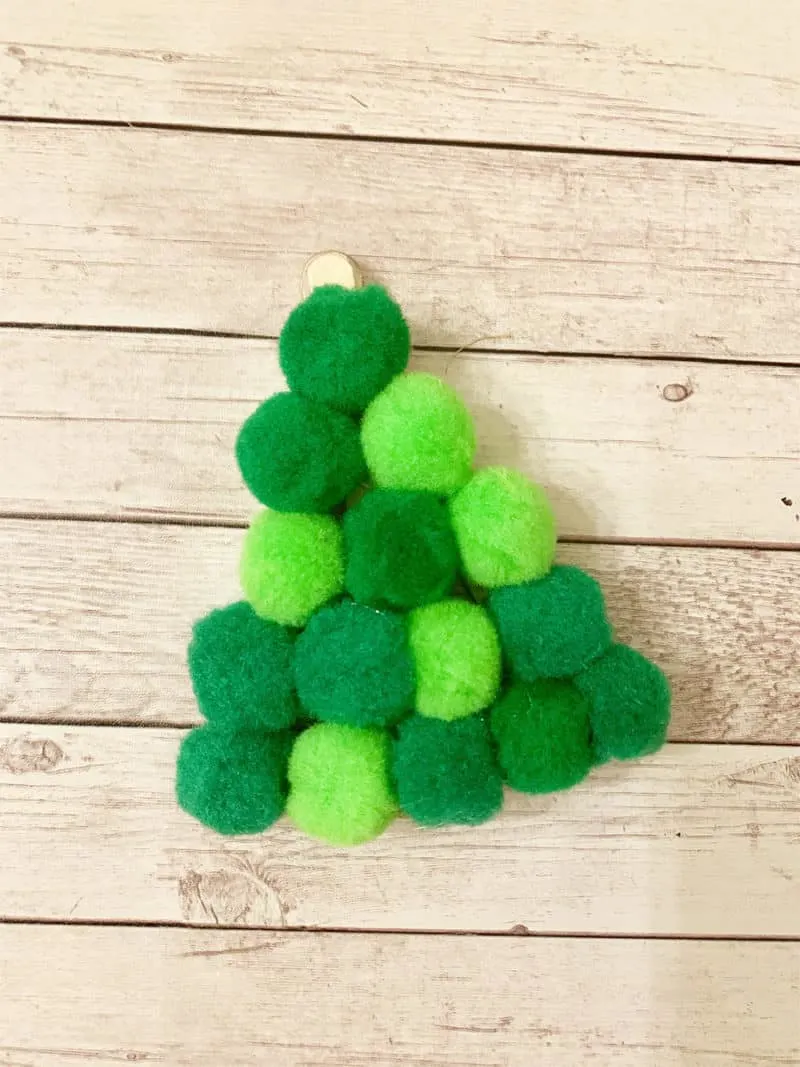 Cut a piece of ribbon, string or twine and tie the ends together.
Glue the knotted portion of the string to the top of the popsicle stick that is sticking out.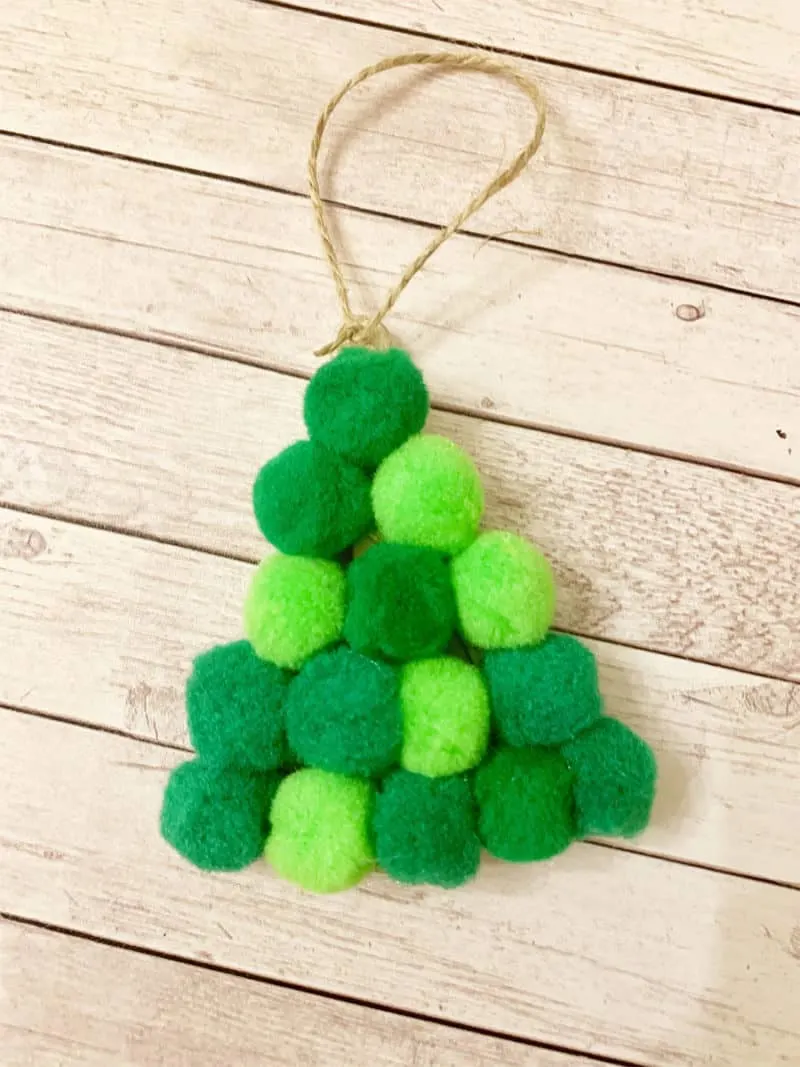 Next, paint a wooden star yellow. You can also leave it unpainted if you'd like to go with more of a natural look.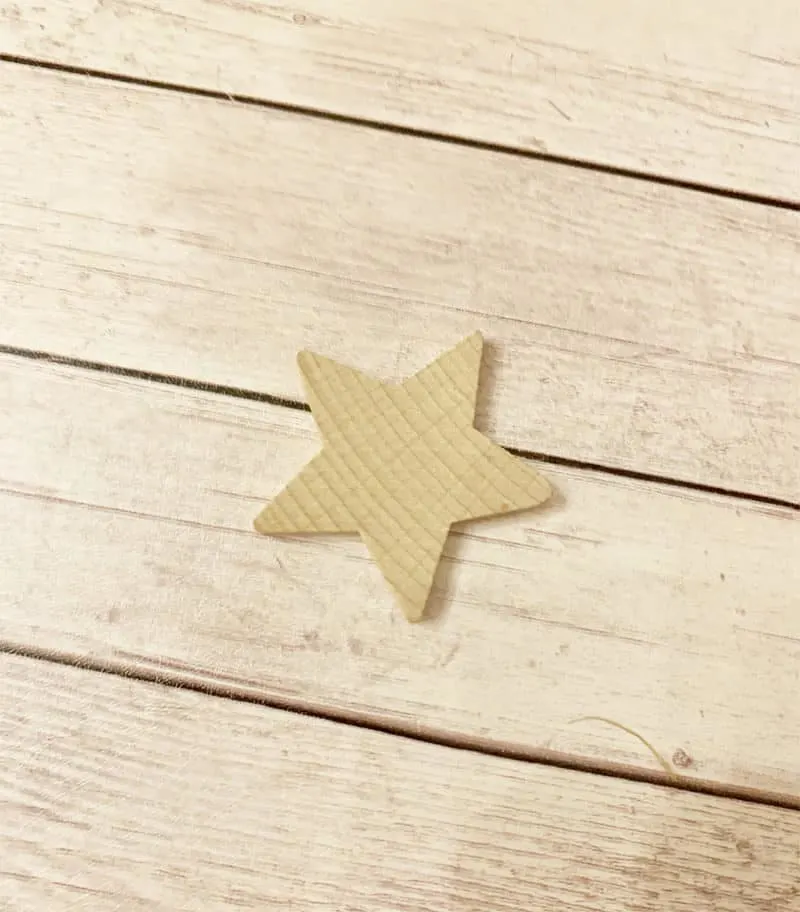 Glue the wooden star on top of the string and popsicle stick.
Let dry completely before hanging on a tree.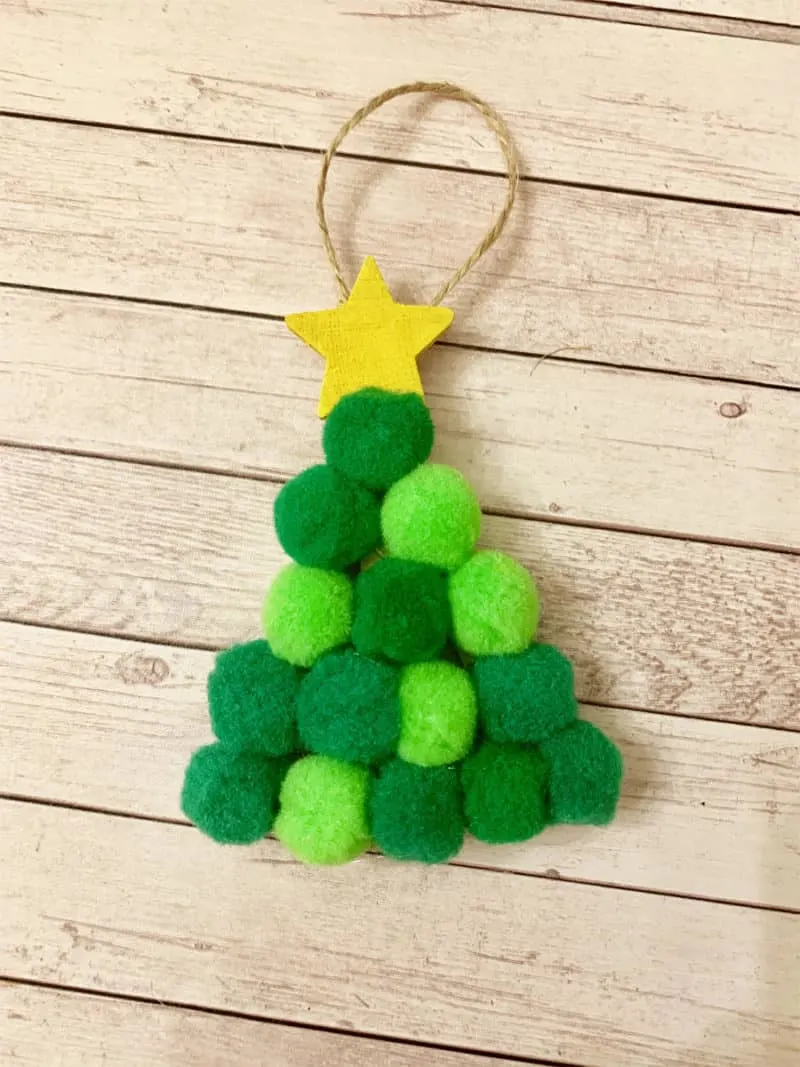 This pom pom Christmas tree ornament would be a great activity for younger kids to start getting in the holiday spirit!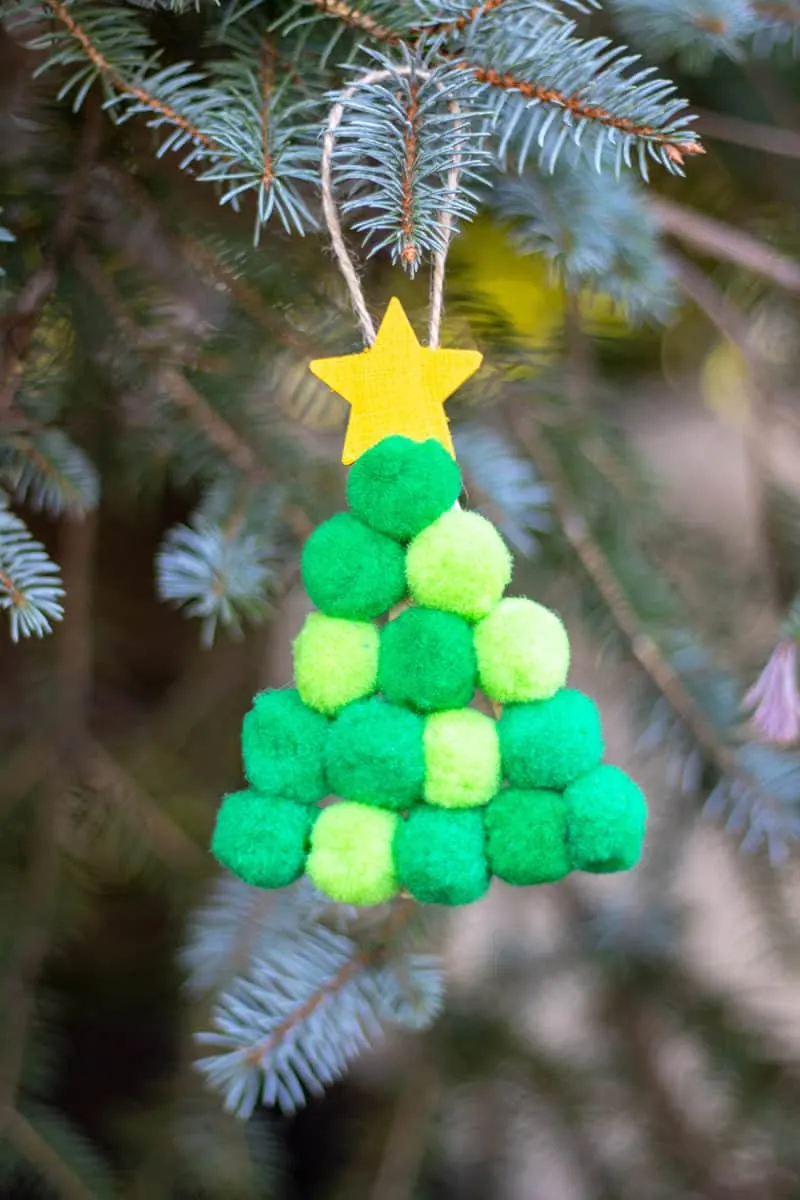 Check out these other pom pom Christmas tree ornaments: