Recently, one of our wonderful readers reached out to us to request some printable signs for her baby shower. Of course I was happy to help! These baby shower signs match the Black and White Game set from a previous baby shower game post. Click here to view the matching free printable games and activities.
If you have read some of my other posts, you may know that I didn't want any of my friends or family members to throw me a baby shower when I was pregnant with my son. Something about being the center of attention (which is something I always avoid at all costs) all while being huge and tired just wasn't something I wanted to do!
But that doesn't mean that I don't still enjoy creating beautiful printables for everyone else's baby shower. And so today I wanted to share these three free baby shower signs that will be a great addition to your guest table, cards and gifts table and candy/dessert table.

Disclaimer: This post contains Amazon affiliate links. This means at no extra cost to you, I may earn a small commission if you decide to make a purchase.
Use the signs below to jazz up your guest book table, gifts/cards table and favor/dessert table.
Feel free to download and print as many copies of the signs as you would like. However, please do not edit or redistribute the files in any way. These signs were created for personal use only.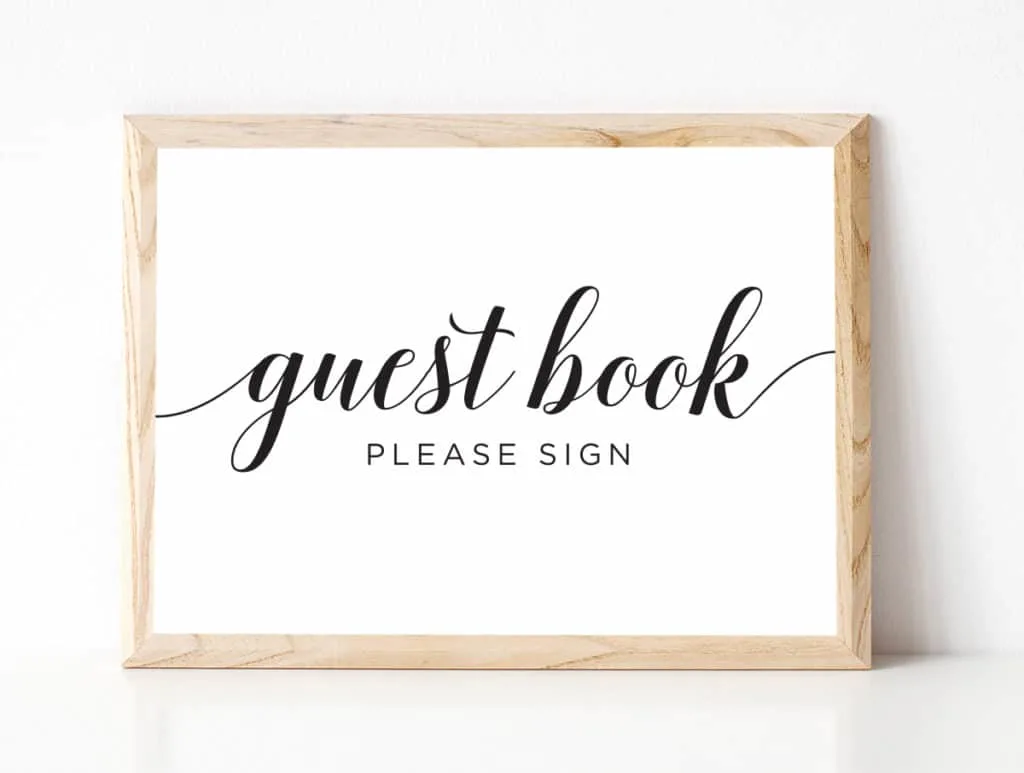 Guestbook Sign
A guestbook is a wonderful keepsake that you can look back on years from now and remember that you are surrounded by friends and family that loved you and your growing family.
This sign would look great on the table that displays your guestbook.
Here are a few unique guestbook ideas:
Large Round Wood Slice
I actually used one of these wood slices for the guestbook at my wedding. Everyone went up to our guestbook table and wrote down a short message and signed their name. The wood slice looks great hanging in our entryway and is always a sweet reminder of our wonderful our wedding day was. Click here to view large wood slices on Amazon.
Fingerprint Tree
Have your guests place their thumbprint on this beautifully illustrated tree. I think that this fingerprint tree would also make a beautiful nursery decoration as well. Every time your child enters their room they can see the fingerprints of all of the people that love them. View fingerprint tree guestbook on Amazon here.
Cloud Drop Top Frame Guestbook
For this guestbook, all of your baby shower guests would write a short message on a wooden cloud. They would then drop the cloud into the top of the frame to create a lovely display of excitement and well wishes for the new baby. This guestbook could also be turned into a beautiful art piece to hang on the nursery wall. Click here to view the cloud drop top frame guestbook on Amazon.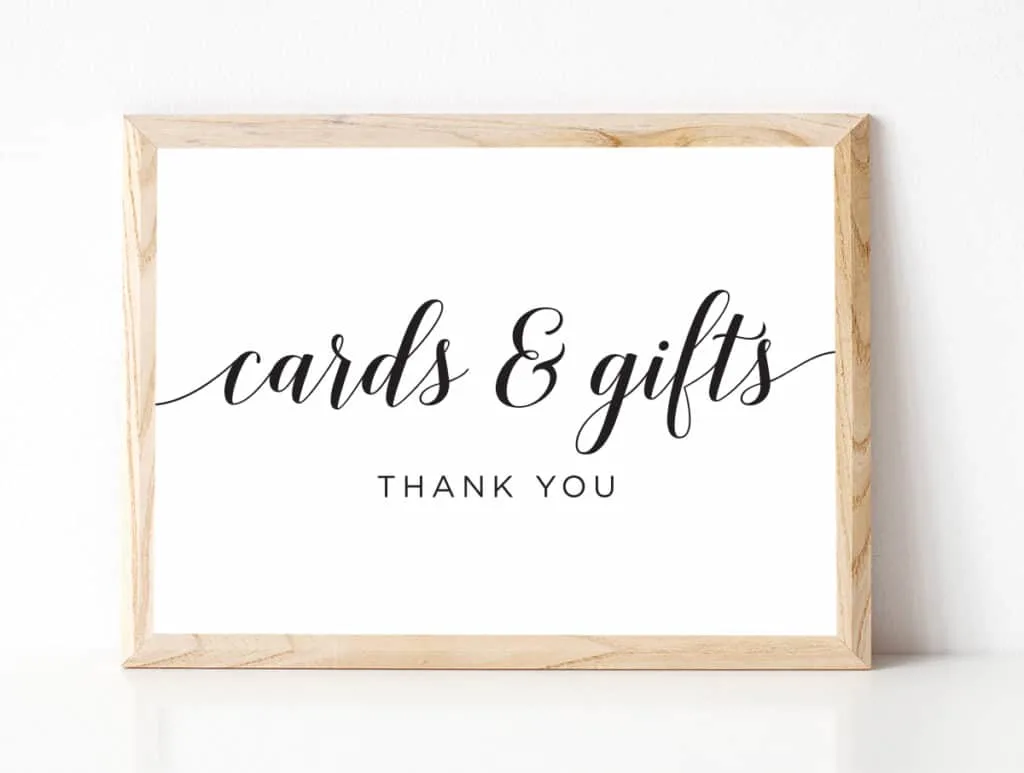 Cards and Gifts Sign
This one is pretty self explanatory! Simple place this "cards and gifts" sign on a table at your baby shower that will be designated for presents.
The sign would look great displayed in just about any type of picture frame.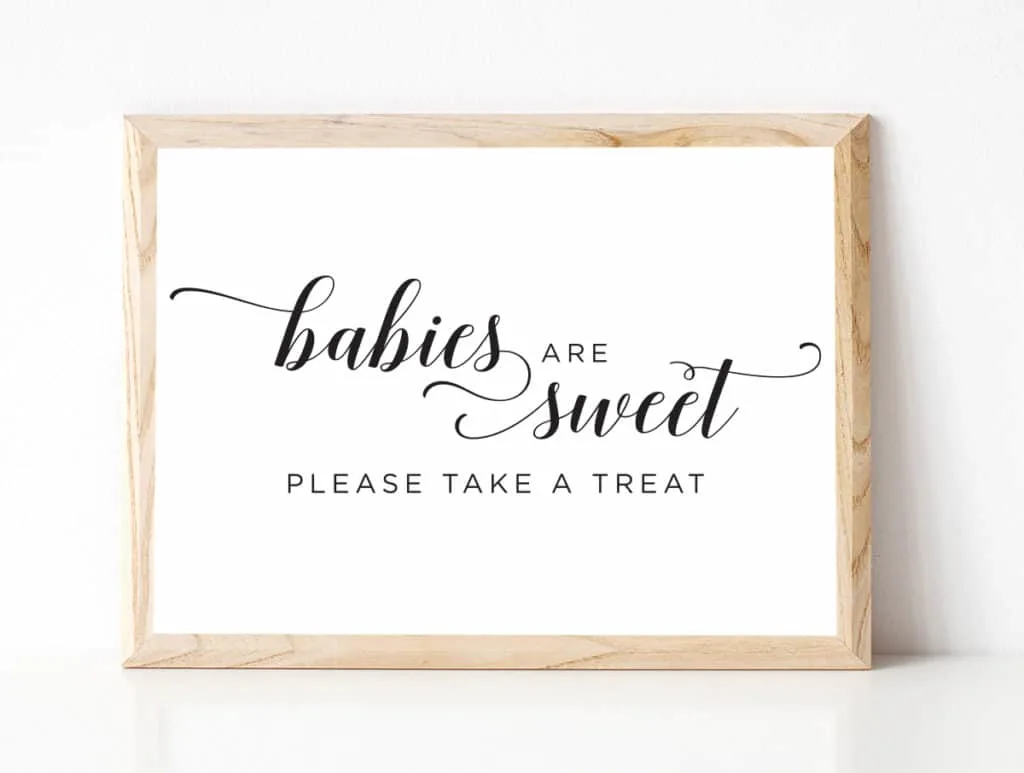 Babies are Sweet Sign
"Babies are Sweet, Please Take a Treat!" This sign would be great to place on your dessert or favor table.
Printable Baby Shower Signs
All of the pdfs below are sized to fit an 8.5×11 piece of paper. However, all important text is contained within an invisible 8×10 inch border. This way, if you choose to frame the signs, you can use and 8.5×11, or trim the paper a bit to fit an 8×10.
I would recommend printing on white cardstock for best results. If you like the look of the photos above, click here to view similar light wood frames from Amazon.
Download Cards and Gifts pdf here
Do you have any printable ideas you'd like to see in a future post? Feel free to leave comments below with your requests and I'll do my best to create them for you!
Planning an upcoming baby shower? Check out these other free printable baby shower games and activities:
Over the last few years, I've designed a whole bunch of free printable baby shower games and activities. Check out some of the links below. I'm sure you'll be able to find one that will compliment just about any baby shower theme.
Baby elephants This set is available in pink, blue or green. While definitely suited for a more subtle elephant theme, these are probably one of my favorite sets. I had actually created these ones while I was pregnant and still on the fence about having a baby shower of my own.
Woodland animals Foxes, deers and bears, oh my! This game set is perfect for any forest or woodland baby shower theme.
Zoo animals This set features cute little animals riding in an even cuter train! Did I mention they're cute? This set would be great for any baby animal themed shower.
Pastel stripes Simple and classic, this game set is available in pink, blue or green. Featuring diagonal stripes, they would be great for just about any type of girl, boy, or gender neutral shower.
Buffalo plaid This game set is perfect for any rustic or lumberjack themed shower. With red buffalo plaid they would be suited for boys and girls alike.
Owls If you're going for an owl themed shower then this game set is the way to go! Staring an adorable mom and baby pair, this design is just too cute not to use!
Watercolor Florals: These beautiful watercolor flower designs would be just perfect for a sweet baby girl!
Giraffes: Featuring an adorable mom and baby giraffe pair, this game set would be great for any gender baby shower.
Black and White: Simple and classic, these black and white designs would be perfect for just about any party theme. They feature a lovely script font that any mommy-to-be would be sure to love.