Word scrambles are so much fun! They are a great challenging activity that kids and adults can both enjoy. And so today I wanted to share this free printable Halloween word scramble featuring 12 spooky and scary Halloween themed words to unscramble.
As I am writing this blog post, it is currently March. Why am I writing a Halloween post so early you might ask? Because my son is currently so obsessed with a certain Halloween song on YouTube that I've gotten in the spooky spirit myself!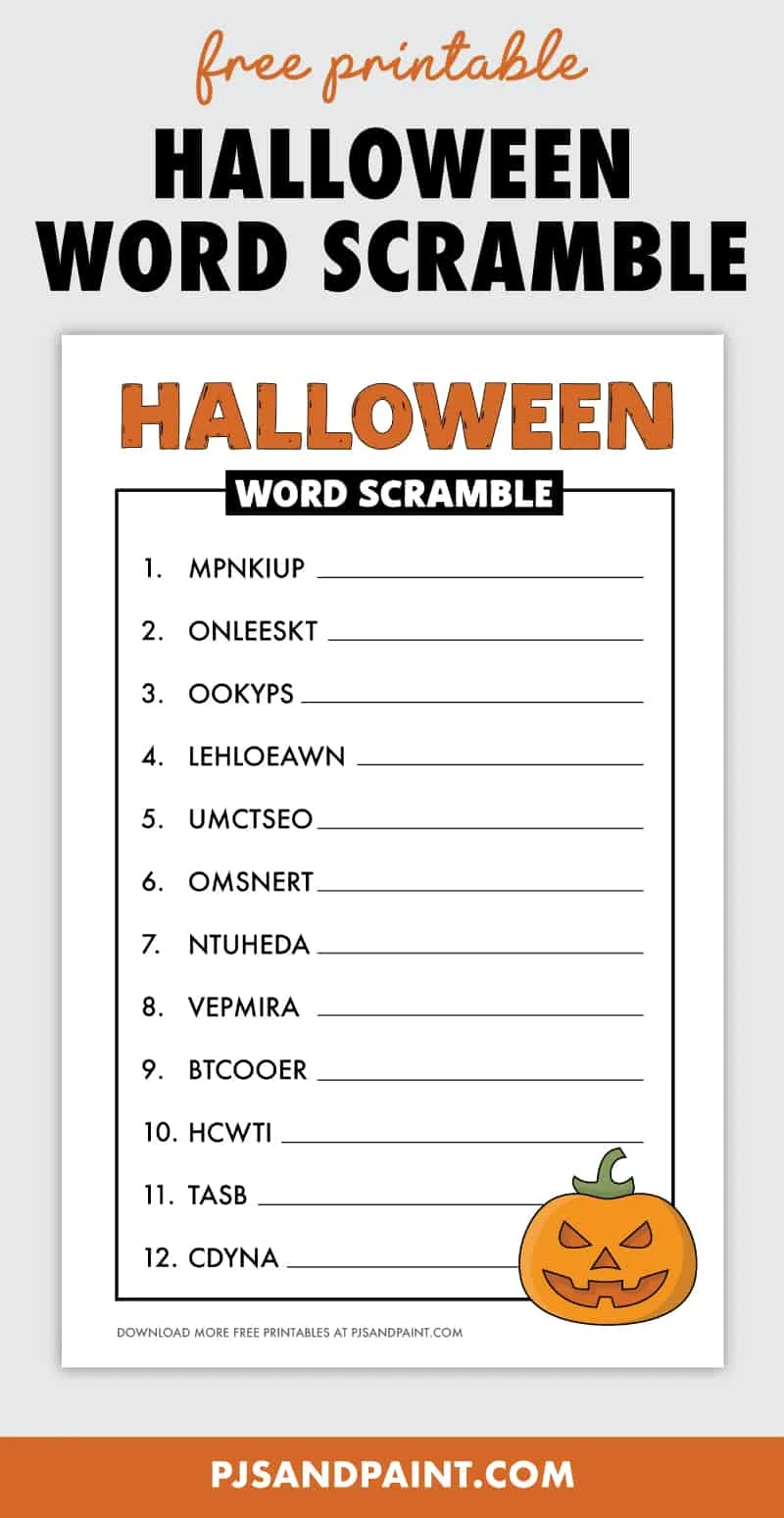 Disclaimer: This post may contain Amazon affiliate links. This means that at no extra cost to you, I may earn a small commission if you decide to make a purchase.
Is there a trick to unscrambling words?
If you are stumped trying to figure out a certain word, you don't immediately have to reach for the answer key. Here are a couple of strategies that may help you solve word scramble games.
First, start by looking for some common prefixes and suffixes.
A prefix is placed at the beginning of a word. Here are a few common examples of prefixes:
anti
auto
hyper
micro
pre
pro
un
A suffix is placed at the end of a word. Here are a few examples of suffixes:
able
age
action
end
ily
ment
ory
Now, once you find a possible prefix or suffix, it will eliminate those letters and will make it a little easier to try and unscramble the rest of the word.
And one great thing about holiday themed word scrambles is that you know the general category the word should fall in. In this case, all the words should be spooky and scary!
Look for all of the vowels.
Another trick would be to write down all of the vowels in the word. It will then be easier to see the remaining letters that you have to work with.
Can you play word games with a group of people?
Yes, definitely! As much as I think printable word games can be a ton of fun to play by yourself, you might want to play with a larger group of people, at say a Halloween or Fall themed party. Here are a couple of fun little ways to add some competition into the mix!
You can set a timer.
One great way to make word games like word scrambles a bit more fun and challenging is to set a timer for 5 minutes. Have everyone begin working on the activity at the same time. Once the timer goes off, whichever player has the most correct answers, wins!
You can turn it into a raffle.
I just love this idea! You can have everyone work on their word scramble game at their own pace. After they have completed it, they can write their names at the top of the page and then place the finished game into a box or other container.
At the end of the party or event, the host can choose a game out of the box at random. Whichever person's game is chosen can win a prize! However, make sure to check their answers first! If there are any wrong answers, the prize will go to the second drawn winner.
Halloween Themed Prizes
Here are a few fun prizes I think would work great for a spooky Halloween themed party:
Halloween Pencils
These fun Halloween themed pencils would make a great prize or favor at your Halloween or Fall themed party this year. Featuring bats, pumpkins, black cats, ghosts and more, kids will definitely love these super fun pencils. Click here to view the Halloween pencils on Amazon.
Halloween Stamps
These Halloween self ink stamps would make a great party favor. With 25 different designs, you can have kids choose which spooky stamp they like best. I don't know what it is about kids and stamps but I know my son just loves them! Click here to view the Halloween stamps on Amazon.
Halloween wind up toys
Another big hit with kids are little wind up toys. They are also perfect toys for keeping in your diaper bag for to entertain on the go! This wind up toy pack includes an assortment of Halloween themed figures such as mummies, frankensteins, pumpkins, skeletons, vampires and more. Check them out on Amazon here.
And if you don't want to give out prizes, the winner could also simply get bragging rights as the word scramble champion until the next Halloween party!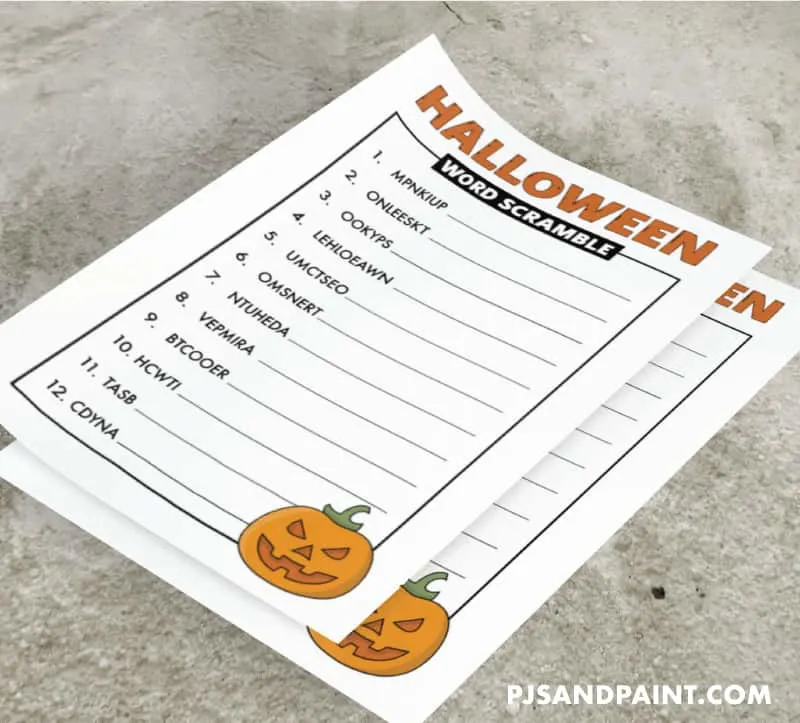 Check out our other fun free printable Halloween games and activities below:
Free printable how many words can you make out of Halloween game:
This free printable How many words can you make out of Halloween game is a really great activity where you have to try and make as many words as you can, only using the letters that are found in the word Halloween. Click here to view the full post and download the game files.
Halloween Maze:
This free printable game features a Jack-o-Lantern in the center. Work through the maze to reach it! Click here to read the blog post and download the game.
Halloween I Spy Game:
This fun I Spy game features 8 spooky Halloween themed pictures to search for. Spiders, bats, pumpkins, ghosts and more! The goal is to count how many of each image you see and write down the correct number on the line next to each graphic. Click here to read the full blog post.
Halloween Word Search:
In this free printable game, you will have to search for 15 Halloween themed words in this word search game. View the full blog post and download the game files here.
Free Printable Halloween Word Scramble
This word scramble game is designed to print on a standard 8.5×11 inch piece of paper or cardstock. Two games will print per page. You can use scissors or a paper cutter to trim the two games apart.
This is the paper cutter that I actually have on my work desk at the moment and I can highly recommend it as it definitely gets very regular use!
Please feel free to download and print as many copies of the Halloween word scramble game as you would like. However, please do not edit or redistribute the games in any way. This game was created for personal or classroom use only.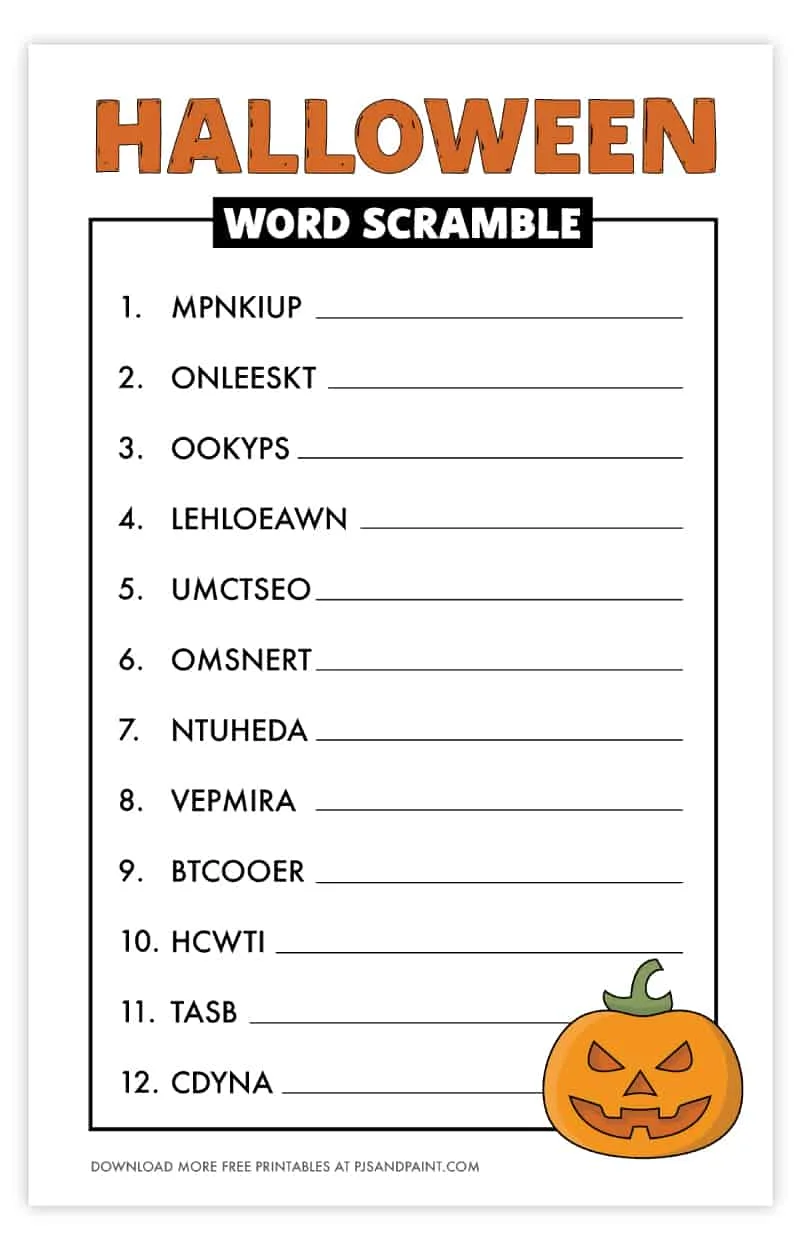 Download Links:
Click here to download the Halloween word scramble game files.
Answer Key:
1. Pumpkin
2. Skeleton
3. Spooky
4. Halloween
5. Costume
6. Monster
7. Haunted
9. Vampire
9. October
10. Witch
11. Bats
12. Candy