Get in the spooky spirit with this free printable Halloween word search. Featuring 15 Halloween themed words to find, kids and adults alike will have a great time working on this holiday activity.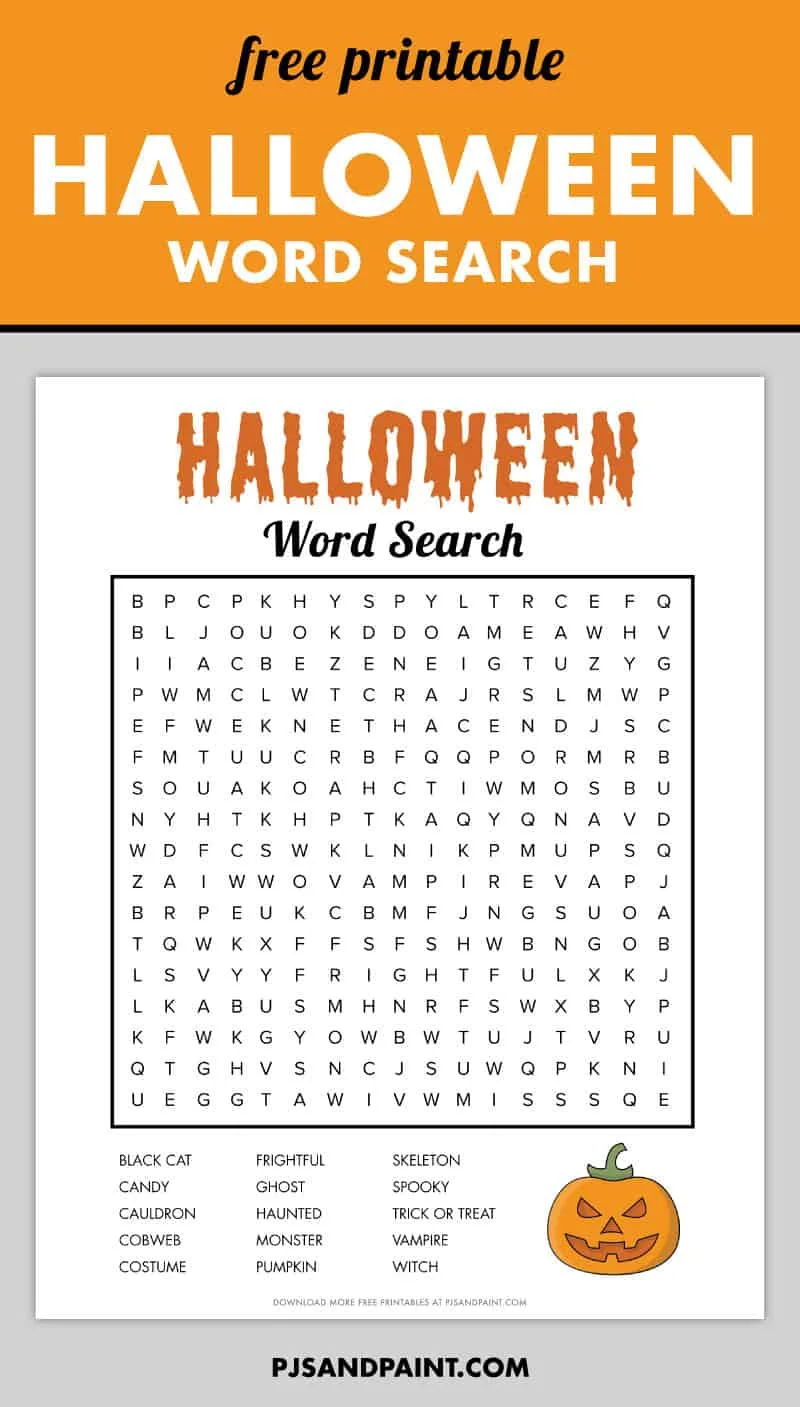 Disclaimer: This post may contain Amazon affiliate links. This means that at no extra cost to you, I may earn a small commission if you decide to make a purchase.
One of my favorite Halloween memories growing up is going trick or treating with all of my neighbors.
I was really lucky to have such great neighbors, we were all so close when we were younger. So close that our parents even installed fences going through to each other's yards so we could easily backyard hop!
Every Halloween, we would all dress up and go trick or treating around the neighborhood as a big group. One of my friends' moms would always go ALL out. She would come trick or treating with us in full costume and makeup. It was always fun seeing what she would dress up as every year.
We would go around trick or treating until it got too late and then would often gather at one of our houses to see what candy we had got.
Halloween is always such a fun time of year for kids and people often celebrate Halloween in some form or another, all throughout the month of October.
Today, I wanted to share my free printable Halloween word search game that you can download and print at home. It would be great for holiday parties, classroom activities, or simply just a spooky themed rainy day activity.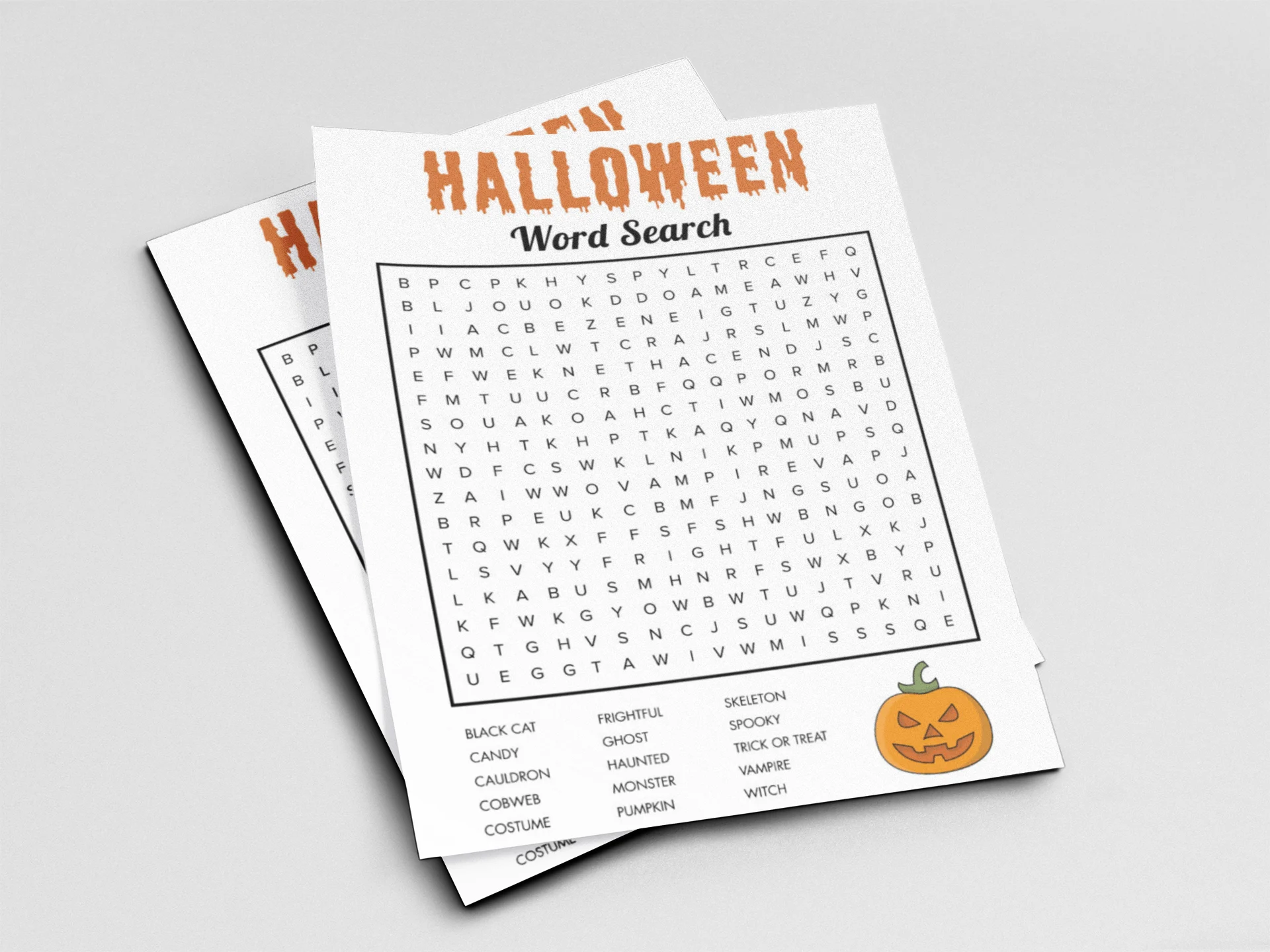 What are some benefits to working on word search games?
Spelling and word recognition.
Word search games may be a good way to help kids learn a few new words. It also allows them to work on their spelling skills as well as vocabulary.
A great way to pass the time.
Instead of taking out your cell phone or laptop next time you are on a long flight or train ride, try working on a word search game instead. Time will pass by quickly and your eyes will love a break from screens!
You may feel a sense of accomplishment.
While it may only be for a moment or two, you might get a small boost in mood when you finally find that word you have been searching for.
Word search games can help you relax.
Working on games like word searches can be a good way to relieve some stress. They are great for distracting you from a stressful situation that may be weighing on your mind. They can also a nice activity to help you unwind after a long day.
Free Printable Halloween Word Search
This word search game is designed to print onto a standard 8.5×11 inch piece of paper or cardstock.
Feel free to download and print as many copies of the game as you would like. However, please do not edit or redistribute the files in any way. This activity was created for personal or classroom use only.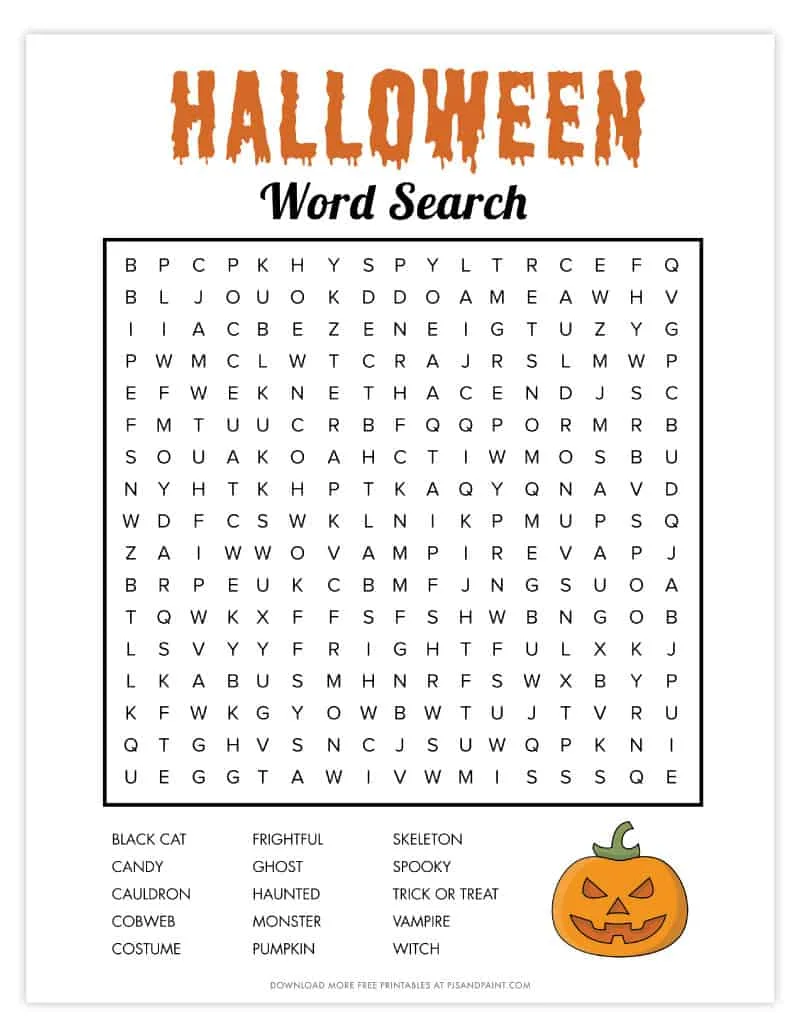 Download link is available at the bottom of this post.
Be sure to take a look at some of our other free printable Halloween activities and games:
Halloween Maze:
A spooky twist on a classic game, this free printable maze features a scary Jack-O-Lantern at the center. You must work through the maze in order to reach him! View the full blog post and download the game files here.
How Many Words Can You Make Game:
In this activity, you have to see how many words you can make using only the letters found in HALLOWEEN. Challenge yourself and see how many you can come up with! Click here to read the full blog post and download the game.
Halloween I Spy Game:
Here, you'll search for 8 Halloween themed items in the box above. The goal is to count how many of each type of picture you see and write down the correct number on the lines next to each graphic. You can even bring out the crayons and color in each image as you find them to add a little creative element to the activity. View the full blog post and download links here.
Halloween Word Scramble:
This Halloween themed word scramble features 12 words to try and unscramble. With short words and long words, this game can be fun and challenging for both kids and adults. Click here to read the blog post and download the word scramble game.

Download Links:
Click here to download the Halloween word search game files.