Help your kids learn how to write the alphabet with this free printable letter tracing worksheet. Great for toddlers to get started on learning how to write!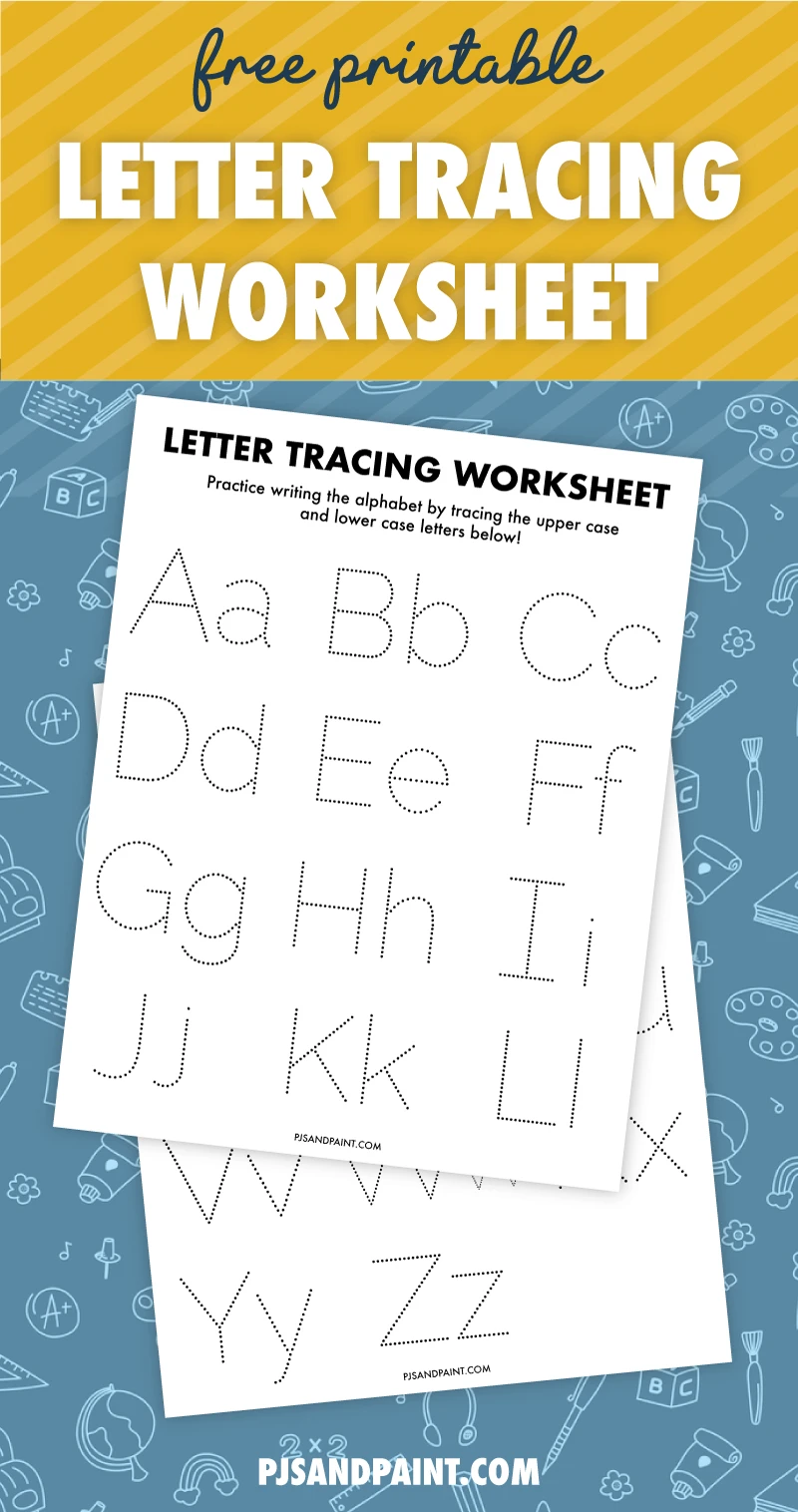 Disclaimer: This post contains affiliate links. This means that at no additional cost to you, I may earn a small commission if you decide to make a purchase. For more information, please feel free to read our affiliate disclosure.
I learned a long time ago that I was not born to be a teacher. I remember back when I first started college I was asked to teach a few classes at an art studio I used to go to.
Excitedly, of course I said yes. One class later, I knew this was not my calling! Students would be asking me to show them how to paint something and I found it so hard to not just ask for their paintbrush and say "just let me do it!" Patience is not my strong suit!
Fast forward years later and I'm now a mom to two great kids. One thing I learned quickly was that parenting involves a whole lot of teaching as well. Something my boys have really taught me is how to have more patience.
I also think it is easier with your own kids because of course they are the cutest kids in the whole world when they're your own!
Now, I would like to think that I have a lot of patience and am getting a lot better at teaching them things. But with that being said, I will leave the majority of the academic teaching to their future school teachers.
My older son will be starting preschool pretty soon. I have noticed that he has been so excited to learn new things now so that he will be ready for school when it begins.
It's very cute and I definitely want to nurture this love of learning. And because of that I decided to make a few printable worksheets to help him get started on writing letters.
If your kids need some help learning what each letter looks like, you might be interested in checking out our free printable alphabet flash cards as well.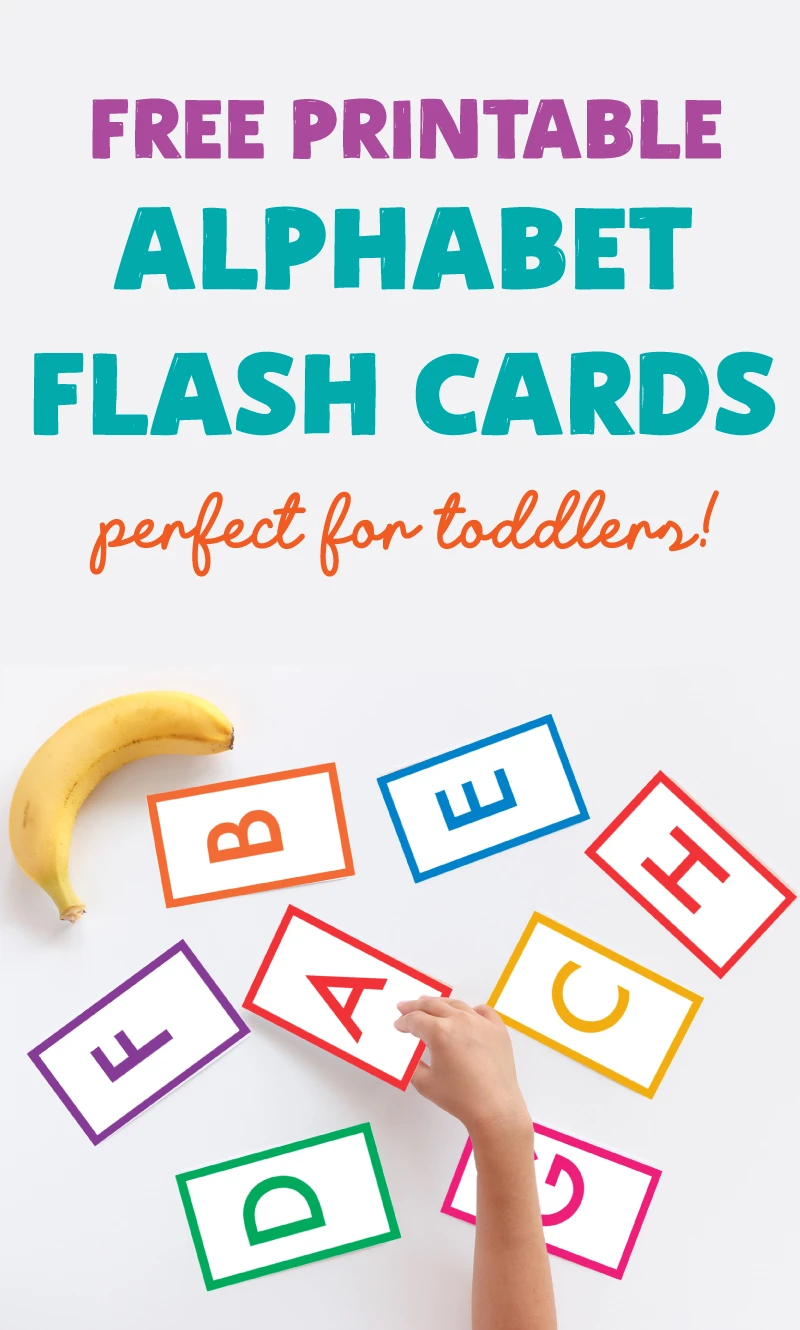 Today, I am happy to share with you this free printable letter tracing worksheet. It includes all 26 letters, uppercase and lower case.
Have your kids start tracing their letters on the worksheet and then before you know it, they will be writing letters and words all on their own.
Free Printable Letter Tracing Worksheet
This worksheet is designed to be printed onto two 8.5×11 inch pieces of printer paper or cardstock. If you will be following my suggestion below on making the worksheet reusable, I would highly recommend printing the pages out onto white cardstock to ensure durability.
Feel free to download and print as many copies of the letter tracing worksheet as you would like. However, please do not edit or redistribute the files in any way. This worksheet was created for personal or classroom use only.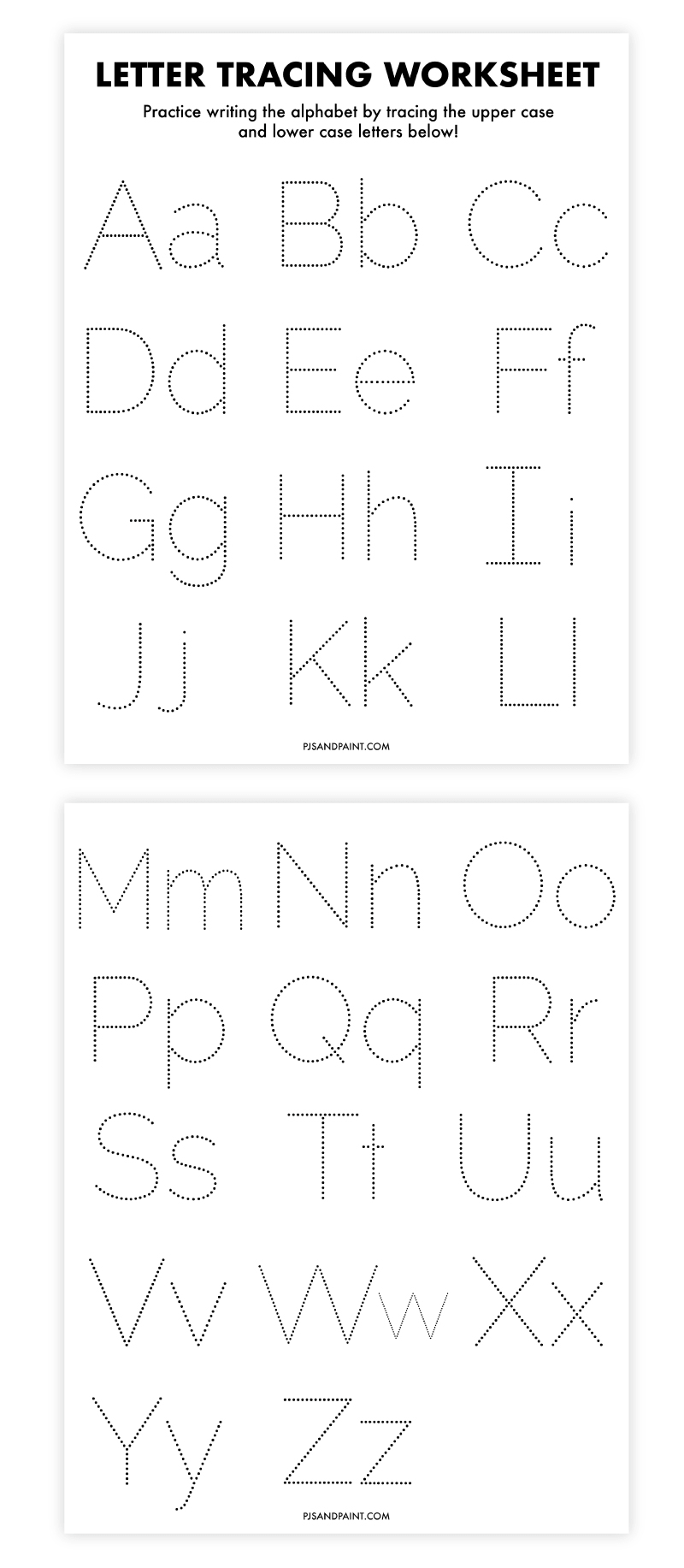 Free download link is located at the bottom of this post.
How to make the worksheet reusable
As we all know, practice makes perfect. And if you would like to help your kids practice their letter writing while also saving a few trees (and some printer ink!), you may be interested in learning how to make the worksheet reusable.
1. Use a dry erase pocket
I didn't know these existed until pretty recently, but I am so glad I know about them now! All you have to do is print out your letter tracing worksheet and then place the pages into a dry erase pocket. Simply have your kids use a dry erase marker to trace the letters and then wipe away when they are done. They can reuse the page over and over again until they have perfected the alphabet!
2. Use a home lamination machine
If you have access to a home lamination machine you can purchase laminating pouches that allow you to use dry erase marker on them. Laminate your worksheet pages and then you are ready to practice letter writing over and over again!
Here are a few additional free printable toddler resources you might be interested in checking out next:
Free Printable Alphabet Flash Cards
Help your child learn their ABC's with these free printable flash cards. They come in fun bright colors to make learning even more fun!
Free Printable Color Flash Cards
Your child will learn all the colors of the rainbow with these free printable color flash cards.
7 DIY Velcro Busy Boards
If you've got a lamination machine and some velcro, you will love putting together these DIY velcro boards using our free printables. Board themes include sorting food, learning numbers, matching, learning letters, learning shapes and more!
Download Link: