Help your child learn their colors with these free printable color flash cards! Cards measure 3×5 inches each. Easily print for free at home!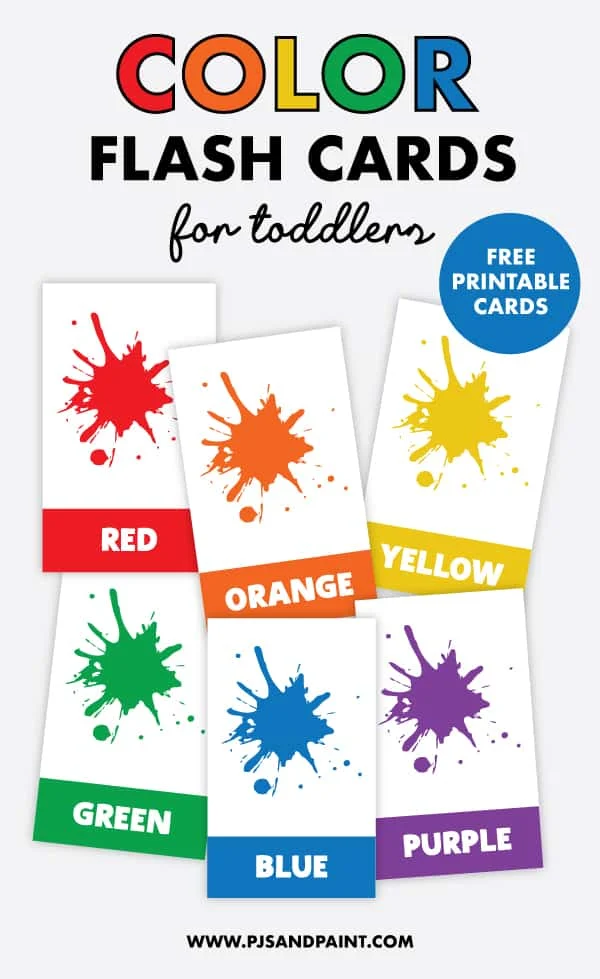 Disclaimer: This post contains Amazon affiliate links. This means that at no extra cost to you, I may earn a small commission if you decide to make a purchase.
The inspiration to create these fun free printable flash cards came to me a few days ago.
A while back I had asked my now almost 2 year old what his favorite color was. He looked me in the eyes and proudly said "yellow!" It was adorable.
Every once in a while I'd ask him again what his favorite color was and it always stayed the same.
The other day we saw a firetruck and I asked "What color is that truck?" He confidently said "yellow!" I said, "No sweetie, it's actually red." A few moments later I pointed at the grass and asked what color it was. Again, he proudly said "yellow!"
I then realized that while he definitely understands that yellow is a color, he seems to think everything is called yellow. As cute as that is, I thought maybe working with some flash cards might help him differentiate between the colors.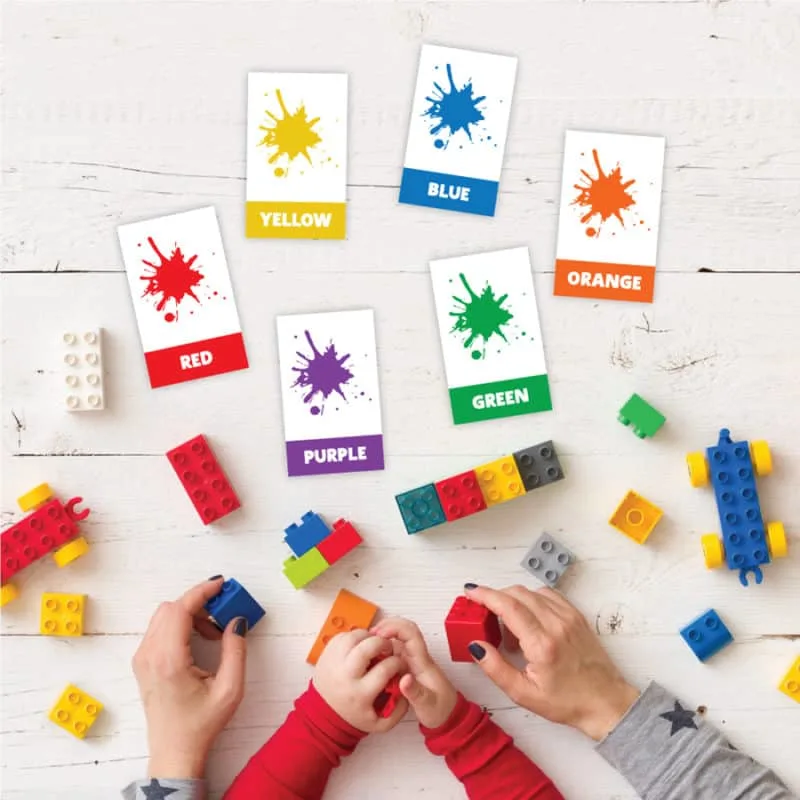 Download link is located at the bottom of this post.
So, I created these printable flash cards with fun paint splatters! Included in the set are cards for: Red, Orange, Yellow, Green, Blue, Purple, Pink, Black, White, Gray and also an additional card with all of the words spelled out.
These flash cards are great for home use, homeschooling or in a preschool classroom. I even like to keep some flash cards in my diaper bag for on the go.
My toddler really loves learning about colors and shapes and so if we are standing on a long line at the grocery store, sometimes I'll take out the flash cards and start quizzing him a big. He thinks it's fun and before we know it we are up at the front of the line.
A few ways to make the flash cards a little more challenging:
Once your child is able to recognize the various colors, you may want to start testing them a bit and see how well they really know their colors. Here are a couple of things you can do:
Cover up the text.
While your child may not be able to read yet, they still may recognize the letters that accompany the colors. Try covering up the words and see if they are able to identify which color it is.
Make it into a scavenger hunt game.
Hand your child one flash card of a particular color and then ask them to go find something in the house that is that color. For example, I could ask my son to go find something green and then he could walk over to the dining room and point to the green walls.
And if your child is having a bit of trouble working with the entire flash card pack, you may want to reduce it to only a few at a time. Instead of working through all of the colors at once, try introducing 1-3 different colors at a time. Once your child confidently knows those three colors, you can start adding in more.
Make sure your flash cards stay in great condition with these helpful tips:
Improve the durability of your flash cards by using laminating sheets and a laminating machine. This is the laminating machine that I have and I absolutely love it. I find any excuse I can to laminate something!
Prevent the cards from getting lost with this binder ring. Simply use a hole punch at the top of each card and slide the binder ring through.
Stay organized by keeping all of your flash cards in these colorful boxes.
Be sure to check out some of our other fun activities for toddlers below: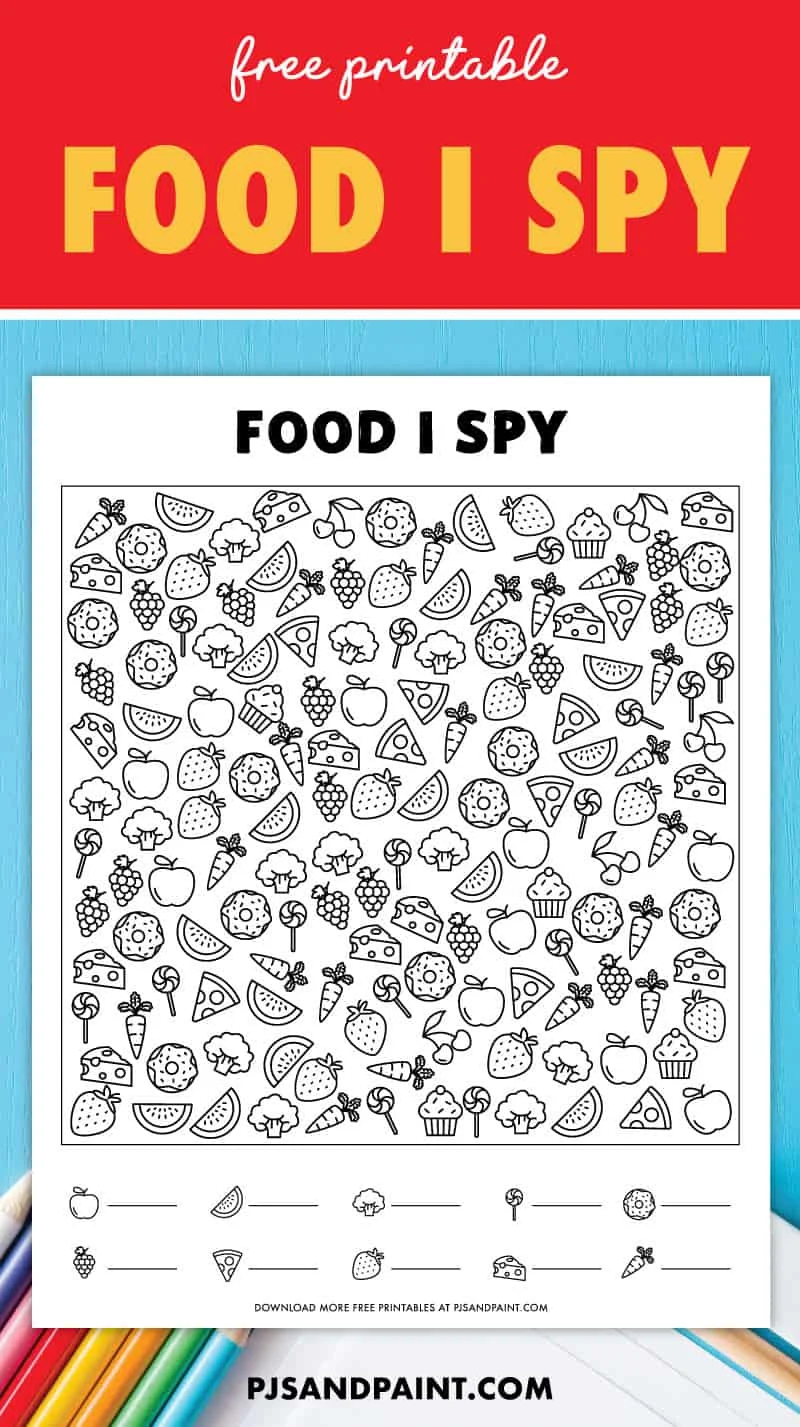 Free Printable I Spy Game – Food Themed
Featuring items such as apples, pizza, broccoli, cheese and donuts, this I spy game will keep your kids entertained and out of trouble! All while not spending a dime. Click here to read the full blog post and download the game files.
Construction paper dump truck craft.
If you are looking for a creative and fun activity to do with your child or your preschool or kindergarten class, then you are in the right place! This simple construction paper dump truck craft is super easy and turns out pretty adorable if you ask me! Click here to view the full tutorial.
Construction paper fire truck craft.
Learn how to make a fun fire truck out of construction paper with this super easy tutorial! Click here to read the full blog post and download the free template files.
Construction Paper Bulldozer craft.
This one is for all the construction vehicle lovers out there! This simple bulldozer craft is so fun and so easy to put together. View the full tutorial and free template download links here.
Free Printable Color Flash Cards for Toddlers
The pdf is sized to print on 3 standard 8.5×11 inch pieces of paper. Each page contains 4 cards that when trimmed will measure 3×5 inches. For best quality, I would highly recommend printing on white cardstock. I also use this paper cutter for my projects.
Feel free to download and print as many copies of the color flash cards as you would like. However, please do not edit or redistribute the files in any way. These flash cards were created for personal or classroom use only.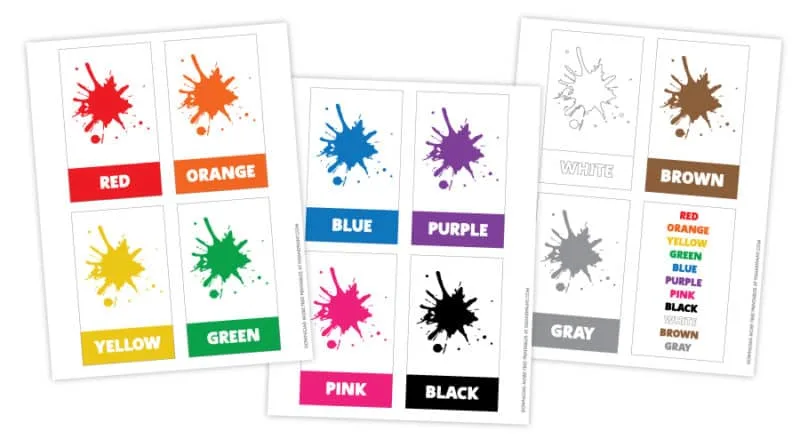 Click here to download the color flash cards.
Check back soon for more fun free printable flash cards for kids!