This free printable Halloween spot the difference activity is a great game to keep your kids or students entertained this Halloween season. After your child is done spotting the differences, it can easily double as a fun and spooky coloring page!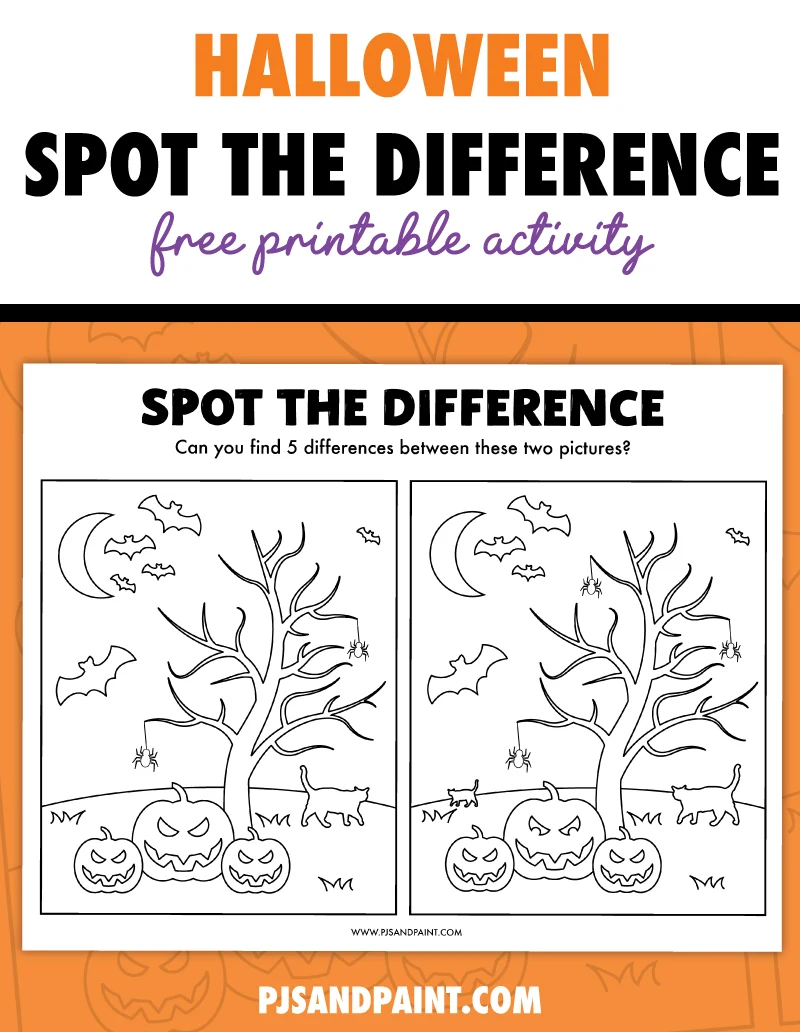 Disclaimer: This post contains Amazon affiliate links. This means that at no additional cost to you, I may earn a small commission if you decide to make a purchase. For more information, feel free to read our affiliate disclosure.
For my older son's birthday last year, my mom got him a subscription to a kids magazine. Every month he looks forward to getting his new magazine in the mailbox, it's pretty cute to see!
Every month, this magazine has a new "spot the difference" page. My son just loves sitting down with me and pointing out all of the differences he sees between the two pictures. I'm always impressed not only by how quickly he spots differences, but also how it keep his attention for so long. It's a great activity for little kids and has been the inspiration behind this post.
I recently decided that I was going to start making some spot the difference pictures myself. Today, I am excited to share with you this free printable Halloween spot the difference activity. It is great for at home learning as well as for a classroom activity.
How do you play spot the difference?
There are two pictures on the page that look very similar. The goal of the activity is to find all of the differences between the two pictures. Have your kids or students point out things that they see are different, and things that they see are the same.
Kids can either circle the parts of the picture that are different, or just point them out. If they will be circling the differences, you may be interested in how to make the spot the difference picture reusable. Keep reading to find out how!
This particular spot the difference game is great for little kids as there are only 5 differences to find. It is an activity that will keep them entertained and engaged but also not take too long. We all know how short their attention spans can be!
My favorite part about this game is that the printable can also double as a coloring page. Two activities for the price of one! And since this is a free printable, its a REALLY good deal!
How to make printable games reusable:
If you are using this Halloween spot the difference activity in the classroom, or would just like to save it for at an home activity year after year, you may be interested in learning how to save some paper and make the game reusable.
My favorite way to make printable games reusable is to laminate them using my home lamination machine and then using dry eraser markers to play the game. You can simply wipe off the dry erase marker and play again and again! Just make sure you are using dry erase laminating sheets such as these.
If you don't have access to a lamination machine, these cool dry erase pockets are a close second for my favorite! All you have to do is print out the page onto printer paper or cardstock, place in the pocket and then use dry erase markers to circle the differences in this activity. Wipe off the circles when you are done and you can reuse the activity again and again.
For the best quality and durability, I would recommend printing the games out onto white cardstock if possible. Cardstock is more durable than regular paper and will be a bit better holding up after being used over and over again. However, standard printer paper will still work just fine!
Free Printable Halloween Spot the Difference Picture
This spot the difference picture is designed to print onto a standard 8.5×11 inch piece of paper or cardstock. Feel free to download and print as many copies of the activities as you would like. However, please do not edit or redistribute the files in any way. This game was created for personal or classroom use only.

Download link and answer key is located at the bottom of this post.
If you enjoyed this activity, you might also like to check out some of our other fun free printable Halloween games below: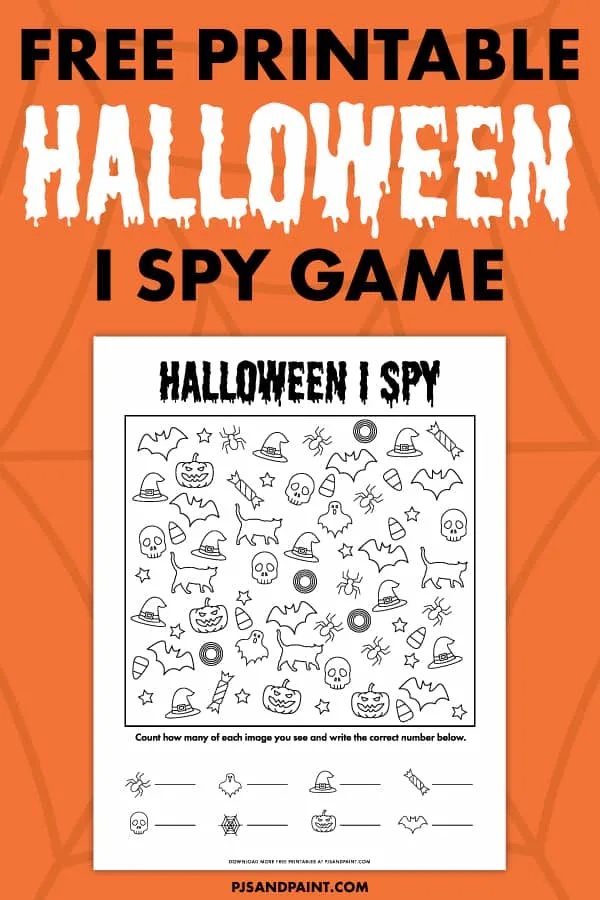 Halloween I Spy
In this free printable game, you will be searching for eight Halloween themed images in the picture above. Count how many of each image you see and write the correct number on the lines below.
Halloween Word Search
This word search game features fifteen Halloween themed words to try and find. Word searches are a great way to help kids work on their spelling skills, their vocabulary, and maybe even learn a few new words.
Halloween Word Scramble
In this word scramble game you will be trying to unscramble twelve different Halloween themed words. With short and long words, this game can be fun and challenging for both kids and adults.
Halloween Bingo
Who doesn't love a good game of bingo?! This Halloween bingo game is perfect to entertain the kids at home or in the classroom. This free printable comes with everything you need to play!
Halloween Themed Scavenger Hunt
This Halloween themed scavenger hunt is a super fun way to give your kids a special Halloween treat. Simply place the clues around the house and hide a small treat and watch your kids have a blast finding all the clues to find it!

Download Link:
Download the Halloween Spot the Difference Picture.
Answer Key:
1. The left side has 4 bats instead of 3
2. The right side has 3 spiders instead of 2
3. The right side middle Jack-O-Lantern has different eyes than the left
4. The right side has two cats
5. The left side cat is facing the opposite direction