If you are trying to figure out a cute way to wrap a small gift such as a handmade piece of jewelry, a gift card or cash, this free printable mini Christmas gift bag is just what you need!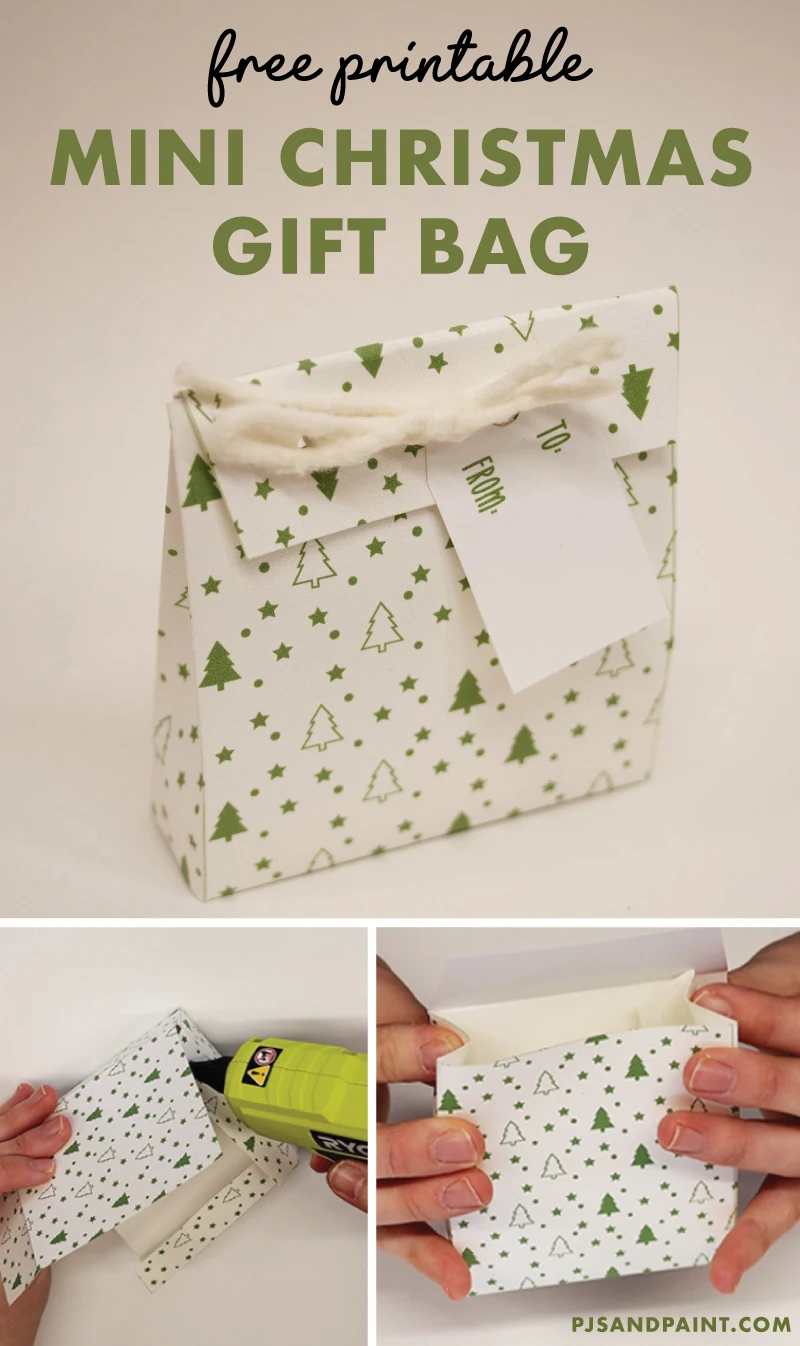 Disclaimer: This post may contain Amazon affiliate links. This means that at no additional cost to you, I may earn a small commission if you decide to make a purchase. For more information, please feel free to read our affiliate disclosure.
My mom is the hardest person to shop for. Whenever my brothers and I ask what she would like for Christmas, the only answer we get is "I just want everyone to be happy and healthy!"
And while this is very sweet, we also do want to be able to buy her a present or two to open on Christmas morning.
Lately, she has been giving us suggestions as to what she would like for gifts which has been very helpful! This year, she decided that she wanted to get a new pocketbook.
To make sure I got her a bag she would love, I asked her to pick out a pocketbook she liked and I would give her the money for it.
Then I was left with the dilemma of how to give cash in a cute way. I didn't want to just put some money in a card or envelope so I decided to create a small gift bag that I could place the money in.
And so today I am happy to share with you this free printable mini Christmas gift bag that is the perfect size for gifting any type of small gift. Featuring little green trees and stars along with a gift tag, this bag will definitely look adorable underneath the Christmas tree this year.
Materials needed to put together one mini gift bag:
Free printable gift bag template (download link is located at the very bottom of this post)
Scissors
Glue (I used hot glue but any type of glue will work)
A hole punch
String, ribbon or twine
Free printable Christmas gift bag template
This template is designed to fit onto a standard piece of 8.5×11 inch white cardstock. One gift bag will print per page. Once put together the gift bag will measure approximately 4×3.75 inches.
Feel free to download and print as many gift bags as you would like. However, please do not edit or redistribute the files in any way. This gift bag was created for personal use only.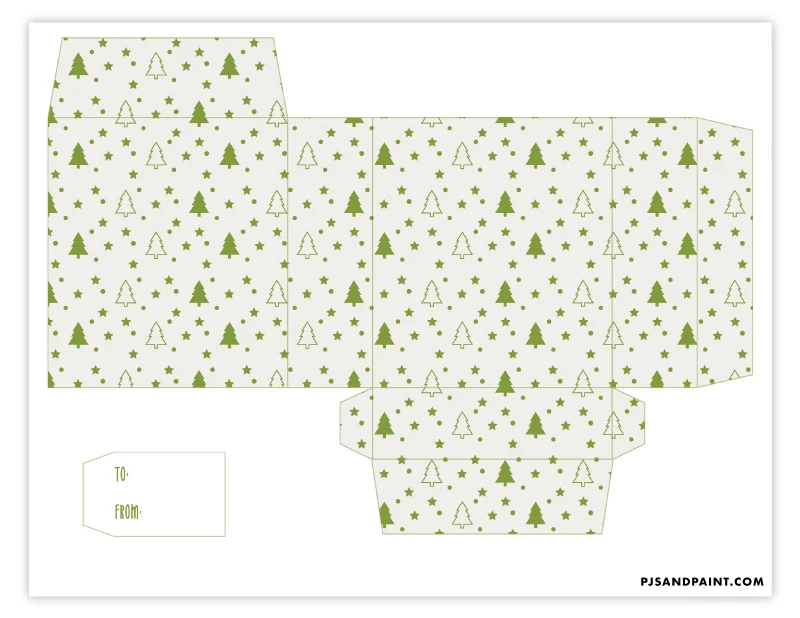 Download link is located at the bottom of this post.
The first thing you will want to do is print out the gift bag template onto 8.5×11 inch white cardstock. If you are in a time crunch and only have regular printer paper, that will work as well, but if you have access to cardstock I would highly recommend using it.
Cardstock will give the gift bag a much sturdier feel and be able to stand up a lot better.
Using scissors or an xacto knife, cut the template out along the guidelines. Also cut out the included gift tag.
Carefully fold on all of the green fold lines.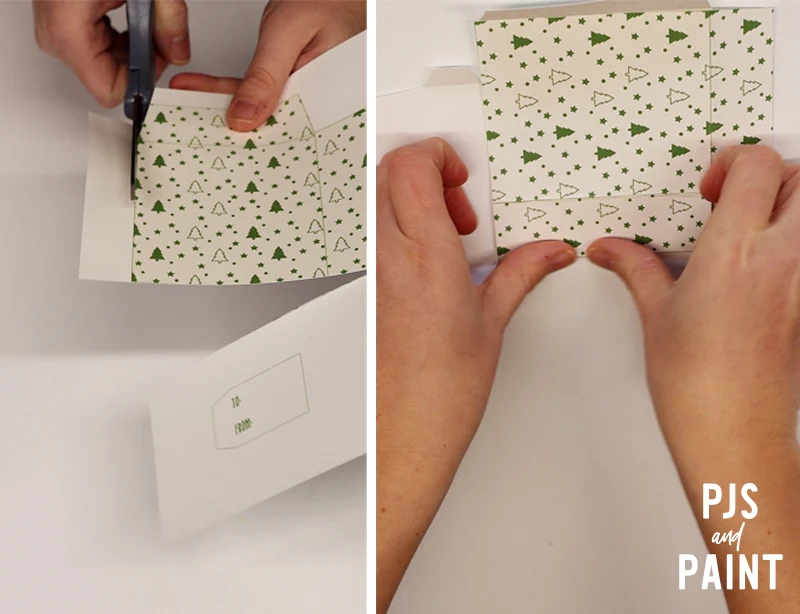 Glue the bottom and sides of the bag and let dry. You can reference the photos below. For mine, I used hot glue. However, you can also use regular liquid craft glue.
Once the glue has dried you can gently pinch the top of the bag to make it fold inwards.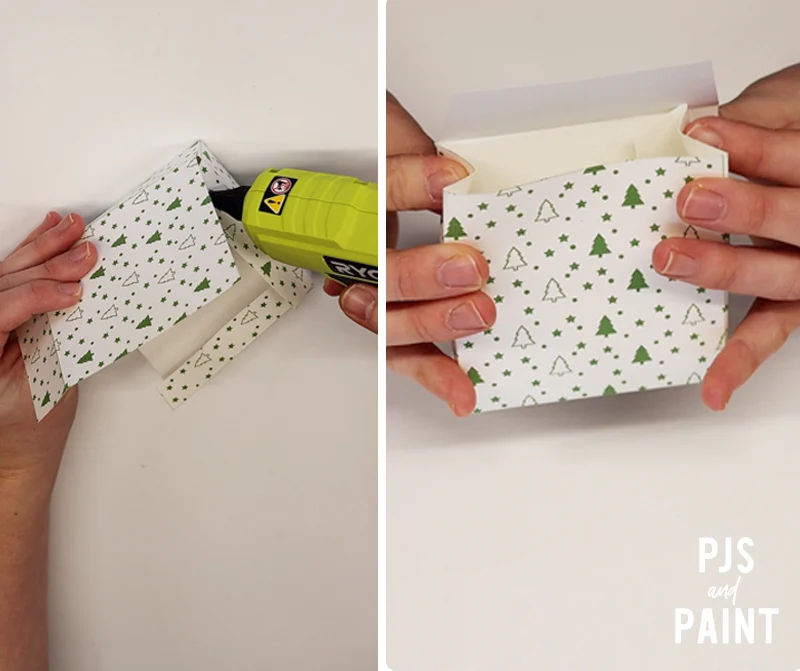 Download link is located at the bottom of this post.
Next, use a hole punch to punch two holes through both the bag and top flap.
Place money, gift cards or any other small treats inside the gift bag and then use ribbon, string or twine to secure closed. You can also use the added gift tag for a personal touch!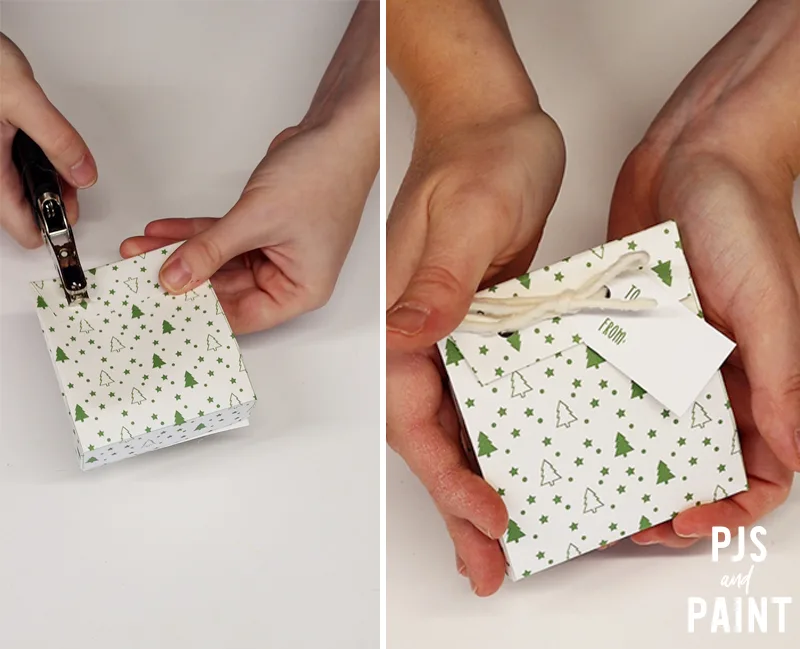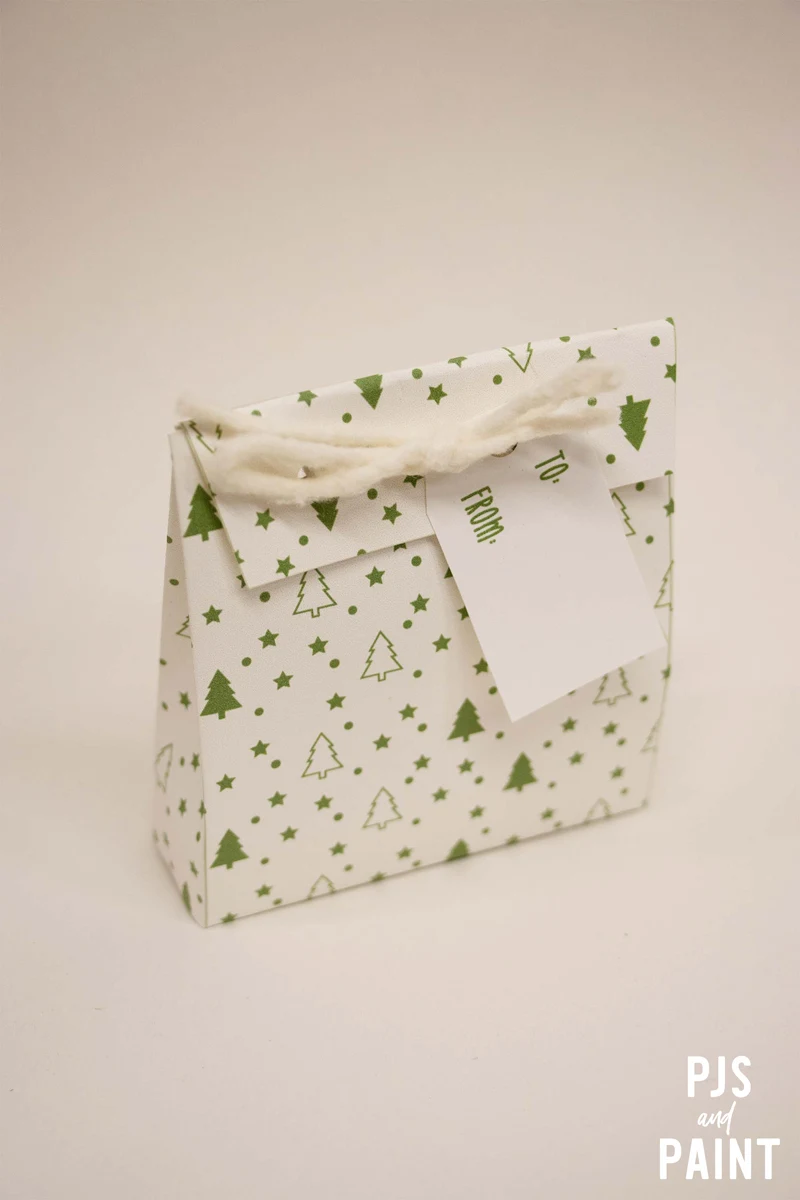 Download link is located at the bottom of this post.
If you enjoyed this post, you may also like to check out some of our other free printable Christmas gift ideas below:
Free printable pencil gift card holder – Teacher gift idea
This gift card holder is an adorable way to give teachers a well deserved gift card this holiday season.
Chocolate Chip Cookie Mix in a Jar with free printable recipe tag
This chocolate chip cookie mix in a mason jar will surely be a big hit with anyone who receives it! Who doesn't love some good chocolate chip cookies!?
M&M Cookie Mix in a Jar with free printable recipe tag
Similary to our chocolate chip cookie mix, this recipe includes red and green M&Ms for a fun festive flair.
Free Printable Christmas Coupon Book
This free printable Christmas coupon book will make a great stocking stuffer this Christmas. They are easy to put together, perfect for last minute gifts, all while being super thoughtful and personal.
Free Printable Gift Certificate
This blank gift certificate is perfect for gifting any item or experience. Simply fill in what the gift is for and you're good to go!
Download Link:
Download the mini Christmas gift bag template.