Make potty training a little easier and a little more fun with this colorful free printable potty training chart.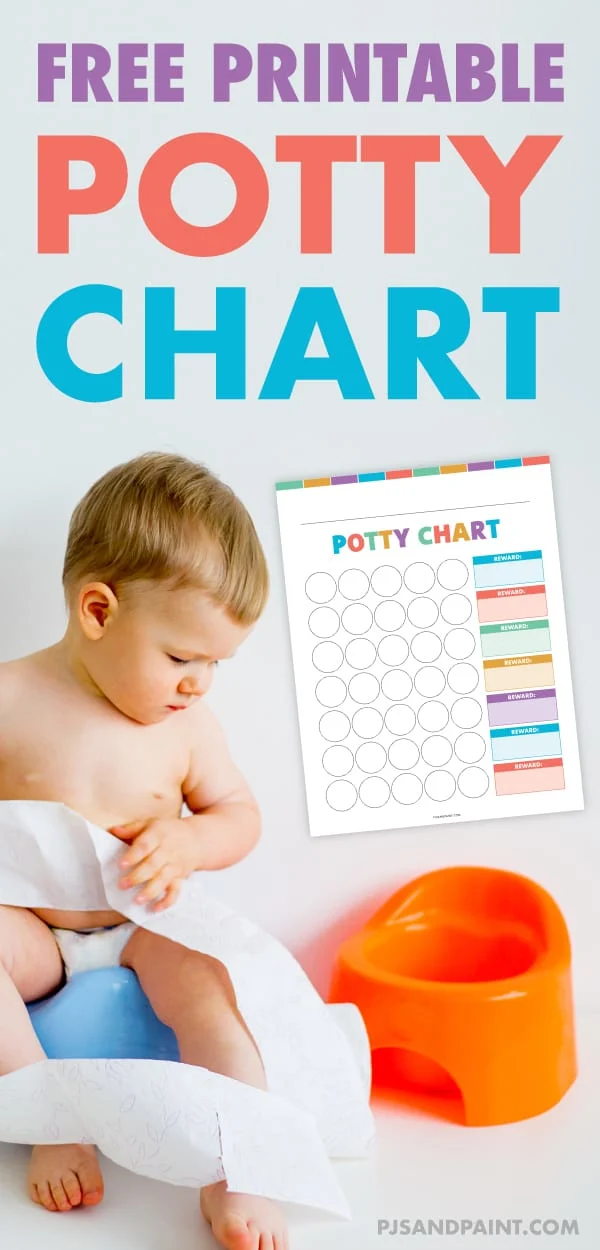 Disclaimer: This post contains Amazon affiliate links. This means that at no extra cost to you, I may earn a small commission if you decide to make a purchase.
We are currently in the process of potty training with our 2.5 year old son. It is NOT easy! He is very comfortable sticking too diapers as long as he can.
We have tried giving him treats if he uses the potty, buying fun underwear with characters on it and even tried getting him to play a game on our phones while he sits.
Right now there's about a 20% chance he'll make it to the potty. The rest of the time we are cleaning up the floor. But that's okay, it's a learning process and I know he will get it eventually.
In the meantime, I have been trying to figure out another incentive other than cookies and snacks. And I've settled on stickers!
I bought a bunch of fun stickers that I thought he would be very interested in and created this simple, yet fun potty training chart. And today I'm happy to share it with you all as well! I hope it helps in your potty training journey!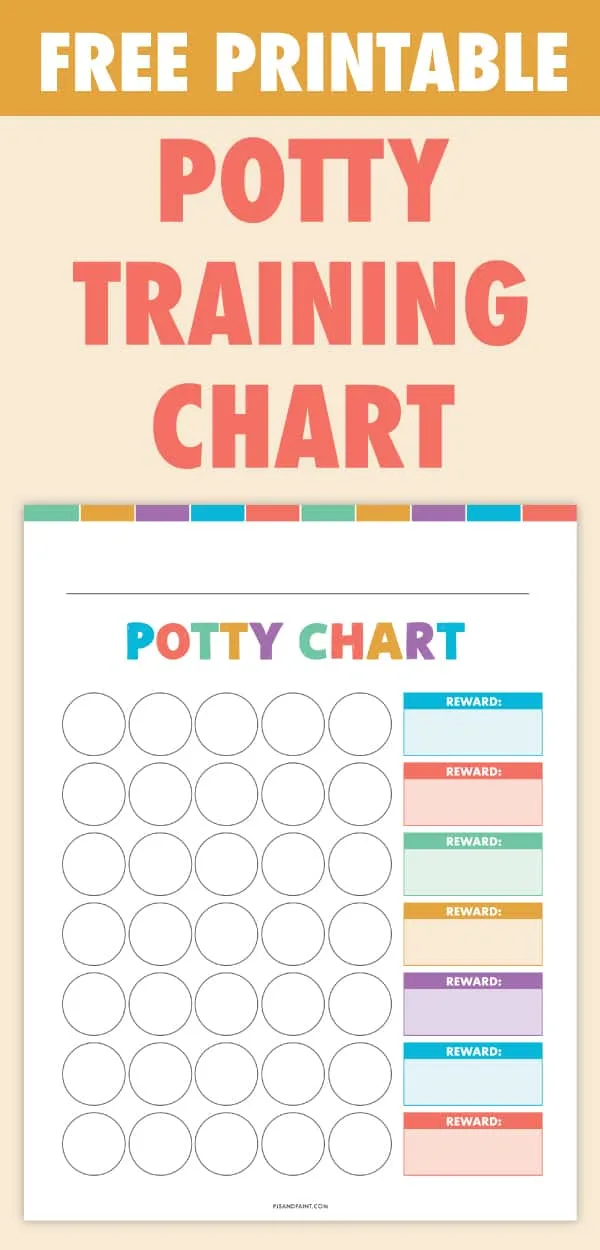 Download link is located at the bottom of this post.
How to use the potty training chart:
Well first, you have to write your child's name up at the top of the page! My son actually knows a bunch of letters, so it can be fun pointing out the letters as I spell his name whenever I write it down.
Next, make sure you have some fun stickers on hand. Anything will work great! I like to have Paw Patrol, Peppa Pig stickers, or whatever character he is into at the moment.
Now that that is taken care of, you will need to figure out some rewards that your child will enjoy. I set up this chart so that after 5 positive potty training experiences, your child will get a small reward.
Here are a few examples that I use:
Half hour of playing a game on my phone
Going to visit grandma and grandpa (he LOVES "papa and parker" as he calls them)
Watching an episode of his favorite TV show
Cookies or some M&Ms
Working on a craft (lately he has been loving making little monsters out of play doh)
A new small toy (usually it is a $1 toy car or something from the dollar section of target)
Once you have filled in the reward section of the potty chart, the real challenge begins… getting your child to use the potty!
You can use the chart a few different ways:
Place a sticker on the chart whenever your child tries to use the potty, even if they don't go.
Place a sticker on the chart every time they DO use the potty.
Place a sticker on the chart every time your tells you they need to go, even if they have an accident before they get to the potty.
It is totally up to you! But whatever behavior you want to reinforce is when you should put a sticker on the chart.
I would definitely recommend letting your child choose the sticker they want and also allowing them to place it on the chart themselves. That will make them feel more involved and get more excited about the process.
Free Printable Potty Training Chart
This potty chart is designed to print onto a standard 8.5×11 inch piece of paper or cardstock.
Please feel free to download and print as many copies of this potty training chart as you would like. However, please do not edit or redistribute the files in any way. This printable is intended for personal use only.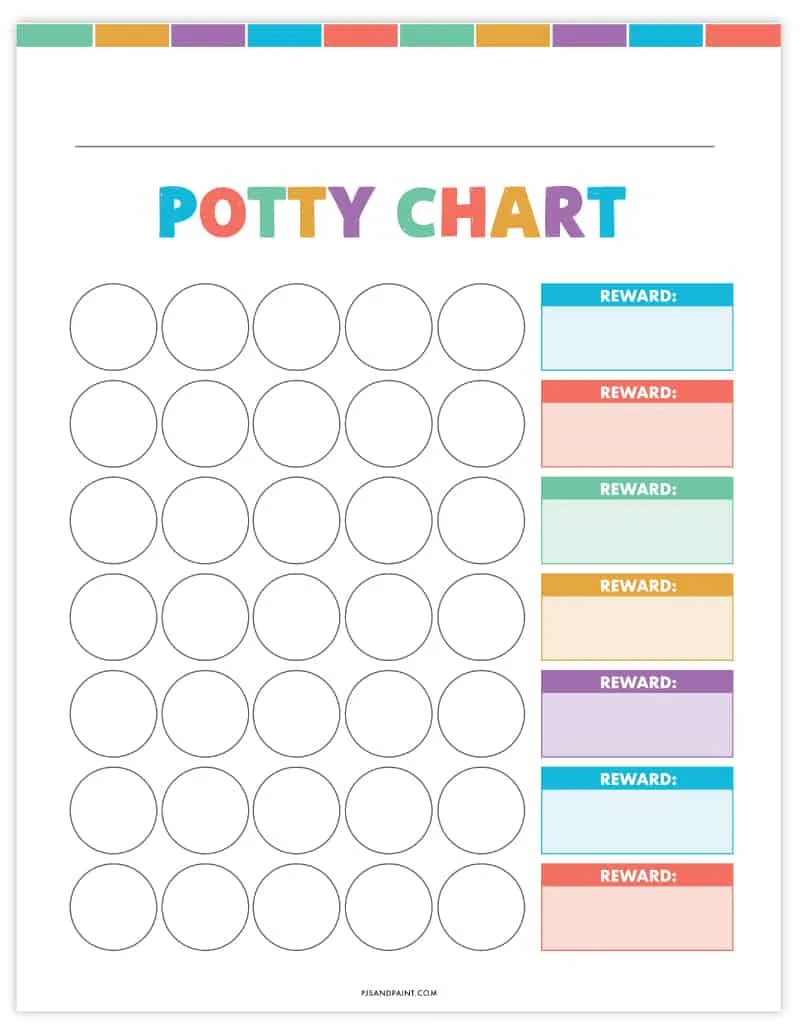 Download link is located at the bottom of this post.
Don't forget to stock up on some fun potty training/bathroom essentials.
If you enjoyed this post you may also like to check out some of our other fun toddler printables below:
7 DIY Velcro Boards – With Free Printables
I've created 7 DIY velcro boards designed for toddlers. Featuring letters, numbers, shapes, food and more, your kids will have a blast working on these fun puzzles.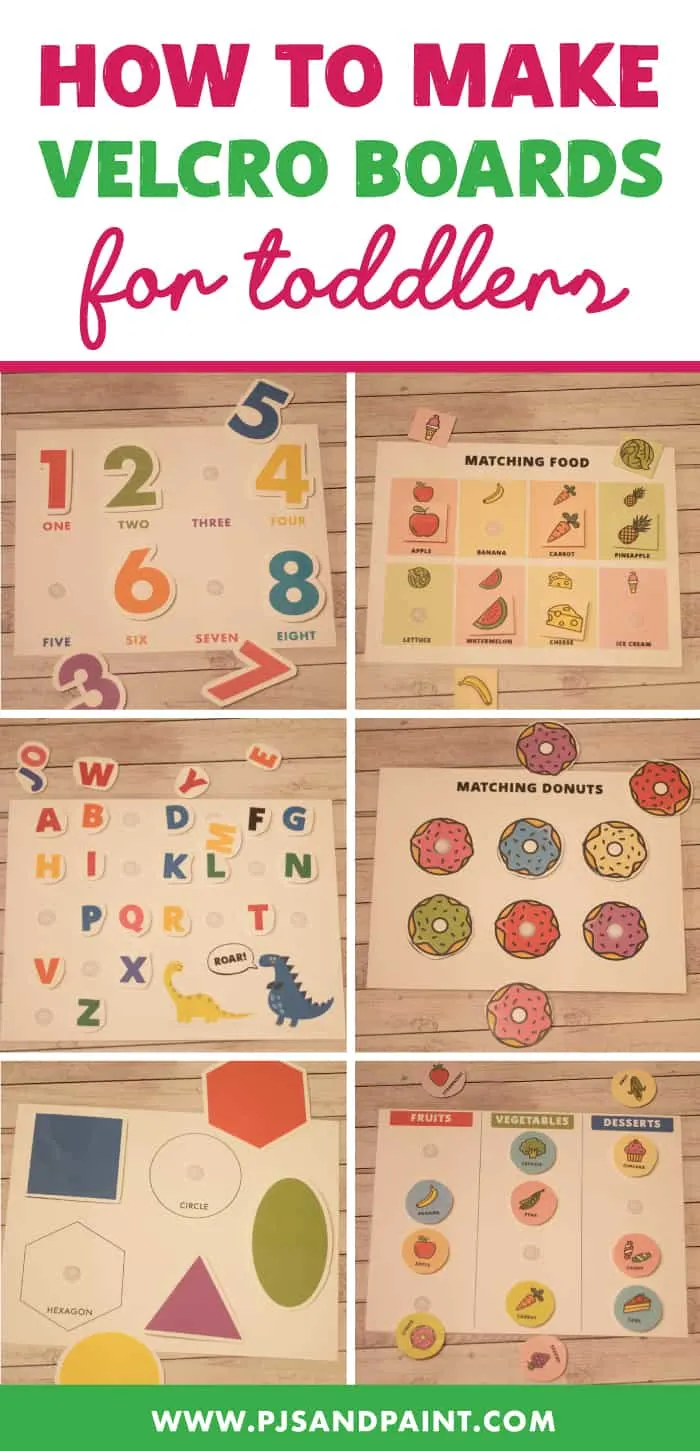 Click here to view the full blog post and download the velcro board files.
Free Printable Color Flash Cards for Toddlers
Help your child learn their colors with these free printable color flash cards! Cards measure 3×5 inches each. Easily print for free at home!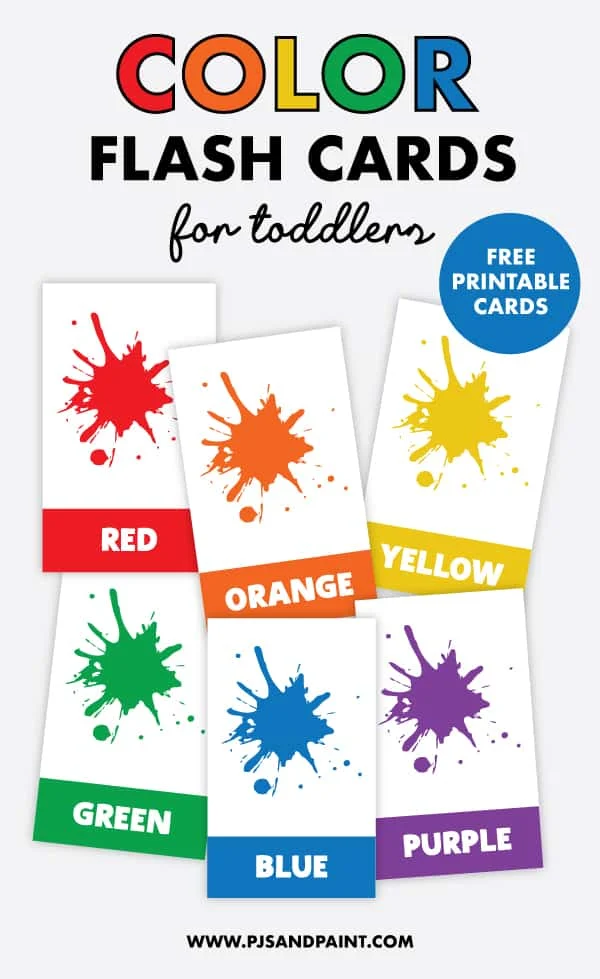 Click here to read the full blog post and download the free printable flash cards.
Download Links:
Click here to download the free printable potty training chart.