This free printable Valentine's Day coupon book will make a wonderful personalized gift to give the loved ones in your life this February.
As nice and candy, chocolate and flowers can be (and trust me, I LOVE receiving chocolate) it's really the gifts with a lot of thought behind them that tend to be the best and most appreciated.
My husband had made me a really nice coupon book for me for my birthday a few years ago. He actually designed it himself in photoshop and I was really impressed with all the effort he put in.
But not everyone has access to design programs, and even if they do, they simply may not have the time to put together a custom coupon book this Valentine's Day.
And because of that, I decided to create this free printable Valentine's Day coupon book that you can easily download, print and put together today!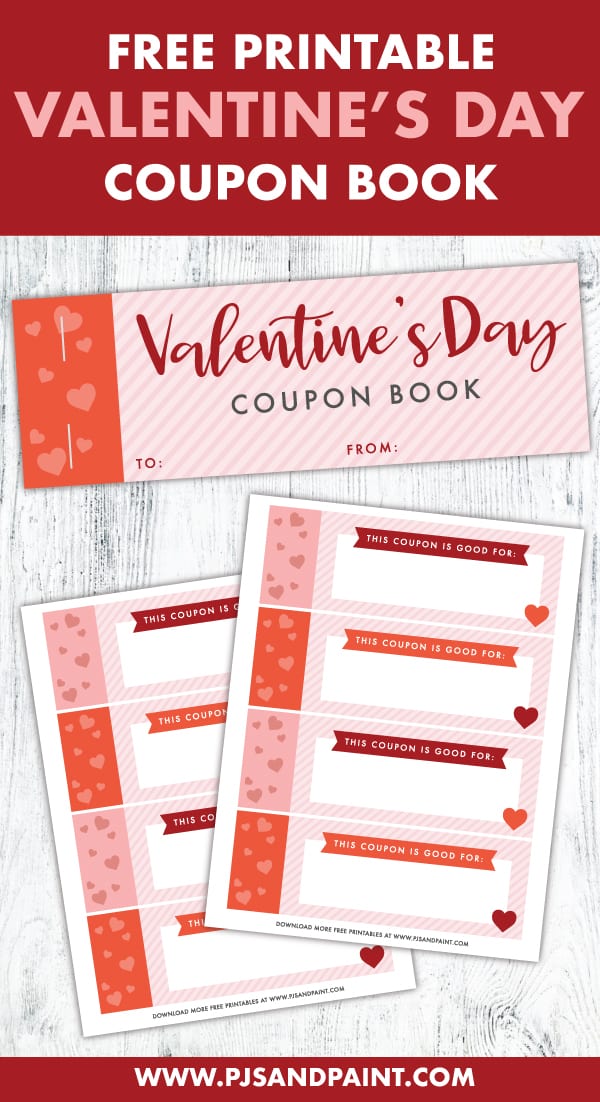 Disclaimer: This post contains Amazon affiliate links. This means that at no extra cost to you, I may earn a small commission if you decide to make a purchase.
What is a coupon book?
Coupon books make great homemade gift idea and they can be totally personalized to fit whoever you are giving it to. Each page of the book has a blank space to write down a special experience or event that is redeemable by presenting the coupon to the gift giver.
Here's a great example of one coupon my husband had made up when he gave me one of these books.
He put in not one, not two, but three coupons that said "I will do all the dishes tonight." Whenever there was a night where the dishes were piled particularly high from dinner, I would make sure to hand him the "dishes" coupon and he would have to wash and dry everything in the sink that night!
In conclusion, if you are making a coupon book of your own, maybe include only one "I'll do the dishes" coupon!
What make coupon books such a great gift idea?
They are personal and meaningful
Since you are able to fill out each page of the coupon book with all of your own ideas, you can customize the gift to fit your loved ones very well. It will show your significant other that you put a lot of thought into the gift as opposed to just picking up flowers. (But don't get me wrong, flower are great and always appreciated!)
They can be put together at the very last minute.
Maybe you forgot about Valentine's Day this year, or maybe you just didn't have time to pick out a gift. This coupon book can be printed, filled out and assembled in a matter of minutes and still be a very thoughtful gift.
They are great when you're sticking to a budget
There's no need to spend your whole paycheck on a fancy Valentine's Day dinner and gifts for your loved ones to know you care. Giving your signifiant other a coupon book is a great way to give something personal and meaningful, all while not breaking the bank!
Free Printable Valentine's Day Coupon Book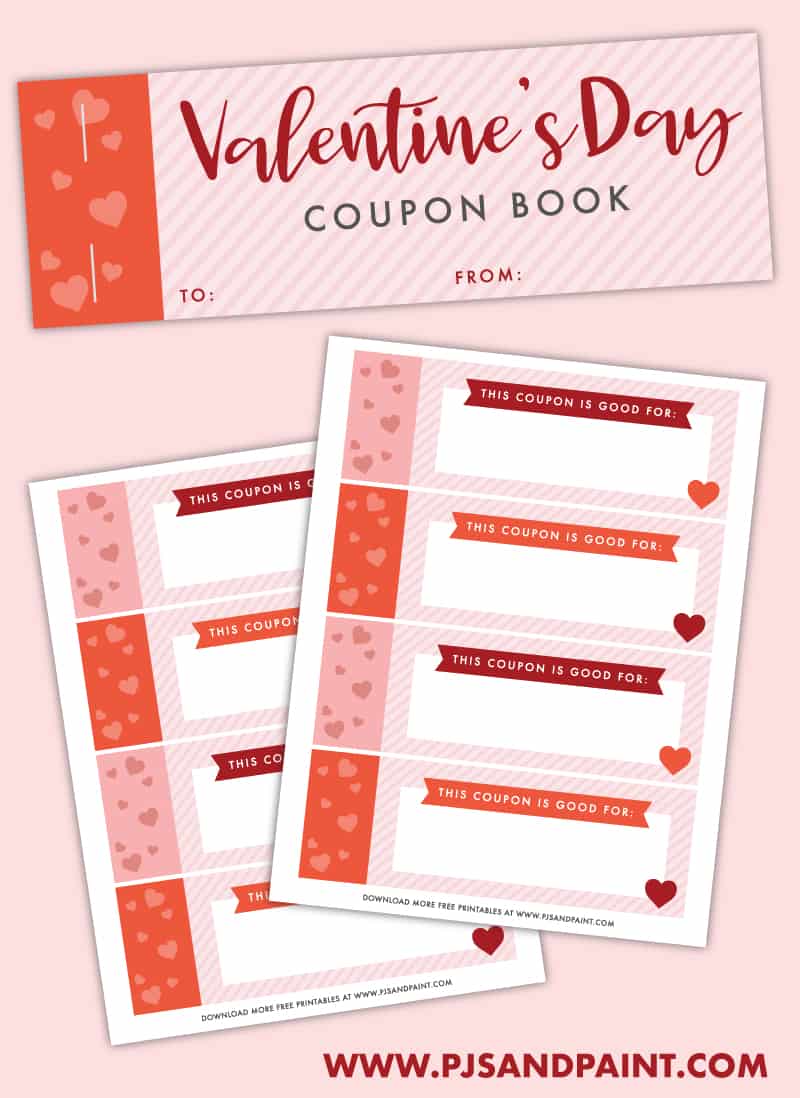 This free printable Valentine's Day coupon book is designed to print on standard 8.5×11 inch pieces of paper or cardstock. For the highest quality, I would definitely recommend printing on white cardstock if you happen to have some on hand.
The coupons, as well as the front and back cover will measure 7.5×2.5 inches when trimmed. To ensure your lines are as straight as possible and the pages of the coupon book line up correctly, I would definitely recommend using a paper cutter to cut out the coupons. This is the paper cutter that I am currently using and can highly recommend it!
Feel free to download and print as many coupon books as you would like. However, please do not edit or redistribute the files in any way. This coupon book was created for personal use only.
Supplies needed to assemble the Valentine's Day coupon book:
Printable coupon book (Scroll down to the bottom of this post for the free download links).
8.5×11 inch white printer paper or cardstock
Scissors or a paper cutter
Pens, pencils or markers
Stapler OR a hole punch and string, ribbon or twine (depending on which way you prefer to assemble your book)
How to assemble your coupon book:
You'll first need to download the coupon book pdf from the free download link at the bottom of this post.
The pdf will include a cover, back page and 3 pages of 4 blank coupons. If you would like to include more than 12 coupons you can definitely print out more of the coupon pages as needed.
Once the pdf has been downloaded, you can print out the book on either standard 8.5×11 inch white printer paper or cardstock. I would highly recommend using white cardstock for the best quality print.
Using scissors or a paper cutter, cut the pages of the book apart.
Next, you can write down what each coupon will be redeemable for. Check out the list below for some great coupon suggestions.
After all of your coupons are filled out, stack them together. You can either staple the edge to bind the book or use a hole punch to punch holes in the side and then tie a piece of string, ribbon or twine into a bow, to hold the book together.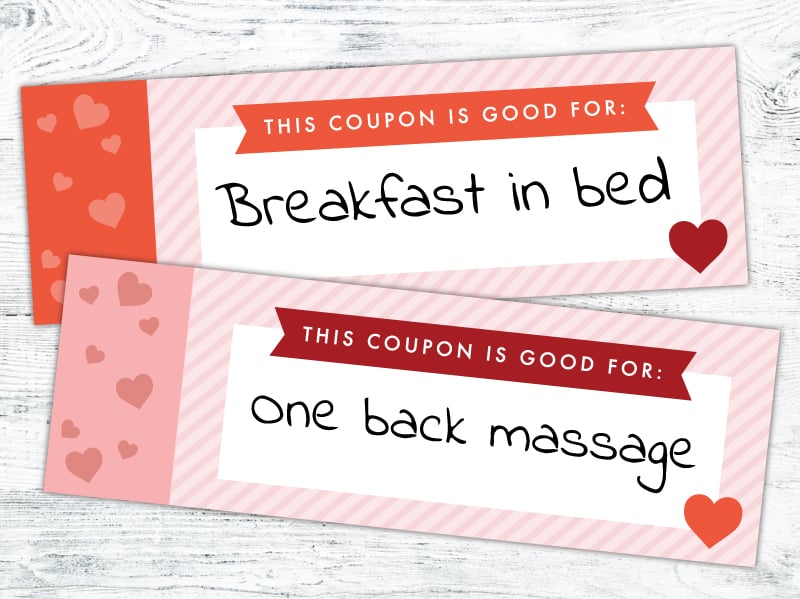 Here are a few great coupon ideas:
Feel free to use some of these ideas or create your own!
One night of not having to do the dishes
All of the laundry washed, dried and folded
One morning of sleeping in
Breakfast in bed
One foot massage
One back massage
Cleaning the bathroom
Control of the remote for an entire night
Dinner at your favorite restaurant
2 hours of uninterrupted time alone (I know I would definitely appreciate this one!)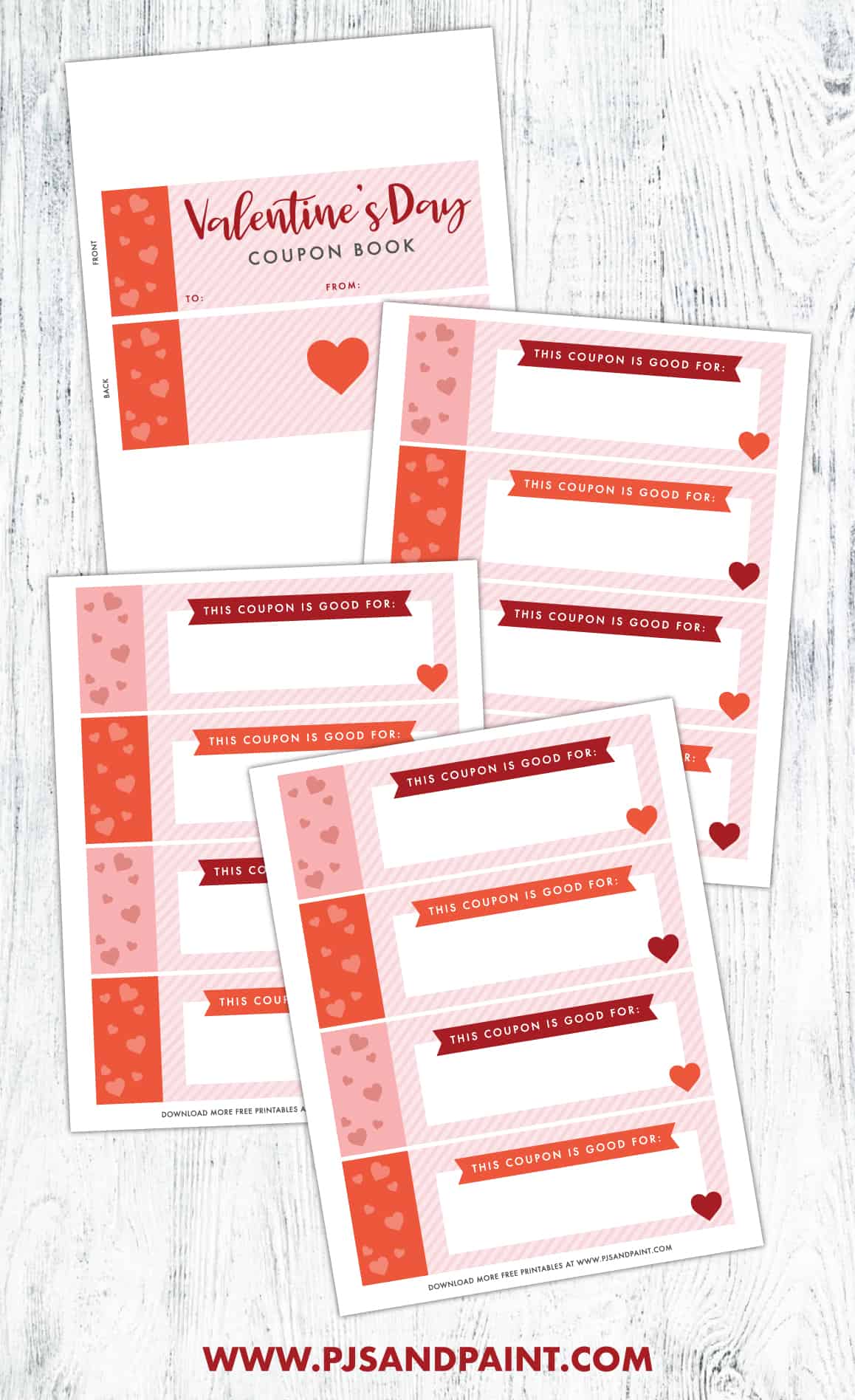 Check out some of our other free printable Valentine's Day games and activities.
Valentine's Day Word Search
Have fun trying to find 21 love and romance themed words in this fun free printable word search game. Click here to view the full blog post and download links.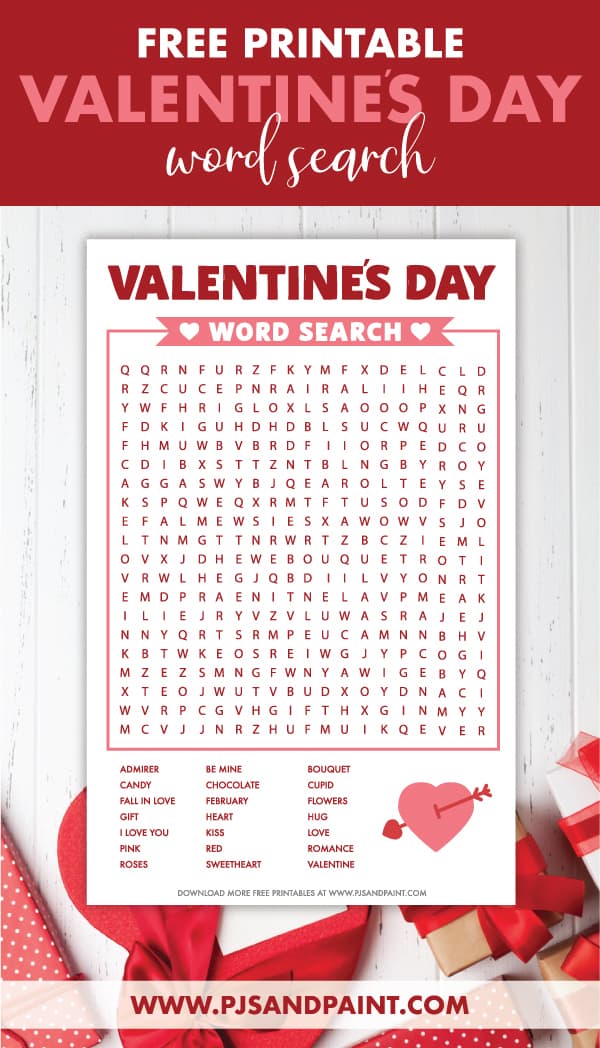 Valentines Day Word Scramble
Kids and adults alike will have a great time trying to unscramble these 12 Valentine's Day words. Don't worry, we've included an answer key as well in case you get stumped! View the full blog post and download links here.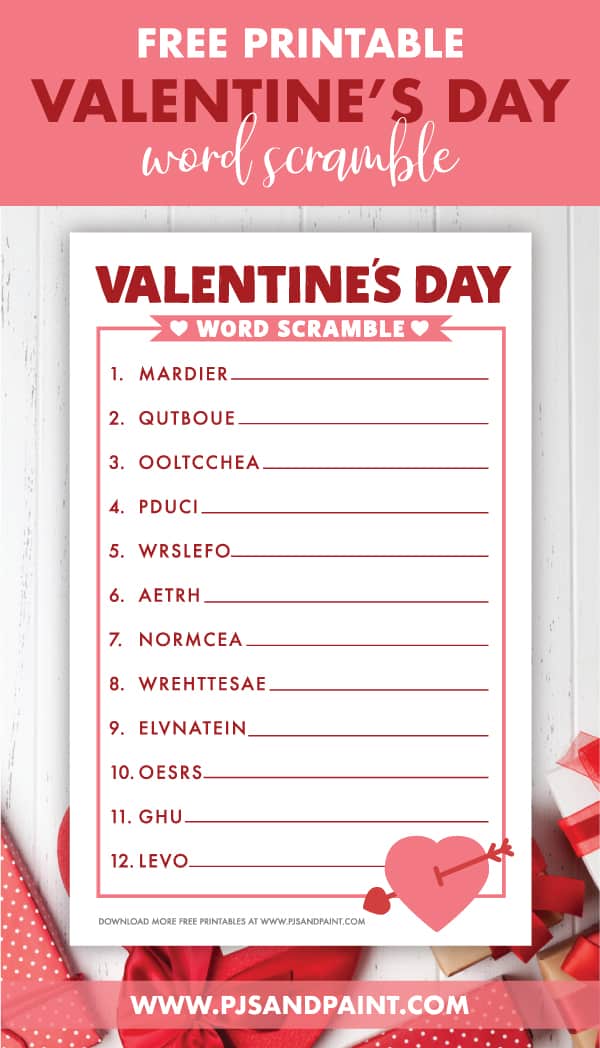 Valentine's Day I Spy Game
In this I Spy game, you'll have to count how many of each love themed picture you see in the box above. Great for holiday parties, children's play dates or fun family game nights. Click here to view the full post and free download links.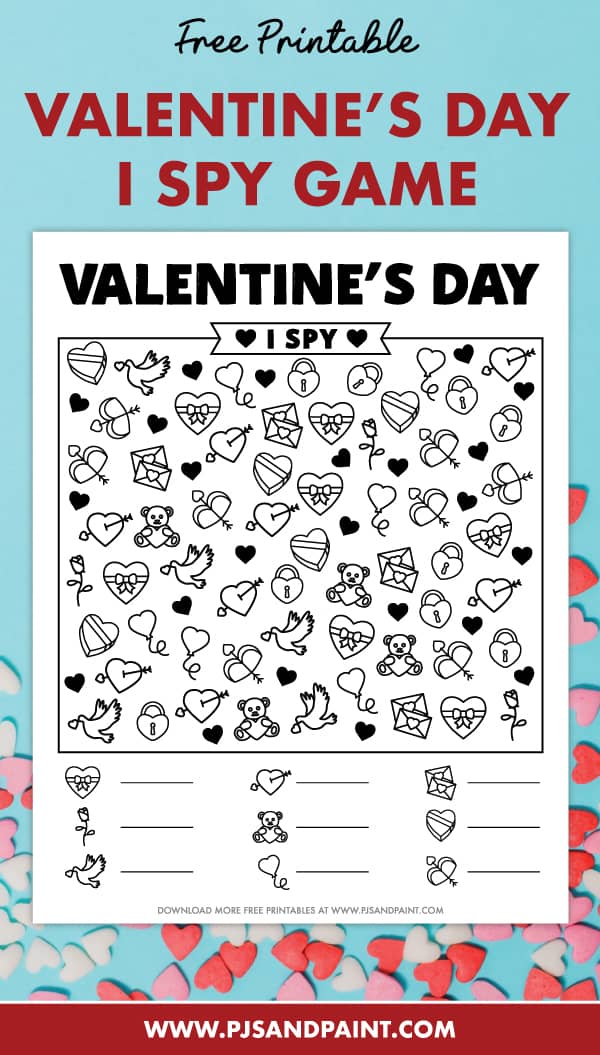 Valentine's Day Maze
Find your way through the maze to reach the heart in the center of this fun free printable Valentine's Day maze. A simple yet challenging activity that kids and adults alike will have a great time working on! Click here to view the full blog post and download the game files.