Keep everyone laughing with this cute free printable Thanksgiving joke cootie catcher. It is a great way to keep the kids entertained and everyone having fun!
I feel like every post I have written lately starts off with me saying that this year has been full of changes! I'm hoping that if you are reading this post in the future, you have no idea what I'm talking about and that everything has returned to as much normalcy as possible.
But in any case, once again I've been really ramping up my at home activity list to make sure I have plenty of ways to keep the kids entertained while stuck in the house. And that definitely goes for holidays as well.
This year will most definitely be a different Thanksgiving experience than what the kids are typically used to. Instead of having a large family gathering, we'll just be celebrating with immediate family.
And while everyone usually looks forward to getting together with all of the aunts, uncles and cousins, I still want to make sure that ours and all families out there have plenty of resources to make sure that their holiday festive are still fun and exciting, even if the guest list is cut down quite a bit.
One thing I have learned to love even more now that I'm a parent myself are corny jokes! "Dad jokes" if you will. And so I made this cute little Thanksgiving joke cootie catcher full of funny Thanksgiving themed jokes and puns that will be sure to keep everyone laughing.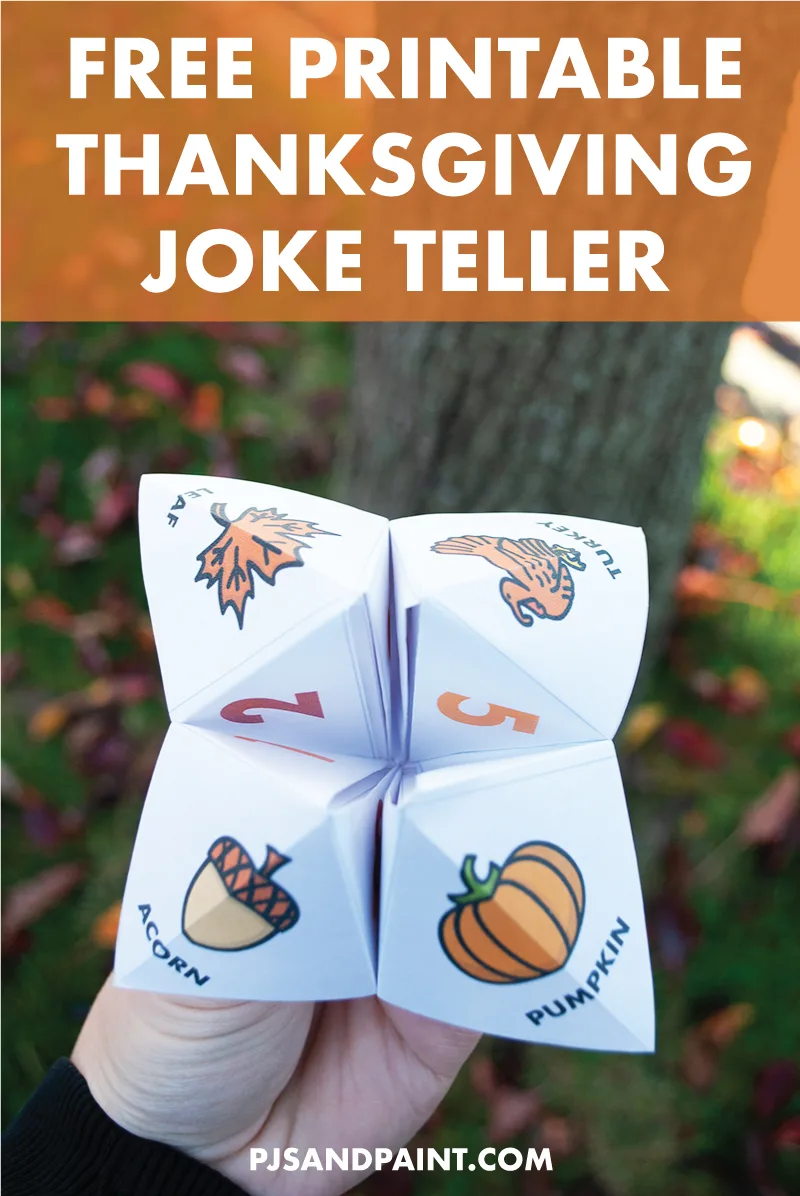 Disclaimer: This post contains affiliate links. This means that at no extra cost to you, I may earn a small commission if you decide to make a purchase. For more information, feel free to read our affiliate disclosure.
Free Printable Thanksgiving Joke Cootie Catcher
This cootie catcher is designed to print onto a standard 8.5×11 inch piece of paper or cardstock. Simply cut along the lines to form a square and then follow the folding instructions below to fold your joke teller.
Feel free to download and print as many copies of the cootie catcher as you would like. However, please do not edit or redistribute the files in any way. This joke teller was created for personal or classroom use only.
How to fold a cootie catcher:
Step 1: Once the joke teller has been cut out, place the artwork face down onto a table. Next, begin to fold each corner to the opposite corner.
Step 2: Fold all of the corers to the center one more time.
Step 3: Next, flip the page over so that all of the folds are now facing down onto the table.
Step 4: Repeat step 2 once again by folding all of the corners into the center.
Step 5: Finally, fold your cootie catcher both vertically and horizontally.
And that is it! You can now enjoy your Thanksgiving joke teller and keep all your guests laughing!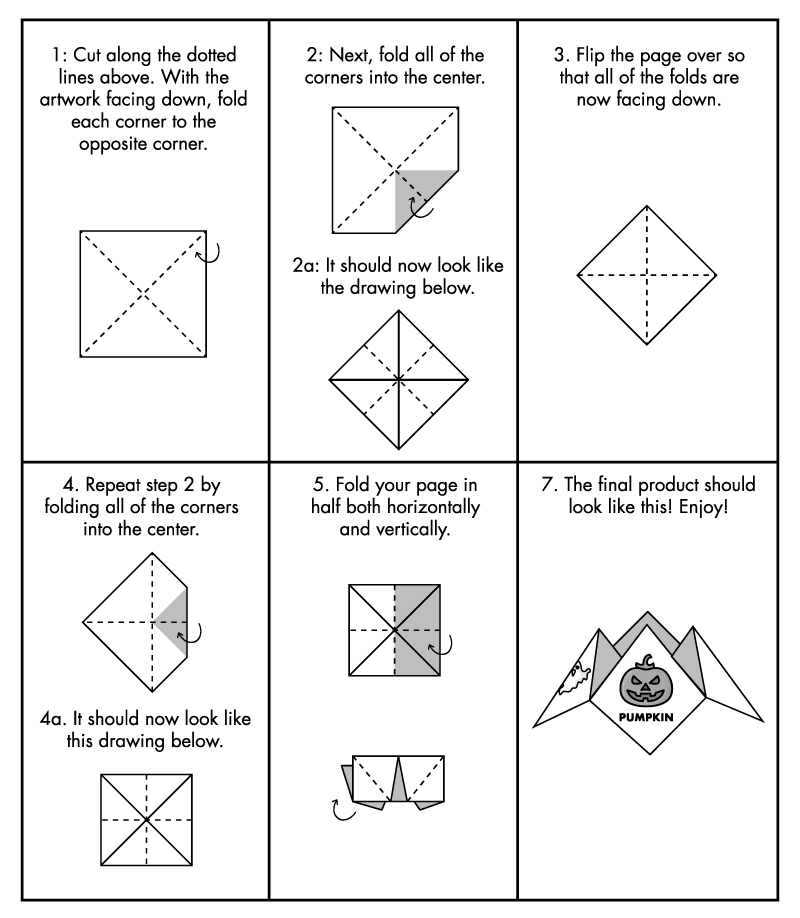 If you enjoyed this joke teller, you you may also like to check out some of our other fun free printable Thanksgiving games and activities for kids:
Free Printable Thanksgiving Maze
Both children and adults will have a great time working their way through this Thanksgiving themed maze to reach the turkey in the center. This maze is perfect for a holiday party, a classroom activity, or simply something fun to do on a rainy day at home.
Free Printable Thanksgiving Scattergories Game
This little activity is perfect for you to play with friends and family while waiting for Thanksgiving dinner to be served. All you need to do is write down a Thanksgiving themed word that begins with each letter of the alphabet. To make it more fun, you could even set a timer to see who can come up with the most unique items within a certain time frame.
Free Printable Thanksgiving Word Search
Have fun searching for all of the fall and Thanksgiving themed words in this free printable word search game. It is a great game to play with friends and family on Thanksgiving day, at a classroom party, or a fun activity for a rainy day at home this November.
Free Printable Turkey Coloring Page
This turkey coloring page is the perfect activity for the little ones to work on while you are busy cooking or cleaning this Thanksgiving Day! Featuring a happy turkey wearing a festive pilgrim at, the creative possibilities are endless when coloring in this classic Thanksgiving character.
Thanksgiving Joke Cootie Catcher

Download link is located at the bottom of this post.

Download Link:
Download the Thanksgiving joke cootie catcher.