This Christmas pot holder would make such a great gift for family and friends this holiday season! Turn an everyday items into a present that everyone will be sure to love!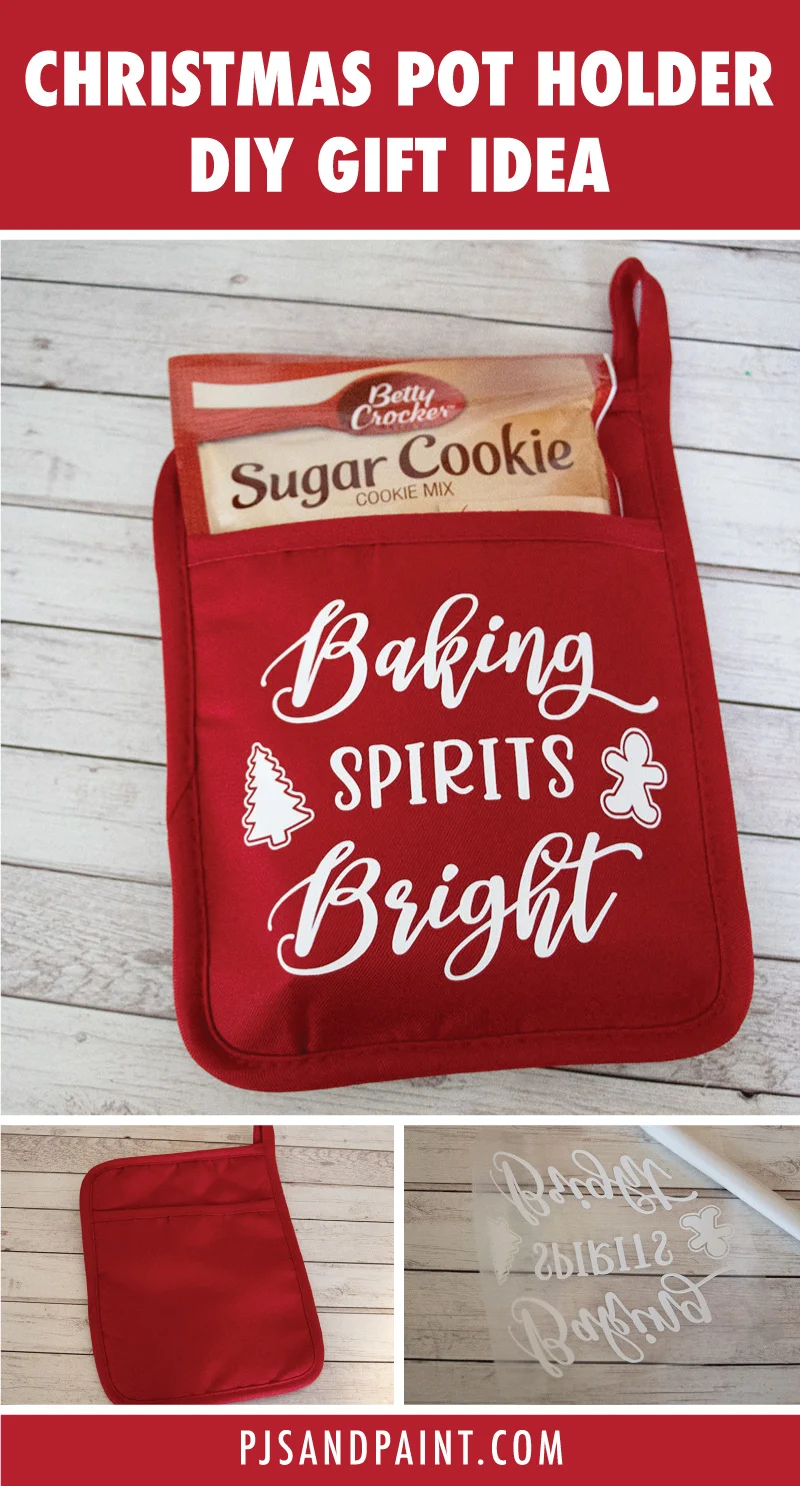 Disclaimer: This post contains Amazon affiliate links. This means that at no additional cost to you, I may earn a small commission if you decide to make a purchase. For more information, please feel free to read our affiliate disclosure.
Every year around Christmastime I start to think about what kind of gift I can make for my husbands family. He has a lot of cousins and we try to all get each other something small.
One year, I made them all these DIY cookie mix in a mason jar gifts which were a big hit! This year, I wanted to think of something a bit different.
I recently got a Cricut machine (yay!) and so I knew that I just had to incorporate some vinyl designs into this years gift.
I was strolling around the Dollar Store one day and came across a bunch of these red pot holders. I actually bought a few not knowing what I would do with them, but I knew I just needed them in my craft room!
I once heard a saying that buying craft supplies and actually using craft supplies are two totally different hobbies. I thought that was so funny but am glad to say that I actually did end up using these pot holders!
Playing off last years cookie theme, I decided to make a cute design to add to the pot holder and then include a bag of cookie mix inside. Here is how I made it!
Materials needed to make a Christmas pot holder gift:
A red pot holder (green would work well also!)
Cricut, Cameo or Silhouette machine
A heat press or an iron
Bag of cookie mix
Spatula (optional)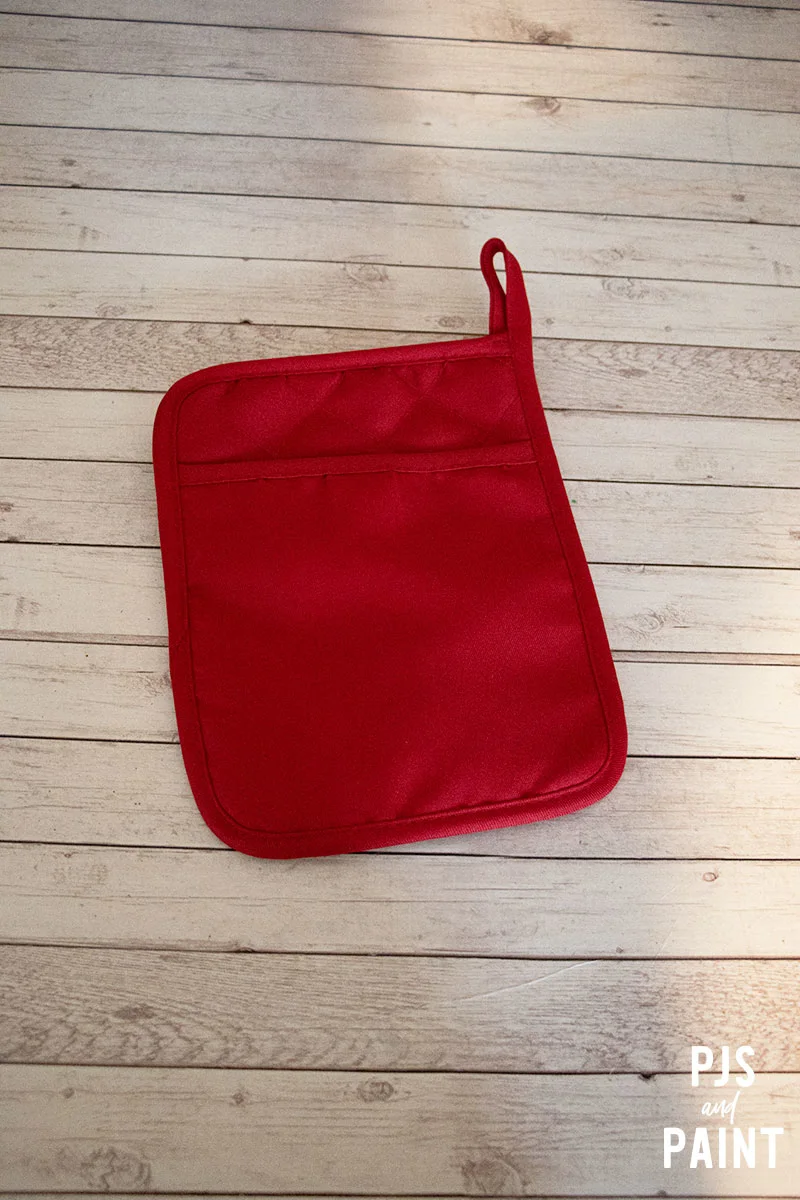 The first thing I did was purchase a red pot holder. Green would also work well for the Christmas theme. I happened to buy mine from the Dollar Tree but you can definitely find these at most stores and even on Amazon.
The only thing you want to make sure of is that there is a pocket where you hand usually goes. Not all pot holders have this but it is important for this DIY gift idea.
The next thing I did was create my design and then cut it out of heat transfer vinyl using my Cricut Maker.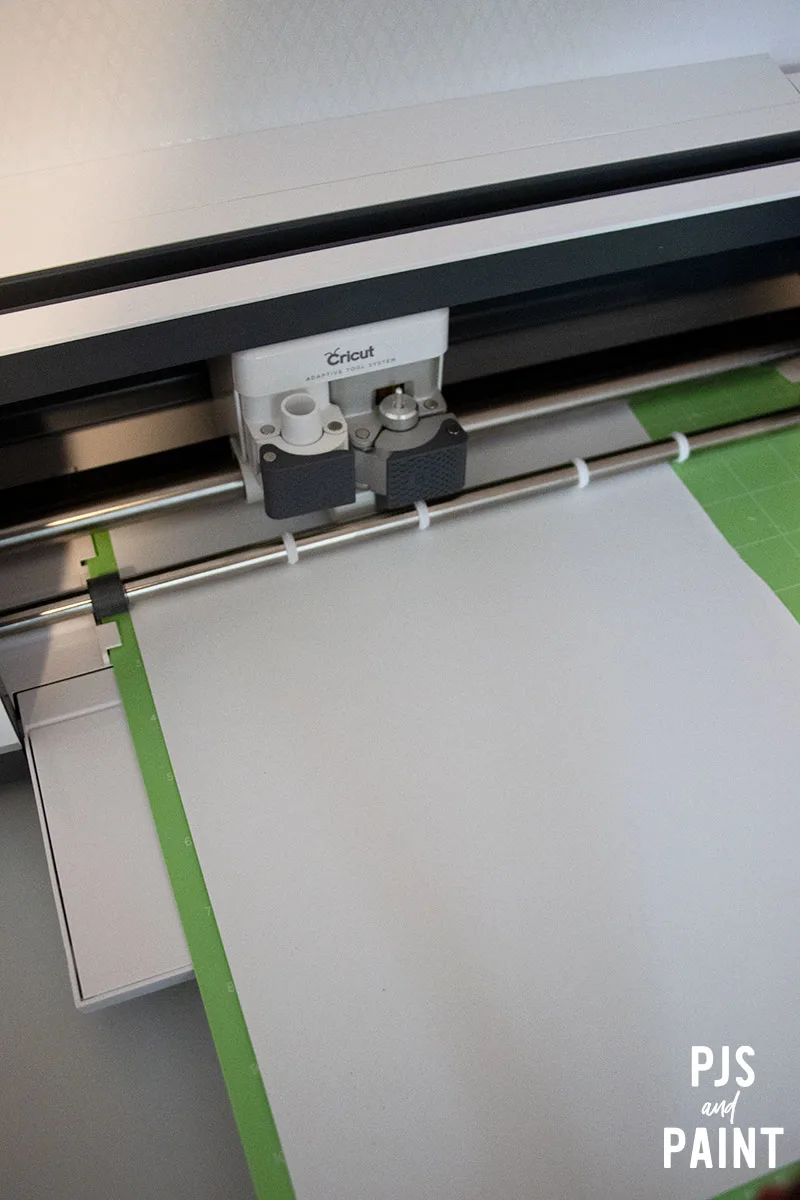 If you happen to like my design, I have the SVG available for sale in my shop. You can find it here.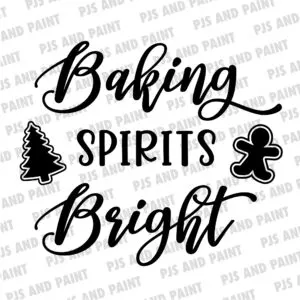 Here are a few quick Cricut tips:
Place the vinyl with the shiny side down. Essentially, make sure you are cutting the backside of the vinyl.
Make sure to mirror your design. Since you are cutting on the backside of the vinyl, you will be flipping it over before transferring so you will want to make sure your image and wording is flipped.
Next, weed your design and pick out all of the pieces. I always find this part so satisfying. Here, you can see that I am actually using the Cricut BrightPad.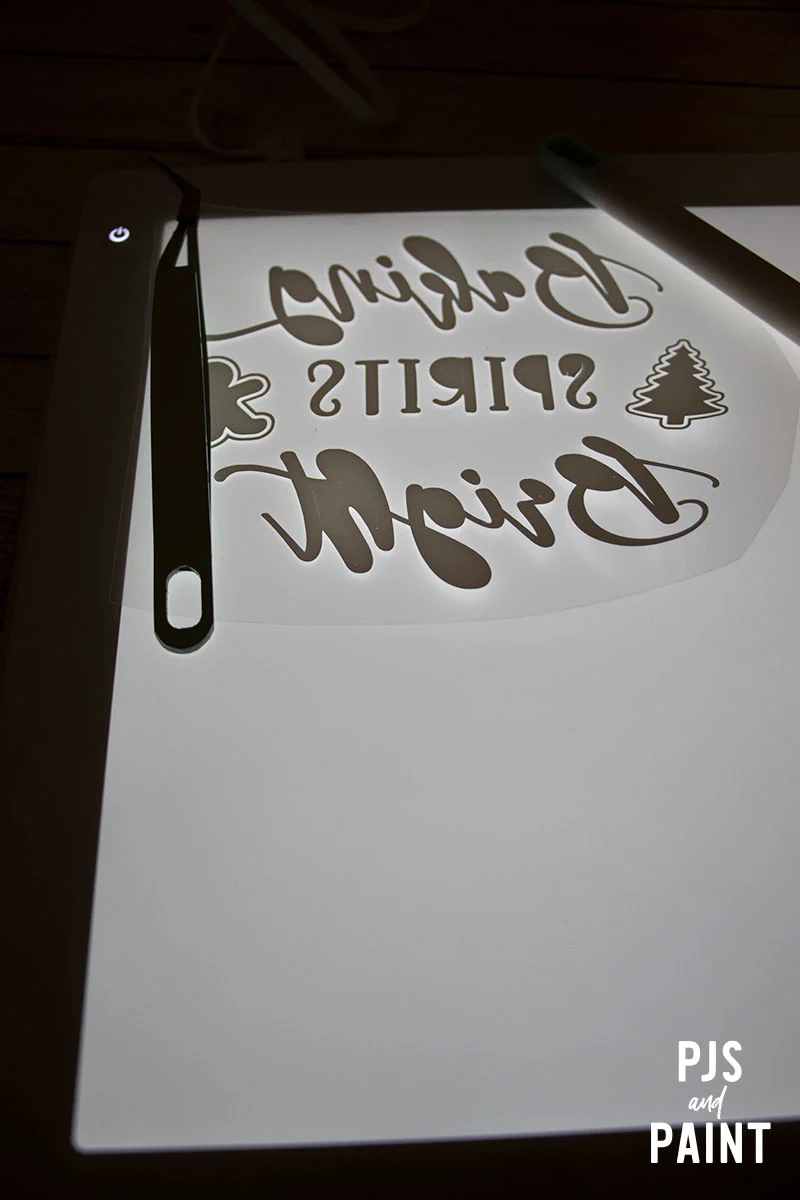 This is totally not necessary for this project, but my husband bought me one for my birthday and I have come to LOVE it! It makes weeding small designs so much easier by being better able to see all of the cut lines.
Once the vinyl is weeded out you will have a mirrored image of your design.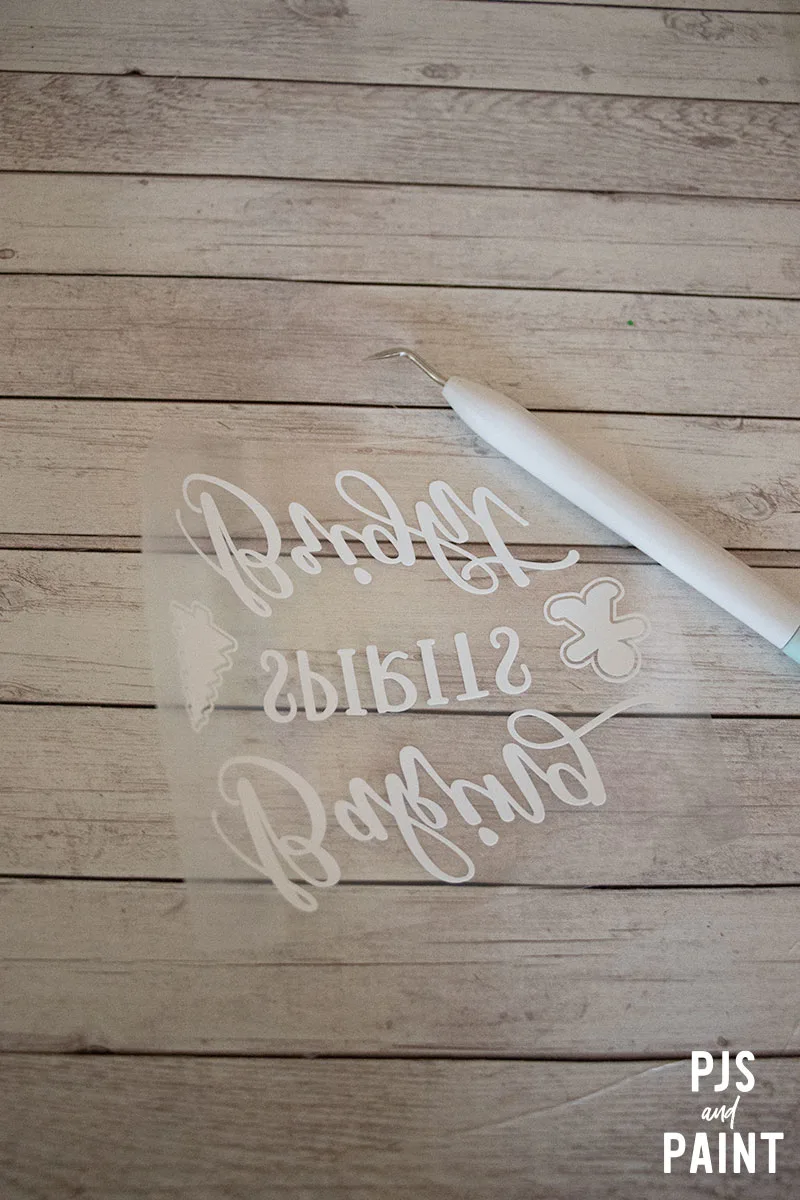 Place the vinyl down on the pot holder and begin the heat transfer process. Personally, I don't have a heat press yet and so I just used a regular home iron.
Make sure to place something on top of your design such as a Teflon sheet.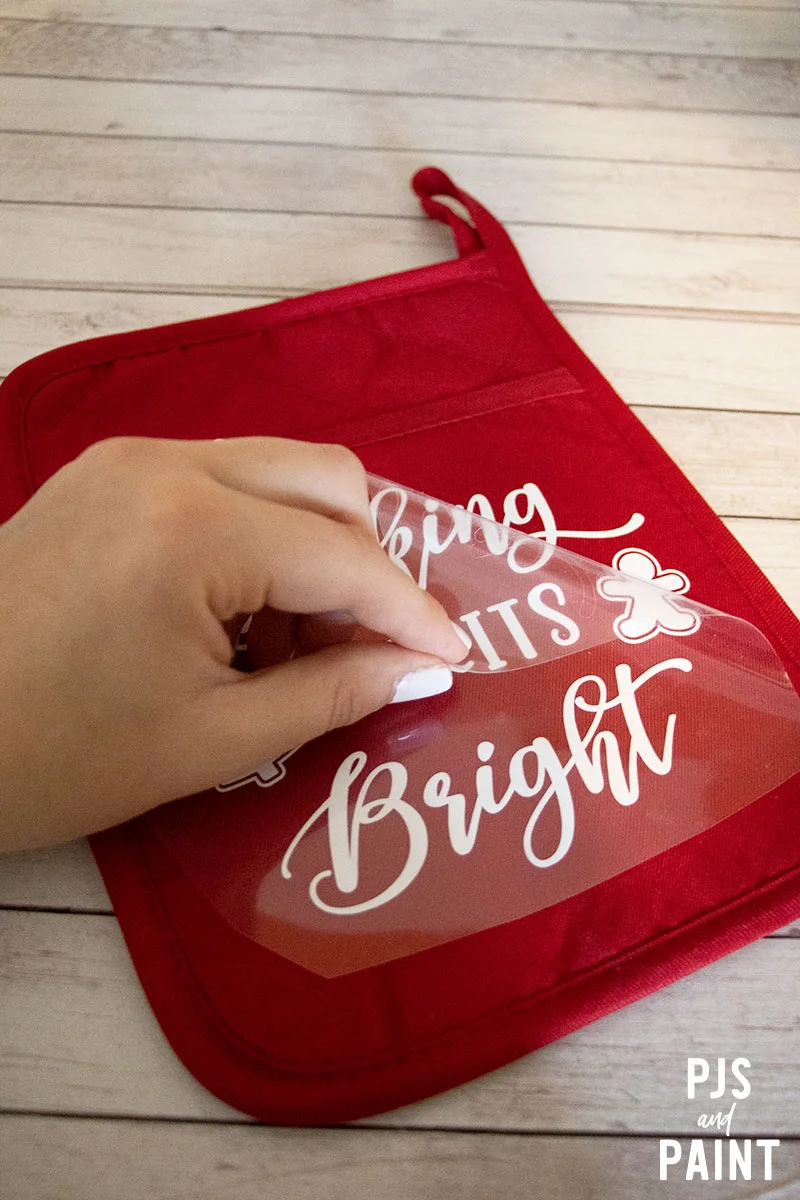 Peel off the clear sheet to reveal your Christmas pot holder design!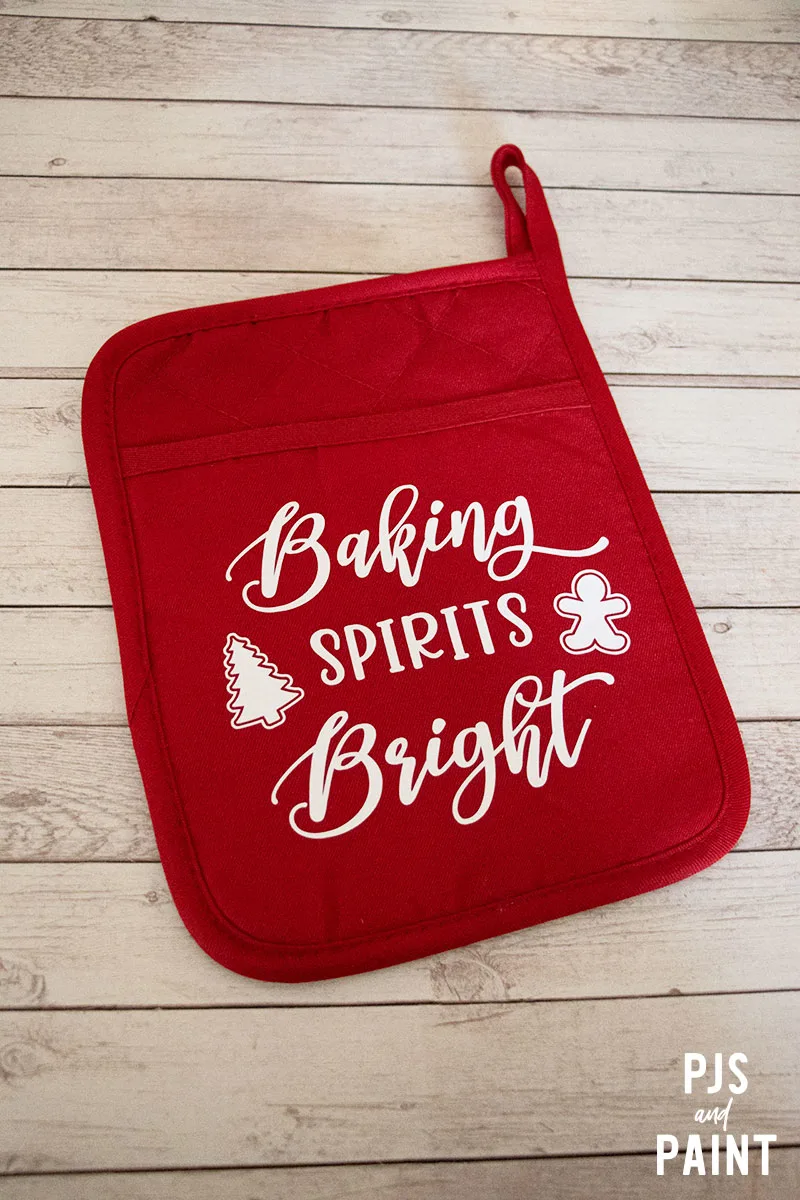 Now, you can add in a cookie mix bag and a spatula if you'd like! I initially tried to fit in a regular box brownie mix but found the cookie and brownie mixes sold in the bag fit much better in the pockets.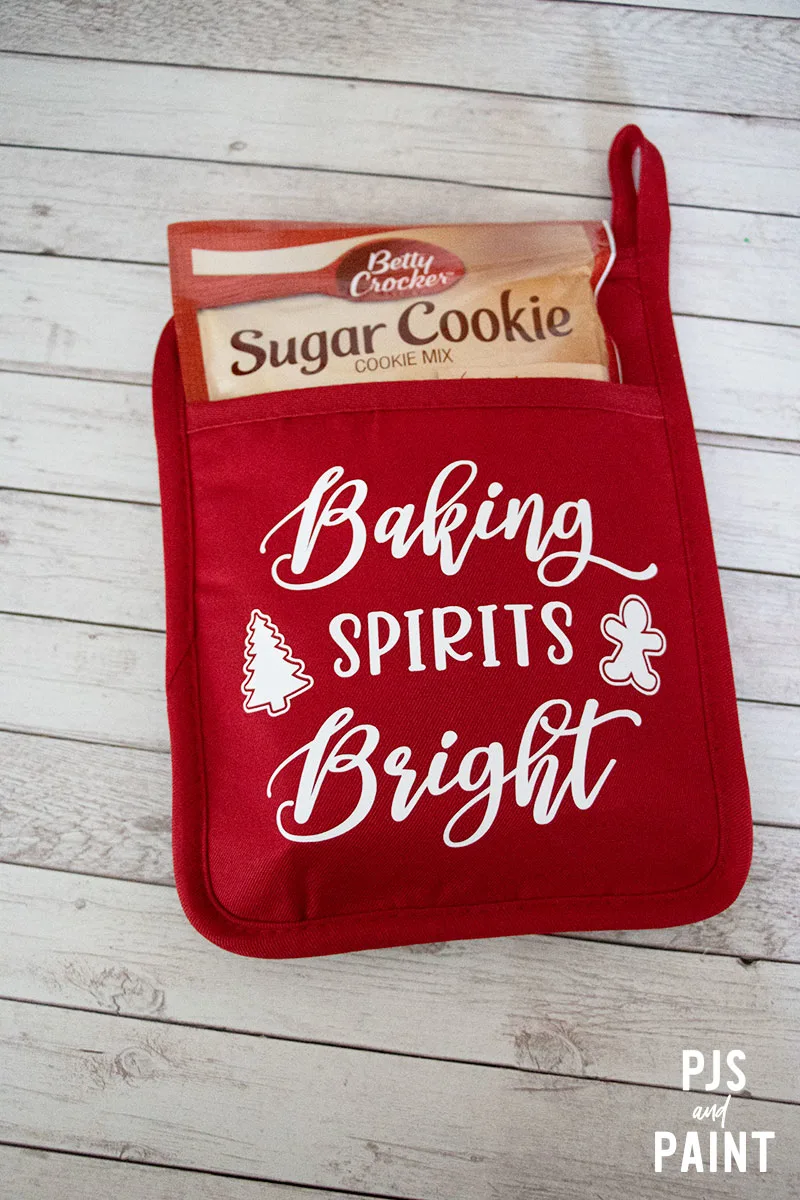 Merry Christmas! I hope you bake many spirits bright this holiday season!
If you enjoyed this post, you may also like to check out some of our other easy DIY gift ideas below:
DIY Chocolate Chip Cookie Mix in a Mason Jar Gift
All you'll need is a mason jar and the free printable recipe tags to create this last minute gift for any cookie lovers on your Christmas list this year.
Free Printable Christmas Wine Bottle Labels
I'm sure you will be attending a ton of Christmas and holiday parties in the upcoming winter months. Make sure you don't show up empty handed! I have created these free printable Christmas wine bottle labels that will add a personal touch to any bottle of wine that you gift this holiday season.
Cookies in a Jar – Teachers Gift
Don't forget to celebrate the teachers this holiday season! You can easily put together these cookie mix in a mason jar gifts and add on our free printable "Thanks for making me one smart cookie" tag.