Learn how to make this absolutely adorable toilet paper roll dog. With minimal supplies, you can easily put together this cute dog craft that your kids will be sure to love. This is a great way to recycle not only toilet paper rolls but paper towel rolls as well. Create multiples to form a fun puppy dog family!
I have been very into coming up with fun ways to reuse toilet paper rolls and paper towel rolls lately. Sometimes I'll give them to my toddler to use as a sword or a telescope. Other times we will make festive napkin holders for the holidays. But recently we have been making cute little animal toys out of them!
One thing that I especially love about these types of crafts is that they are very inexpensive to make and come out absolutely adorable! In most cases, you probably already have all the materials you need at home.
And not only do you get to work on a fun creative project with your child or children, but they get a new toy to play with out of it as well.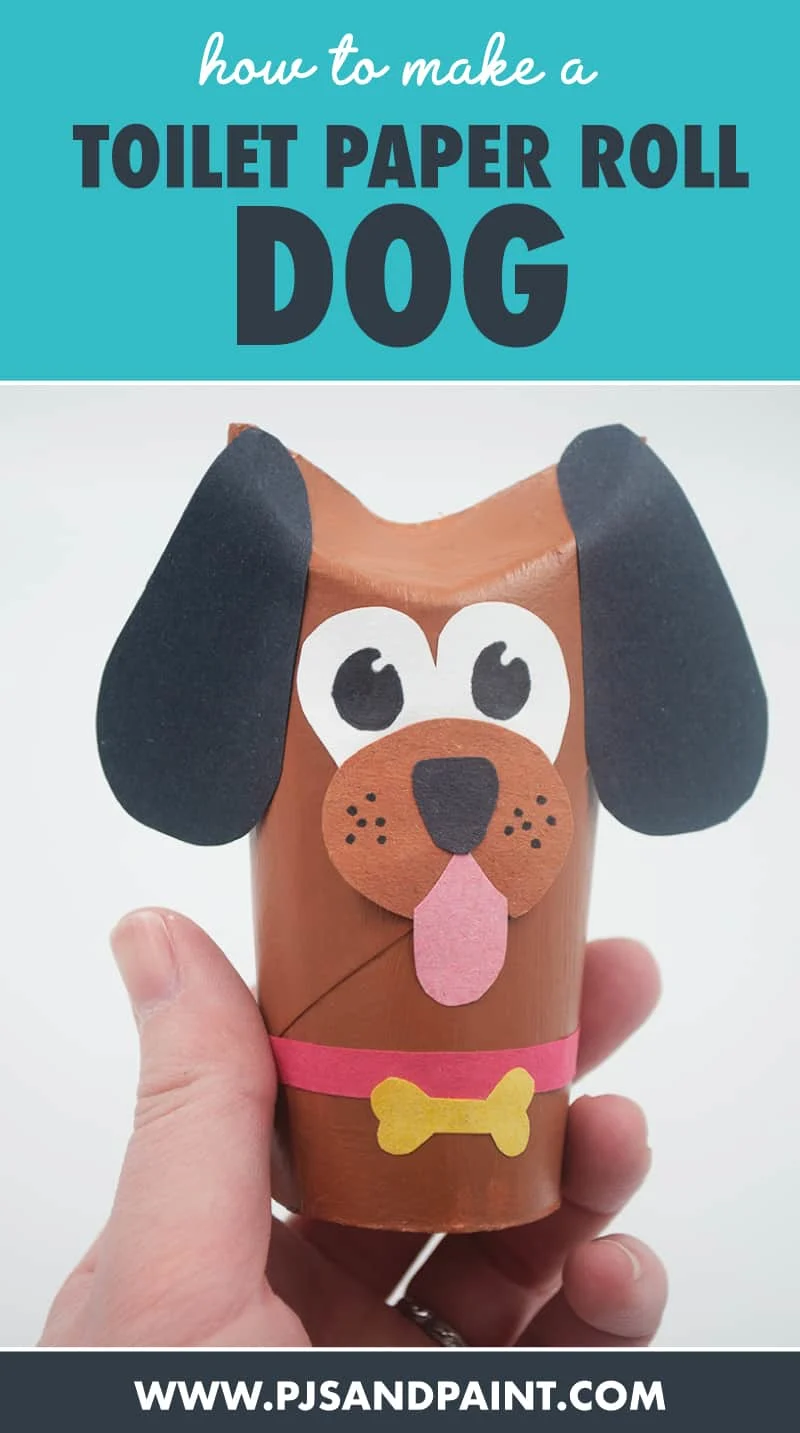 Disclaimer: This post contains Amazon affiliate links. This means that at no extra cost to you, I may earn a small commission if you decide to make a purchase.
As much as I love paintings and more artwork oriented crafts, (I was a fine art major so I definitely have a huge appreciation for that type of work!) with kids, sometimes it can be really fun for them to gain a new "toy" out of the project as well.
It's also great for kids to know that they can be creative make their own toys out of things they never would have expected. They start to learn how to think outside of the box and reuse and recycle items in a way they may not have throught of before. It is also a fantastic alternative to going to the store and buying a new toy!
In my household, none of the crafts we make tend to last very long. Pretty much immediately after I took photos of this toilet paper roll dog, my son giggled uncontrollably as he "ripped off doggy ears mom!" Hey, at least he's having fun!
Today, I'm excited to share with you my simple and fun toilet paper roll dog craft. All you need is a toilet paper roll (or a paper towel roll), some paint and construction paper.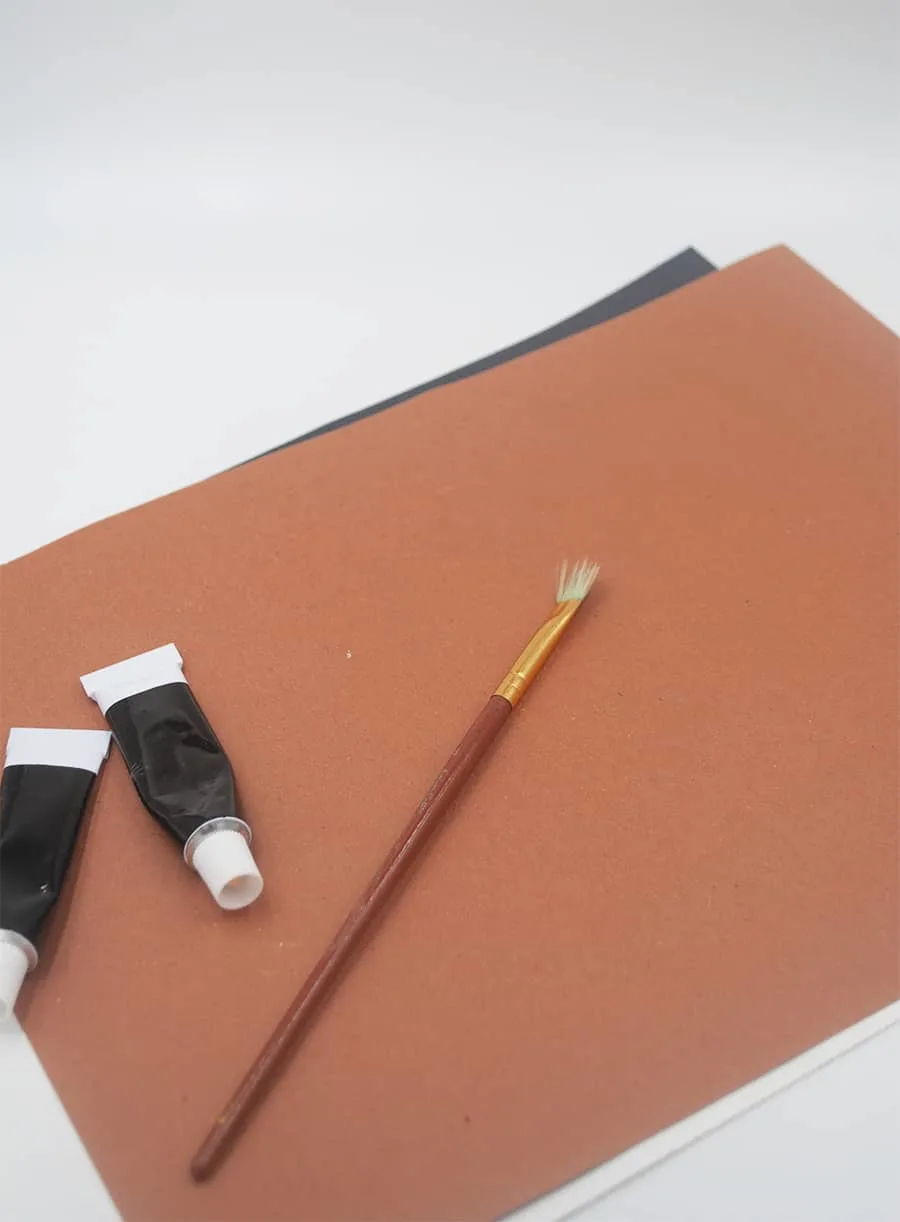 Supplies needed:
Toilet paper roll (Feel free to use a paper towel roll instead. I would just recommend cutting it in half or in thirds)
Construction paper (I used brown, black, white, pink, red and yellow. However, feel free to make your dog any color you'd like!)
Paintbrush
Brown paint (Or any other color you would like to make your dog!)
Black marker
Scissors
Glue
Quick note: If you are starting with a paper towel roll as opposed to a toilet paper roll, you may want to cut it in half or in thirds before beginning the project. Feel free to use the entire toilet paper roll if you'd like, you will just come out with a super tall doggy!
If using a paper towel roll, I think it would be fun to make multiples of the project and create a cute dog family.
The first thing you'll want to do once you have your paper roll ready to go, is fold down the top to create the top of the dogs head. You can do this by pushing down the top portion of the toilet paper roll on the front side and back side.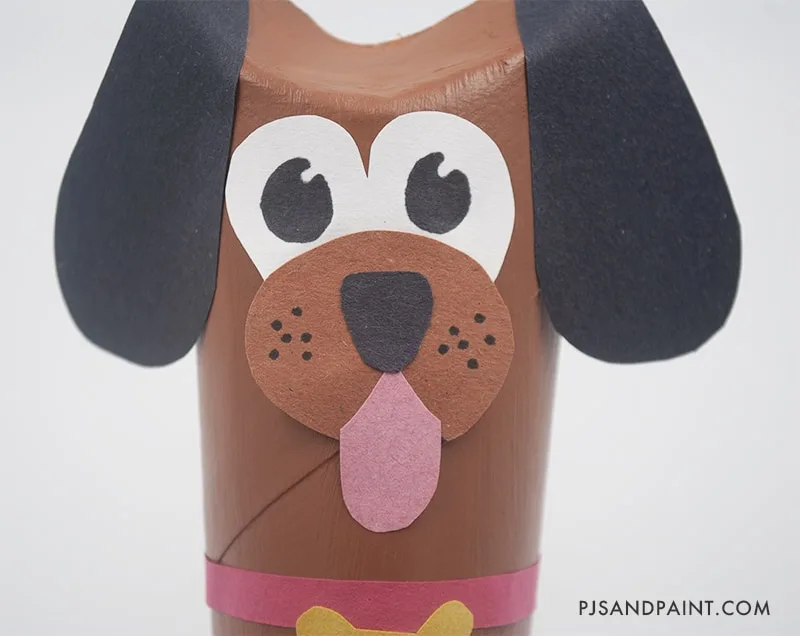 Next, I painted the dog a medium shade of brown. However, feel free to paint your dog any color that you would like. Be creative and have fun!
Personally, I tried to match the brown color to the shade of brown construction paper that I had available. This way the dogs snout.
Paint the entire toilet paper roll your chosen color and let dry. Depending on the thickness of your paint you may need to paint a few coats to ensure that none of the original toilet paper roll color shows through. Mine actually happened to be white underneath so it acted as a nice primer!
While the paint is drying, you can get started cutting out the construction paper portions of the dog.
Using black construction paper I cut out two large floppy ears and the dog's nose. I used brown to cut out an oval for the dogs snout, white for the eyes and pink for his tongue. I then cut out a small strip of red construction paper for his color and a yellow bone shape for his collar tag.
Once the brown paint was completely dried, I began gluing on the rest of the dogs face. I began with the whites of the eyes. Before gluing, I added in his pupils using a black marker.
After the eyes were attached I glued on the dogs black nose to the center of his snout. I then took a black marker and drew on a few black spots on his snout. Finally I attached a pink tongue to his mouth and then it was ready to be glued onto the dog's face!
When attaching the dog's snout, I actually only put a line of glue down the center of the back of the snout and tongue. You can feel free to glue the entire piece down if you would like. I just thought it looked kind of cool to have the sides of the dog's snout sticking out a bit and not entirely glued down. I thought it gave the project a little bit of extra dimension!
I then added a line of glue on the back of one side of the dog's ear and also in the top section. Placing some glue along the side allows the ear to lay down a bit more flatly (Is flatly a word? Well, now it is!) Repeat on the other side to attach the puppy's second ear.
Finally, it was time for the collar! I chose a red strip of construction paper for the collar and then cut out a small yellow dog bone for the dog tag.
If you would like, it might also be fun to take a black pen or marker and write down the doggy's name on the tag.
And that is all there is to it! You know have a super cute toilet paper roll dog!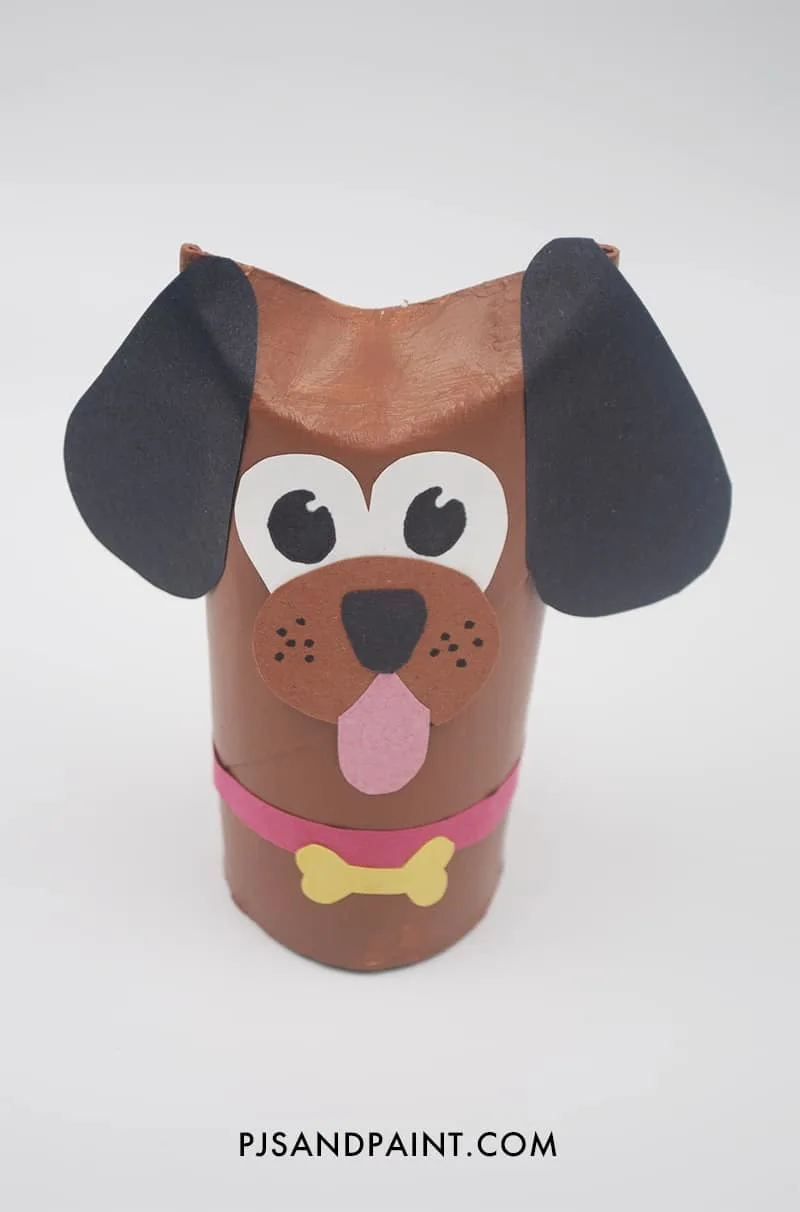 If you enjoyed this craft, you might be interested in checking out our other fun toilet paper roll projects below:
Toilet paper roll elephant
Learn how to make this adorable toilet paper roll elephant using construction paper, glue and a black marker. It's super easy and turns out really cute! Click here to view the full tutorial and download the free template files.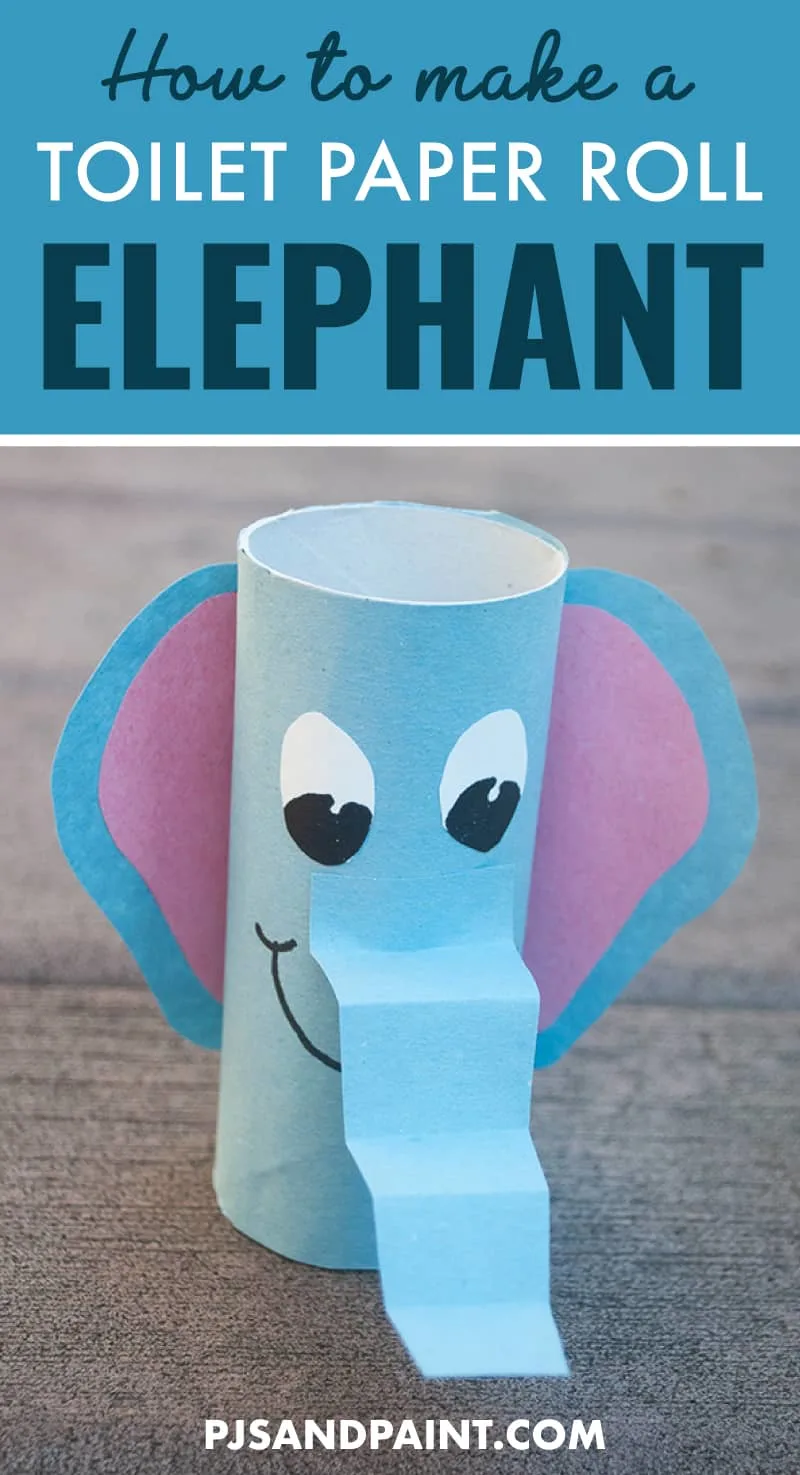 Toilet paper roll monster
In this fun tutorial, learn how to make super cute toilet paper roll monster using paint, pipe cleaners and google eyes. It's super easy and turns out really cute! Click here to read the full blog post.