This free printable Halloween bingo is a great game to play to get everyone into the spooky spirit! Kids and adults alike will have a blast playing this classic bingo game with a fun Halloween twist. This would even make a great activity to play in a classroom with students or during a holiday party.
I have put together this free printable Halloween bingo game set that is totally free to download, print, and play over and over again, year after year.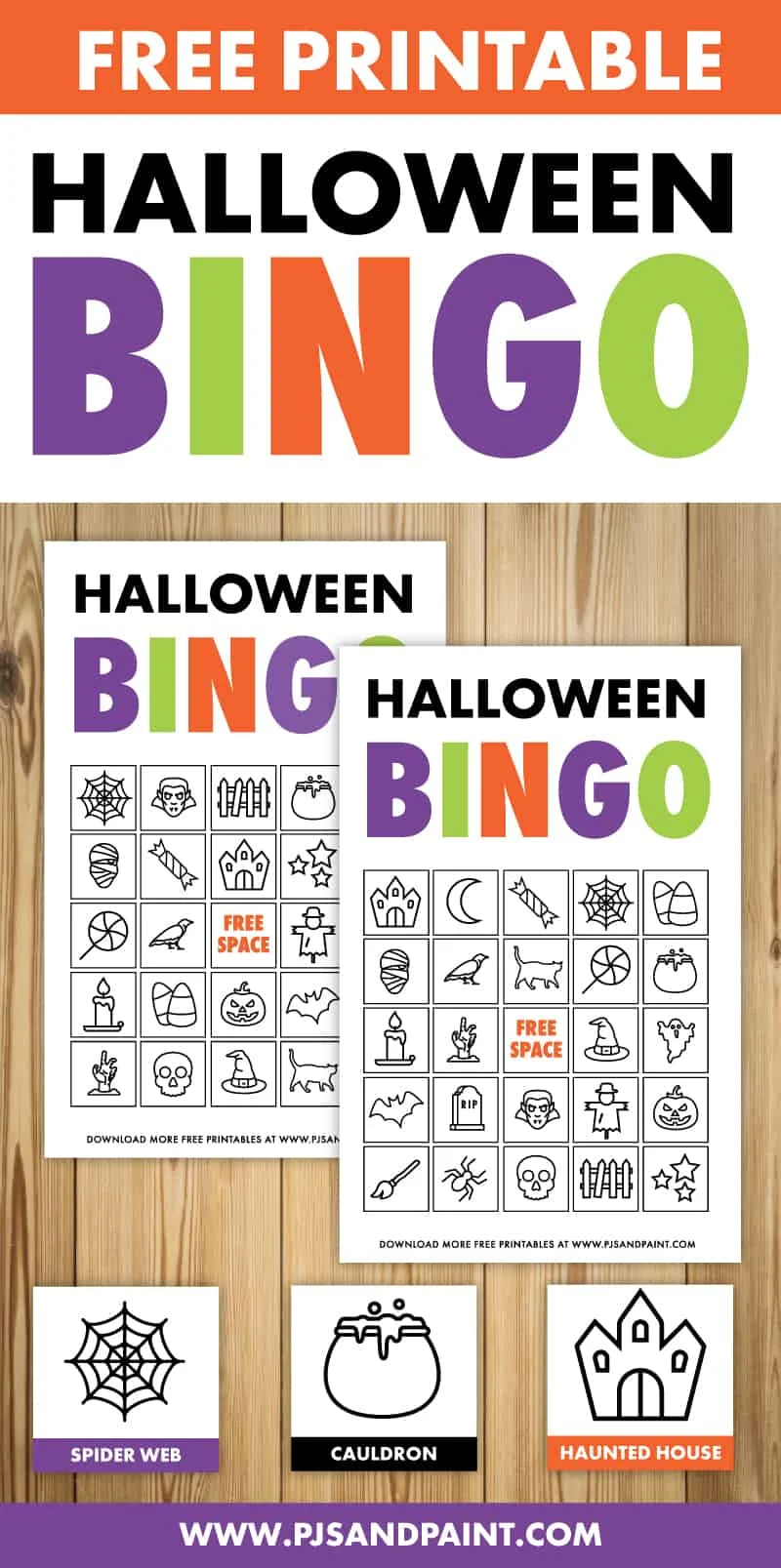 Disclaimer: This post contains Amazon affiliate links. This means that at no extra cost to you, I may earn a small commission if you decide to make a purchase. For more information, please feel free to read the affiliate disclosure on our privacy policy page.
Free Printable Halloween Bingo Cards
1 instruction sheet
2 pages of calling cards
8 pages off bingo cards with 2 games per pate for a total of 16 different cards.
3 pages of markers (Bingo chips). Print multiples of these pages depending on how many people will be playing.
All pages are sized to fit onto standard 8.5×11 inch pieces of paper. For the highest quality, I would definitely recommend printing everything out onto white cardstock. After printing, you can easily cut out the calling cards and game cards using a paper cutter or scissors. This is the paper cutter that I currently have on my desk and it definitely gets a ton of use!
I have created 16 different card variations. This means that you can play Bingo with a group of up to 16 people. Or, if you don't have 16 players, you can also play multiple bingo rounds with just one set of cards.
Please feel free to download and print as many copies of the bingo set as you would like. However, please do not edit or redistribute the files in any way. These bingo cards are designed for personal or classroom use only.
Tip: For the absolute best quality, I would highly recommend laminating the cards so that they will be more durable and be able to be reused during Halloween time for years to come.
This is the home lamination machine that I have and I absolutely love it! I definitely look for any reason I can find to laminate everything in sight!
An added benefit to laminating your bingo cards would be that you could also use dry erase markers to mark an X on each space as it is called out. You can easily wipe away the X's each round and you could play over and over again, even with a large group of people.
How to play:
1. First, one person should be designated as the caller. This person will not need a bingo card in this round. The caller should shuffle the stack of calling cards before beginning the round.
2. Next, hand out a bingo card to each player. Everyone should also be given some type of marker to place onto the game board spaces as the items are called out.
I have included some printable markers that you can cut out as use. If you choose to use the printable bingo chips included in the free download, I would recommend using a 1 inch hole punch to make cutting them out much simpler!
As another option, you could also use anything from M&Ms to candy corn, to coins. If you are only planning on playing one round, or want to print multiple sets of cards, you could also use a pencil, pen, marker or crayon to make an X right on the bingo card itself.
3. The designated caller will now choose one card out of the pile at random and then announce it to the bingo players. Each player should place a marker on that space on their boards. The first player to get 5 in a row, wins! I have included some cool Halloween themed prize suggestions at the bottom of this post.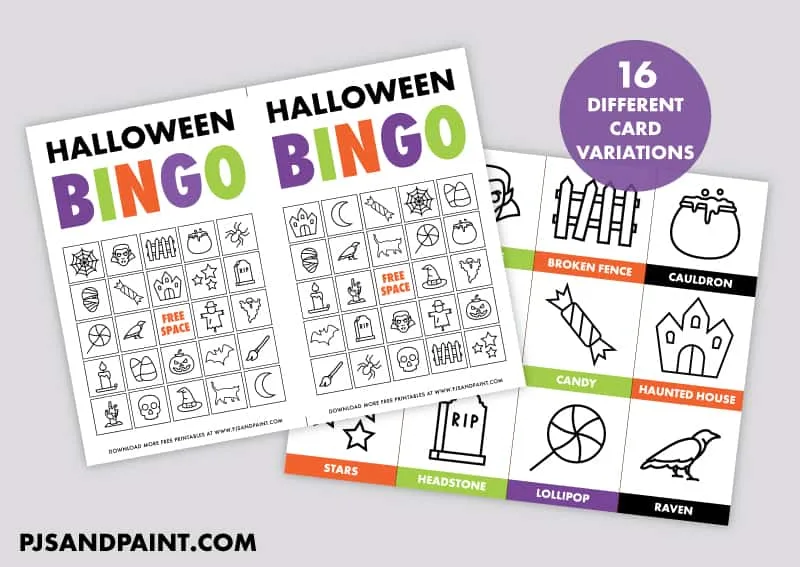 Here are a few prize ideas:
Assorted Stamps
These super cool self-ink stamps come in 25 different designs. With witch hats, spiders, pumpkins and more, they would make perfect Halloween themed bingo prizes!
Halloween Glasses
These fun novelty Halloween glasses would be great for bingo prize winners of all ages.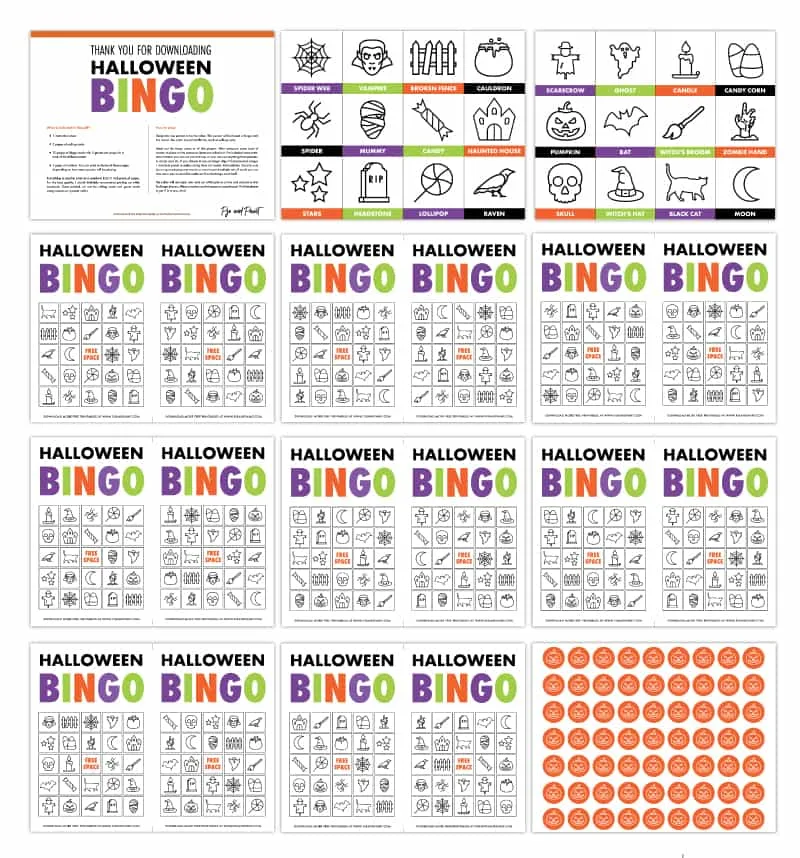 If you enjoyed this game, you might also enjoy some of our other free printable Halloween games and activities.
Free Printable Halloween Crossword Puzzle
This crossword puzzle features 13 clues to help you fill in the puzzle below. It can be a great activity for a holiday party, in the classroom or simply something to do at home on a rainy day. Click here to read the full blog post and download the game files.
Free Printable Halloween Word Search
Get into the spooky spirit this upcoming October with this fun word search. Featuring 15 Halloween themed words to search for. View the full blog post and download the game files here.
Free Printable Halloween Word Scramble
This game features 12 Halloween themed words to try and unscramble. With both long and short words included, this activity is great for a variety of ages. Click here to read the full blog post and download the game files.
Free Printable Halloween I Spy Game
Kids and adults alike will have a great time searching for 8 Halloween themed pictures in this fun I Spy game. The object of the game is to count how many of each type of image you can find and write down the correct number on the lines next to each image. If you'd like to add a fun creative element, you could even have your kids color in each pictures as they go along. View the full blog post and download the game files here.

By entering your email address you will be receiving the free digital file as well as subscribing to our weekly email newsletter. You may unsubscribe at any time.