Last Updated on
Thanksgiving Bingo is a fun game to play while waiting for dinner to be ready. Kids and adults alike will have a blast playing this classic game with a fun Thanksgiving twist. It would even be a great classroom activity to play with students or during a holiday party.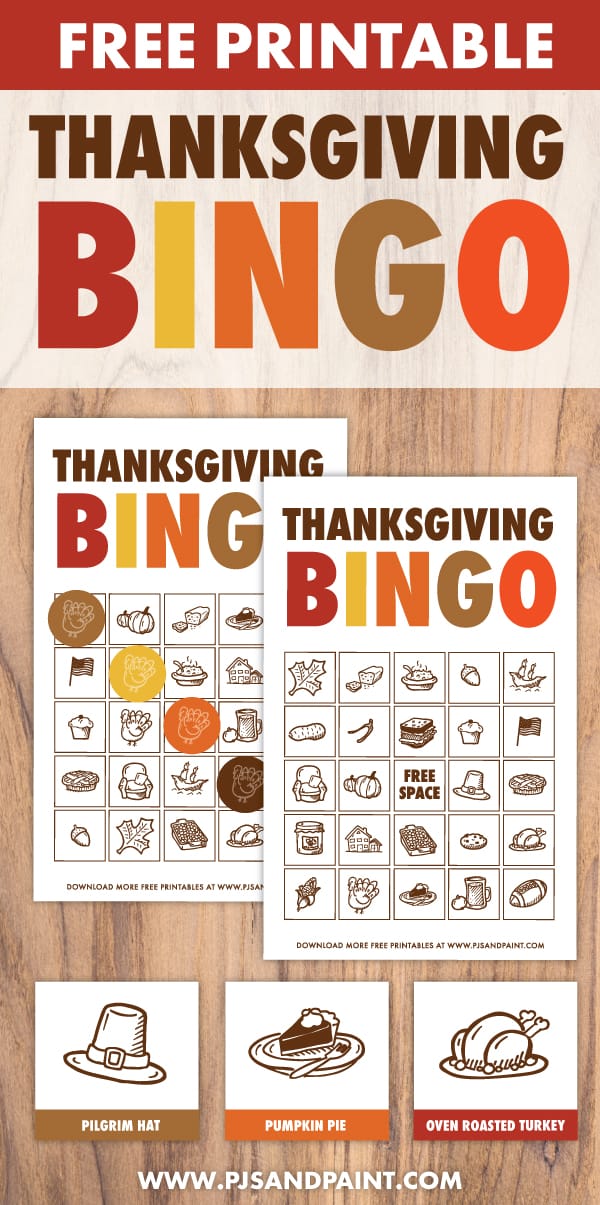 Disclaimer: This post contains Amazon affiliate links. this means that at no extra cost to you, I may earn a small commission if you decide to make a purchase.
I've put together these free printable Thanksgiving bingo game set that is completely free to download, print, and play as many times as you'd like!
Thanksgiving Bingo Cards
What is included in the pdf download:
1 Instruction sheet
2 Pages of calling cards
15 pages of Bingo cards with 2 games per page for a total of 30 different cards.
3 page of markers ("Bingo chips") Print multiples of these pages depending on how many people will be playing
Everything is sized to print on a standard 8.5×11 inch piece of paper. For the best quality, I would definitely recommend printing on white cardstock. Once printed, simply cut out the calling cards and game cards using scissors or a paper cutter.
For the very best quality I would also recommend laminating the cards so they will be more durable and be able to be reused for years to come! This home laminating machine from Amazon would be perfect for this.
How to play:
Designate one person to be the caller. This person will not need a bingo card this round. The caller should shuffle the stack of calling cards.
Hand out the bingo cards to all the players. Give everyone some type of marker to place on the spaces as items are called out. I've included some printable markers you can cut out and use or you can use anything from pennies, to candy corn etc. If you choose to use my bingo chips I'd recommend using this 1 inch hole punch to make cutting them out easier. Alternatively, if you're only planning on playing one round, or want to print multiple sets of cards you can also use a pen or pencil to make an X on the bingo card itself.
The caller will now pick one card out of the pile at a time and announce it to the bingo players. Place a marker on that space on your board. The first player to get 5 in a row, wins! Scroll down to the bottom to see my bingo winner prize suggestions!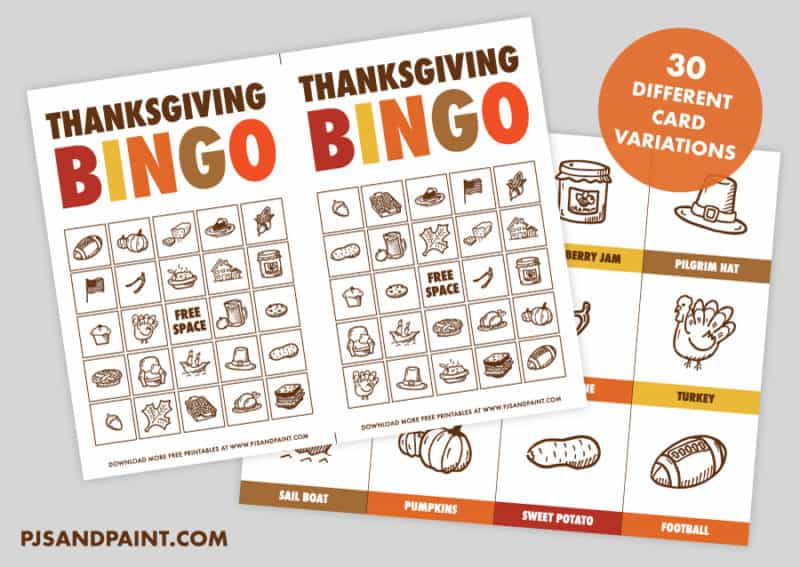 Download Thanksgiving Bingo PDF
Bingo winner prize suggestions: