Thanksgiving Bingo is a fun game to play while waiting for dinner to be ready. Kids and adults alike will have a blast playing this classic game with a fun Thanksgiving twist. It would even be a great classroom activity to play with students or during a holiday party.
I've put together these free printable Thanksgiving bingo game set that is completely free to download, print, and play as many times as you'd like!
I have such great memories of playing bingo as I was growing up. My elementary school had a huge bingo event once a year. It was something my friends and I always looked forward to.
Tons of long tables filled up the school's gym, families were packed in, basically sitting on top of each other, and there were bingo cards and chips all over the place. Thinking back, it was a bit of a mess but as a kid, it was such an exciting night.
And don't even get me started on the prizes! The school was not messing around here. If you got bingo, a teacher or volunteer would come over and check your card. If everything checked out you were given a ticket to take to the general purpose room down the hall. There, there was a long table filled with buckets and baskets of prizes you could choose from. Everything from small toys, to candy, to art supplies. It was a kid's dream!
During the bingo event, there were teachers walking around with raffle tickets. My parents would always buy a bunch of tickets for us and we would have so much fun waiting for the ticket number to be drawn and find out if we won one of the huge gift baskets that were being raffled off.
Needless to say, I absolutely loved bingo night and I'm happy to say I still love playing the game. And that is why I've created this free printable Thanksgiving Bingo set, ready for you to download and play this upcoming holiday!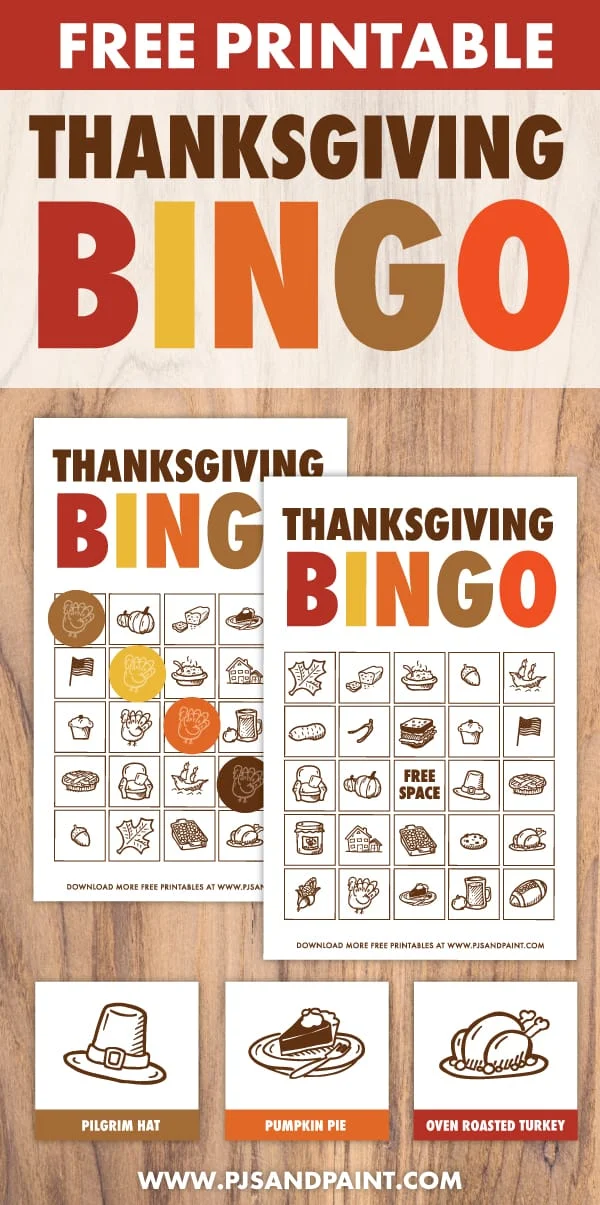 Disclaimer: This post contains Amazon affiliate links. this means that at no extra cost to you, I may earn a small commission if you decide to make a purchase.
Thanksgiving Bingo Cards
What is included in the pdf download:
1 Instruction sheet
2 Pages of calling cards
15 pages of Bingo cards with 2 games per page for a total of 30 different cards.
3 page of markers ("Bingo chips") Print multiples of these pages depending on how many people will be playing
Everything is sized to print on a standard 8.5×11 inch piece of paper. For the best quality, I would definitely recommend printing on white cardstock. Once printed, simply cut out the calling cards and game cards using scissors or a paper cutter. This is the paper cutter that I am currently using for all of my projects and I can definitely recommend it!
I've included 30 different card variations. This means that you can play with a group of up to 30 people. Alternatively, if you don't have 30 players, you can easily play multiple bingo rounds with just one set of cards.
Feel free to download and print as many of the bingo sets as you would like. However, please do not edit or redistribute the files in any way. The bingo cards are designed for personal use only.
Tip: For the very best quality print I would also recommend laminating the cards so they will be more durable and be able to be reused for years to come! This home laminating machine from Amazon would be perfect for this. An extra benefit to laminating your cards would be that you could use dry erase markers to mark an X on each space as it is called out. Simply wipe away the X's each round and you could play multiple times, even with a large group of people.
How to play:
First, designate one person to be the caller. This person will not need a bingo card this round. The caller should shuffle the stack of calling cards very well before starting.
Next, hand out the bingo cards to all of the players. Give everyone some type of marker to place on the spaces as items are called out. I have included some printable markers you can cut out and use. Alternatively, you can use anything from pennies, to candy corn to M&Ms. However, if you choose to use my bingo chips I'd recommend using this 1 inch hole punch to make cutting them out easier. Alternatively, if you are only planning on playing one round, or want to print multiple sets of cards you can also use a pen, pencil, marker or crayon to make an X on the bingo card itself.
The caller will now pick one card out of the pile at a time and announce it to the bingo players. Place a marker on that space on your board. The first player to get 5 in a row, wins! Scroll down to the bottom of this post to see my bingo winner Thanksgiving themed prize suggestions!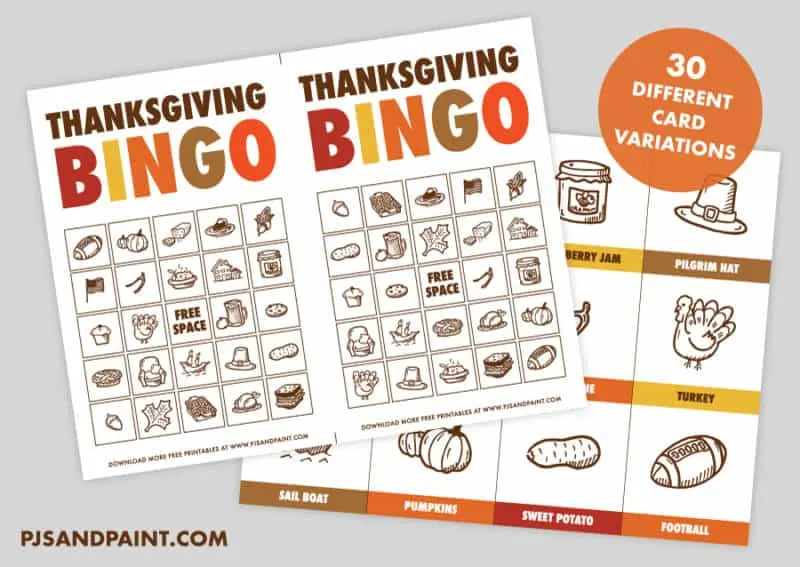 Download link is located at the bottom of this post.
Here are a few of my favorite bingo winner Thanksgiving themed prize ideas:
Check out these other great free printable Thanksgiving games and activities for kids:
Free Printable Build a Turkey Coloring Page:
Color and cut out all of the shapes on the page. Glue them together to build your very own turkey! You can even write what you are thankful for this year on the feathers!
Roll a Turkey Game:
Print out the free game board and roll some dice. Using the provided key, fill in the turkeys feathers with M&Ms. When you're turkey's feathers are completed, feel free to eat all of the candy!
Free Printable Thanksgiving Placemat:
This activity and coloring page placemat will be the perfect addition to your Thanksgiving dinner table this year. It will help your kids stay happy, entertained, and keep them sitting in their seats at the same time.
Thanksgiving I Spy Game:
To play the game, count how many of each Thanksgiving themed image you see in the box above. Then, write down the correct number of items next to each image. Featuring pumpkins, pies, leaves and turkeys, this fun I Spy game will be a big hit this holiday season!

Download Link:
Download the Thanksgiving Bingo PDF