Christmas is one of those holidays that seems to take over the entire month. In most stores you go to, it's almost as if the second Halloween is over, you are bombarded with Christmas trees, holiday lights, and everything Santa.
If retail stores are getting in the holiday spirit super early, what's stopping you? Start getting excited about Christmas by playing this fun Roll a Christmas Tree printable game.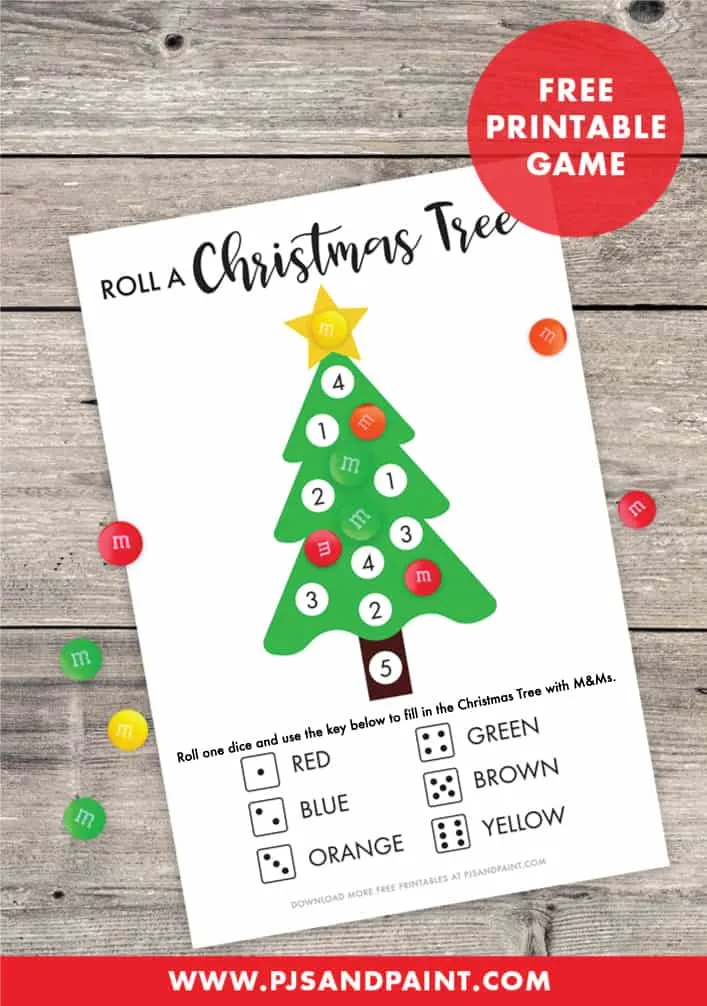 Disclaimer: This post contains Amazon affiliate links. This means that at no extra cost to you, I may earn a small commission if you decide to make a purchase
My son is an extremely picky eater. Most days its a big struggle to get him to eat a meal. However one thing he will always say yes to eating, are M&Ms. He calls them "M's" and it's pretty adorable when he asks me for them. He'll pull me over to the cabinet where he knows we hide the candy and in a sweet little voice say, "Mama, M's please?" How could you say no to that?
A few months ago I had created a fun printable Roll a Turkey game with M&Ms. If you've happened stumble upon this post before Thanksgiving, click here to check it out! It would be a great game to play while you're waiting for dinner to be served.
Since that game was a big hit, I wanted to create a similar one for Christmastime. I mean, any excuse to eat more M&Ms sounds good to me! Both kids and adults will have a great time rolling the dice and decorating the Christmas Tree game board with colorful M&Ms. And as soon as you're done, you get to eat them!
How to play the Roll a Christmas Tree game:
Each player will need a printable game board. Roll one dice and use the key to determine which color M&M should be placed on the Christmas tree. Keep rolling the dice until the entire tree is filled with the correct colors. When the game is over, you can eat all of the M&Ms!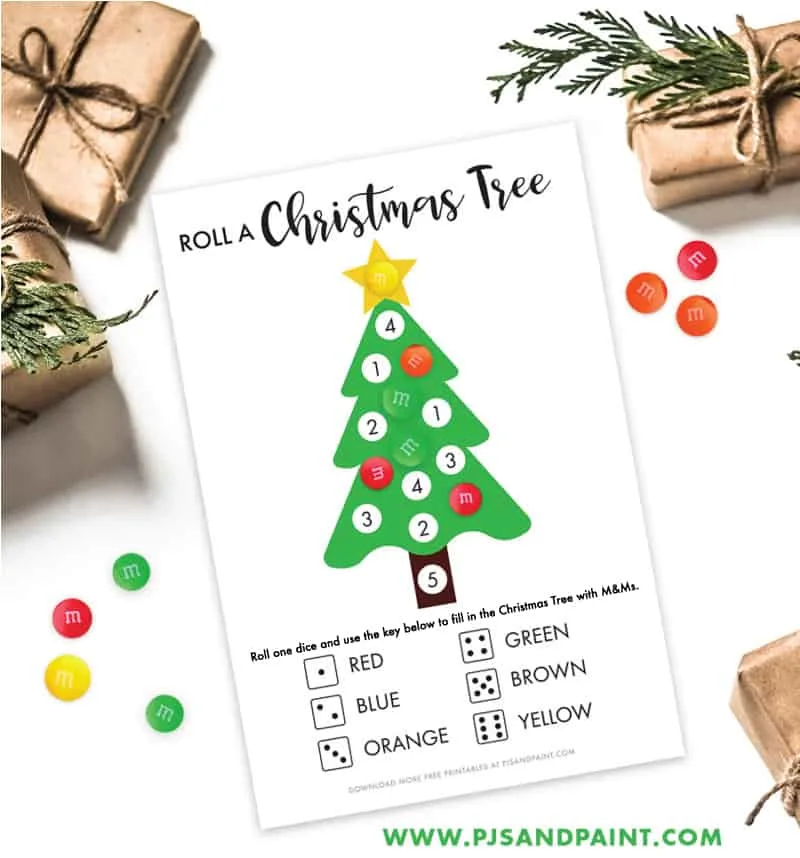 Roll a Christmas Tree – Free Printable Christmas Game
2 game boards will print per 8.5×11 inch page. I would definitely recommend printing on white cardstock for the best quality print. You can use a paper cutter or scissors to cut the two games apart. This is the paper cutter that I am currently using for all of my projects and I can definitely recommend it!
Feel free to print as many game boards as you would like! However, please do not edit or redistribute the game in any way. This game was created for personal use only.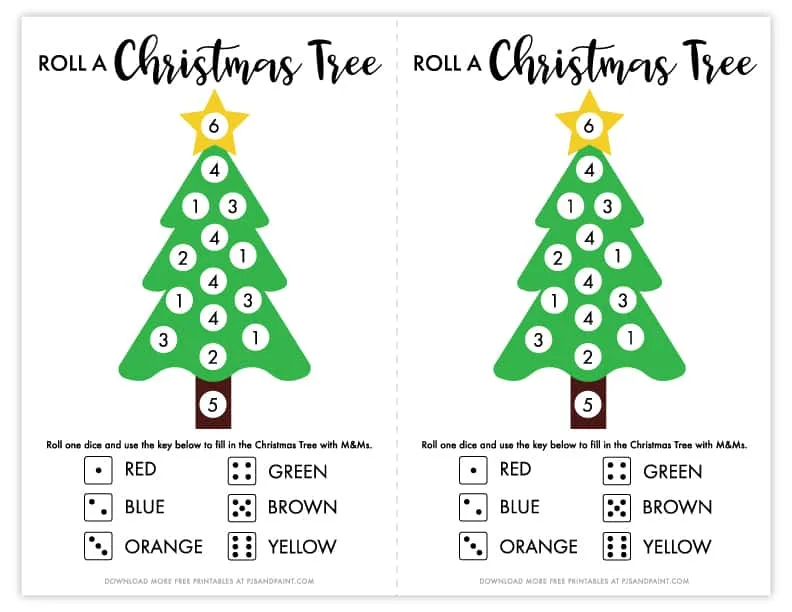 Download link is located at the bottom of this post.
How to make the game more competitive:
The Roll a Christmas Tree game is definitely fun just as it is. However, if you're playing with a large group of friends and family members, you may want to add a little competition to it!
Even if the game was originally geared towards kids, adults can most definitely have a ton of fun playing this game as well. To make it a little more competitive, you can give each person their own dice and a small bowl of M&Ms. Once someone says GO you can have everyone roll their dice and try to fill in the Christmas tree as fast as possible. Whichever person is finished decorating their Christmas tree first gets to eat all the other players' candy!
Don't have any M&M's on hand, or just want a candy-free activity?
No problem! Here's a fun alternative idea, mini pom poms! The rules of the game stay the same except instead of decorating the Christmas tree with M&Ms, glue on mini pom poms. Of course, once the game is over you won't be able to eat the pom poms but I'm sure you can figure out another way to reward the players. Maybe they are free from helping with the post dinner cleanup. Or maybe they can win a small prize. Regardless, everyone will still have a blast playing this fun game on Christmas Eve, Christmas Day, or anytime during Christmas month.. aka December.
Check out these other fun free printable that kids will enjoy playing this holiday season:
Christmas Word Search:
Get excited about the holiday season by working on this fun word search puzzle. Try and find all of the 21 Christmas themed words as fast as you can!
Free Printable Christmas Activity Placemat:
This printable placemat includes a word scramble, a word search game and a large coloring section. It will be sure to keep your kids entertained and out of trouble while waiting for Christmas dinner to be ready.
Christmas I Spy Game – Version 1:
This activity is perfect for keeping everyone busy and having fun on Christmas Day. Have fun searching for the 9 holiday themed items in this I Spy game. Available in full color that will print beautifully!
Christmas I Spy Game – Version 2:
I love I Spy games so much, I designed two this year! Search for and count 8 Christmas themed pictures in the box above. Featuring completely different pictures than version one, this game is available in black and white so you don't have to worry about using up all of your printer ink!
Christmas Word Scramble:
Have fun trying to unscramble these 10 Christmas themed words. And don't worry, you can always peak at the included answer key in case you get stumped.
The Ultimate Santa Printable Bundle:
If you're coming across this post before Christmas Day, here is a great way to make the holiday season even more magical. This free printable set includes everything your children will need to prepare for Santa's visit this year. This set includes everything from writing their wish list to Santa, to a customized door hanger to make sure he knows where to drop off their presents.
Winter activity and coloring page:
And for those who would like a printable activity that is geared towards winter in general instead of the Christmas holiday, this one is for you! Featuring a large word search game, a word scramble and a coloring section, this printable activity sheet would be perfect for a classroom holiday party or at home rainy day activity.

Download Link:
Download the roll a Christmas Tree game.