This Free Printable Adopt a Puppy Activity Kit is an adorable project that kids will love making just as much as they will enjoy playing with after. Featuring a dog house carrier box, a cute puppy and an adoption certificate, it is a great activity for kids of all ages.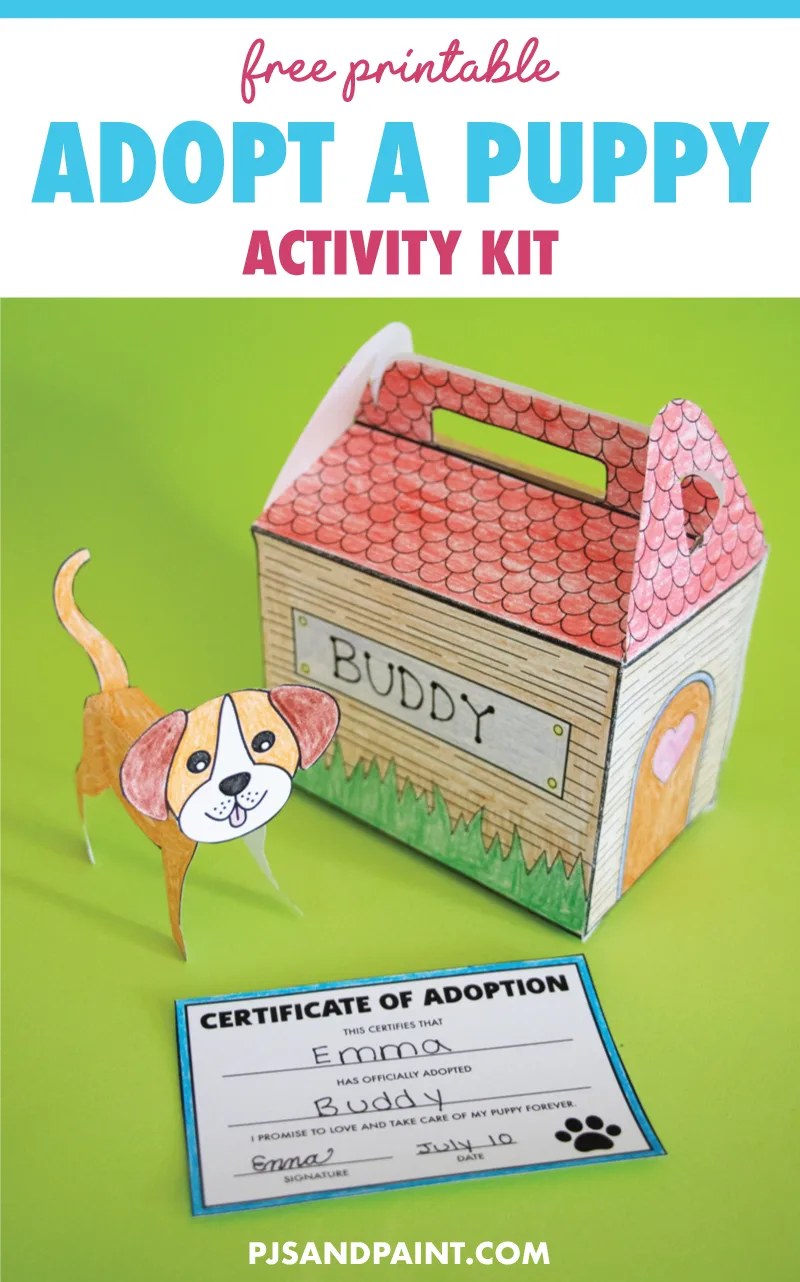 Disclaimer: This post may contain Amazon affiliate links. This means that at no additional cost to you, I may earn a small commission if you decide to make a purchase. For more information, please feel free to read the affiliate disclosure on our privacy policy page.
When I was younger I used to absolutely love making pets out of anything I could find. I would add googly eyes to rocks, put faces onto cups and even make clothes for erasers. It may seem odd, but I have such font memories making these types of "pets" with my friends.
I decided that I wanted to make a pet project that I would have loved creating when I was younger. Today, I'm super excited to share with you this free printable adopt a puppy activity kit. With very minimal supplies, you can not only create your own pet but a carrier box and an adoption certificate as well.
This project is great on it's own but would also be so much fun to incorporate into a birthday party or other group activity. This printable features one puppy. However, if you would like other breeds of dogs, you can check out the full version. It includes 5 different kinds of dogs.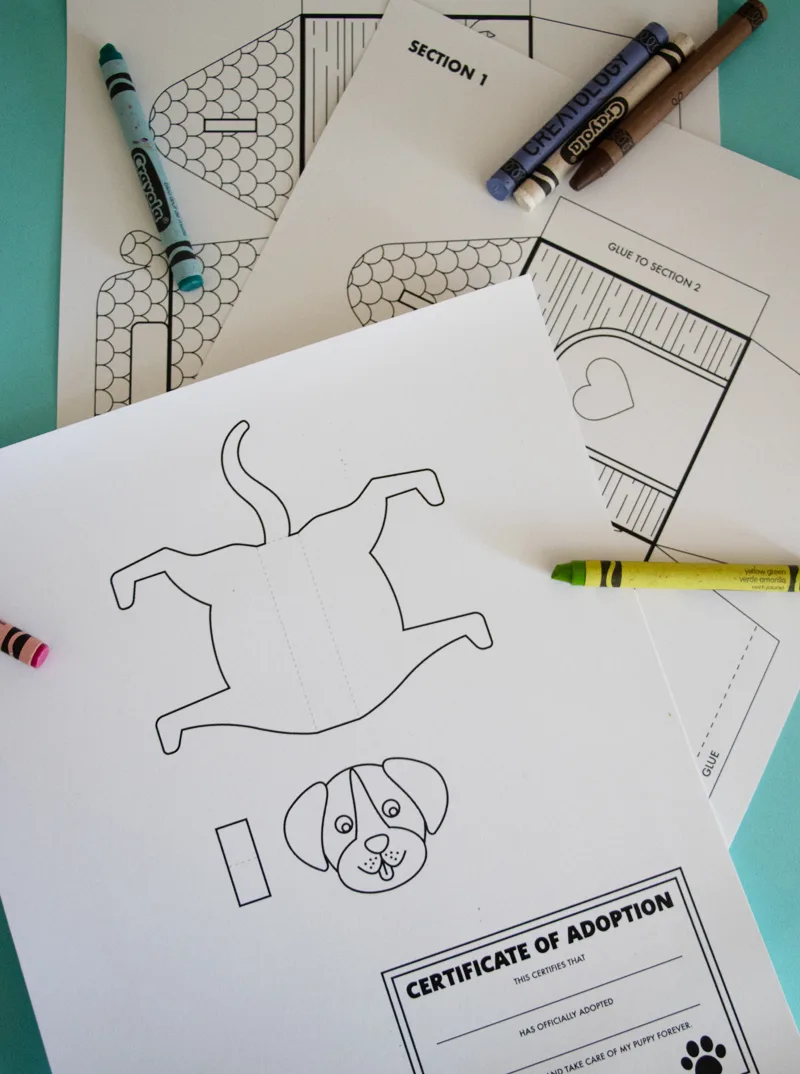 Supplies needed to make one dog, carrier and certificate project:
Free printable template (the download link is located at the bottom of this page)
3 pieces of white cardstock
Crayons, markers or colored pencils
Scissors
Glue
How to use the adoption kit:
Step 1: Print out the templates onto cardstock.
The first step is to print out the carrier box, puppy and adoption certificate templates onto white cardstock. The download link for the template is located at the bottom of this post.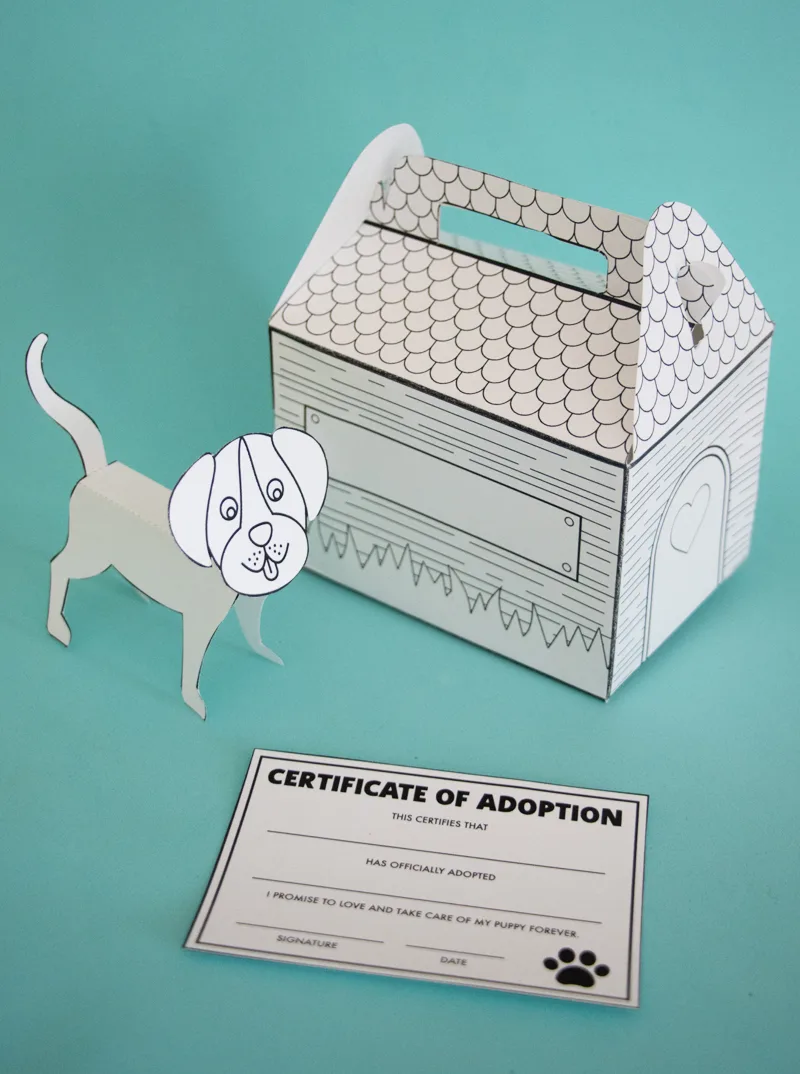 Step 2: Color everything in.
Once printed, use crayons, colored pencils or markers to color in all of the pieces of the carrier box and puppy.
Step 3: Cut out and assemble the carrier box.
The carrier box comes in two sections. Cut both of the sections out and then place them next to each other horizontally. Make sure the section 1 is to the left of section 2. Place glue on the area marked "glue to section 2," then attach the two sections together. After it is dry, begin folding along the bold black lines. Fold into a rectangle and connect at the area marked "glue." Next fold in the two smaller bottom flaps followed by the two larger flaps. Place glue on the bottom flap marked "glue," to secure.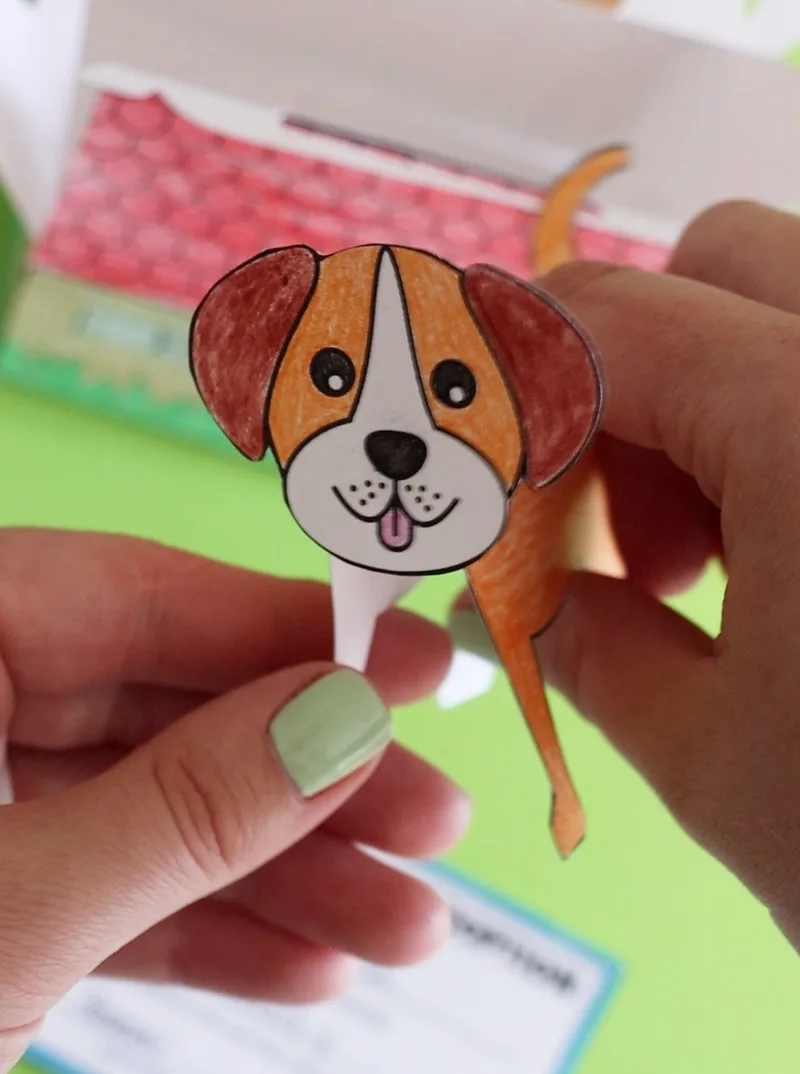 Step 4: Cut out and assemble the puppy.
Cut out the puppy's head, body and the small rectangle tab. Fold the puppy's body along the dotted lines so that it stands up on it's own. Next, attach one side of the folded rectangle tab to the body and the other to the head to attach them together.
Step 5: Fill out the adoption certificate.
Finally, fill out the adoption certificate with your name, your puppy's name, your signature and the date adopted. Congratulations on your brand new puppy!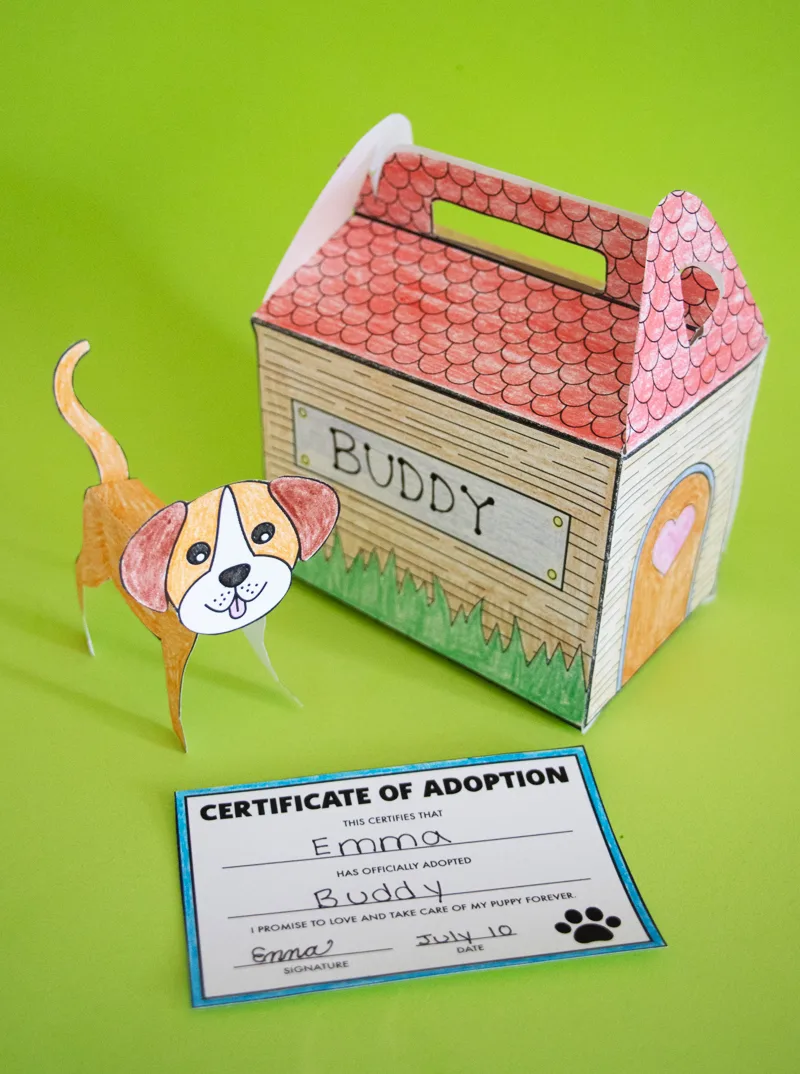 Free Printable Adopt a Puppy Activity Kit
This project was designed to fit onto three 8.5×11 inch pieces of white cardstock. Each template will include two sections of the carrier box, one puppy and one adoption certificate. Please feel free to download ands print as many copies of the activity as you would like. However, please do not edit or redistribute the files in any way. This printable was created for personal or classroom use only.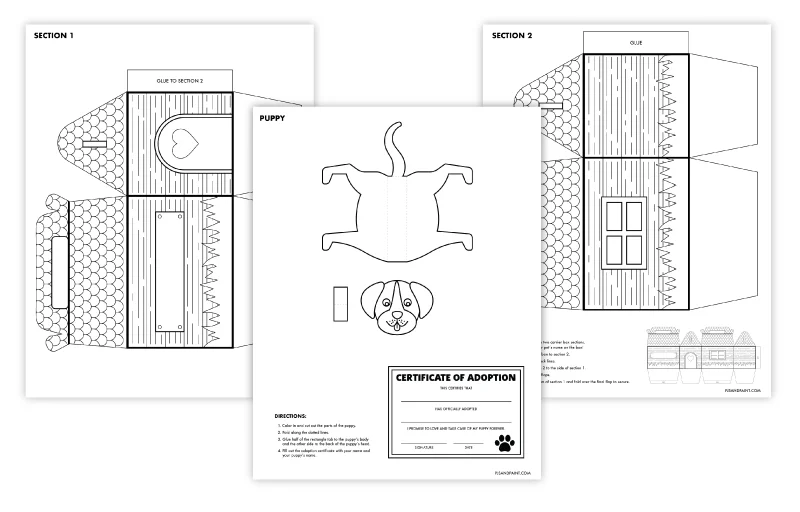 If you enjoyed this post and would like to make some more doggy friends, feel free to check out the full version which includes 5 different types of puppies.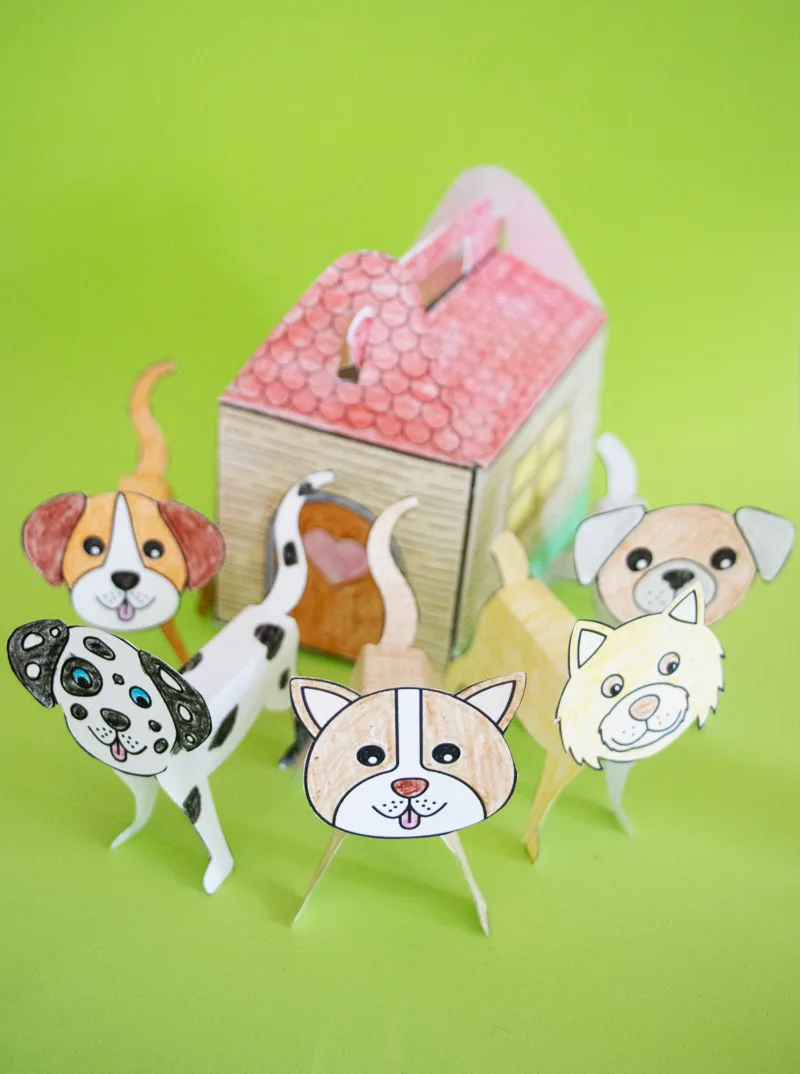 Download Link:
Download the free printable adopt a puppy activity kit.