This free printable back to school scavenger hunt is the perfect activity to get kids back into the school spirit! All you need is a printer, some paper and tape. It's quick and easy to put together and will keep your kids or students entertained and working together.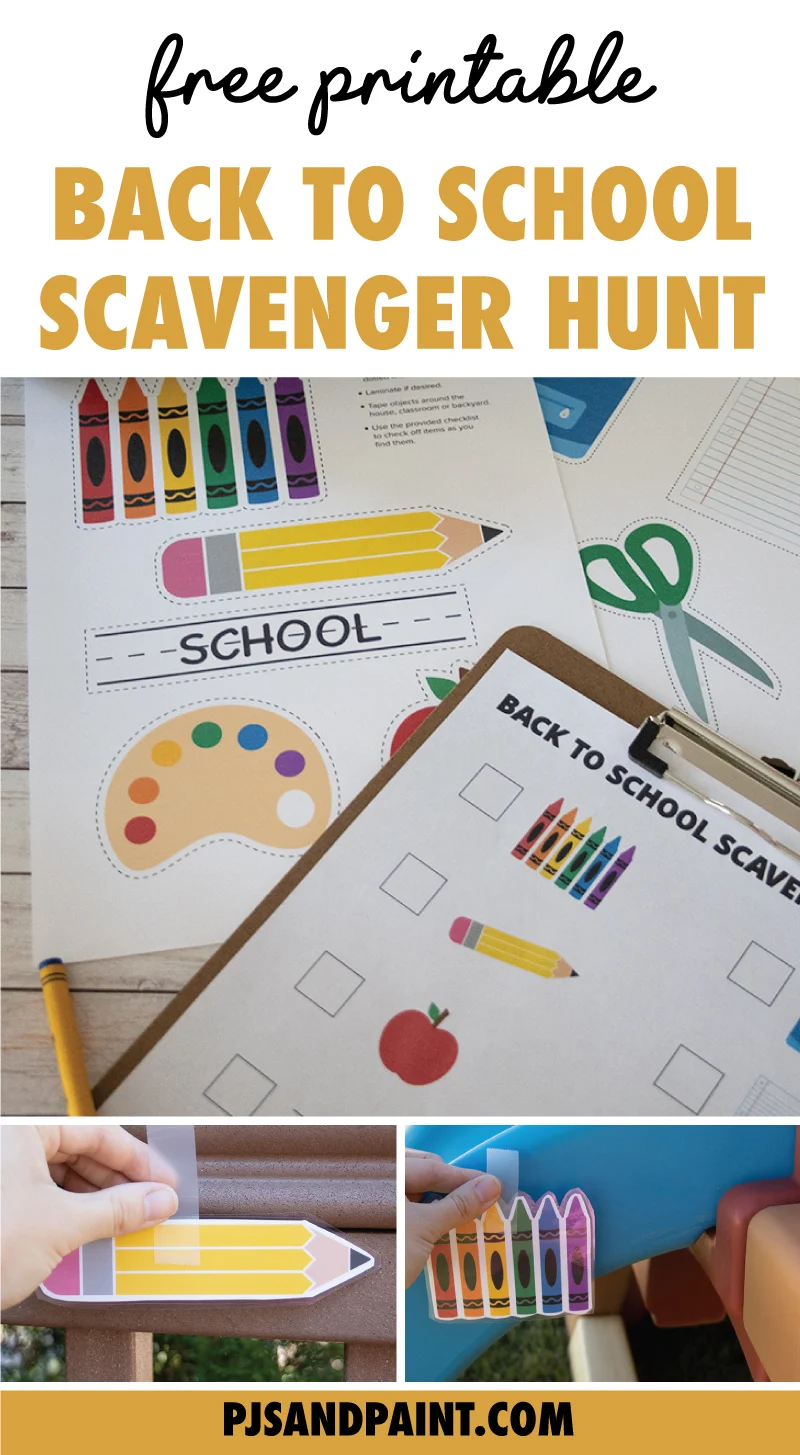 Disclaimer: This post contains Amazon affiliate links. This means that at no additional cost to you, I may earn a small commission if you decide to make a purchase. For more information, feel free to read the affiliate disclosure on our privacy policy page.
My older son was having some friends over earlier today and this morning I casually mentioned possibly setting up a little scavenger hunt for them to do.
My son was SO overly excited about the idea of a scavenger hunt I decided I'd make a back to school themed game since school is starting just a few short weeks away.
And so I spent the morning creating graphics, laminating and buying clipboards for him and his friends. I even bought a few toys from the dollar store to give out as prizes once the scavenger hunt was over.
Did I go overboard? Absolutely. But I had a ton of fun making this scavenger hunt and the kids loved finding and checking off all of the items on their clipboards.
This free printable back to school scavenger hunt is perfect for playdates, classroom activities, library activities and more! It is simple to set up and can be reset over and over so that the fun continues as long as the kids are still interested!
Materials needed:
Free printable download of the school themed graphics and checklist page (download link located at the bottom of this post)
Scissors
Tape
Crayons, markers or pencils
Lamination machine and laminating sheets (completely optional!)
The first thing you will need to do is print out the large school themed graphics onto two pieces of paper. For mine, I had plans of laminating and reusing the scavenger hunt items over and over and so I made sure to print onto white cardstock.
However, regular printer paper works just as well!
Once printed, cut out all of the items along the dotted lines.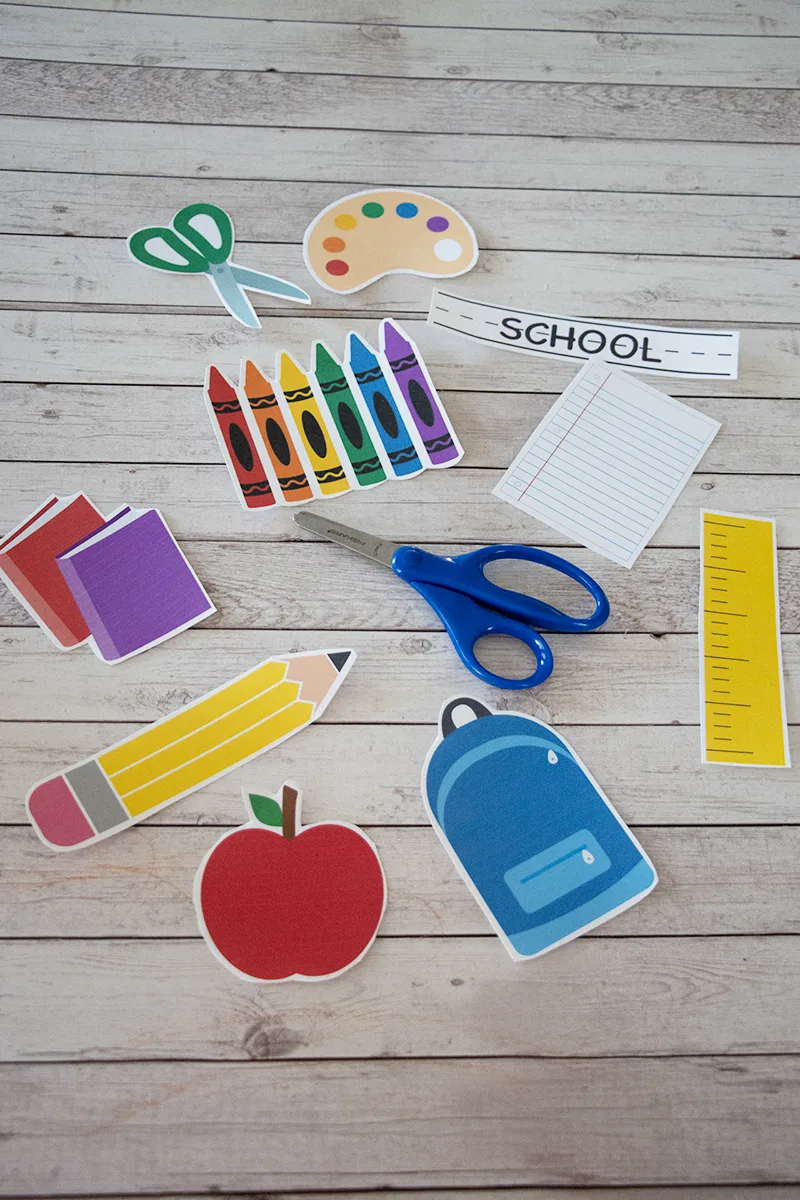 This step is completely optional, but I decided to laminate the pictures to add another level of durability since I wanted to be able to reuse the scavenger hunt multiple times.
This is very similar to the lamination machine that I have and I love it. I definitely look for any excuse I can to laminate something!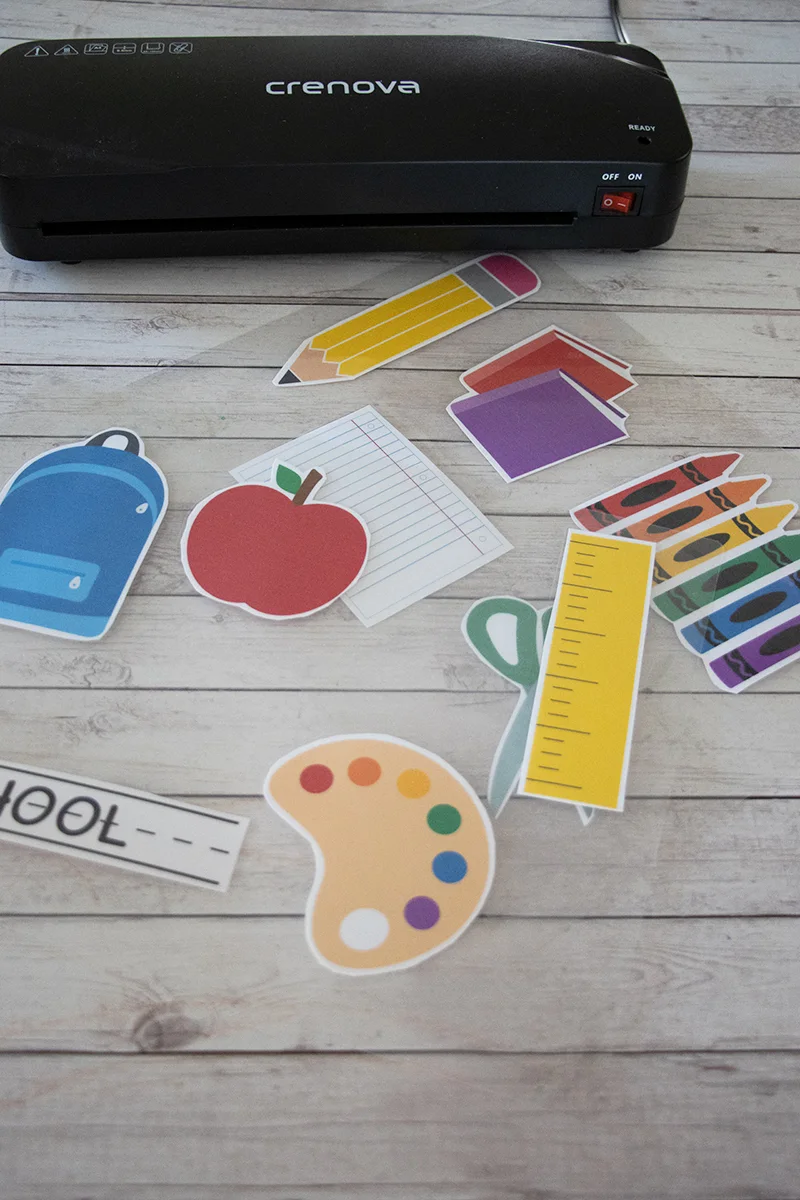 Once the images are cut out you can go around the house, yard, classroom, library etc. and begin hiding them. I used tape and placed them in areas such as the fence, the deck, a slide etc.
Depending on the age of kids playing, you can make the scavenger hunt easier or harder.
Finally, give each person a checklist so that they can check off each item as they find it. You can print the last page of the printable pdf as many times as needed.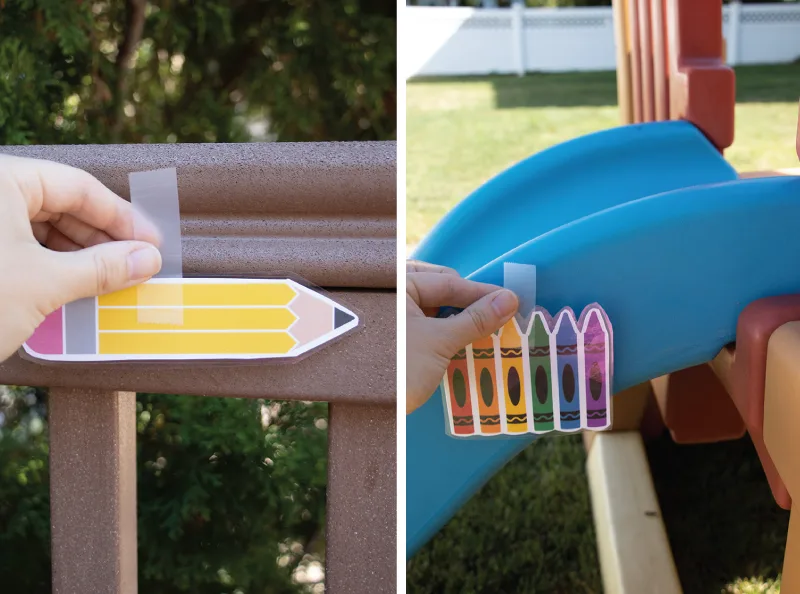 Once all of the items have been checked off, the scavenger hunt is over! After the first round, my kids and their friends each took turns hiding and finding the pictures over and over again.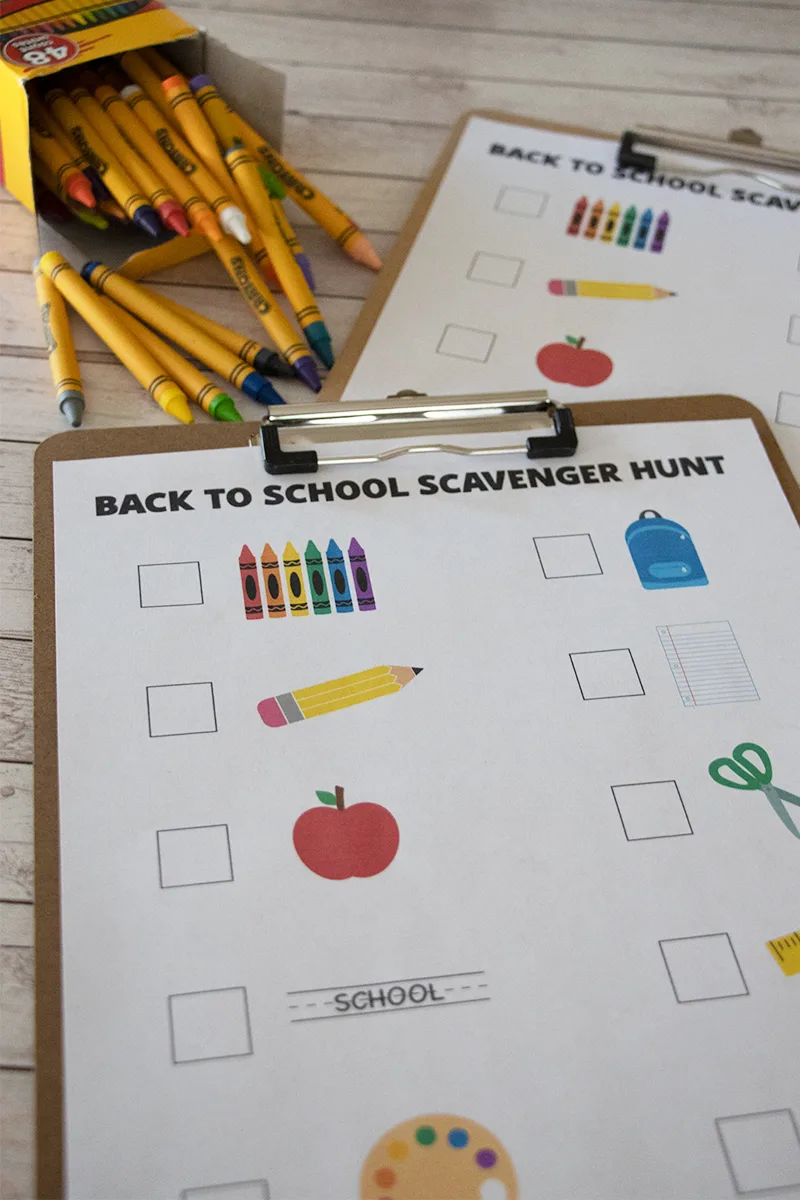 Free Printable Back to School Scavenger Hunt
This scavenger hunt was designed to be printed onto standard 8.5×11 inch printer paper or cardstock.
Included in the set is:
Two pages of school themed pictures (crayons, pencil, apple, school, painting palette, backpack, notebook paper, scissors, ruler, books)
One checklist page that can be printed multiple times depending on how many kids will be playing.
Feel free to download and print as many copies of the scavenger hunt as you would like. However, please do not edit or redistribute the files in any way. This game was created for personal or classroom use only.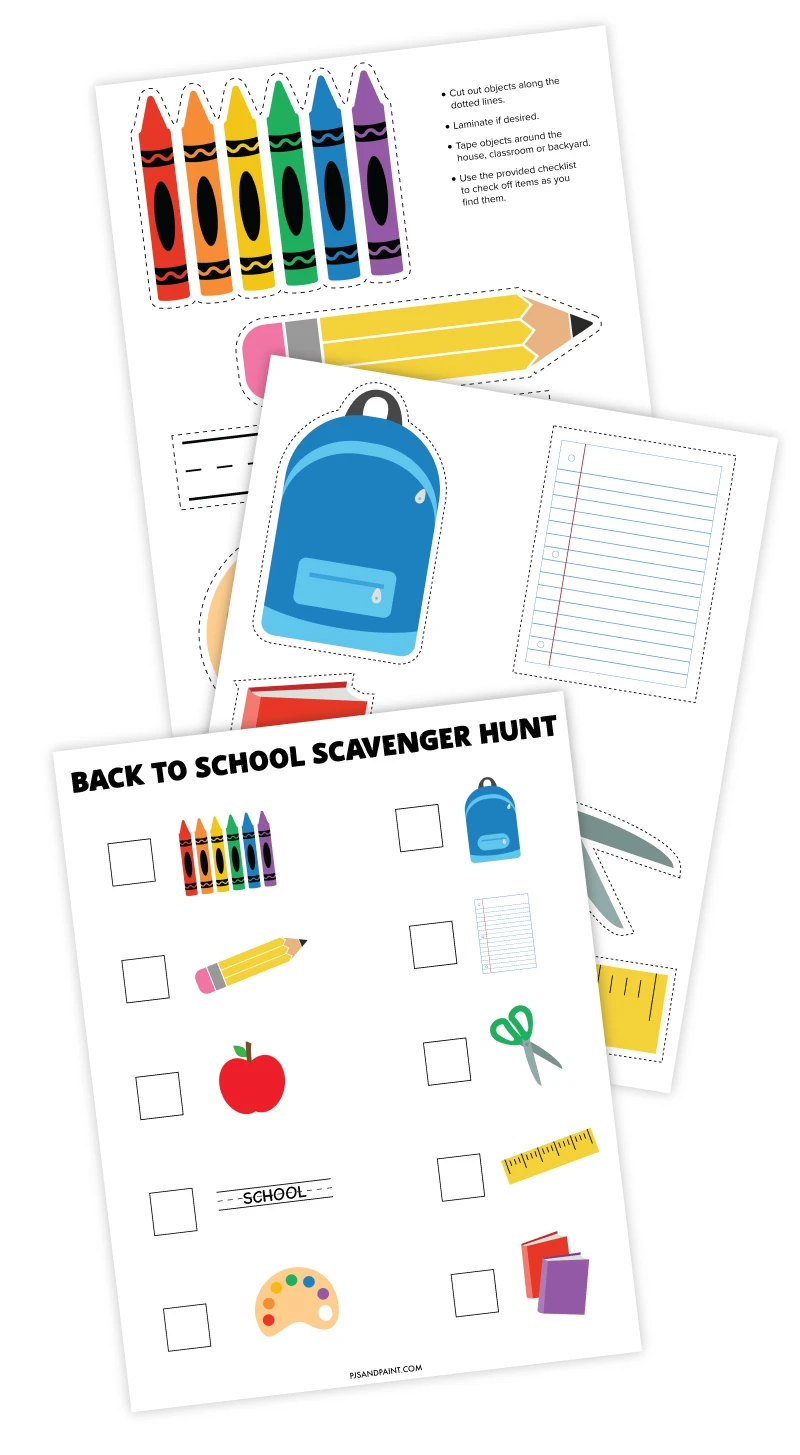 Enjoy this activity? You might like to check out some of our other fun free printable scavenger hunts below:
Download Link: