If you are looking for a fun Halloween activity to keep the kids entertained without even leaving your home, then look no further! This free printable Halloween scavenger hunt is easy to set up, simple to play and will keep everyone entertained and having fun.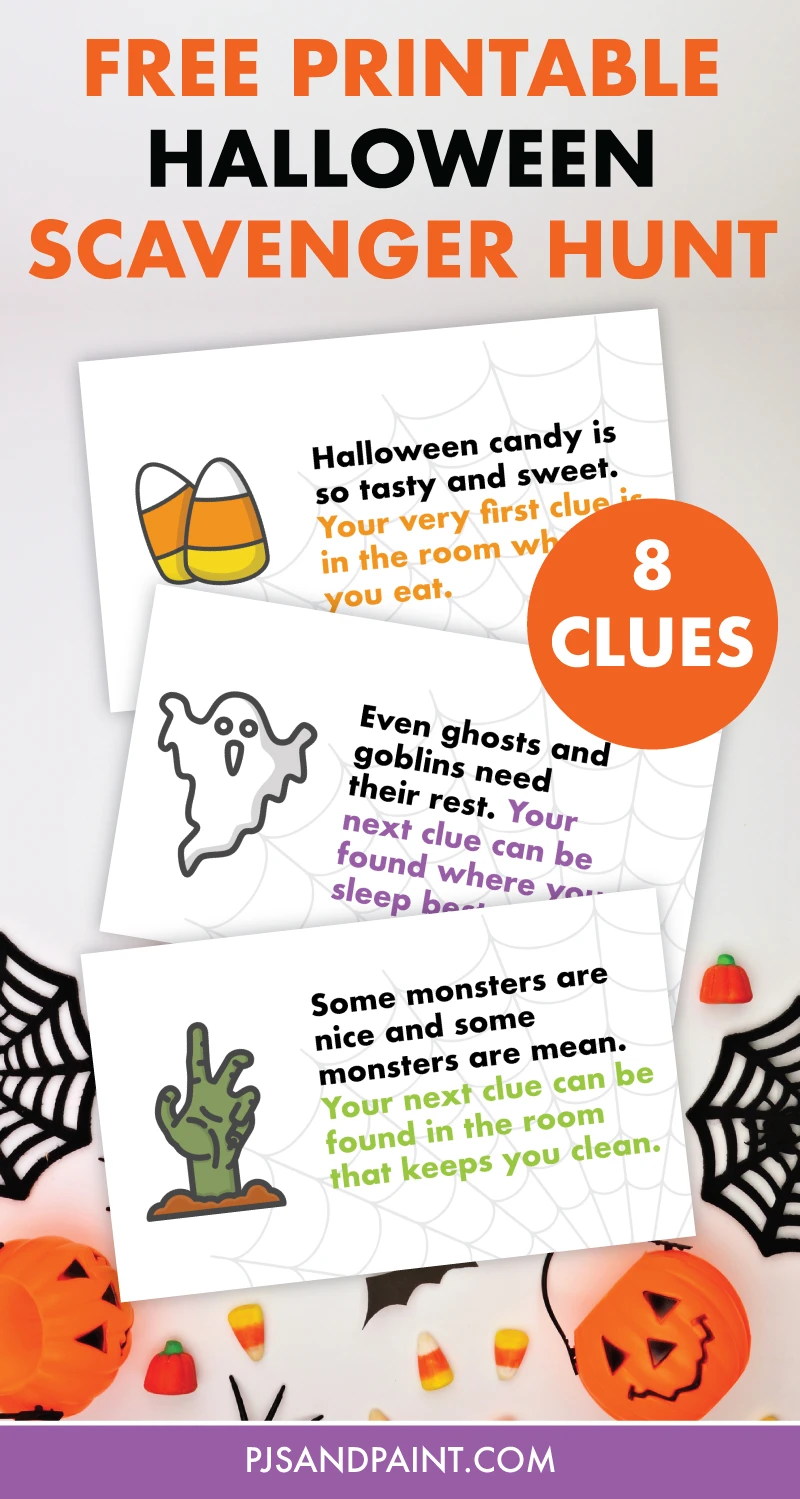 Disclaimer: This post may contain affiliate links. This means that at no extra cost to you, I may earn a small commission if you decide to make a purchase. For more information, please read our affiliate disclosure.
More and more these days, many parents, including myself are trying to find fun and engaging activities to entertain their kids at home. And with the crazy uncertainty of this year, this goal has been even more prevalent.
Something that my mom has always done (and even still does to this day when we all get together) has put together holiday themed scavenger hunts. It is always a highlight of holidays for me and something that I definitely want to continue doing with my own children.
Scavenger hunts are a great interactive way to get kids thinking, running around (aka tire them out!) and simply have a fun time. And so this year, I have decided to create a fun free printable Halloween scavenger hunt for kids that you can download, print and set up in a matter of minutes.
If your children are a bit older and can read by themselves, you can just hand them their first clue and set them loose in the house! If the kids are younger like mine, you will want to walk around with them and read them the clues.
At the end of the scavenger hunt you can put together a fun little Halloween gift basket or some special candy for them to find. I know I am very excited to set up this scavenger hunt in my own home on Halloween day!
How to play Halloween Scavenger Hunt:
Once you have printed and trimmed the clue cards, you can begin placing them around your home. I think the majority of the clues are pretty self explanatory in terms of which locations the clues should go in, but I've also included an answer key below just in case.
With the exception of the first and eighth clue, all the others can go in whichever order you choose.
At the end of the scavenger hunt, you can hide some candy or Halloween treats in the final location. Your kids will have a blast running around the house searching for all the fun clues!
Scavenger Hunt Clues and Answers:
Clue: Halloween candy is so tasty and sweet. Your very first clue is in the room where you eat.
Answer: Kitchen
Clue: Even ghosts and goblins need their rest. Your next clue can be found where you sleep best.
Answer: Bedroom
Clue: Some monsters are nice and some monsters are mean. Your next clue can be found in the room that keeps you clean.
Answer: Bathroom
Clue: Watch your feet or you might step on a mouse. Your next clue is located where you enter the house.
Answer: Front door
Clue: Haunted houses are spooky and old. Your next clue can be found in the place that keeps your food cold.
Answer: Refrigerator
Clue: If you see a vampire be sure not to stare. Your next clue can be found right under a chair.
Answer: Under a chair
Clue: You're doing great, you're almost done. Just a few more clues and the game is won. The next place that you should look is inside of your most favorite book.
Answer: Inside of a book
Clue: Congratulations! You've found your last clue! Look in a closet to find a special surprise waiting for you!
Answer: closet
Free Printable Halloween Scavenger Hunt For Kids
This scavenger hunt game is designed to print onto a standard 8.5×11 inch piece of printer paper or cardstock. Once printed, you can cut along the dotted lines to separate the eight scavenger hunt clue cards.
Please feel free to download and print as many copies of the Halloween scavenger hunt as you would like. However, please do not edit or redistribute the files in any way. This game is intended for personal use only.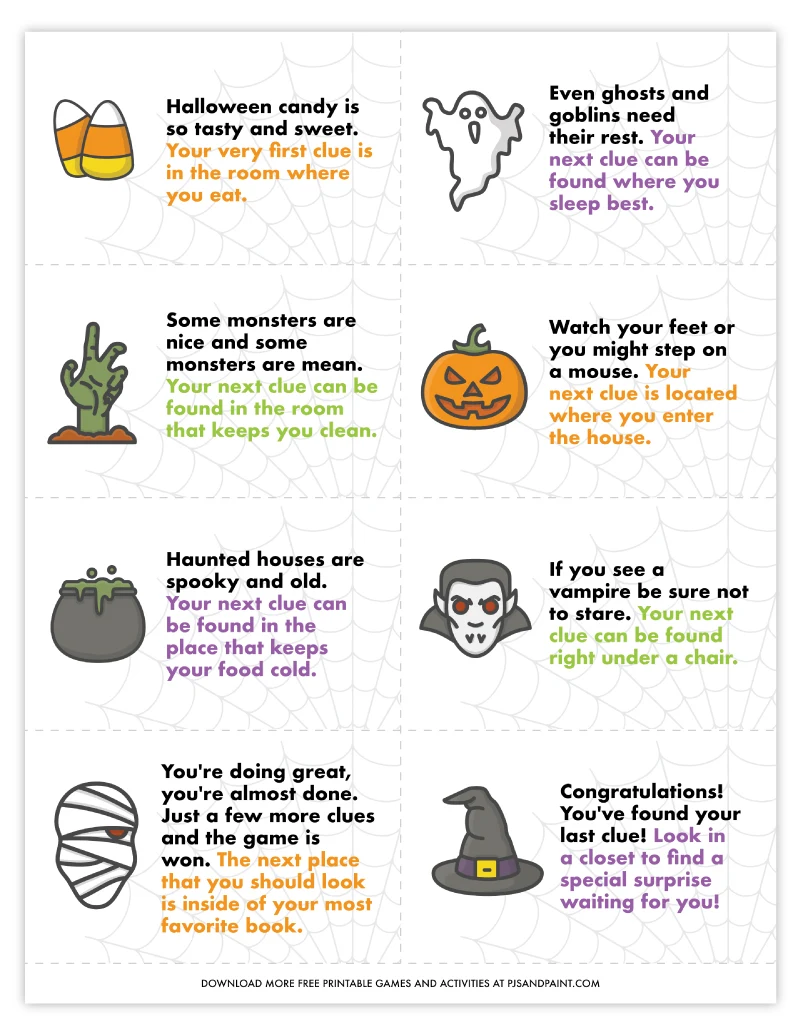 If you enjoyed this game, you may also like to check out some of our other fun free printable Halloween activities:
Halloween Joke Cootie Catcher
Keep everyone laughing this Halloween with this fun free printable Halloween joke cootie catcher. It is a fun holiday twist on the classic paper fortune teller you know and love!
I Spy Halloween
Featuring pumpkins, skulls, witches hats, candy corn and more, this free printable I spy Halloween game is the perfect activity to get everything into the spooky holiday spirit this year.
Halloween Bingo
This bingo game is a fun activity that both kids and adults will enjoy. It is totally free to download, print and play over and over again, year after year!
Halloween Crossword Puzzle
This crossword puzzle is a spooky and fun activity for kids to work on during this upcoming Halloween season. Read the clues and fill in the crossword puzzle with he correct answers.
Halloween Maze
Work your way through this fun free printable maze to find the Jack-O-Lantern in the center of the puzzle. It is a great game to play at holiday parties, in the classroom, or at home on a rainy day!
Check out some of these fun non candy Halloween treat ideas for the scavenger hunt prize!
Assorted Halloween Party Favors.
With 120 pieces, this assorted favor set is perfect for the classroom or if you have a lot of kids participating in the scavenger hunt! View on Amazon here.
Halloween Wind Up Toys
These little wind up toys are always a fan favorite in my house! Wind the Halloween characters up and watch them go! The set includes skeletons, ghosts, pumpkins, zombies and more! Click here to view on Amazon.
Halloween Spooky Stickers
This huge roll of Halloween stickers is perfect for dividing up amongst a group of kids as a reward for finishing the scavenger hunt. Who doesn't love stickers?! Click here to view on Amazon.

Download Link:
Click here to download the free printable Halloween scavenger hunt.