Enjoy a fun game of bingo at home or in the classroom with this free printable Christmas bingo game for kids. Featuring images like Santa, elves and gifts, this activity will surely get everyone in a festive spirit this upcoming holiday season.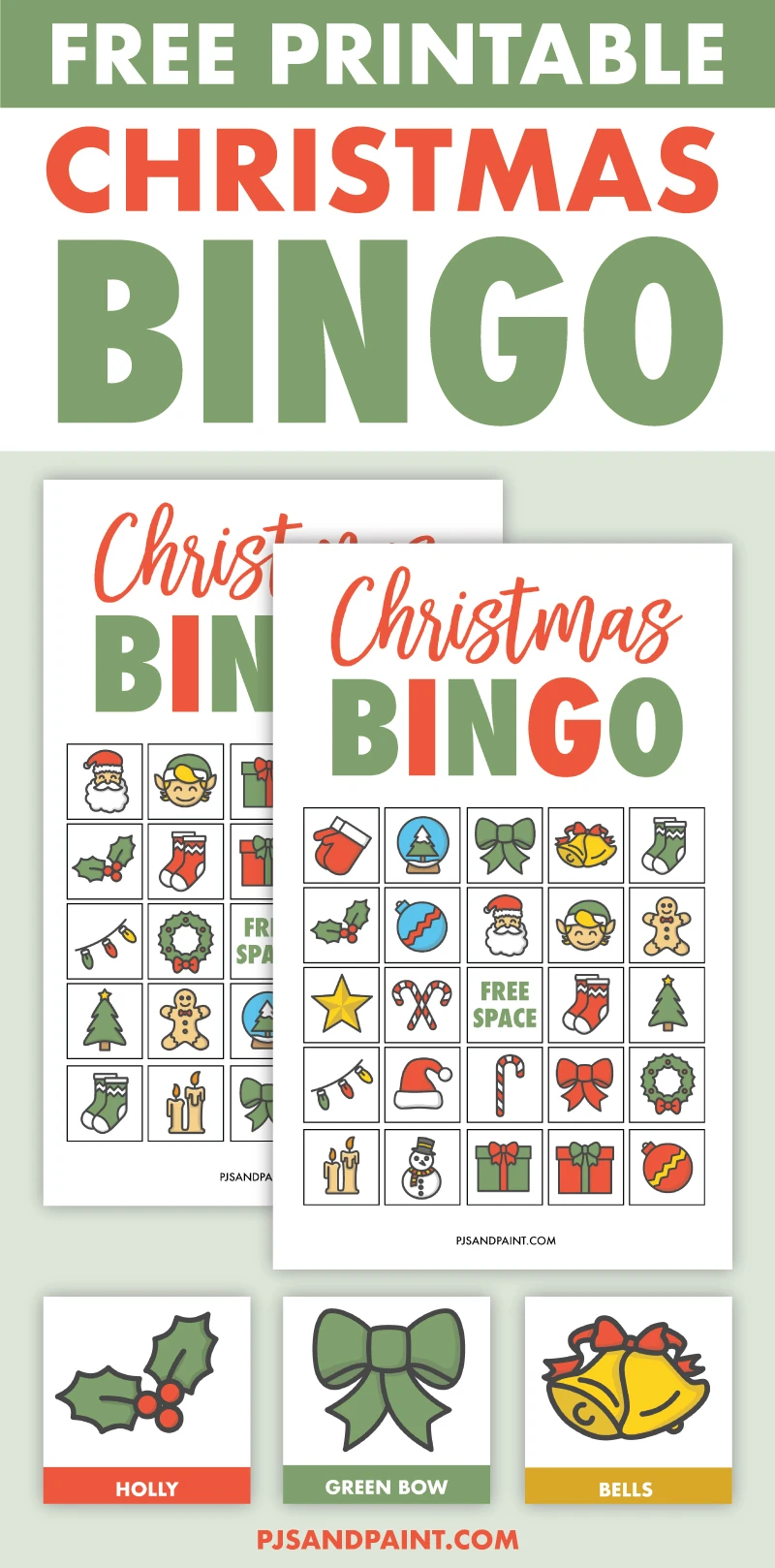 Disclaimer: This post contains Amazon affiliate links. This means that at no additional cost to you, I may earn a small commission if you decide to make a purchase. For more information, please feel free to read the affiliate disclosure on our privacy policy page.
My kids LOVE bingo. While the typical way to play is to get 5 in a row, sometimes we like to see who is the first to fill up the entire board.
Bingo with pictures is great for kids because it helps them recognize images and match them to the image being called out.
Today I am excited to share with you this free printable Christmas Bingo game for kids. Featuring plenty of holiday themed images, it is great for parties, playdates and classroom activities.
I have included a link at the bottom of this post to download the free version of the Bingo game. It includes 10 unique cards. If you are playing with a larger group of people and would like more cards, you can also check out the full version of this Christmas Bingo game with 30 unique cards.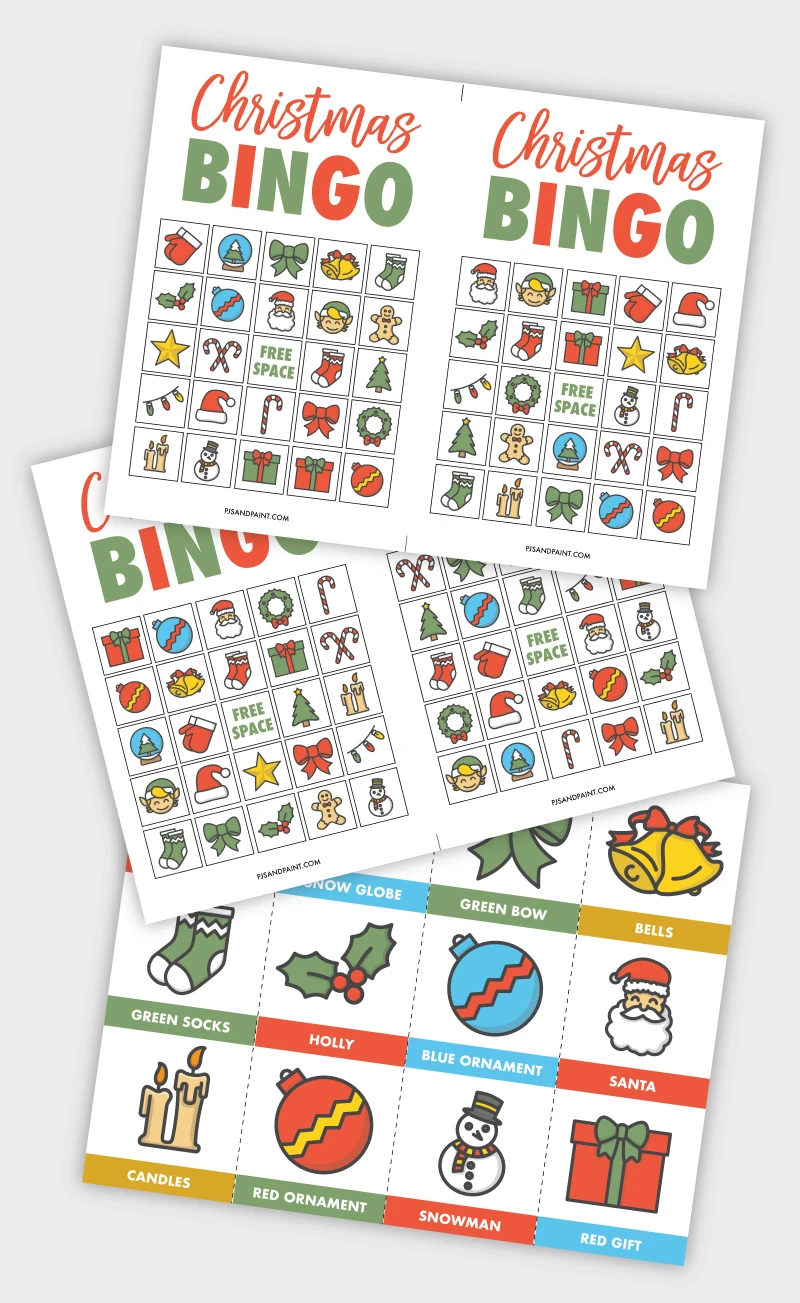 Free Printable Christmas Bingo Game for Kids
Included in the free set are:
1 instruction sheet.
2 pages of calling cards.
5 pages of bingo cards with 2 games per page for a total of 10 unique cards. (For a set of 30 unique cards, check out the full version).
2 pages of markers (Bingo chips). You can print multiples of these pages depending on how many players there are.
Each page is designed to be printed onto standard 8.5×11 inch pieces of printer paper or cardstock. For the highest quality, I would definitely recommend printing everything out onto white cardstock.
The free version of this set includes 10 different card variations. This means that you can play Christmas Bingo with up to 10 people. Or, if you don't have 10 players you can also play multiple rounds of bingo with just one set of cards.
I have also created a full version that includes 30 different card variations. This version would be perfect for playing with larger groups of children like in a classroom setting.
Please feel free to download and print as many copies of the bingo game as you would like. However, please do not edit or redistribute the files in any way. This activity was created for personal or classroom use only.
Make bingo cards reusable:
If you are a teacher and are planning on playing this bingo game with multiple classes, or if your kids are just not gentle with their things (like mine!), you might want to make the cards more durable.
I would recommending using a lamination machine to laminate the cards. This way the bingo set is more durable to withstand being used over and over again.
Laminating the cards also allows you to use dry erase markers to cross off the pictures as they are called out instead of using bingo chips.
This is the lamination machine that I currently use and it definitely gets a lot of use!
How do you play bingo?
One person is assigned the role of the caller. This person will not need to have a bingo card this round. The caller should first shuffle the stack of calling cards before starting the game.
Hand out a bingo card to each player. Everyone should also have a pile of some kind of chip or marker to place onto their board as the Christmas themed items are called out.
In this pdf download, I have included some printable markers to cut out. While you could definitely use regular scissors, I would recommend using a 1 inch hole punch if you have one available. This will make cutting the markers out much easier.
Alternatively, you can also use a variety of other "bingo chips" such as coins, M&Ms etc. Or, if you are only planning on using the cards once, you can draw an X right on the printed bingo card as the pictures are called out.
The bingo caller should not choose one card from the pile at random and then announce it to all of the players.
Each player should place a marker on that space on their bingo boards. The first person to get five in a row, wins!
Another way I like to play with my kids is by determining the winner when the entire board is filled up.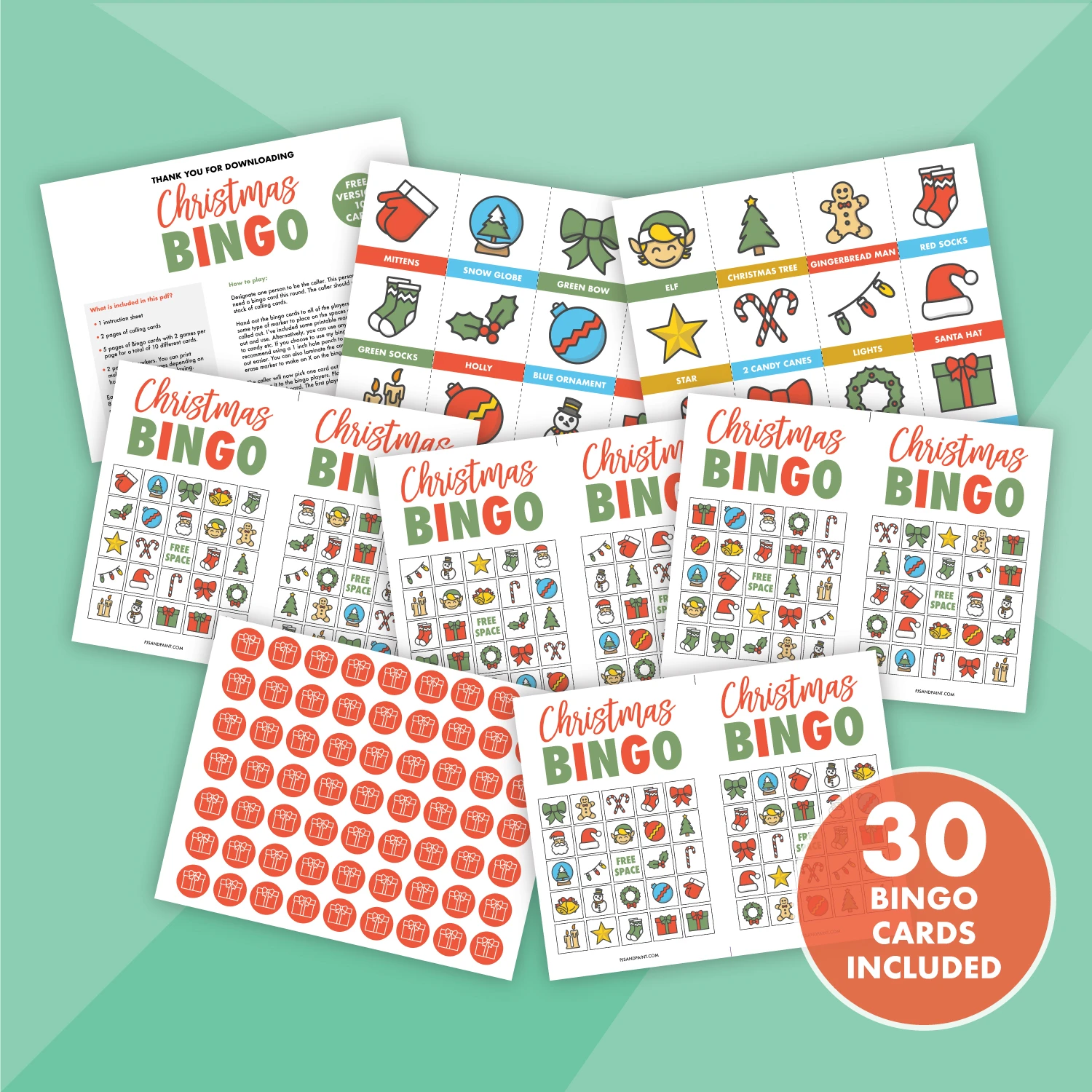 More free printable Bingo games below:

By entering your email address you will be receiving the free digital file as well as subscribing to our weekly email newsletter. You may unsubscribe at any time.