This free printable mermaid color page is an excellent way to keep kids busy at home, in the classroom, in a library setting or anywhere else you need a creative activity.
It features a beautiful girl with long hair and scales on her pretty mermaid tail. Kids of all ages will have fun coloring in these mythical creatures. It is not only great for younger children but for older kids as well. Everyone can enjoy a good coloring page!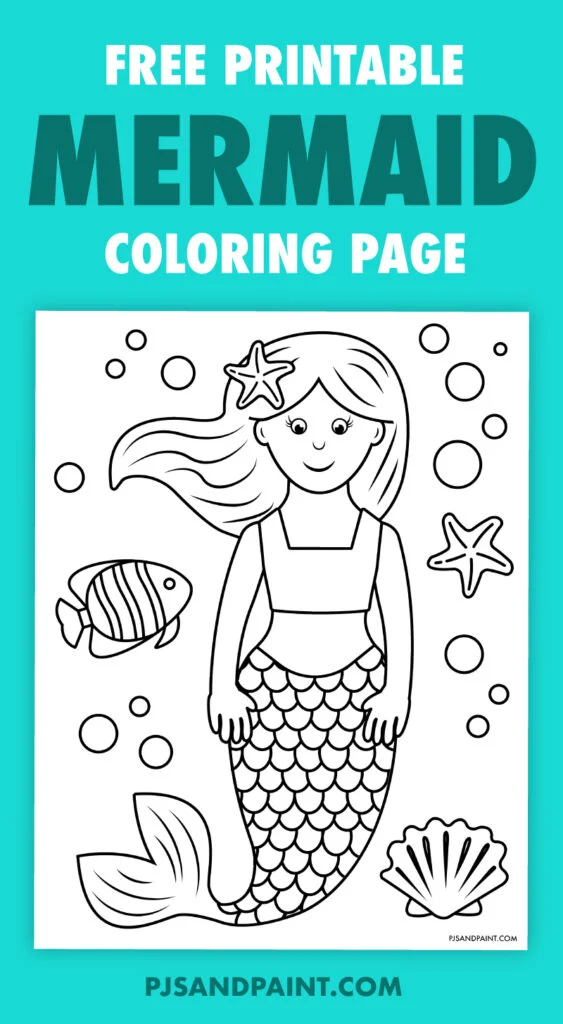 Disclaimer: As an Amazon Influencer, I earn from qualifying purchases. This means that at no additional cost to you, I may earn a small commission if you decide to make a purchase. For more information, please feel free to read the affiliate disclosure on our privacy policy page.
Coloring pages are great. There is something so relaxing about them that will help even the most active children take some time to calm down and focus.
With an endless amount of creative possibilities, each child can come up with their own beautiful representation of the magical sea creatures. When they are done, the coloring pages can be hung up on the fridge, on a wall, in a bedroom or kept in a box for a special keepsake.
Supplies needed:
Free printable mermaid coloring page (the download link is located at the bottom of this page).
White printer paper or white cardstock
Art supplies such as crayons, markers and colored pencils. Be sure to include vibrant colors in different shades to encourage kids to use their imagination be creative.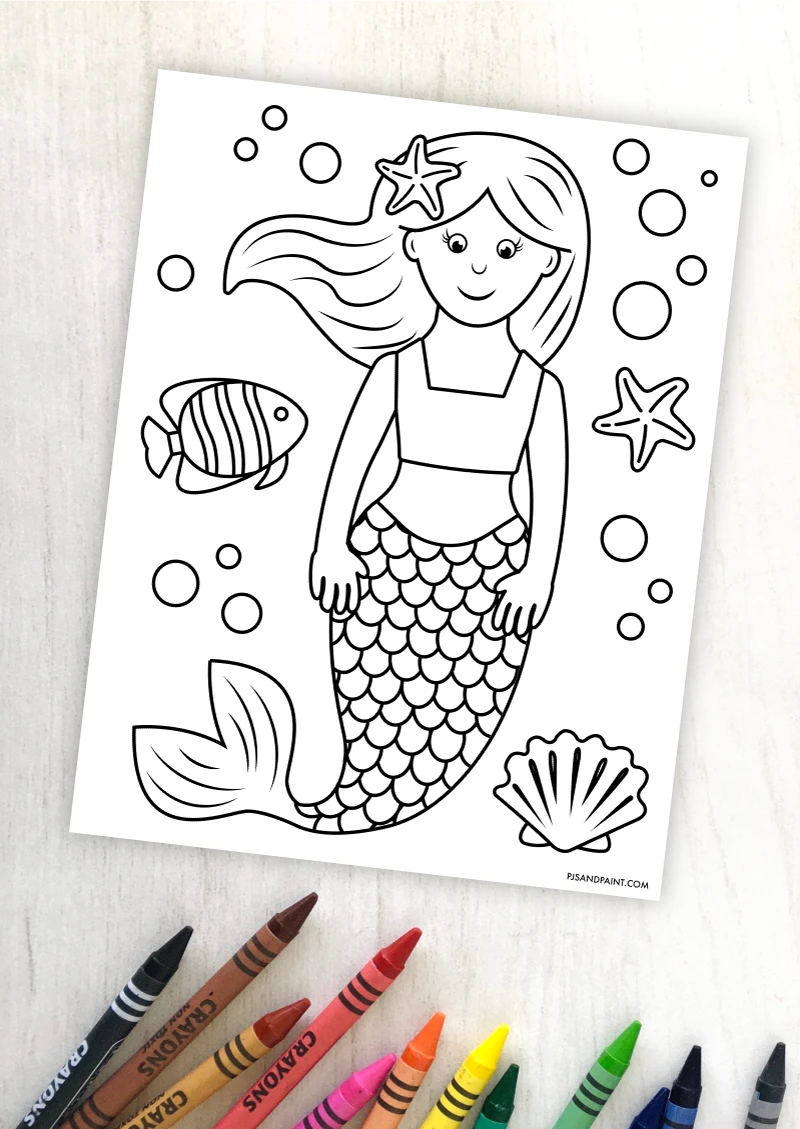 Favorite Printable Supplies:
These are a few of my favorite supplies that I use for printable games and activities: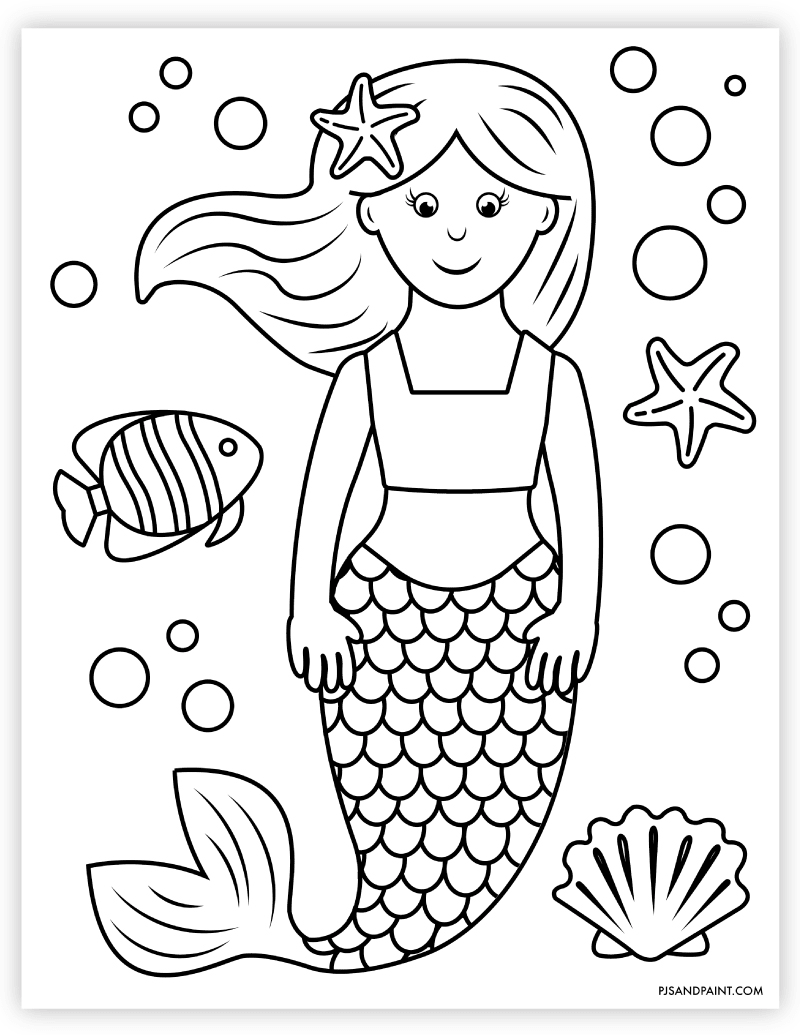 Free Printable Mermaid Coloring Pages for Kids
This cute mermaid coloring page was designed to be printed onto a standard 8.5×11 inch piece of white printer paper or cardstock.
While printer paper is typical, sometimes I love printing out coloring pages onto cardstock. This adds a bit of extra durability to the page. This way, you can pack up your kids drawings and save them and know that they will withstand storage for longer.
In addition, you might want to use the coloring pages for other purposes in which cardstock would also be the better choice. Every time my kids create a drawing, they ask me to cut it out. They then use whatever they created as a toy. This is a great way to encourage imaginative play with creatures or characters that they drew themselves.
Please feel free to download and print as many copies of the coloring page as you would like. However, please do not edit or redistribute the files in any way. This printable was created for personal use or classroom use only.
If you enjoyed this activity, you might also like to check out some of the following free printables as well:
Free Printable Build a Mermaid Craft
This craft features adorable mermaids and is perfect for when you need a fun and creative project to entertain your kids. Whether it is during a playdate, on during a mermaid-themed birthday party, this is the perfect activity for a variety of ages and artistic skill levels.
Free Printable Build a Unicorn Craft
Have fun making your very own magical creature with these free printable build a unicorn coloring pages. It is a great activity for birthday parties, a rainy day or anytime your little girls feel like being creative!
By entering your email address you will be receiving the free digital file as well as subscribing to our weekly email newsletter. You may unsubscribe at any time.