Winter will be here before you know it! A fun way to start getting into the holiday spirit is by making your very own DIY decorations. Using free printable paper snowflake templates are a great way to start getting your home, classroom or office all ready for the upcoming holiday season.
Disclaimer: This post may contain Amazon affiliate links. This means that at no additional cost to you, I may earn a small commission if you decide to make a purchase. For more information, please feel free to read the affiliate disclosure on our privacy policy page.
Who are paper snowflake patterns good for:
This printable is perfect for anyone who would like to learn how to make their own paper snowflakes. Kids of all ages and adults as well.
Sometimes, learning the correct folds to make a perfect snowflake can be a little tricky. This template is an easy way to solve that problem!
Whether you are using it at home or as a classroom activity, anyone and everyone can quickly and easily create a beautiful paper snowflake they will be proud of.
Video Tutorial:
Supplies needed:
Free printable snowflake templates (available as an instant download at the bottom of this post)
White paper (the regular paper you use in your printer will work great!)
Pair of scissors
Where to display your finished snowflake:
Here are a few ideas of how you can display your completed snowflakes:
Attach them to a string and hang from the ceiling and turn any room into a winter wonderland
Decorate a classroom door or bulletin board
Stick them to windows
How to use the template in 5 easy steps:
Step 1: Print and Cut.
This first step to make this winter craft is to print out the snowflake template onto white paper. It is designed to fit onto an 8.5×11 inch piece of printer paper.
Cut out the square along the black solid line. Flip the paper over so that the blank side is now facing up.
Step 2: Fold #1.
Fold along the diagonal line that is marked "1."
Step 3: Fold #2.
Fold along the dotted line that is marked "2."
Step 4: Fold #3
Fold along the dotted line that is marked "3."
Step 5: Cut and Unfold.
Next, cut out the gray areas, leaving the white snowflake shape. Be sure to cut through all of the layers at once.
Finally, unfold and admire your beautiful paper snowflakes!
Benefits of making paper snowflakes:
If you have little kids that are able to use scissors, making these paper snowflakes would be a great way to help them work on their scissor skills. This activity also encourages development of their fine motor skills.
If using scissors aren't an option, kids can still benefit from the folding portion of the project. No matter the age, it is a great craft for everyone to work on.
Feel free to use this template as many times as you would like. After you feel confident in the folding and cutting, you can then try branching out and create your own snowflake without the template. You can experiment with using construction paper in different colors and try making your own designs.
Note: If creating a snowflake on your own, just be sure to begin with a square piece of paper. If you take any regular paper you can fold the top corner into smaller triangle and then cut off the excess paper to form a square.
These snowflake are so much fun to make! You can use them to decorate for a holiday party or simply use as an easy craft during the winter season.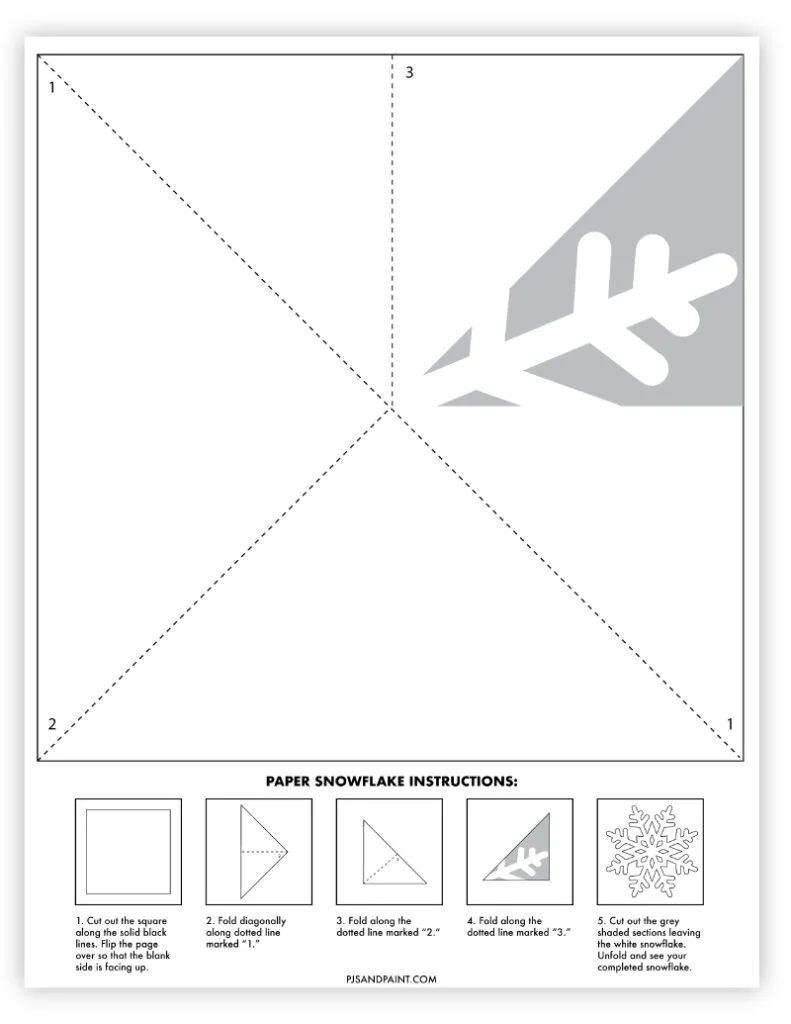 Free Snowflake Templates:
This template was designed to be printed onto a standard 8.5×11 inch piece of white printer paper.
Please feel free to download and print as many copies of the template as you would like. However, please do not edit or redistribute the files in any way. This printable was created for personal, non-commercial use only.
Favorite Supplies for Free Printable Templates
These are a few of my favorite supplies that I use for printable games and activities:
More Winter themed free templates, games and crafts:
By entering your email address you will be receiving the free digital pdf files as well as subscribing to our weekly email newsletter. You may unsubscribe at any time.